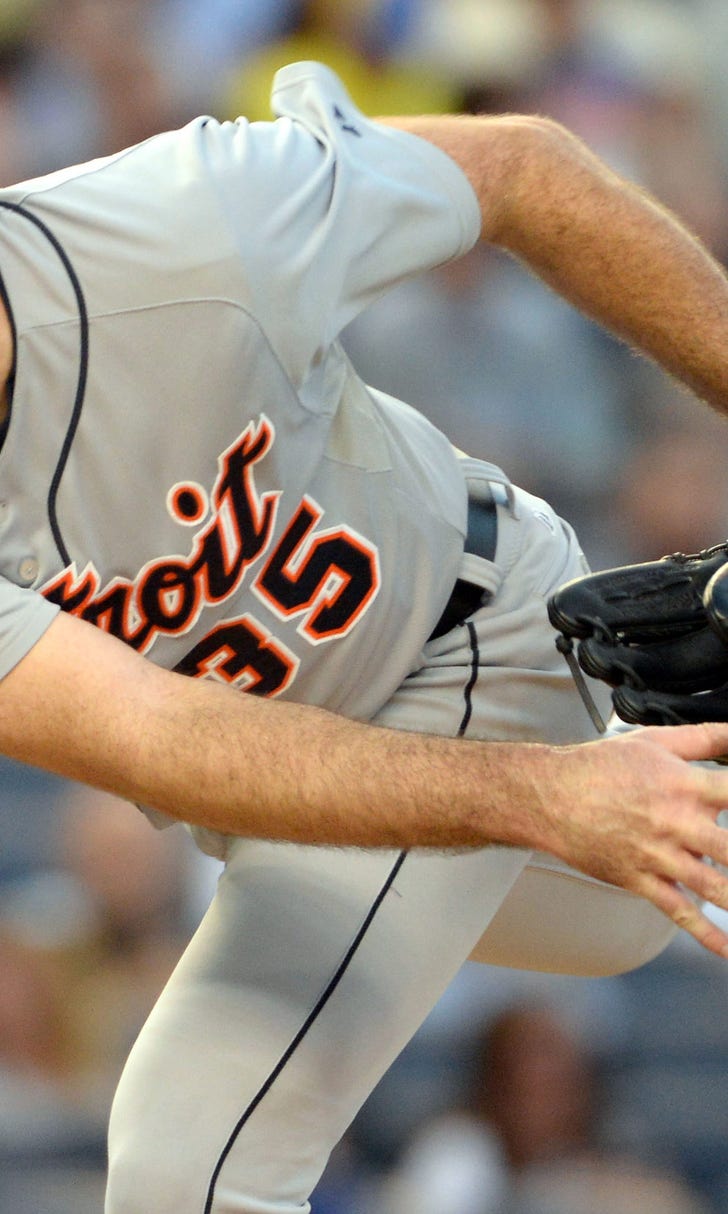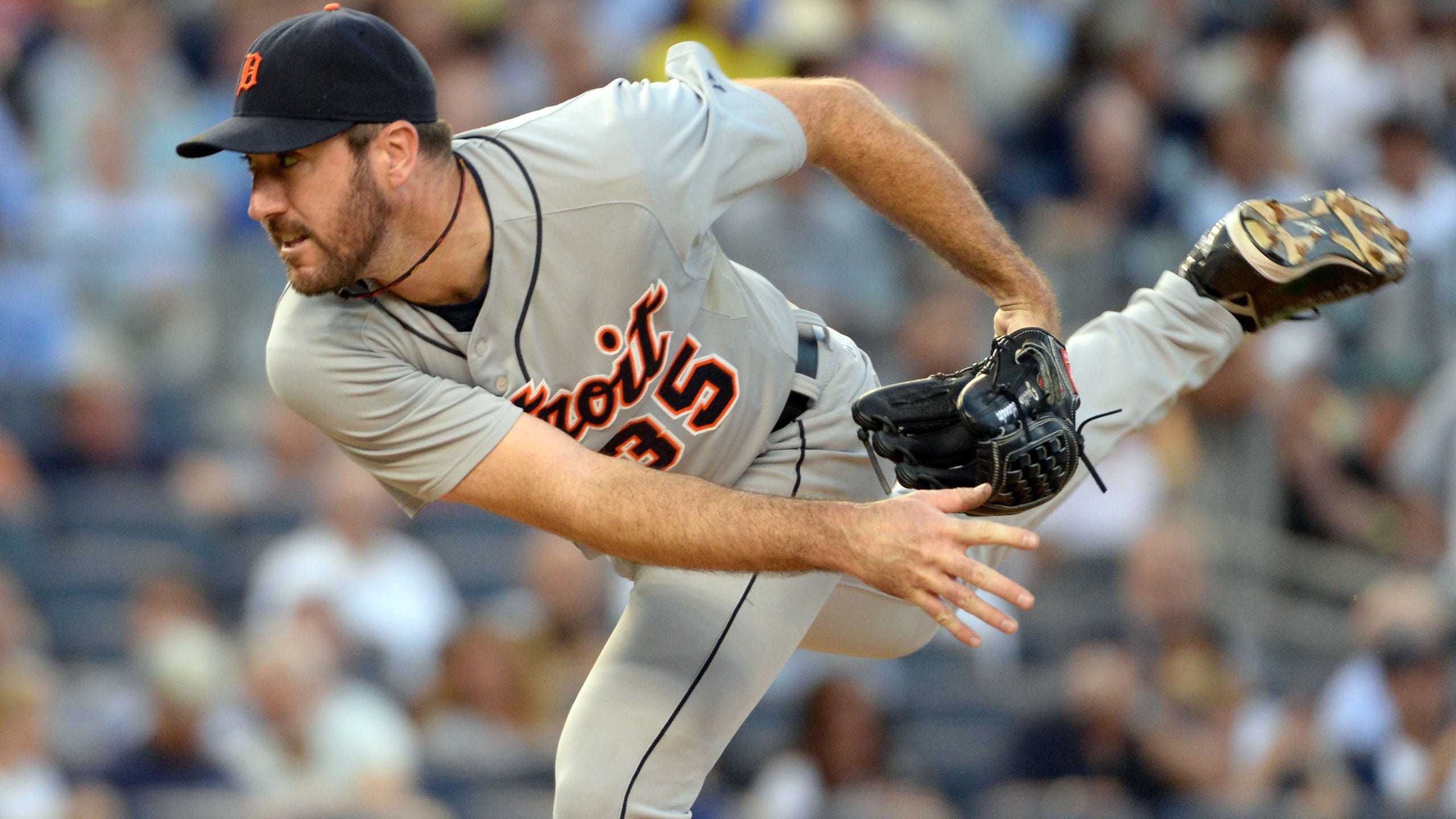 Tigers' Verlander upbeat after getting MRI results
BY foxsports • August 13, 2014
DETROIT -- All things considered, Justin Verlander is just happy he's not on the disabled list.
Verlander was taken out after one inning due to right shoulder soreness Monday, the shortest start of his career.
"When I came out of the game is the toughest game I ever had to watch in my career because I knew the team needed me," Verlander said. "I tried to gut it out and stay out there, but (Tigers manager Brad Ausmus) wouldn't let me do it.
"After having time to calm down and think about it, I think it was the right decision. That was hard for me to watch."
Verlander returned to Detroit for an MRI, which showed no structural damage. The team said there are no current plans to place Verlander on the disabled list, but he'll miss at least one start.
"About as happy as I could be, given the situation," Verlander said. "Obviously, you're kind of thinking the worst, hoping for the best. It seemed like I got the best news possible."
Verlander was scheduled to be reevaluated before Wednesday's game and said some of the pictures of his shoulder were being sent to other doctors for their opinions.
"I don't know how long they're going to want me to rest," Verlander said. "But I know what we're looking at right now. The plan's not to go on the DL, which is great. I've never been on the DL in my career, and I don't plan to be now."
Ausmus said head athletic trainer Kevin Rand and the doctors would come up with a regimen for Verlander to follow.
"We have other doctors looking at the pictures to make sure that they don't see something different, that we're all in agreement on what the next step should be, what the time frame should be," Verlander said.
Although the MRI showed general wear and tear, Verlander said that wasn't the cause of his problems.
"There was some tendinitis and capsulitis and stuff going on," Verlander said. "The general wear and tear was just speaking strictly structurally, saying my shoulder is good structural-wise.
"Yeah, there's some wear and tear, stuff going on, but that is just natural. You look at anybody in here that's been pitching for any period of time, there's probably going to be general wear and tear."
Verlander refused to discuss how long he's been dealing with the soreness. But he said he believed he would be able to get back to where he wants to be this season.
TEAM MEETINGS?
Some people believe a struggling team should hold a meeting. Others find meetings to be overrated.
"I've done it, but that's between me and the team," Ausmus said. "We certainly wouldn't discuss what was talked about.
"It's happened a handful of times during the course of a season. It's happened recently, but I'll leave it at that."
Verlander questioned the need for a team meeting.
"If you feel like you need a team meeting, you need a team meeting," Verlander said. "This team doesn't need one.
"If you walk into this clubhouse and you see everyone's heads down and everyone moping around like we're not good anymore, then, yeah, we need a team meeting."
GOOD LUCK, BUCK
Buck Farmer, who's making his major-league debut Wednesday against the Pirates, isn't well-known even with Ausmus.
"I just met him," Ausmus said during batting practice. "I certainly didn't know him when I got to spring training. I heard his name more recently, but I don't know a lot about him.
"I'm sure he'll be a little nervous. He's young, he's probably at the major-league level a little quicker than anyone expected, including himself.
"I spoke to him today. I understand why he'd be nervous or excited or a combination, but we're hoping he can go out there and give us a boost."
Farmer has made just two starts with Double-A Erie, going 1-0 with a 3.00 ERA. In 18 starts with Single-A West Michigan, Farmer was 10-5 with a 2.60 ERA.
It doesn't appear that Farmer, 23, has thrown more than 98 pitches in any of his starts this season.
"He controls the pace of the game, standing on the rubber, getting the sign and throwing the pitch," Ausmus said. "If he keeps that all under control, he'll be fine."
Via his Twitter account Tuesday, Farmer (@B_Farm09) said, "Wanna thank everyone for the tweets and support! Tomorrow night my childhood dreams become a reality! #speechless"
ROSTER MOVES
In order to make room for Farmer on the 40-man roster, the Tigers placed Double-A Erie catcher Ramon Cabrera on waivers. Cabrera was claimed by the Pirates.
The Tigers also optioned right-handed pitcher Kevin Whelan back to Triple-A Toledo when they purchased Farmer's contract.
---