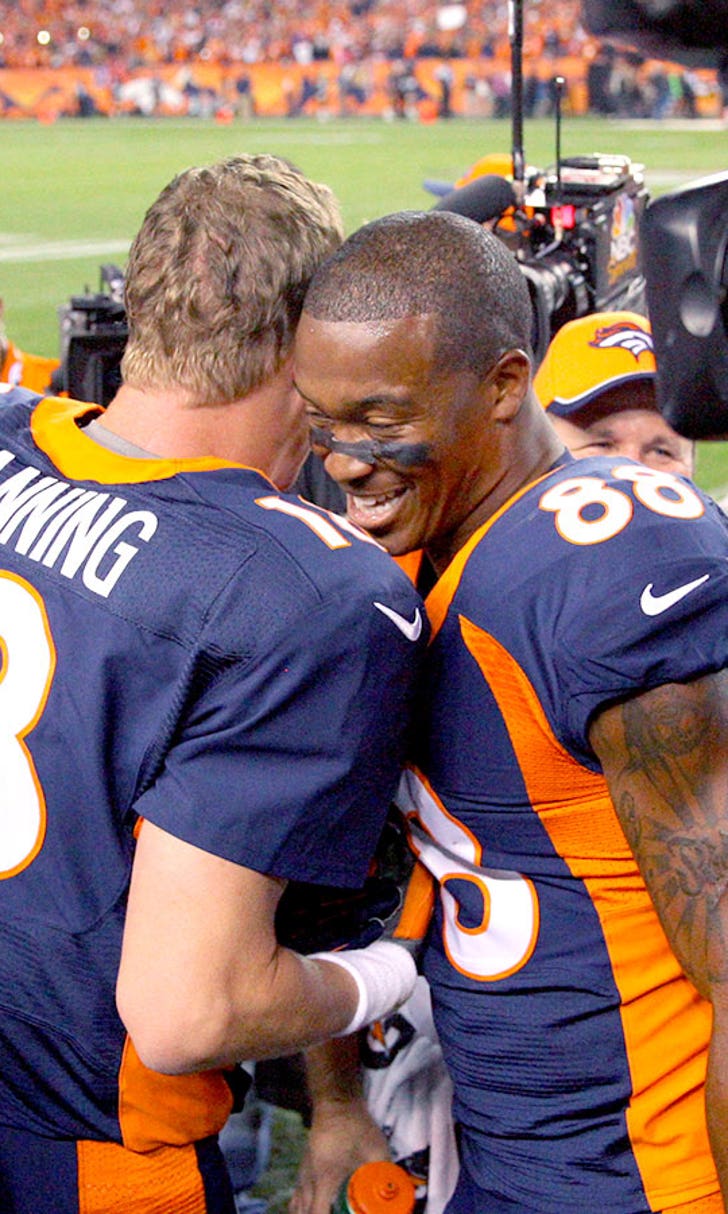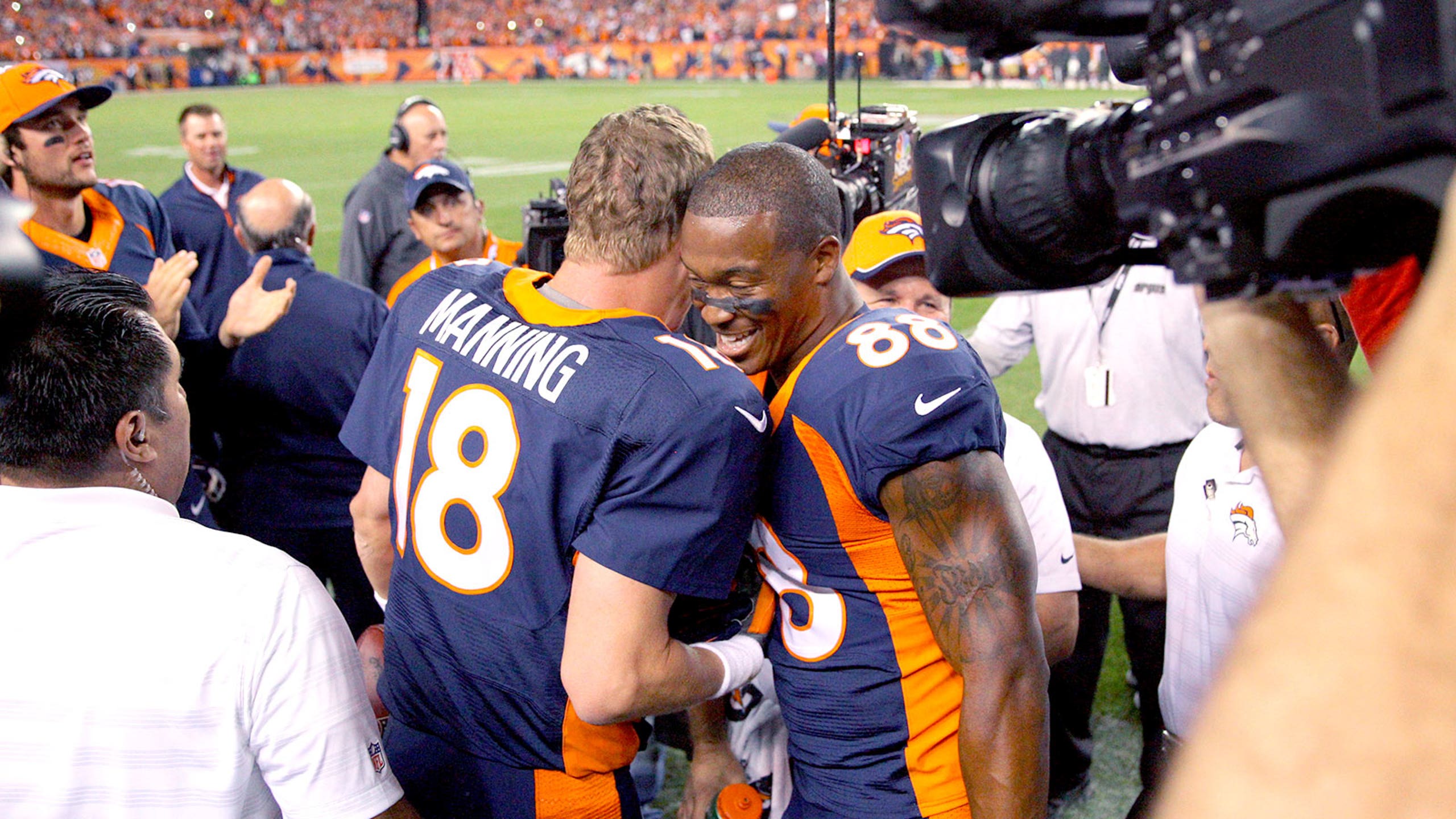 Thursday Night Fantasy Football Preview: Chargers at Broncos
BY Fox Sports • October 23, 2014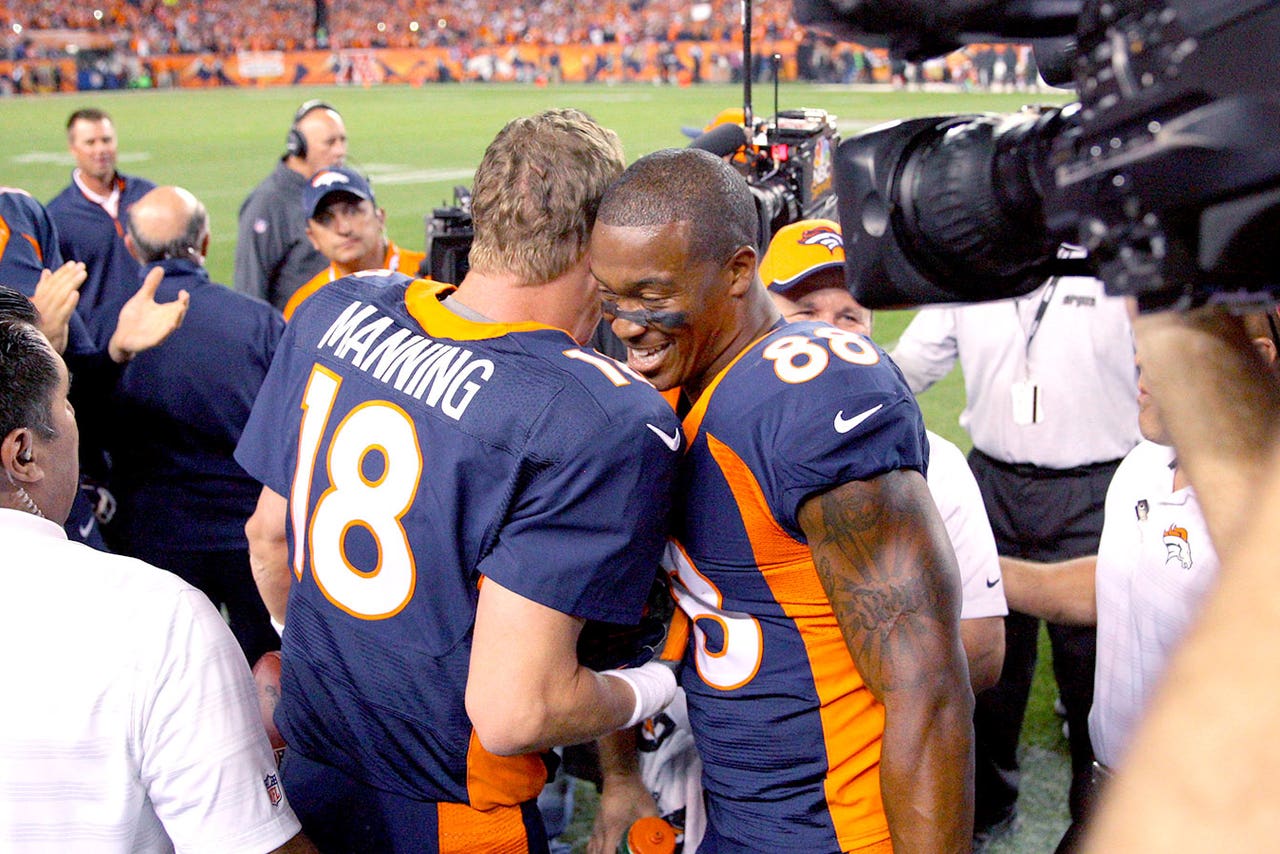 Fresh off the heels of Peyton Manning's record-setting night, the Broncos are set to host division-rival San Diego on short-rest.
The Chargers fell to Kansas City by a field goal in the final minute of Week 7's contest. That leaves Denver ½ game up on their opponent before kickoff.
Though Denver has gotten the upper hand on San Diego in the overall series (59-49-1), the Chargers did win the last time these two teams played on a Thursday. On December 12th, the Chargers held Manning's offense to only 20 points.
Vegas has the over/under set at 51.5 total points, with Denver as the 8.5 point favorite. That's an estimated projected score of 30-21, Broncos.
Strong plays:
Peyton Manning, DEN – This is a no-brainer (cue the jinx). Manning is averaging 3.17 touchdowns passes per game in 2014. That average rises to 3.5 TD/game when you only look at home games this season. Though the Chargers are only allowing 1.5 touchdown passes per game, this is the same defense that let Derek Carr throw for four TD passes in Week 6.
Demaryius Thomas, DEN – Manning's favorite target will always be a must-start. So far, Thomas leads the team in receptions (39), targets (64), and yards (662). Also, his six TD receptions (including #509) are second to Julius Thomas.
Julius Thomas, DEN – Speaking of the TD-machine, Thomas had his "worst" game of the year last week. San Francisco held him to 27 receiving yards and out of the end zone. This was the first game of the season where Thomas didn't score. However, he was targeted for #509. Thomas just dropped the pass.
Medium plays:
Philip Rivers, SD – There is no doubt that Rivers is having a great year. He currently has a TD:INT ratio of 17:3. However, in four games against a Peyton Manning-led Broncos squad, Rivers is 1-3 and averages 220.75 yards per game with 1.75 TD passes. Also, Denver's secondary has only allowed nine passing touchdowns in six games. That's why I only have Rivers as a medium play instead of a strong one.
Emmanuel Sanders, DEN – He really should be considered a strong play, but he's only averaging three receptions in the past two games. However, the second-most targeted Broncos receiver did catch his first TD of the year against the 49ers last week.
Wes Welker, DEN – In three out of four games this season, Welker has at least three catches and 50 yards receiving. Last Sunday, he caught his first TD of the year on a 39-yard completion. In the playoff game last January, Welker caught six balls for 38 yards and a touchdown against the Chargers.
Antonio Gates, SD – Gates continues to flourish in the San Diego offense. No, he hasn't totaled over 100 receiving yards in a game and he hasn't caught more than four passes in the last five games, but Gates is finding the end zone. In the past three games, Gates has scored four TDs. Then again, Gates is averaging 47.7 yards and only six touchdowns in 19 games against the Broncos. That's why the elite tight end is a medium play.
Ronnie Hillman, DEN – In two games as Denver's starting running back, Hillman has been a great change-of-pace player. Against the Jets, he ran for 100 yards and made three receptions for 16 yards. Against the 49ers, Hillman tallied 74 yards and found the end zone twice. He also caught four passes for 29 yards. He's going to make John Fox's decision very difficult when Montee Ball is healthy.
Branden Oliver, SD – Speaking of running backs taking advantage of their playing time, Oliver has accrued 100 rushing yards in two out of the past three games. Also, Oliver has scored three TDs since becoming the starting RB. You can guarantee that the Chargers don't want to get into a shootout with the Broncos. That means more carries to keep Manning on the sideline.
Keenan Allen, SD – Allen's fantasy owners have been frustrated all year. However, Allen continues to lead the Chargers with 52 targets (10 more than Gates) and 34 receptions (11 more than Eddie Royal and 14 more than Malcom Floyd). If you have Allen in a TD-only league, you are even more furious. Though, he hasn't scored a TD this season, Allen has scored two TDs apiece in the last two games against the Broncos (one game was in the playoffs).
Weak plays:
SD and DEN D/ST – I'm not sure if you were considering either defense/special teams in this matchup, but don't do it. From a fantasy football point-of-view, the Broncos and Chargers are 31st and 32nd, respectively, when it comes to opposing defenses having success against them. That means that both offenses are great and they don't turn the ball over.
---