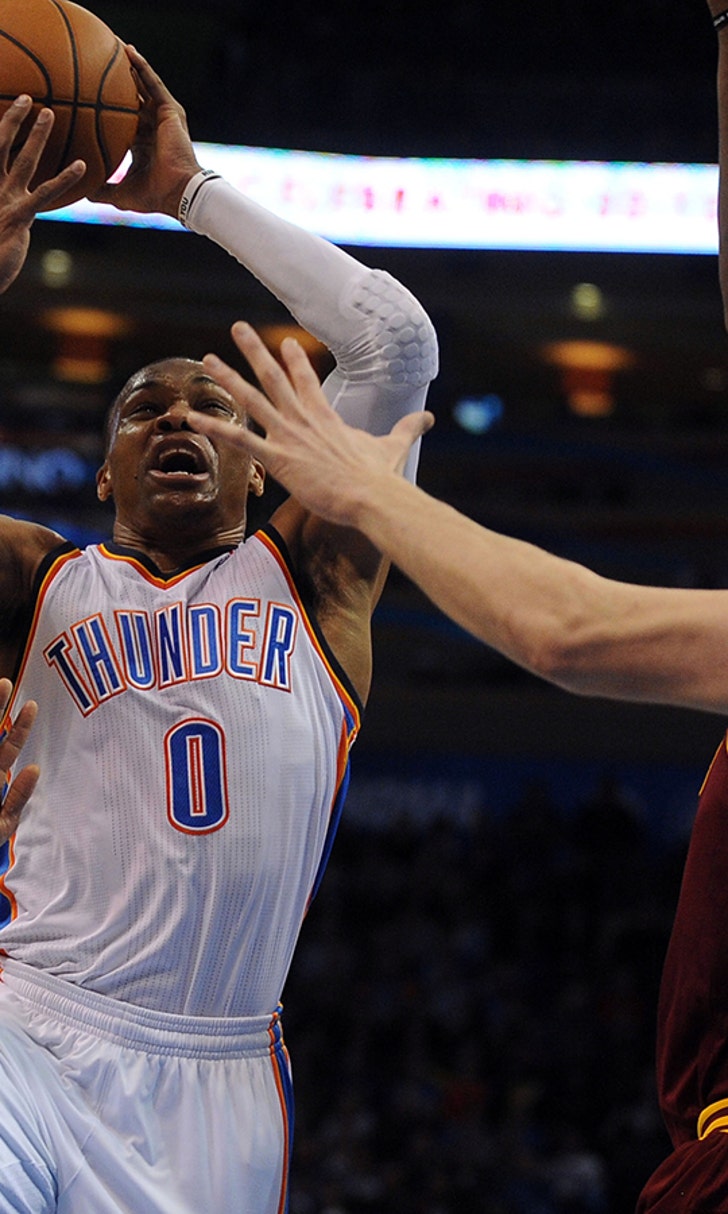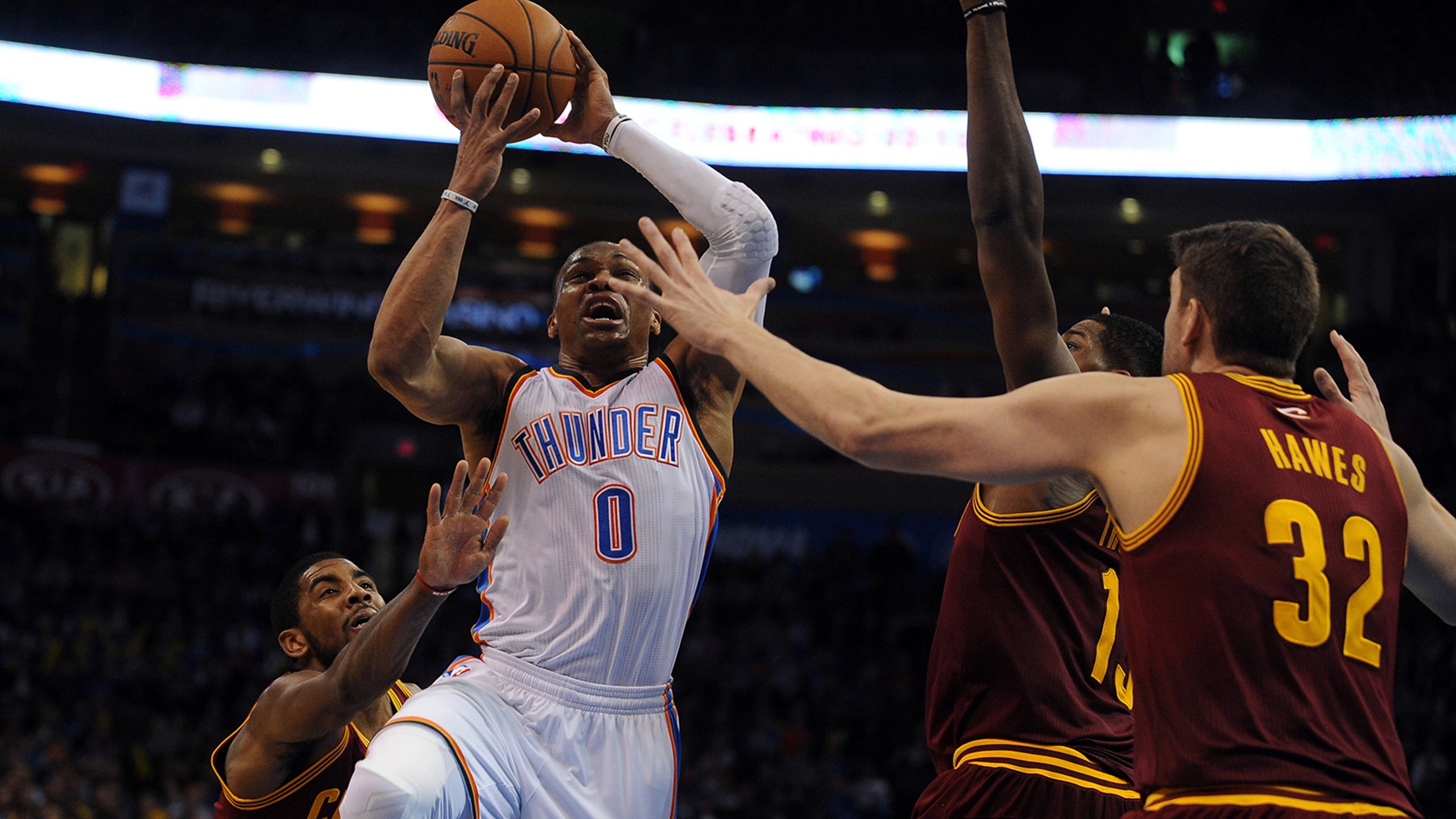 Thunder fall to Cavaliers, lose third straight
BY foxsports • February 27, 2014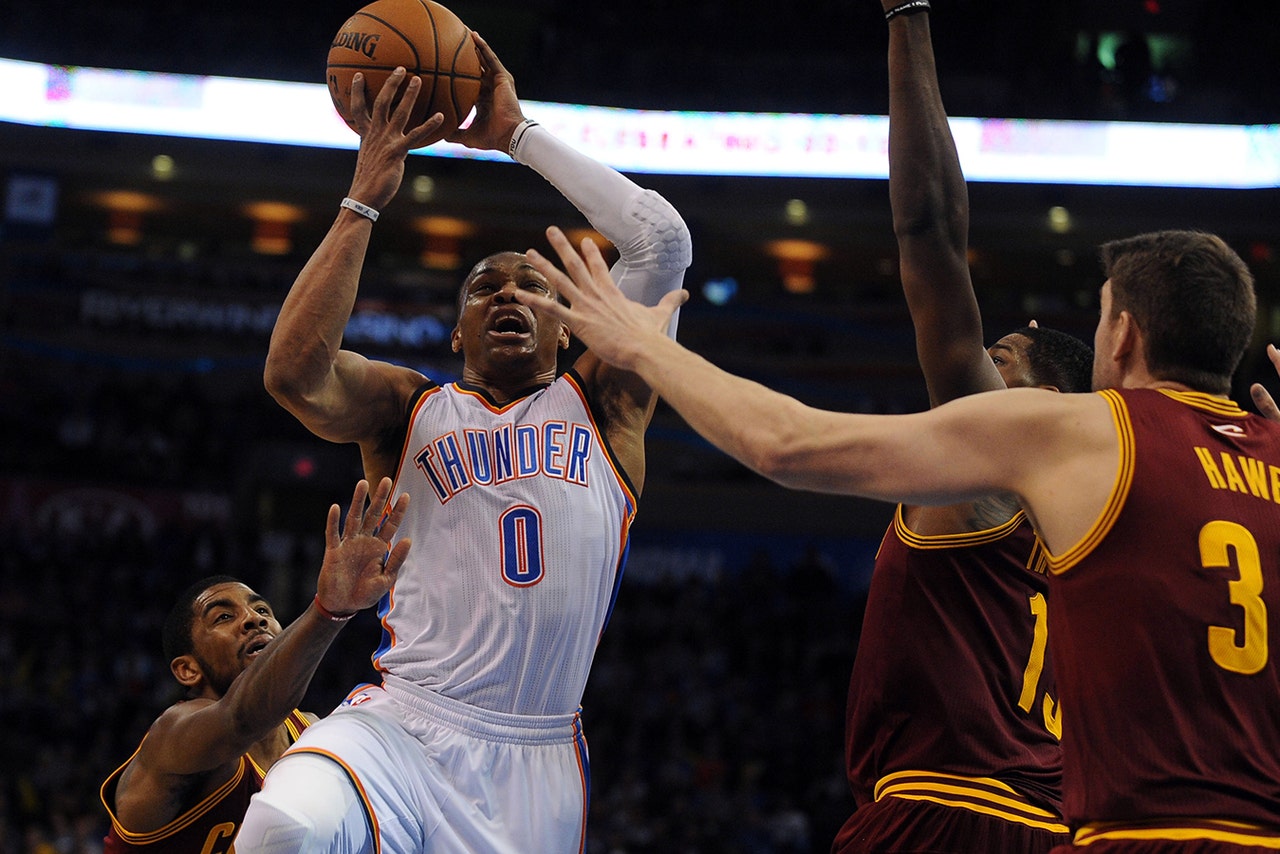 OKLAHOMA CITY - The struggle is real.
Three losses in a row, and this time even Russell Westbrook staying out past his minutes curfew couldn't save the Thunder from mighty Cleveland.
A 114-104 loss where Oklahoma City's defense never showed itself, where Kevin Durant kicked over a water cooler and where there is growing concern, issues and legitimate questions to answer.
Is it time to panic? Maybe not yet, but OKC can certainly see panic from where it's at now.
OKC hadn't lost three games in a row in a year and hadn't lost three in a row at home since 2009. Cover-your-eyes kind of bad in the last three games where the Thunder have allowed 100-plus points.  
And all of that tempered Westbrook's showing - his best since Christmas, scoring 24 points on 8-of–17 shooting in just shy of 30 minutes, when he was scheduled for no more than 25.
But sadly, that's where this team is at now, forced to bust a minutes restriction for Westbrook against Cleveland in hopes of getting a win on a Wednesday night in February. At home. Yikes.
Hard to pin this one on Westbrook's re-assimilation into the lineup. He was fine and looked well adjusted and dominant, despite bristling at the idea of even talking about his knee, his injury, his health and his overall state of being.
"What did I just tell you?," Westbrook said after being asked if he felt he was back at full strength. "We lost. It's easy. It doesn't matter how I play. We could have 50 points. It don't matter. This league is all about wins. It's not about individual performances. You want to come out and win games. That's what you want to do."
But the Thunder are as far away from winning games now as they have been at any point in the last five years. Nex up: Memphis on Friday. Wednesday, OKC gave up a 40-plus point quarter for the second game in a row. The last one came Sunday in the second quarter to the Clippers. That seems acceptable, but after losing two games in a row, talking about how the team needed to reclaim some sort of order on defense, the Thunder allowed it to happen again, giving up 42 in the fourth quarter.
"We were 3-29 when I first got here," Westbrook said. "Was that frustrating?"
That team wasn't supposed to win games. This one, as little as three weeks ago was the best team in the NBA. That's got to be a bit frustrating.
Maybe it's not having Kendrick Perkins in the lineup for the second game in a row, due to a groin injury, but if that's the case, this team better start working on an alternate plan. Perkins is out until at least early April.
"We have to get better on the defensive end," coach Scott Brooks said in what could be considered a reusable quote. "We've been together for awhile. In an NBA season, you're going to have some ups and downs and you just have to stay with what we do and keep believing  in each other. Our guys have always done that. I'm very confident that it's going to continue that way.We have to get better defensively. That's three games now that it's not up to  our level and we have to fix that immediately."
Although Brooks didn't provide a scenario in how the Thunder will in fact get better on defense, he could lean on the fact Steven Adams is a rookie and is playing more minutes than he's used to. But it's not just Adams. Cleveland scored 44 points in the paint, but also made 11 3-pointers. The Cavs, now 23-36, shot 46.5 percent, out rebounded the Thunder, had few turnovers and closed the game effectively after the Thunder took a one-point lead with 5 minutes to play.
Kevin durant went 10-of-16 for 28 points. He had 10 rebounds and nine assists, but has never shown the kind of frustration he did Wednesday, kicking over a cooler in the fourth quarter. Durant denied the team was in a rut after losing to the Clippers Sunday. He didn't deny that fact Wednesday.
"We've got to figure it out," he said. "We have to help everybody else out and figure out what we're doing wrong out there. We just have to focus on the next game."
Maybe that's an oversimplification of things, but maybe that's just what the Thunder need – let Durant and Westbrook, who seemingly is getting back to normal, take care of the offense, and then find some way to get in front of someone on defense. It won't be Perkins, but there are other options.
"Perk is huge for them," Cleveland coach Mike Brown said. "But they are still big, but without Perk there is a big void that they have from the standpoint that he's won a championship and big games and talks a lot."
There's been plenty of talk of what the Thunder need to do. Now we get to find out if they're going to do something about it.
"We just have to get back to it," Brooks said. "I know it's three games. No one in the locker room, including myself, feels good about it. We know we can do better."
Follow Andrew Gilman on Twitter: @andrewgilmanOK
---