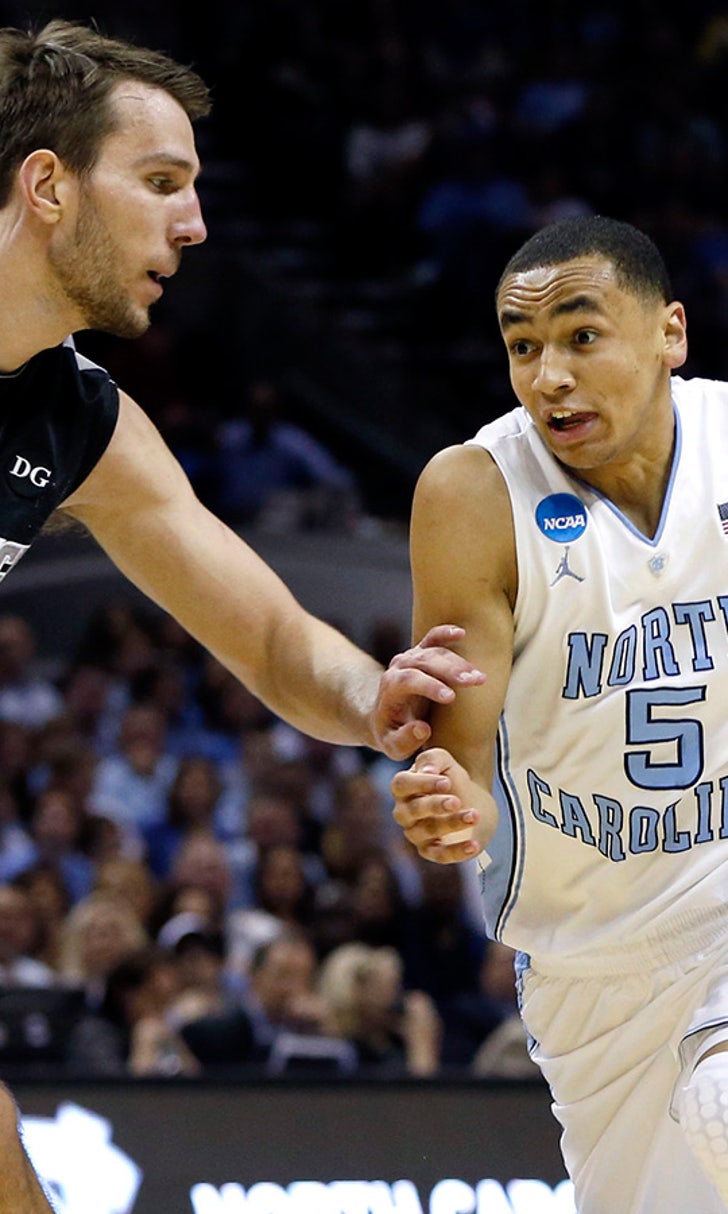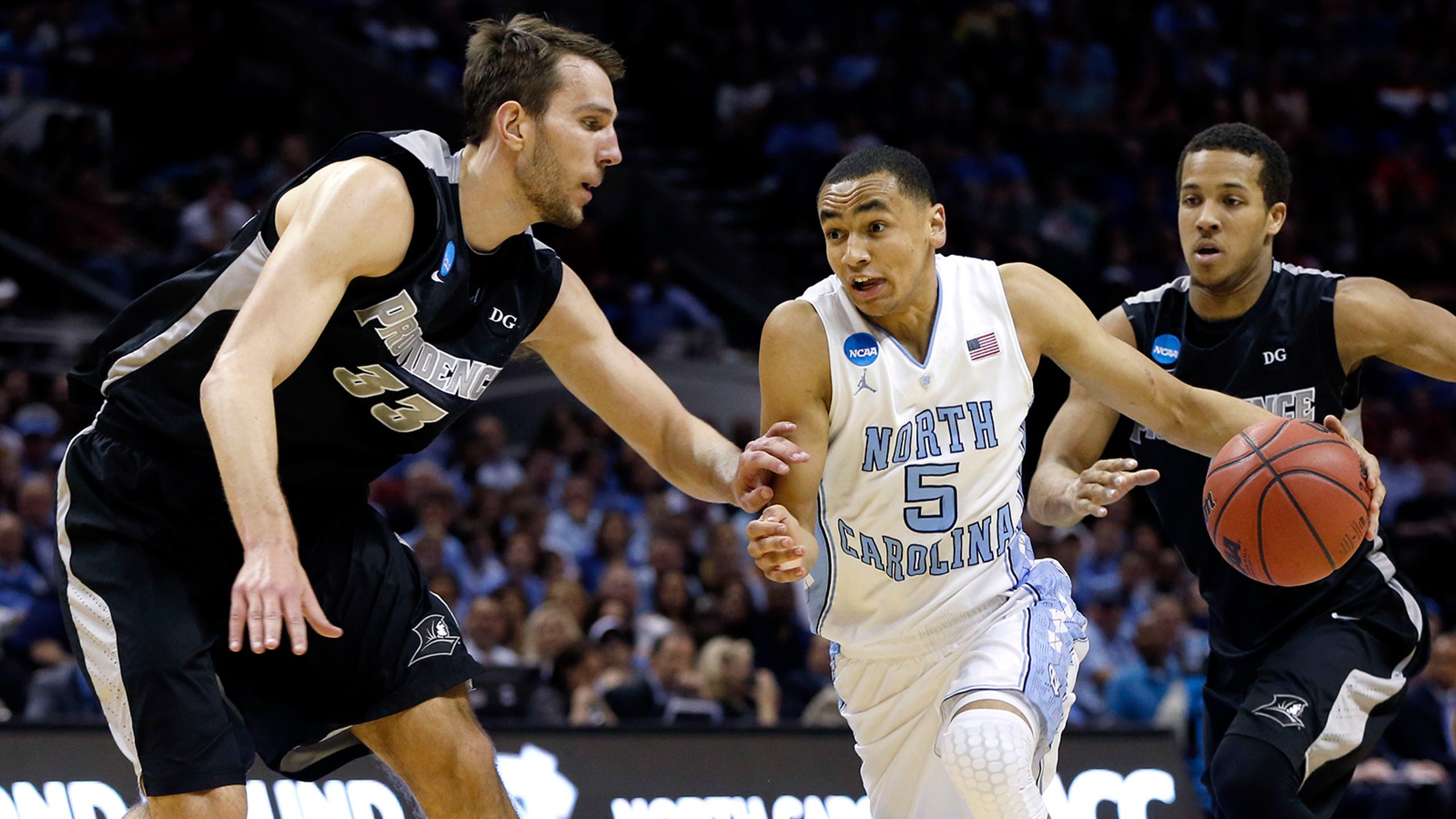 Three Hits: UNC survives upset-minded Providence
BY Zach Dillard • March 21, 2014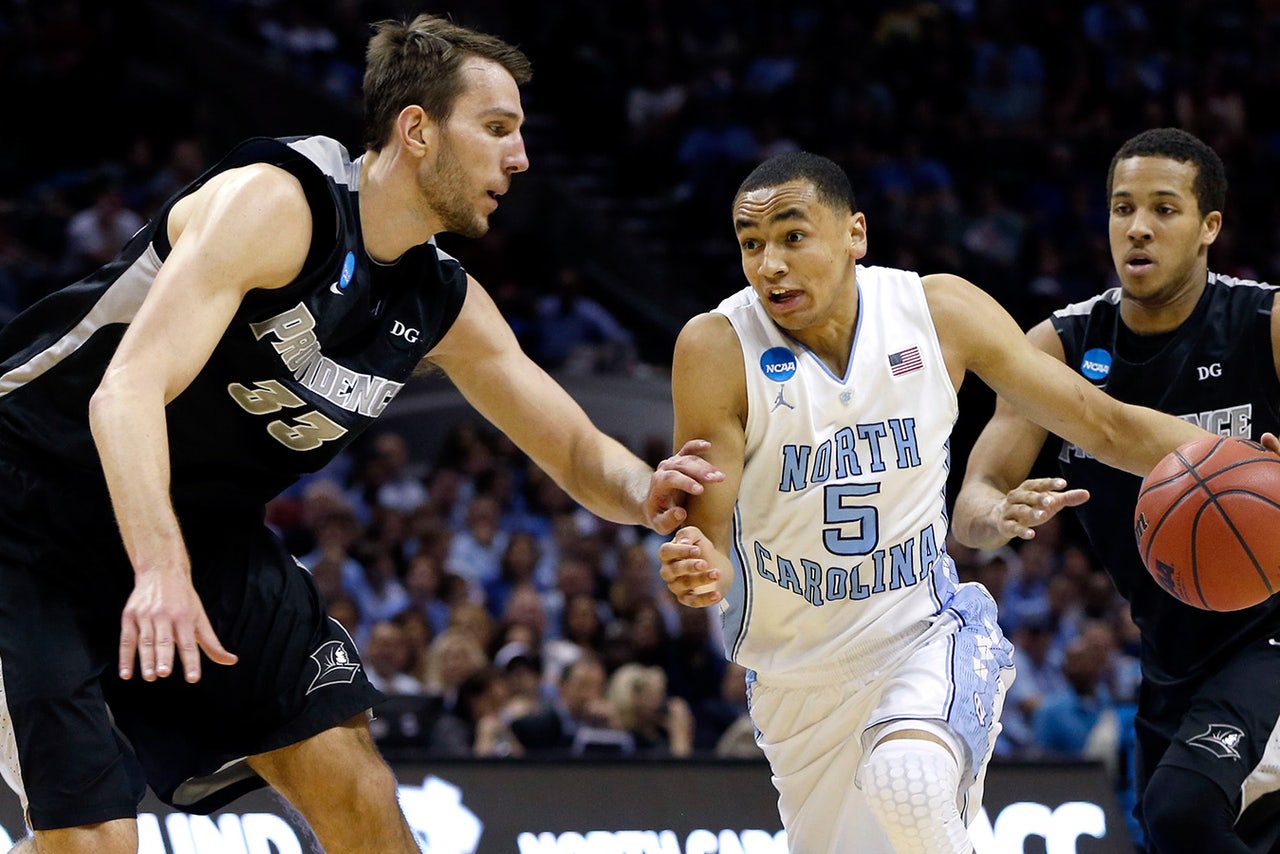 The sixth-seeded North Carolina Tar Heels escaped 11-seed Providence in every sense of the word in the two teams' NCAA Tournament opener on Friday. The Tar Heels walked away with a 79-77 nail-biter in one of the most closely-contested games of the tourney's first weekend. Here are three quick observations from the game:
The game plan for the Tar Heels was obvious very early: go deep into the bench and wear down the Friars, who generally rotate in just six players. That's typically made possible with superb point guard Bryce Cotton (more on him in a minute) controlling the pace of the game, slowing it down so as to avoid fatigue. Providence ranked 252nd in tempo this season; UNC ranked 20th, averaging more than 70 possessions per game with coach Roy Williams probably wanting even more.
The result: UNC countered Providence's six-man rotation by giving 11 different players playing time.
There was a problem, though. Not only did Providence keep pace, the Friars eventually excelled by going uptempo and beating the Tar Heels back in transition and scoring off mistakes. Cotton, LaDontae Henton and Tyler Harris were superb while playing 117 combined minutes, putting the pressure back on UNC -- both the starters and backups -- to make plays down the stretch. Providence wasn't going to lose this game. The Tar Heels were going to have to take it.
And they did. Just barely.
Trailing by seven points with under five minutes to play and three points with fewer than 90 seconds remaining, the Tar Heels needed clutch plays from starters J.P. Tokoto (10 points), Marcus Paige (19 points) and James Michael McAdoo (16 points) to earn the right to play 3-seed Iowa State on Sunday. Tokoto pulled off a spinning miracle of a basket-and-foul to knot the score at 74. Paige hit a 3-pointer with a 1:10 remaining to tie the score at 77.
And McAdoo, who has perhaps gone through more individual ups and downs than any other Tar Heel on the roster, came through when it mattered most: grabbing an offensive rebound and drawing a foul with three seconds remaining, hitting the game-winning free throw and grabbing another board off the missed second attempt to seal the deal.
In the end, UNC pretty much flipped the script. The Tar Heels defense struggled to come up with stops, especially in the second half, but the offense, which has been hit-or-miss this season, picked apart the high-pressure Providence zone. The Tar Heels averaged 1.22 points per possession. They'll need every bit of that scoring prowess in the next round -- and then some.
It was by an unfortunate twist of fate that Cotton, the Big East Player of the Year, fumbled the ball out of bounds in the closing seconds to cap an excellent collegiate career -- especially after setting the AT&T Center on fire for the better part of Friday evening. Cotton was spectacular throughout, scoring more points (a career-high 36) than any other player against North Carolina in NCAA Tournament history.
It almost ended Providence's NCAA Tournament drought of going without a win since an Elite Eight overtime loss to Arizona in 1997.
The 6-foot-1 senior hit three big-time 3-pointers, fearlessly drove the lane and attacked the Tar Heels in transition, grabbed five boards and topped it all off with eight assists. Bar none, he was the best player on the floor and he almost single-handedly sent his team to the Round of 32. Best individual performance of the tournament to date? Considering the level of competition (Adreian Payne went off for 41 against 13-seed Delaware), it's right at the top of the list.
Cotton's ability to apply relentless offensive pressure without coming off the floor served the Friars well all season, and it was the main reason coach Ed Cooley was able to go six-deep against the hockey-type line changes of North Carolina. For the past three seasons, Cotton has played at least 85 percent of available minutes, including leading the nation in available minutes played in 2012 and 2014, and he capped off his career in fitting fashion: playing all 40 minutes and proving he's one of the best scorers in the college game. His career efforts paid off with constant year-to-year improvement (points per game; offensive rating):
North Carolina's strength this season has come on the defensive end of the court (21st nationally in defensive efficiency), but that was far from apparent in this game. It was an up-and-down affair from the beginning, which should have benefitted Williams' deep bench and highly-recruited athletes -- but Cotton spoiled that plan. He nearly spoiled Williams' unblemished record in NCAA Tournament openers, too.
Perhaps a better question would be: Would they want to?
The Cyclones, the Big 12 Tournament champions and one of the most dangerous offenses in the Big Dance, love to run and they have the players to do it. DeAndre Kane and Melvin Ejim are effective in so many different ways in coach Fred Hoiberg's multi-faceted offense. Iowa State went through some bad stretches during the regular season, but they featured the 17th-most efficient offense and they are riding a five-game winning streak including wins against tournament teams (Oklahoma State, Kansas State, Kansas, Baylor and 14-seed North Carolina Central). So the question isn't if the similarly fast-paced Tar Heels can run, it's whether they should against what has to date been a superior offense.
UNC lost to some pretty poor teams this season, but their final two losses came against formidable offensive teams -- Duke and Pittsburgh -- allowing 93 and 80 points, respectively. That's Iowa State's comfort zone. The Tar Heels can compete in an up-and-down game with the best of them, but they'll need to make some defensive adjustments because they haven't held a team below a point per possession since Notre Dame a couple weeks ago, which is not something to write home about.
The good news for the Tar Heels is that their best two players, Paige and McAdoo, appear to be locked in right now. They were involved at both ends of the floor against Providence. Paige is, simply put, a star capable of carrying the UNC offense for stretches. He's also capable of this (it didn't count):
But McAdoo is the wildcard, because when he's using his athleticism to his advantage and getting on the offense glass (he created five extra possessions on Friday), he's a tough matchup for most teams.
Still, UNC lives to fight another day, and in this tournament, especially when an opposing player catches fire and tries to single-handedly run you out of the gym, survive and advance is the name of the game.
---