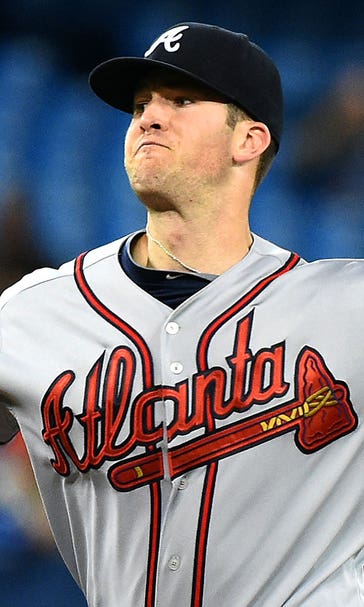 Three Cuts: Replay debate, bullpen woes factor into Braves' loss to Jays
April 18, 2015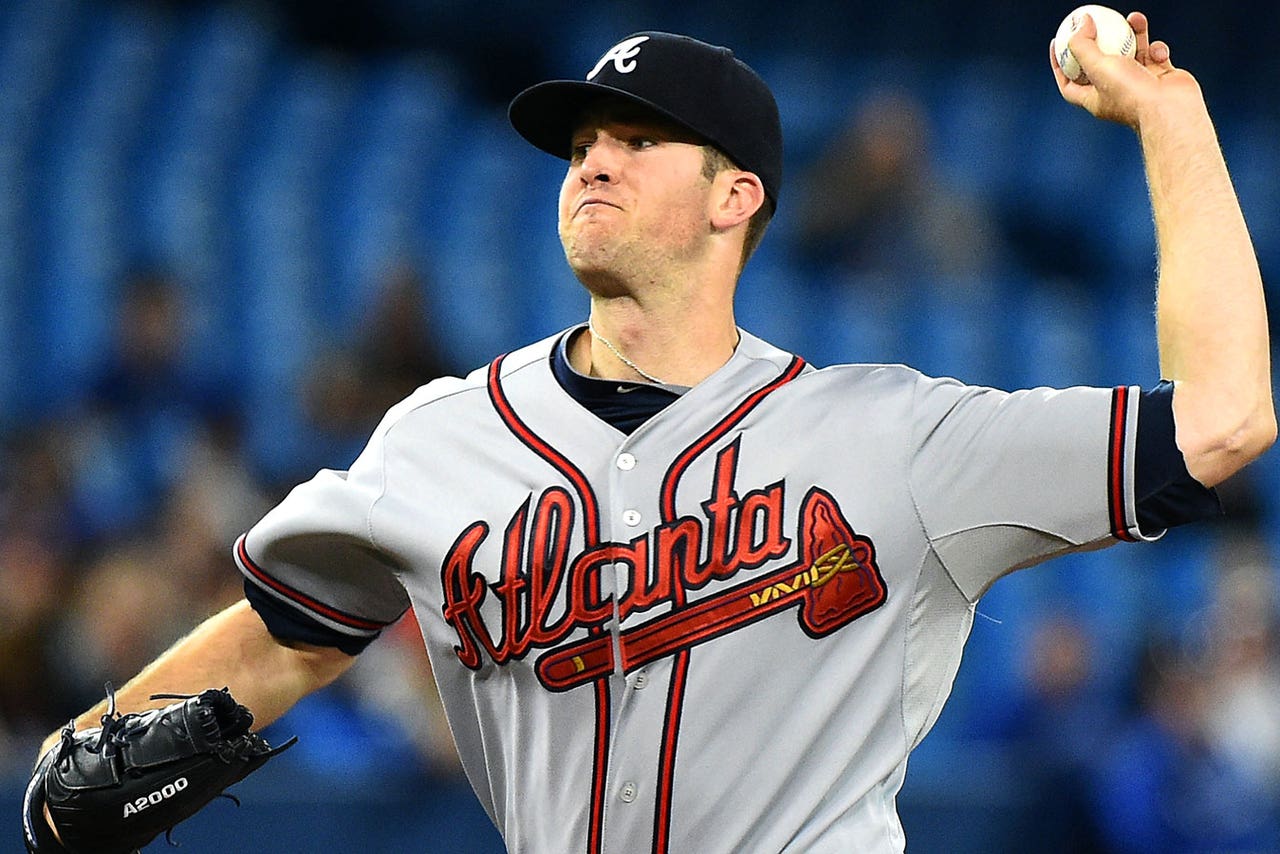 Here are a few detailed observations from the Braves' 6-5 loss to the Toronto Blue Jays on Saturday -- a wild 10-inning defeat that looked like a surefire Atlanta victory in the middle innings:
I agree with FOX Sports South TV analyst Matt Diaz: You can look at the replay of Dalton Pompey's infield single a hundred times -- from 20 different angles -- and still not generate conclusive evidence of whether the rookie speedster was safe or out.
(Thus, replay officials in New York City felt obligated to uphold the initial on-field ruling.)
Conversely, TV analyst Joe Simpson was absolutely certain Pompey was out; and if that had been the case, Braves southpaw Alex Wood would have owned a 4-2 lead through seven strong innings. (Instead, it was 4-3, and he was removed with two outs in the 6th.)
But what was so definitive about the bang-bang play, in Simpson's mind?
Does an out begin when the ball breaks the plane of the first baseman's glove (in this case, we're talking about Freddie Freeman)? Or must the assisted ball --we're talking about Andrelton Simmons' throw from the 6-hole -- strike the palm of the first baseman's glove?
It's kind of a gray area for fielders ... unlike for the baserunner, who must simply get a toe on the bag to force a 'safe' decision.
Either way, it was a crucial call in a game the Braves controlled for six-plus innings. In fact, given Blue Jays starter R.A. Dickey's shakiness on the mound (two homers allowed, four hits, four walks surrendered), it's hard to believe Atlanta didn't bust this sucker wide open sometime during the middle innings.
Saturday didn't mark Wood's greatest outing of his young career; but he was certainly at his best with one out, luring the Blue Jays into four double plays -- all of the inning-ending variety.
But in the 7th, the third-year pro lost grasp of a seemingly stable 4-0 lead, yielding hits to Danny Valencia (double), Russell Martin (RBI single), Steve Tolleson (RBI triple) and Pompey's controversial infield single -- a well-struck ball that was fielded cleanly by Simmons (more on him later).
Johnson was stellar for Atlanta on Opening Day, mowing down four Miami hitters over two tense innings. He followed that up with five solid appearances, entailing zero runs, one walk and just three hits allowed.
All good, all the time, right?
Well, Johnson finally faltered on Friday night, yielding two runs and three hits to the Blue Jays -- putting the Braves' cushy lead in jeopardy (three runs entering the 8th).
And on Saturday, with Atlanta holding onto a one-run lead (and potential victory for Wood), Johnson hung a juicy, over-the-plate pitch to Jose Bautista, who turned on the pitch for a lead-changing two-run homer, depositing it deep into the left-field seats.
Suddenly, Atlanta was on the short end of a crazy game, trailing 5-4. (Kelly Johnson would temporarily bring balance to this day, crushing a pinch-hit, game-tying homer in the 9th.)
Now, two porous outings -- in a hitter-friendly park -- aren't justifiable cause for reorganizing the Braves' entire bullpen. However, with the Athletics last season, Johnson often fell victim to the proverbial Snowball Effect, essentially allowing one bad relief appearance to carry over to the next stint.
And quite simply, the Braves (7-4) might not have the depth to absorb any substantial changes to the bullpen -- role-wise -- before the ball reaches the hands of ultra-reliable closer Jason Grilli.
If you watched the entire FOX Sports South broadcast on Saturday, you might have heard about Chip Caray's pregame discussion with Simmons, specifically regarding the unique turf at Rogers Centre.
Simmons labeled the field-turf surface as "fine" (in Caray's words). But he also characterized it as slow ... spongy ... and noted how each groundout comes with crafty topspin.
Fast forward to the latter half of the sixth inning: With the Braves leading 4-0 and one out, Blue Jays rookie Devon Travis chopped a base hit over the head of third baseman Chris Johnson.
In any other major-league park, Travis's ball might have firmly gone to the left fielder, or might have careened down the line for a double. But on this "slow" and "spongy" turf, the batted ball essentially died along the shallow outfield grounds ... leaving a gap hole in the Atlanta defense.
But here came Simmons, virtually out of nowhere, sprinting on a line and then long-diving onto the turf for the ball. He then quickly jumped up and fired a strike to Jace Peterson at second base -- precluding Travis from pursuing a double on the hit.
It was perhaps the greatest Braves play you'll see all year that doesn't get reflected in a box score.
An inning later, with the Blue Jays threatening to score the tying run (after the controversial replay call), Travis blooped a soft-liner into shallow left-center-- only to be robbed by Simmons once again.
This time, the all-world defender executed an over-the-shoulder catch, ending the inning on a supreme high note.
There was some pessimism about the Braves' lineup a few weeks ago -- namely the protection Freeman would get at the 3rd and 5th slots. (He's batting cleanup this season.)
My March rationale: Opposing pitchers, never living in fear of the other Braves hitters, would seldom feel compelled to earnestly address Freeman (career-best 23 homers for 2012/13) -- meaning he'd be a seasonal lock for 100-120 walks.
Fast forward two-plus weeks, though: Nick Markakis (who had reached base safely in his first seven plate appearances this weekend) leads the Braves in walks ... and Freeman (two moon-shot homers for Friday/Saturday) still has an expert knack for punishing pitchers who miss their spots.
In other words, he'll be just fine in the cleanup spot.
---