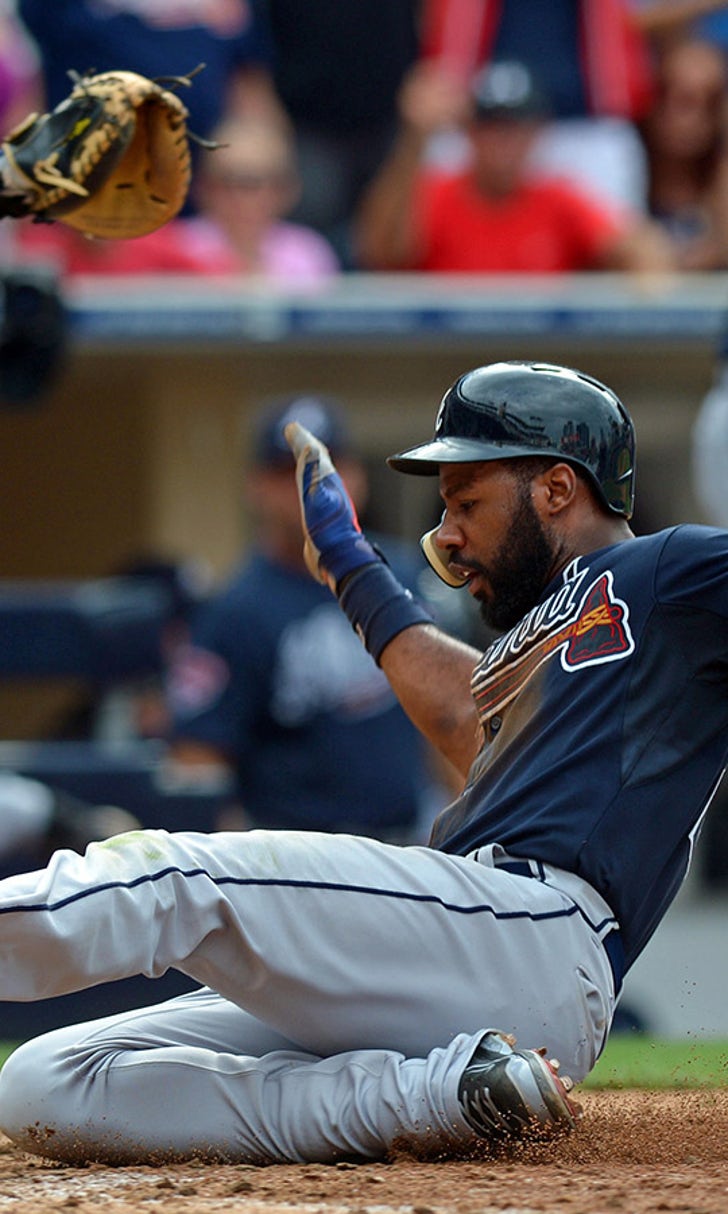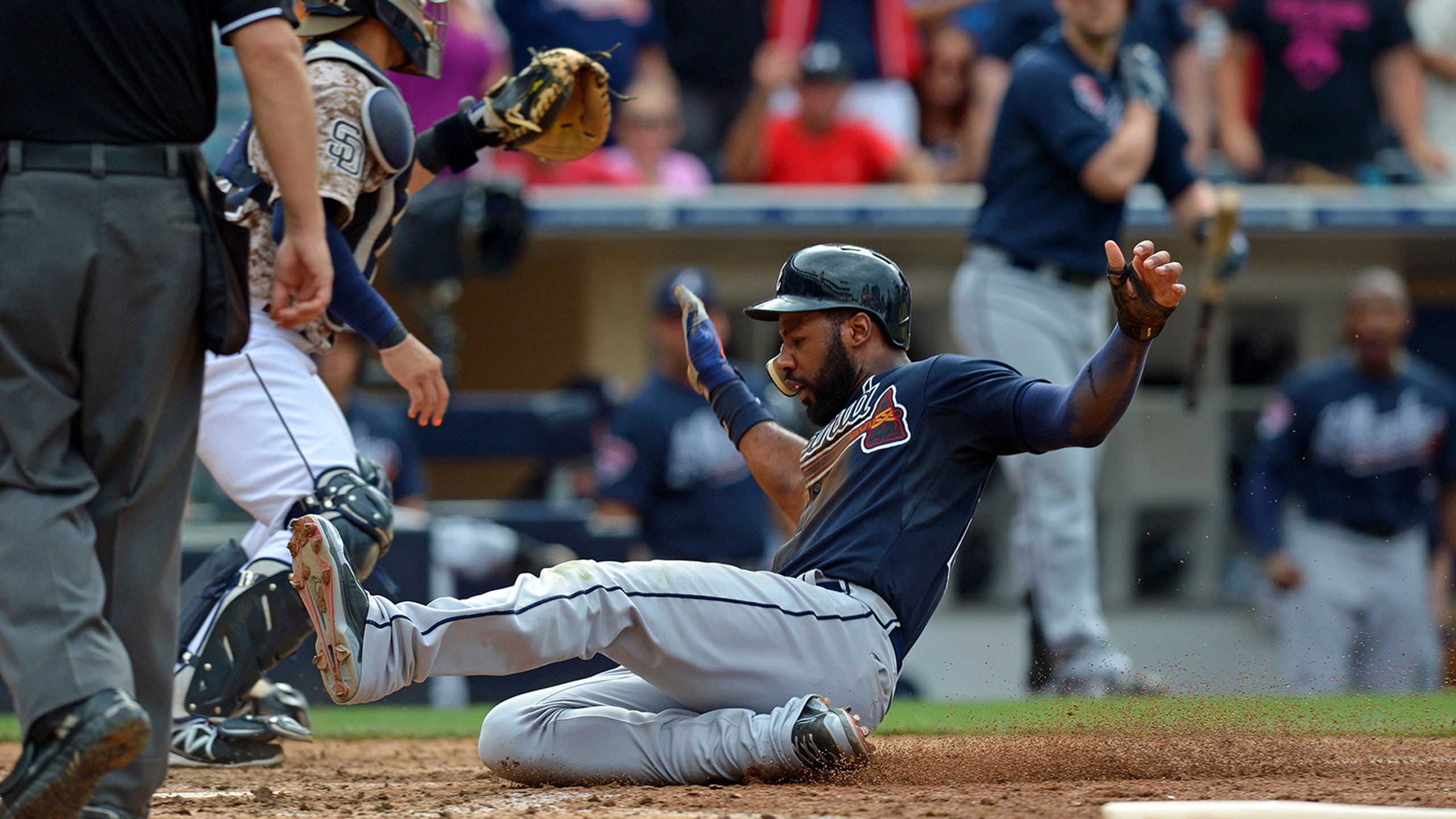 Three Cuts: Braves fall to Padres in 10 as skid hits six
BY Cory McCartney • August 3, 2014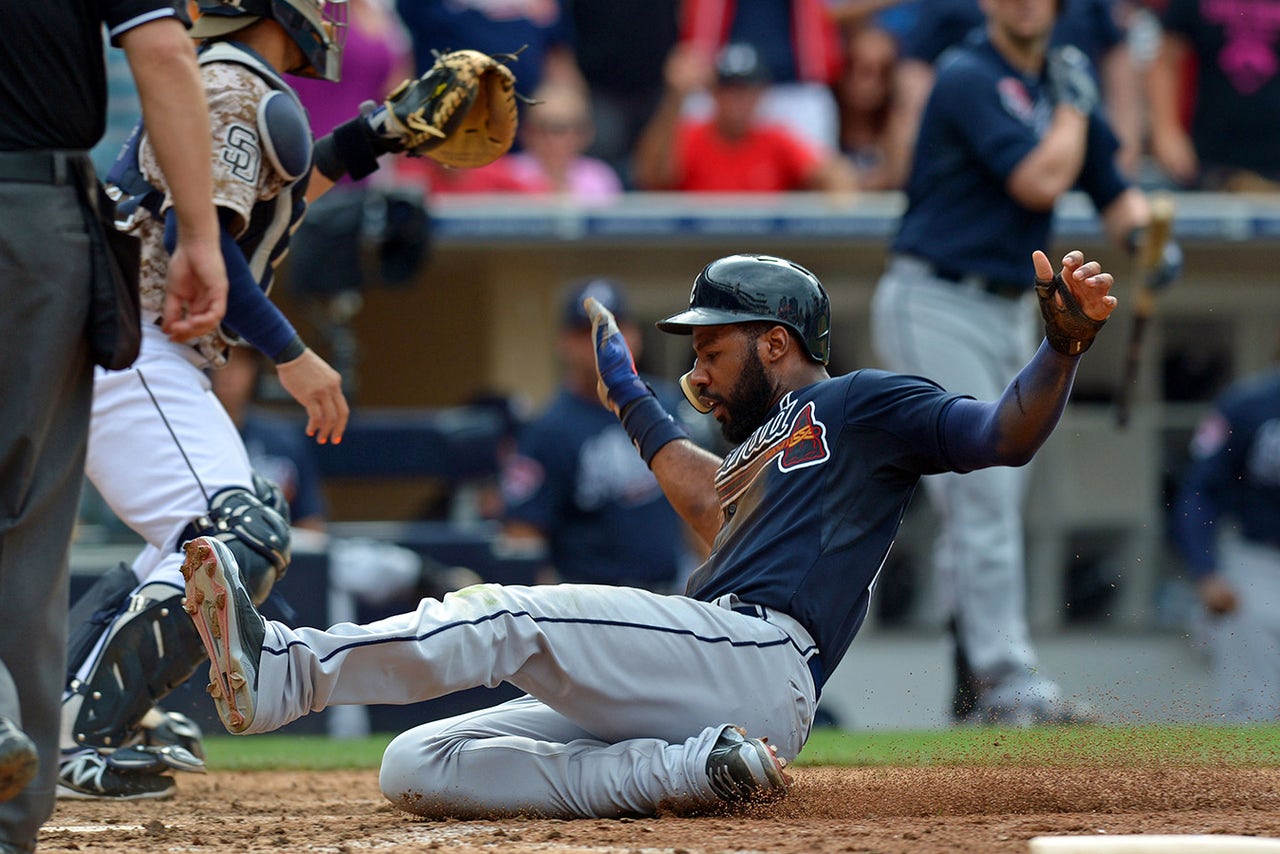 A difficult portion of the Braves' schedule had a perceived break in it -- a three-game series against the last-place Padres.
But San Diego, which has been improved post-All-Star break, only added to Atlanta's woes. Everth Cabrera's 10th-inning walk-off single dealt the Braves a 4-3 loss Sunday, their sixth straight on this road trip.
There were highlights, including Jason Heyward, (3-for-4 with a triple and a double), and Evan Gattis, who was mired in a 2-for-17 slump, but added a double. But with a seven-game skid from April 29-May 5, Atlanta is in the midst of its first season with two runs of at least six straight losses since 2008, when it finished in fourth in the National League East.
It gets no easier for the Braves on this West Coast swing. They've already seen the Dodgers' Clayton Kershaw and Zack Greinke and Padres' All-Star Tyson Ross. Next up: they face the Mariners' Felix Hernandez on Tuesday.
Here are three thoughts from Atlanta's loss:
The Braves' bullpen is one of the least-used in the majors, with its 302 innings coming into Sunday ranking 28th. Only the Tigers (287) and Reds (282 2/3) had used their relievers less.
But Atlanta's backend has been taxed in San Diego, throwing three innings Friday as Mike Minor was pulled in the sixth and four frames in Saturday's 12-innings loss.
It was the relievers who, once again, couldn't hold on against the Padres, allowing two runs and five hits with four walks in four innings, culminating in David Hale giving up the walk-off single to Cabrera.
That came one day after Craig Kimbrel -- who threw 38 pitches in 1 1/3 innings -- gave up a game-winning hit to Will Venable in the 12th and four days after Hale allowed Matt Kemp's 10th-inning, walk-off single in a loss to the Dodgers.
Sunday, the problems started earlier, as Tommy Medica hit a game-tying, solo home run off Anthony Varvaro -- who was among those who threw in Saturday's game -- in the eighth inning.
It's part of a troubling trip out west for Varvaro, who had a 2.23 ERA in his first 44 games with 40 strikeouts and nine walks. But in his last three, which included giving up three runs in the seventh inning in an 8-4 loss to the Dodgers on Tuesday, he has a 12.00 ERA.
Newly acquired James Russell followed Varvaro in the eighth by giving up a hit -- though he got out of the inning without further damage -- and after the Braves managed to pull even at 3-3, Juan Jaime issued back-to-back walks in the ninth to load the bases. He nearly walked in the winning run, going down 3-0 to Jedd Gyorko before inducing an inning-ending groudout.
The bullpen did seemingly catch a break with Hale starting a double play despite falling while trying to field Rene Rivera's bunt. But Hale then proceeded to walk Chris Nelson before a double steal set the stage for Cabrera's game-winning hit.
Tyson Ross' slider is simply devastating.
Per FanGraphs, the pitch has a slider runs above average (wSL) of 15.8. That figure is the best in baseball by 0.4 over the Angels' Garrett Richards, with the Rangers' Yu Darvish third (15.0) and Kershaw at fourth (12.0).
Add in an 86.5 contact rate on pitches in the zone and its a nightmare for batters who are often coming up empty on their swings or standing their dumbfounded.
So it should come as no surprise that Ross used it to perfection for 6 1/3 innings Sunday, striking out B.J. Upton on an 84-mph slider to open the game, then finished Justin Upton with it in the second, Chris Johnson in the fifth and Tommy La Stella in the sixth.
But Evan Gattis brought an end to Ross' dominance with that pitch, following Jason Heyward's RBI triple in the seventh inning by driving an 87-mph slider to center to even the score at 2-2.
In he previous at-bat, Gattis saw the pitch twice, swinging and missing on a 2-0 count before popping it up to catcher Rene Rivera in foul territory.
He feasted on it in his next at-bat, a development that was as unsurprising as Ross' effectiveness with it against most of the Atlanta lineup.
The slider is Gattis' most lethal pitch too, with a wSL of 9.4 and a wSL/C of 3.74. Those are both his biggest numbers in either category and they lead all MLB catchers (by comparison the Indians' Yan Gomes is second with a 5.5 wSL and the A's Derek Norris is No. 2 in wSL/C at 3.56).
It had been more than a year since Aaron Harang had faced the Padres -- one of the seven teams he's suited up for in his 13-year career -- and he continued to impress against them.
Harang allowed two runs and five hits over six innings, striking out three and walking four. In his previous five matchups with San Diego, he was 3-0 with a 1.35 ERA, with the most recent outing coming May 2, 2013 when he threw a four-hit shutout as a member of the Mariners.
It was a much-needed start considering the last time Harang took the mound when he surrendered four runs on nine hits in six innings against the Dodgers on Tuesday.
He found his way into trouble on Sunday, walking the bases loaded with one out in the fourth inning. He gave up just one run as Everth Cabrera scored Alexi Amarista on a sacrifice fly, then got Yangervis Solarte to fly out to end the threat.
So much has been written about how pleasant a surprise Harang (9-6) has been. He hasn't won since July 10, though with his 19th quality start he's tied with teammate Julio Teheran for second in the National League. But Harang's biggest contribution has been in his ability to bounce back.
He has yet to follow up a bad outing with another, chasing his nine-run day vs. the Marlins on April 30 by giving up two in his next start vs. the Cardinals (May 5); then he gave up two runs vs. the Red Sox on May 27 after yielding four against the Brewers on May 22 and he followed an eight-run day against the Phillies June 18 with two against the Astros on June 24.
Sunday he was at it again, making up for a rocky outing vs. the Dodgers.
---