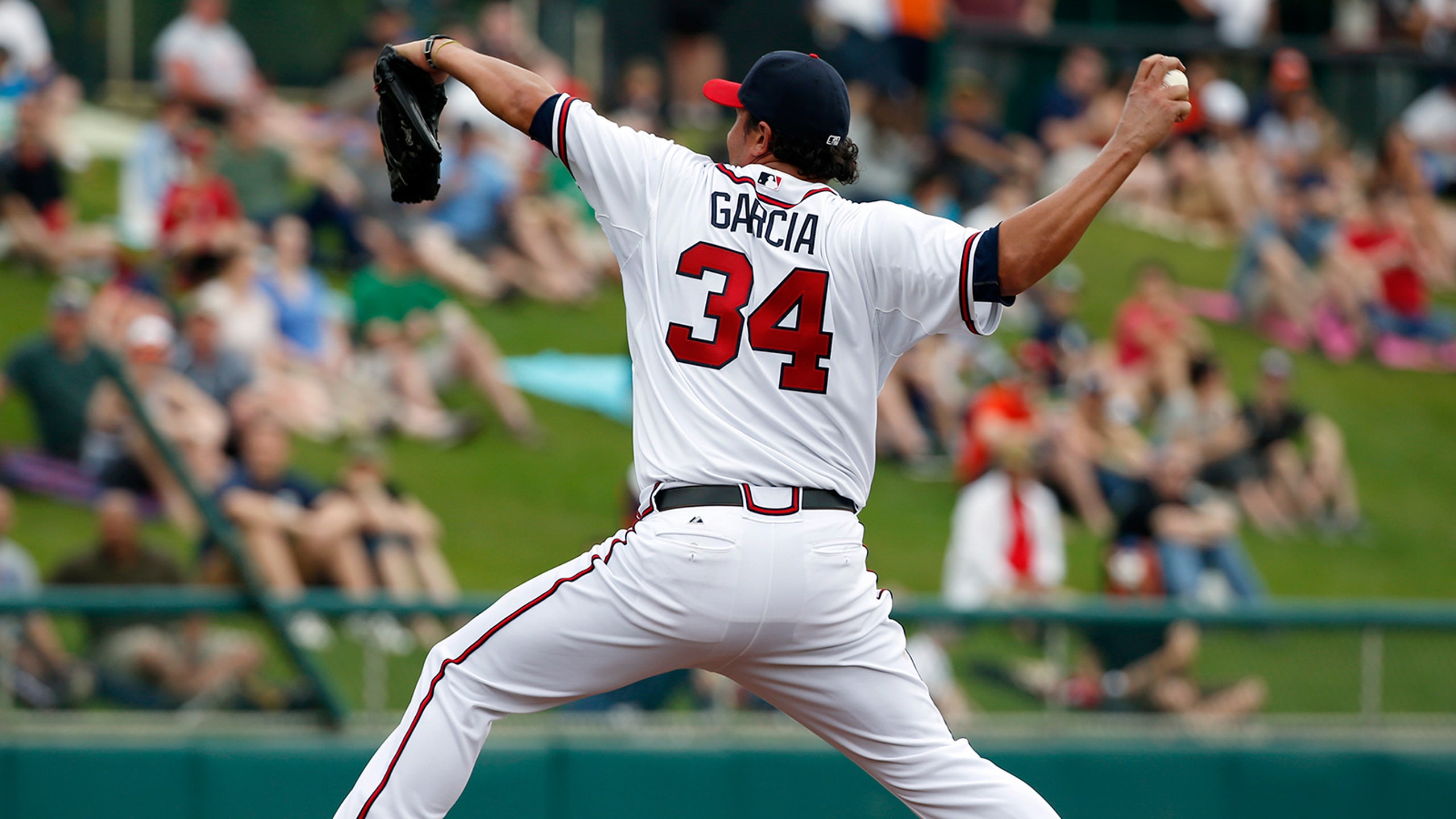 Three Cuts: Braves drop first spring game; Garcia starts strong
BY Zach Dillard • February 26, 2014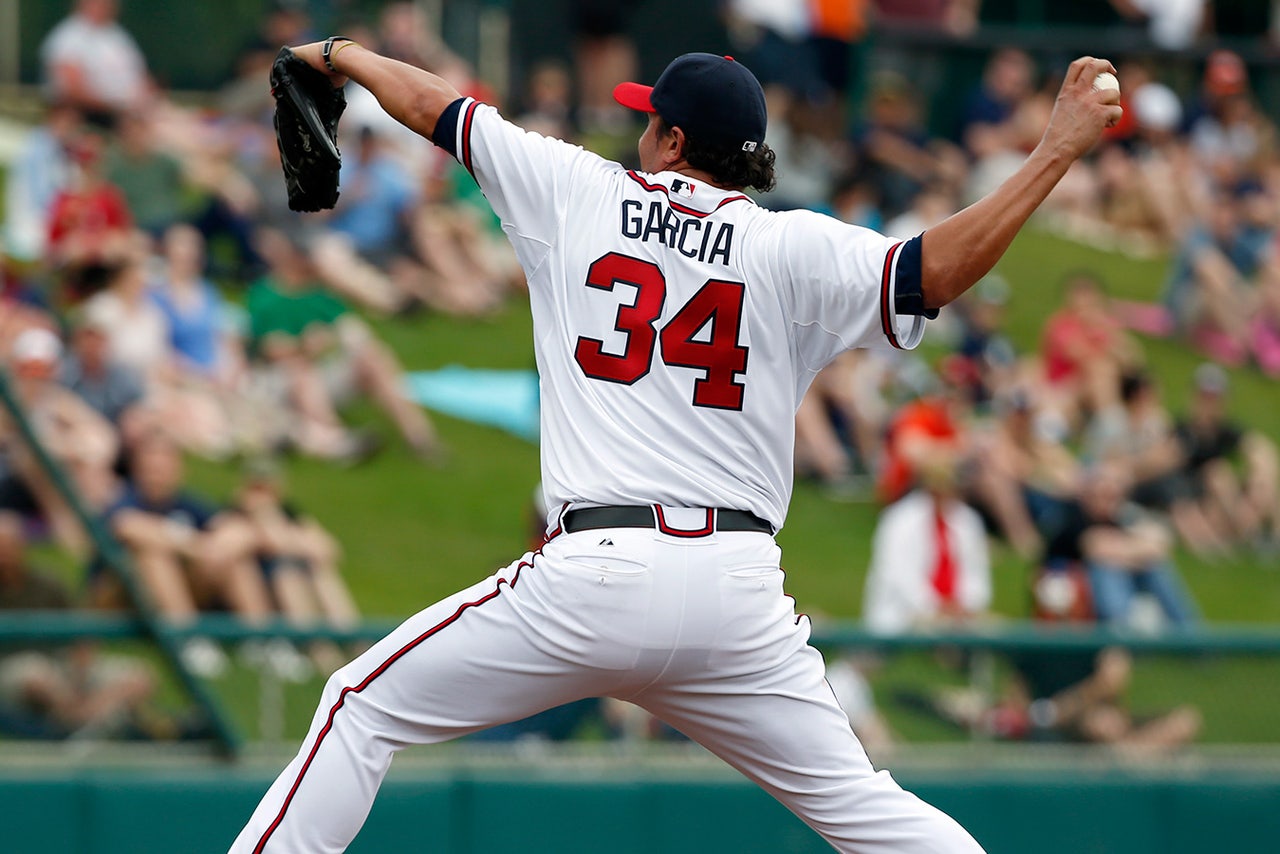 The Atlanta Braves took to the field for the first time in 2014 on Wednesday afternoon, looking similar to the group that hung around with Clayton Kershaw and the Los Angeles Dodgers in Game 4 of the NLDS last season.
With the Detroit Tigers in town for the first game of spring training, the Braves gave veteran Freddy Garcia (the Game 4 starter) the starting nod and lost in a rain-shortened affair in the ninth, 6-5. Don't take these results too seriously ("Freddie Freeman 0-for-2? Waste of money."), but here are three quick thoughts on the game:
The self-imposed ground rules are well-known and understood. Make the big-league roster or go home. The Chief, a 15-year veteran with the Mariners, White Sox (twice), Phillies, Tigers, Yankees, Orioles and now the Braves, reached short-term cult status with his late-season surge and NLDS effort: six innings, two runs allowed and eight strikeouts to go toe-to-toe with Kershaw, L.A.'s $215 million ace.
When the Braves signed Garcia to a one-year minor league deal this offseason, it was assumed to be an insurance policy for a young but capable rotation losing veterans Tim Hudson and Paul Maholm. The policy expires at the end of March, though. Cash in or say goodbye. Garcia will head home if he doesn't make the Braves 25-man roster, which makes for an intriguing decision for the team's Opening Day fifth starter spot (the bullpen looks far too overcrowded with quality arms to give him a look at a long-relief position).
With pitching talent in the organization ready to go from Day 1, namely Alex Wood or David Hale, will Garcia's inclusion simply hold someone else back? Would he be a season-long addition, or just a spot-starter until free agent signing Gavin Floyd gets healthy in a few months? Isn't Wood, who is presumed to be working on an innings limit, the best option the team has, whenever it chooses to use him?
All of that remains to be seen.
For his part, Garcia held his own on Wednesday. There's a sense that the team threw him out in its spring opener in order to get an early gauge on just what he has left -- as well as setting up the rotation for the regular season; Kris Medlen is in line to be the No. 1 starter out of the gate -- and he did just fine. In a designed two-inning stint, Garcia set down six batters without allowing a single walk. He threw 18 strikes on 24 pitches, tallying two Ks.
The Braves will need their starters to go just a bit longer into regular season games and the Tigers lineup wasn't exactly at full strength, but those numbers will not hurt his cause moving forward.
The Braves' second baseman has never been quiet about his slow starts. He acknowledges the obvious. But maybe this spring, after a difficult exclusion from the team's NLDS roster and more offseason work on his struggling swing, things will be a bit different.
In 560 career spring training at-bats, Uggla is hitting .230/.301/.404 with 23 home runs and 149 strikeouts. Not exactly tearing the cover off the ball. Spring training kinks meant very little when Uggla was putting up the numbers he was for the Marlins early in his career. But now, following three seasons in Atlanta in which he has rarely performed up to his ability (or contract), everything is scrutinized, so there's this from Wednesday's game: hitting in the No. 7 hole, Uggla went 2-for-2 and drove in a run. 
There's little to no correlation with his good and bad springs -- his best spring training came in 2012 (.277, 6 HR) and led into his second-worst regular season (though he was an All-Star); his worst spring (.197, 2 HR) was the precursor to his 33-home run 2010 season that the Braves jumped on -- but confidence should do nothing but good things for Uggla at the moment. Finding early success is a positive, regardless of what it leads to come April.
On the opposite end of the Fast Starter/Slow Starter spectrum, there's Justin Upton, the Braves' 2013 April hero who sat out the Detroit game due to soreness in his side. Better to play it on the safe side instead of aggravating an injury before the season even begins.
The move pushed his brother, B.J. Upton, into the No. 2 hole on Wednesday (finishing 0-for-2), with others moving up the ladder and backup outfielder Jordan Schafer heading into the ninth spot.
Upton joins pitcher Mike Minor as two of the bigger names on the team's roster going through some early health issues, though Upton is not expected to miss more than a few days. Minor is behind schedule at the moment, but it should not forced him to miss much regular season time, if any. All in all, though, there is nothing abnormal here. Every team is juggling the minor obstacles of getting back into full gear and putting out a winning roster come the end of spring -- everything that falls in between, as long as it does not inhibit a player's overall progress, is just fodder.
As Upton told reporters before the game, "It'€™s just a little sore, and it's Feb. 26."
---