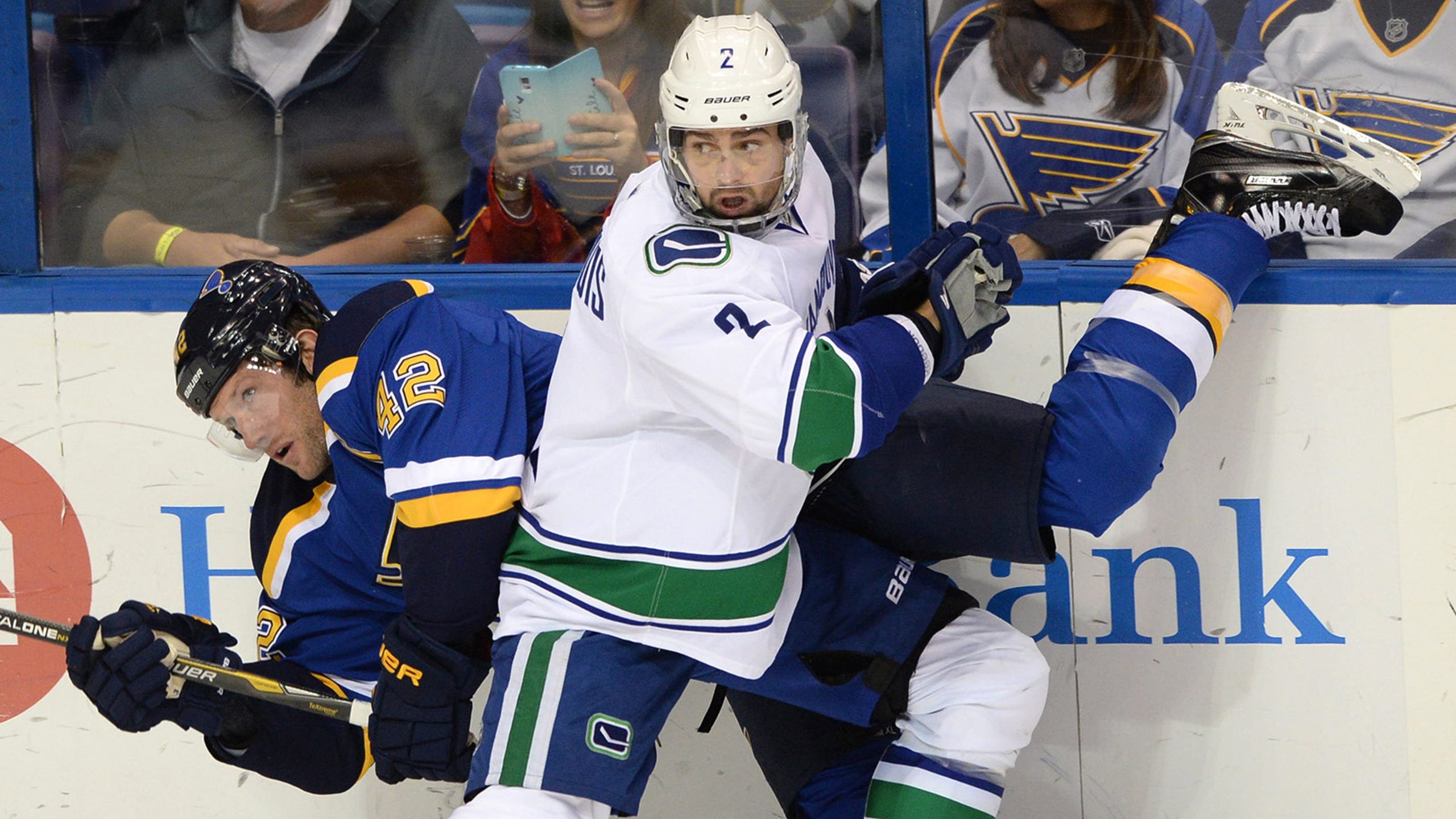 The Blues' biggest issue? They aren't playing like the Blues
BY foxsports • October 24, 2014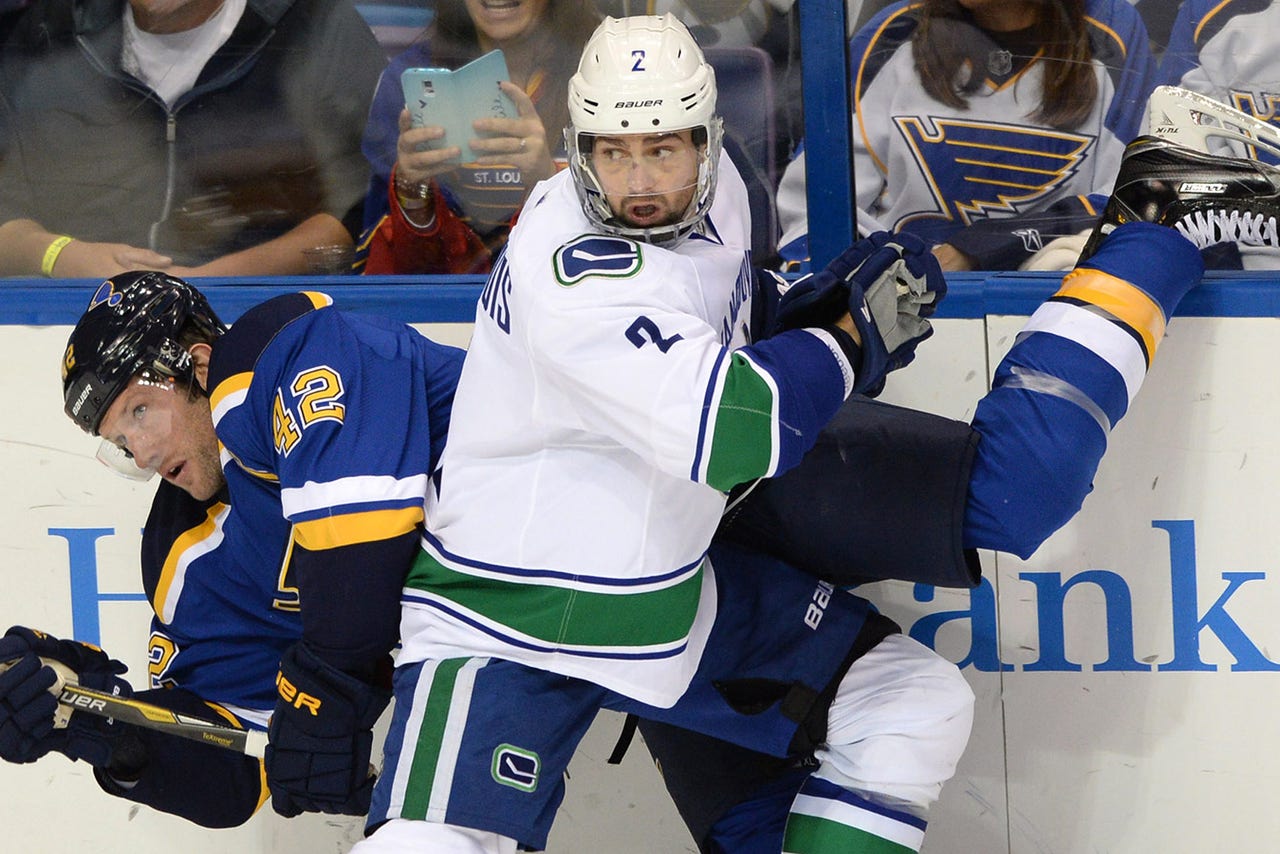 ST. LOUIS -- Uncharacteristic play and a tough schedule are threatening to put the Blues in a significant hole to start the season.
An injury to top center Paul Stastny and a widespread flu bug haven't helped, but coach Ken Hitchcock refuses to use those excuses for his team's 2-3-1 start. Instead, he lamented their inability to buy into the style of hockey that has brought St. Louis so much success during the last three regular seasons.
"When you force offense and you play careless with the puck, you have defensemen that want to play ahead of the forwards, you end up with a recipe for disaster," Hitchcock said following his team's 4-1 loss at home to Vancouver on Thursday night. "Odd-man rushes, breakaways against, forced activity rather than pushing up from behind the play."
He saw a perfect example of that in Vancouver's game-winning goal, when Nick Bonino capitalized on a two-on-one breakaway and beat Jake Allen short side with 15:06 to play. The Blues outshot the Canucks, 15-4, in the third period but got outscored 3-0, including an empty netter by Jannik Hansen.
That's been a common trend for a team that appears to be trying too hard to score, especially late in games. Since matching the New York Rangers with 25 shots in a season-opening loss, St. Louis has outshot every opponent, posting 56 shots while allowing just 23 in the third period of its three losses.
Despite the constant barrage on opposing goalies, the Blues haven't scored in the last 20 minutes of a loss since Stastny's goal against the Rangers, a span of nearly 70 minutes. Hitchcock blamed a heavy focus on attacking the center of the ice and too many players trying to do too much.
"We're focused a little bit on that skill element that we think we all of a sudden have," captain David Backes said. "We're a Blues hockey team. We're going to play the way that the Blues do to play successful and that's hard-nosed and simple and hard, and then let our skill kick in when we get our chances in the hard areas."
The need to revert to that style becomes even more critical without Stastny, perhaps the most skilled player in the St. Louis lineup. Possession proved incredibly difficult without him Thursday, when the official statistics claimed the Blues had just four giveaways, but Hitchcock estimated they had 20 between the two blue lines.
Even though the flu officially kept only forward Chris Porter out of commission, the entire team looked lethargic early in its first home game in nearly two weeks. They paid the price when Alexandre Burrows intercepted Alex Pietrangelo's pass toward his own blue line, and even though Allen saved Burrows' initial shot, Chris Higgins scored easily on the rebound after just 41 seconds of hockey.
Watch the Blues Live pregame and postgame shows before and after every St. Louis Blues game on FOX Sports Midwest.
Hitchcock noted a few changes to lines in the second period helped his team play better and gain some momentum, but two embarrassing Vancouver penalties for too many men on the ice didn't hurt, either. The Blues got a power-play goal from Kevin Shattenkirk, but they still don't have a goal in more than 100 minutes of five-on-five hockey dating back to Jaden Schwartz's goal early in the third period of a 6-1 win against Arizona.
Even in that convincing win, Hitchcock saw signs of trouble with five odd-man rushes for the Coyotes. To be sure, without the consistently strong if not spectacular play of goalies Brian Elliott and Allen, things could be even worse for the Blues.
On the flip side, opportunities were again available for the taking and two points may not have been as far away as the score would indicate. Jori Lehtera missed a pair of goal-scoring chances, including a shot from the right side into former St. Louis goaltender Ryan Miller's pad when the top half of the net was wide open less than 30 seconds before Bonino's goal.
"That's not the way you draw it up," Backes said. "But I really don't have tons of answers at this moment. I just know that we weren't nearly good enough to win a home game. We had a few chances, a little later on it."
Shattenkirk and Backes both stressed the importance of a good practice Friday and fixing the team's mistakes quickly before they get a real reason to panic. Stastny won't return until next week at the absolute earliest, and upcoming games against the Blackhawks, Stars and Ducks could lead to an ugly record at the end of October if things aren't straightened out.
You can follow Luke Thompson on Twitter @FS_LukeT or email him at lukegthompson87@gmail.com.
---