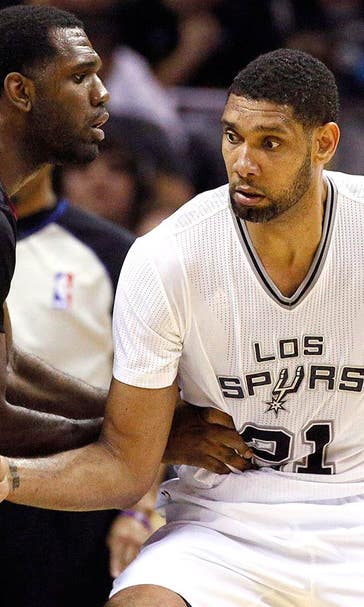 SWIM: Spurs-Blazers
March 13, 2014

Looking at a box score is something anyone can do. Who lead my team in scoring? How'd we shoot from the field? And while that knowledge is useful, does it really earn you bonus points around the water cooler?
That's why I'm here. I'm bringing you the S.W.I.M: Statistics Worth Increased Media. Let Joe from accounting regurgitate what he heard on the way in this morning; you're better than that. Use these nuggets to gain a unique perspective about last night's Spurs/Trail Blazers game.
Tim Duncan played fewer than 30 minutes … again. The future hall of famer has failed to reach the 31-minute plateau in 52.5% of his games this season.
Duncan notched his fourth double double this season in which he attempted fewer than ten field goals.
For the fifth time in his last nine games, Tony Parker (averaging more than17 points) recorded a PA (points plus assists) total of 14 or less. The Spurs have managed to win four of those five games.
Since losing to the Trail Blazers in January, the Spurs have won all instances where Marco Belinelli has made multiple three pointers and at least one free throw.
For the ninth game in a row, San Antonio won when Patty Mills reached double figures.
The Spurs are 20-0 against teams not from Oklahoma City when Tiago Splitter scores at least seven points and five rebounds.
San Antonio broke a two game losing streak in games that Kawhi Leonard doesn't attempt a free throw. That may not sound like much of a losing streak, but the Spurs last win in such a game was more than two months ago.
Portland outscores their opponents by more than nine points per game from distance, but the battle of distance by 21 on this night.
The Blazers are just 3-8 in the last 11 games Damian Lillard has scored 20-plus points.
Nicolas Batum is averaging 16.2 rebounds per 48 minutes in March. That average would rank him in the top ten in the league for the season and just one rebound behind Kevin Love.
Portland has lost six games in the last three weeks, and Robin Lopez missed five shots in only two of those games (both against the Spurs).
Wes Matthews has shot plenty of free throws in his career (1,167 to be exact), but he has never missed four in one game like he did on Wednesday.
---