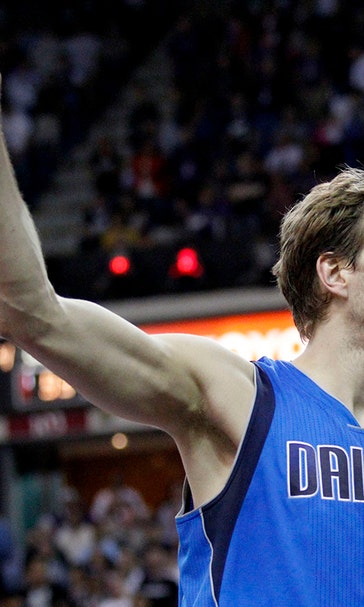 SWIM: Mavericks vs. Kings
BY foxsports • April 7, 2014
Looking at a box score is something anyone can do. Who lead my team in scoring? How'd we shoot from the field? And while that knowledge is useful, does it really earn you bonus points around the water cooler?
That's why I'm here. I'm bringing you the S.W.I.M: Statistics Worth Increased Media. Let Joe from accounting regurgitate what he heard on the way in this morning; you're better than that. Use these nuggets to gain a unique perspective about last night's Mavericks/Kings game.
April marks the third month out of four in which the Mavericks have won a game in which Dirk Nowitzki failed to make 30% of his field goal attempts.
Nowitzki has 19 assists in four games against the Kings this season. For reference, it took the future hall of famer recorded 14 assists in the first 24 days of March.
Jose Calderon grabbed more rebounds than assists he dished out for a third consecutive road game: he's recorded such a stat line in three home games since we flipped the calendar to 2014.
Since the beginning of March, Dallas is 8-1 when Calderon attempts at least five three pointers.
Over the last 2.5 weeks, Samuel Dalembert is averaging 21.1 rebounds per 48 minutes.
For the third time in four April games, Devin Harris didn't turn the ball over a single time. He had only two such games (minimum ten minutes played) since the beginning of February.
The Kings have played the Mavericks four times since acquiring Rudy Gay. He has totaled at least 30 points and six rebounds in the last three … all losses. He didn't dress for the first matchup … a 15 point victory.
Gay's eight assists not only matched a season-high, it was his first five-plus dime effort in a home game since February 25th.
Ray McCallum has missed ten three pointers in April: he didn't miss his tenth triple this season until March 9th.
The Kings have lost six of the last seven games in which DeMarcus Cousins has taken 20-plus shots.
For the 37th time in 77 games, Ben McLemore failed to make more than two field goals.
---