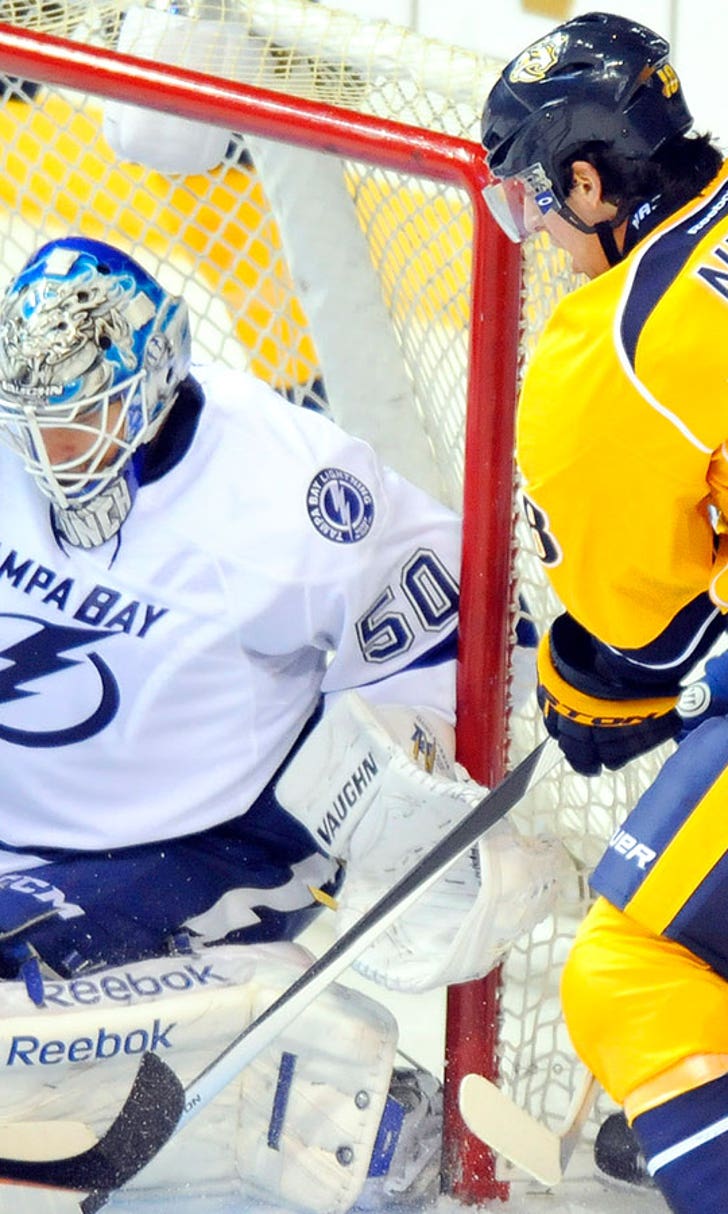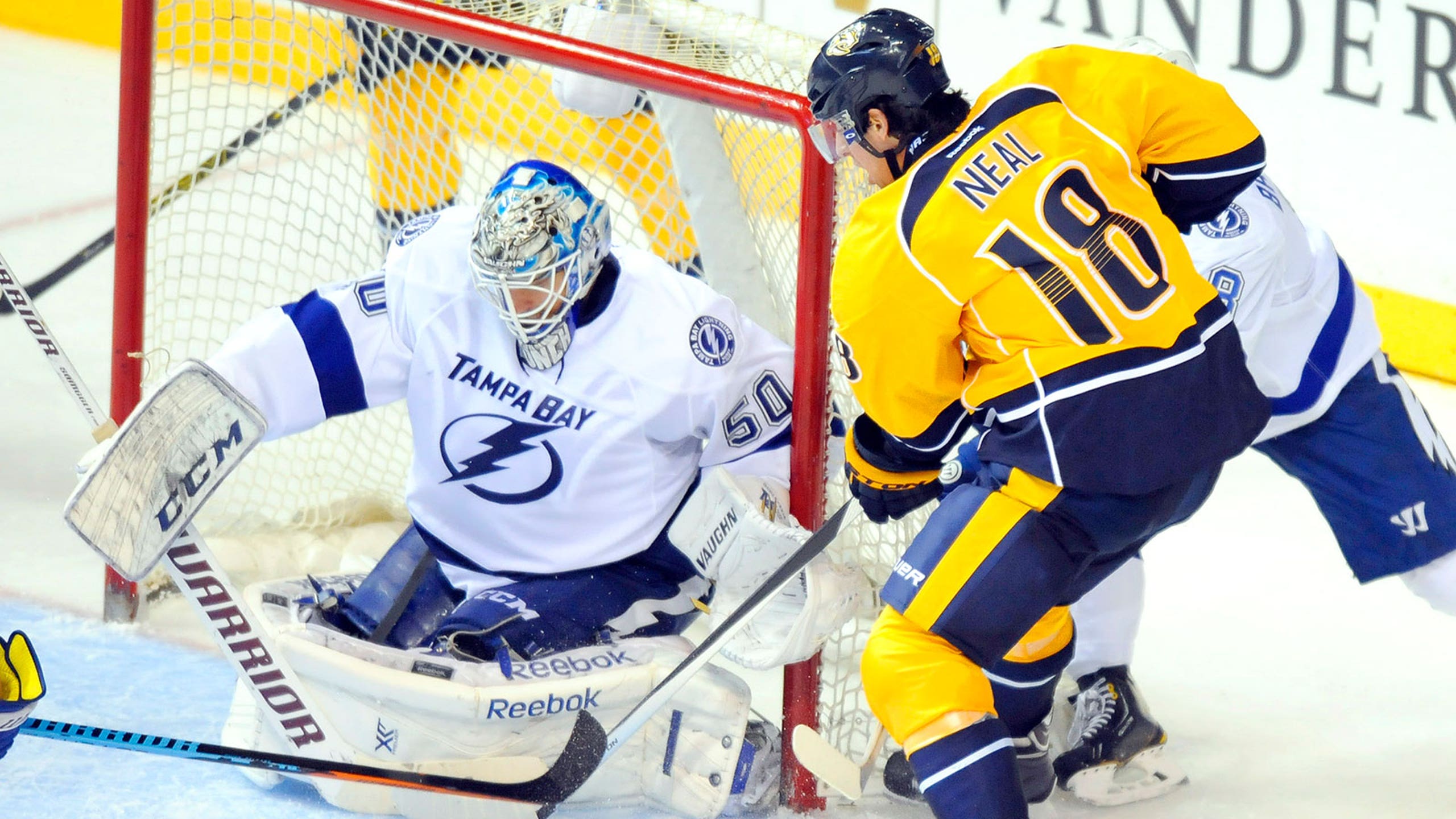 Surging Preds unfazed by 12-day road trip, thanks to CMAs
BY foxsports • October 27, 2014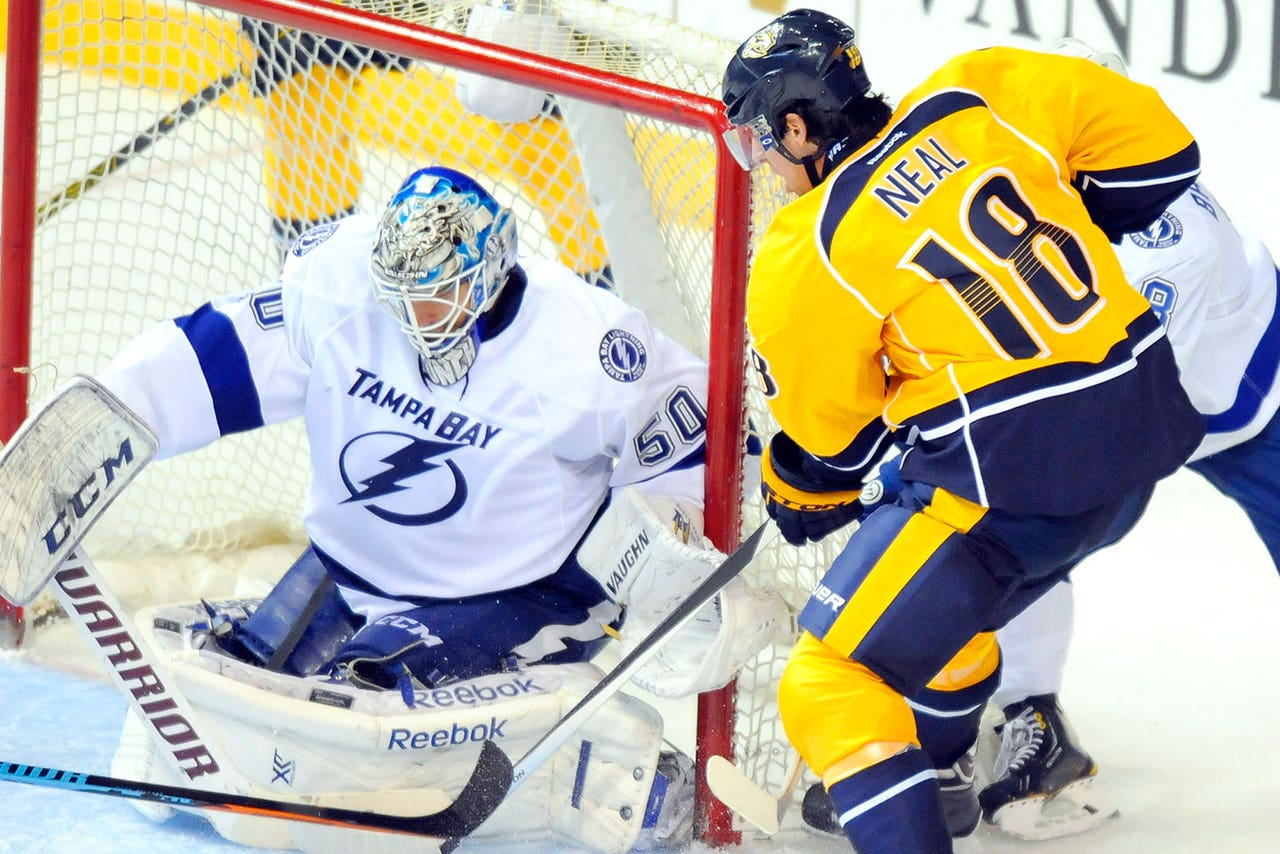 NASHVILLE, Tenn. -- When NHL season schedules are released, the Predators are never surprised when their longest road trip falls.
It's always around the last week of October and the first week of November.
That's when the Country Music Association takes over Bridgestone Arena, the downtown home of the Predators, for its nationally televised awards show and all the other associated events surrounding the Music City celebration.
This year, the CMA has booked 13 dates in Bridgestone Arena, culminating with the CMA Awards on Nov. 5. That sends the Predators on a road trip of six games in 12 days, starting with Wednesday's game at Edmonton.
"It's no longer than other any other team's longest road trip," Predators president Sean Henry said. "It's just that it's always at the beginning of the season. We normally open with a bunch of games at home and then go on the road, which is really good or really bad, depending upon how the team is playing."
This time, the Predators are playing really well. With six of their first eight games at home, they have gone 5-1-2, capturing 12 of a possible 16 points to lead the Central Division. With Saturday's defeat to the visiting Penguins, the Predators were the last NHL team to lose in regulation.
Even before the Predators closed the home stand against the Penguins (Saturday) and Blackhawks (Thursday), construction crews were already working inside Bridgestone Arena on days the team didn't play -- on pre-rigging for CMA events.
"The Country Music Association has been great to work with over the years," Henry said. "They work around our schedule, and we work around theirs. This also emphasizes that the Predators and Bridgestone Arena are one in the same."
However, for Predators first-year coach Peter Laviolette -- and to paraphrase a line from crooner Jimmy Buffett -- this road trip or any other this season is not about changing attitudes when arriving in different latitudes.
But Laviolette certainly knows the demands on a professional arena outside of its main tenant.
"That's part of it in every place that I have been," said Laviolette, the former coach of the Islanders, Hurricanes and Flyers before taking over the Predators. "There is always something that goes on. There is a circus in town or a big concert or whatever it might be. That's just part of it."
After Wednesday's game with the Oilers, the Predators play Friday at Calgary. Then Sunday at Vancouver, Tuesday at Winnipeg, Thursday at Dallas and Saturday in St. Louis. The next home game is Nov. 11 against the Oilers.
In two previous road games, the Predators got three of four points on consecutive nights, winning at Winnipeg (Oct. 17) before falling in overtime to Chicago the following night.
"I think all road trips, it is a chance and opportunity for (the players) to spend some time together," Laviolette said Monday, following a spirited 75-minute practice session at Centennial Sportsplex.
"I like the way we played on the road. We have to play our game. It is always a little bit more challenging in somebody else's building, but what determines outcomes is how well your team plays and executes what you are trying to do on the ice.
"So, I don't think anything really changes other than location. But it's a chance for the guys to get away and spend more time with each other, and that's not a bad thing."
While the Predators have already spent nearly two months together (counting training camp), there are several new faces blending together.
Scoring ace James Neal, who leads the team with five goals after a hat trick against the Blackhawks, came to the Predators in a trade. Three forwards -- Mike Ribeiro, Derek Roy and Olli Jokinen -- and defenseman Anton Volchenkov were free-agent signees.
"Obviously at home, guys are a different bunch," Predators star defenseman and team captain Shea Weber said.
"It's different between the younger and the older guys, so you might not get to hang out as much. On the road, there is time to go to dinner. There's a lot more free time, where there's nothing going on, so you get to know each other a little bit better."
Even with six games in 12 days, Laviolette likes the way the schedule falls with no games on consecutive nights and regular breaks between games to allow for more normalcy in travel. After having just one set of back-to-back games, the Predators don't have games on consecutive nights again until playing Dec. 22 (@ Columbus) and Dec. 23 (@ Boston).
"Back-to-back is always a little bit of a disadvantage," he said. "Your team has to fight through it and deal with it. But when the games come every other day, I do think that is a better advantage than playing a couple of those back-to-backs, so I like the schedule."
Veteran forward Eric Nystrom, who has played 496 regular-season games since 2005-06, actually enjoys going on the road and playing in other teams' venues.
"I love going on the road," he said. "It's fun playing in the other buildings and being that spoiler and keeping the home buildings quiet. You get to be around your buddies for a while. It's good for team bonding, so I enjoy it.
"It can be fun going into opposing buildings and have the ability to keep buildings quiet. It's going to be a rough road trip, but it should be a good test for us."
---
---