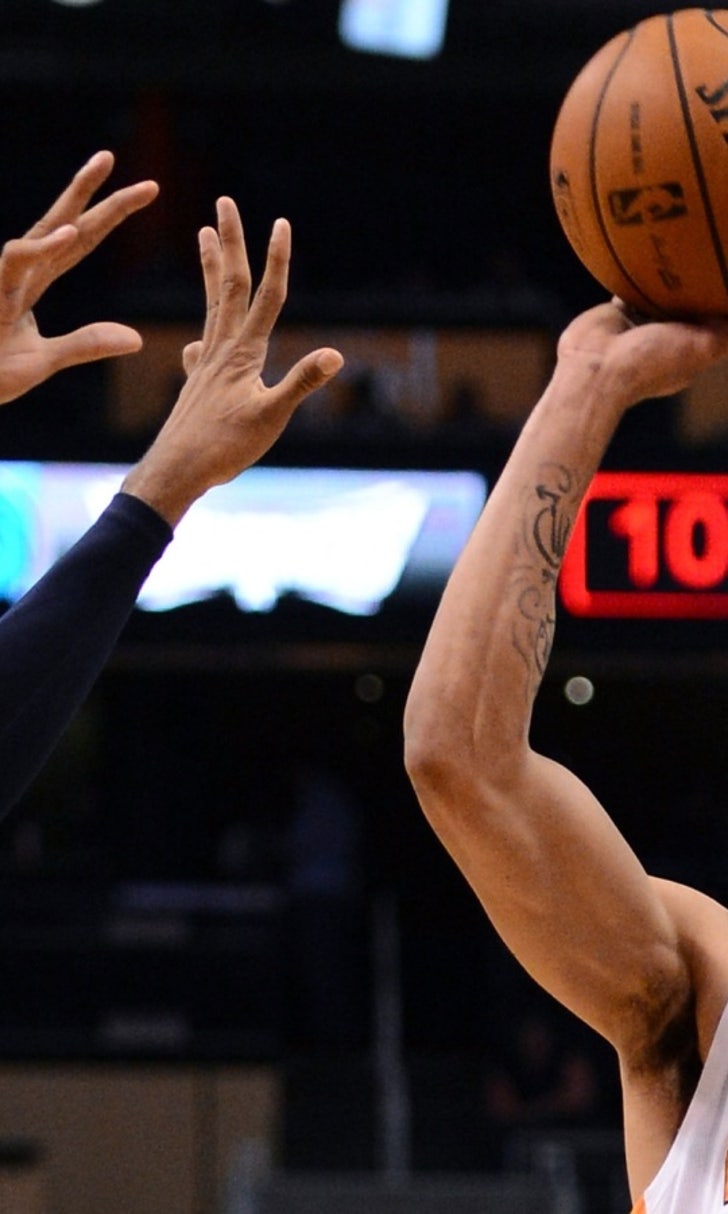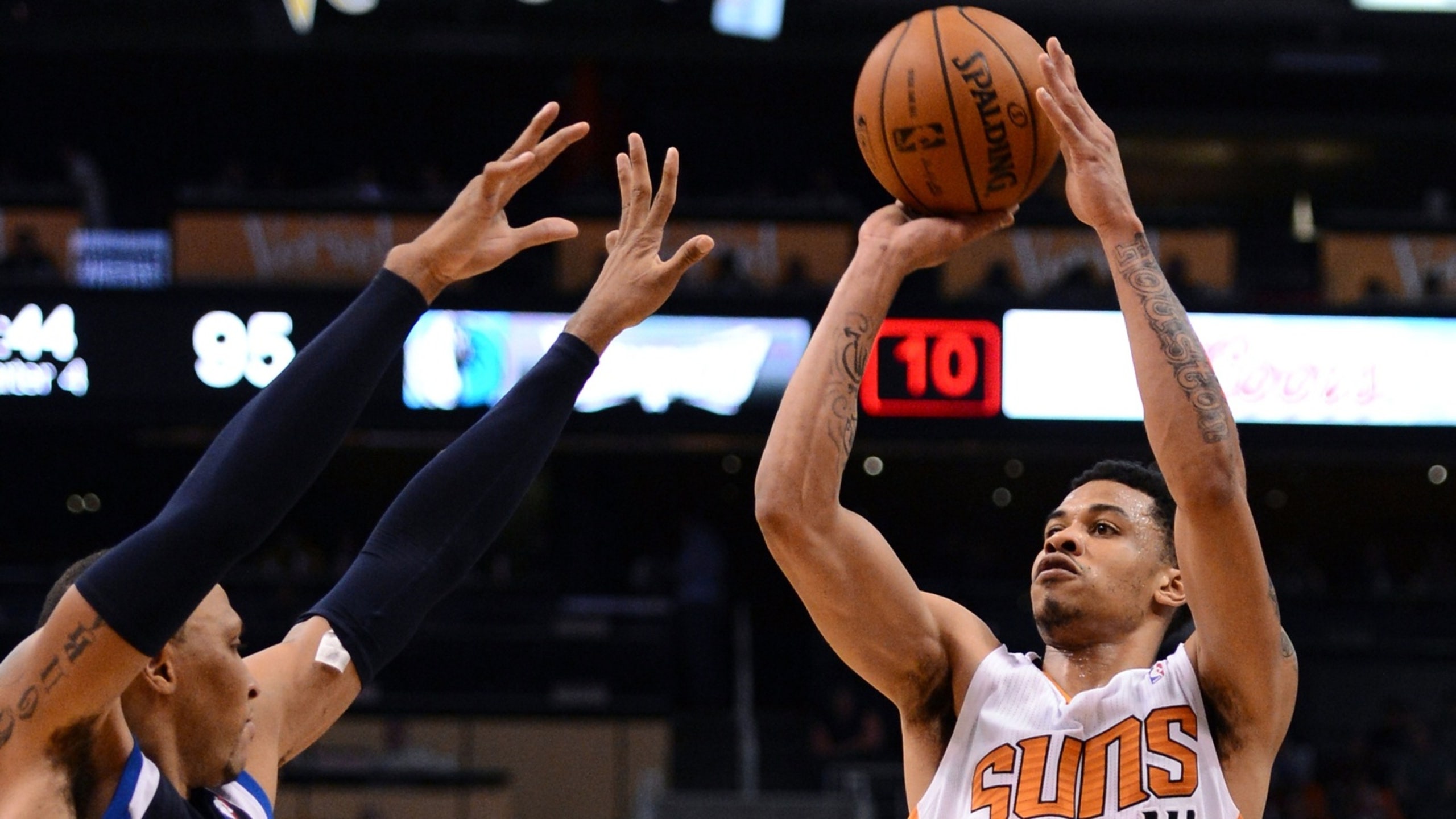 Suns use the power of 3 to take down Mavericks
BY foxsports • December 22, 2013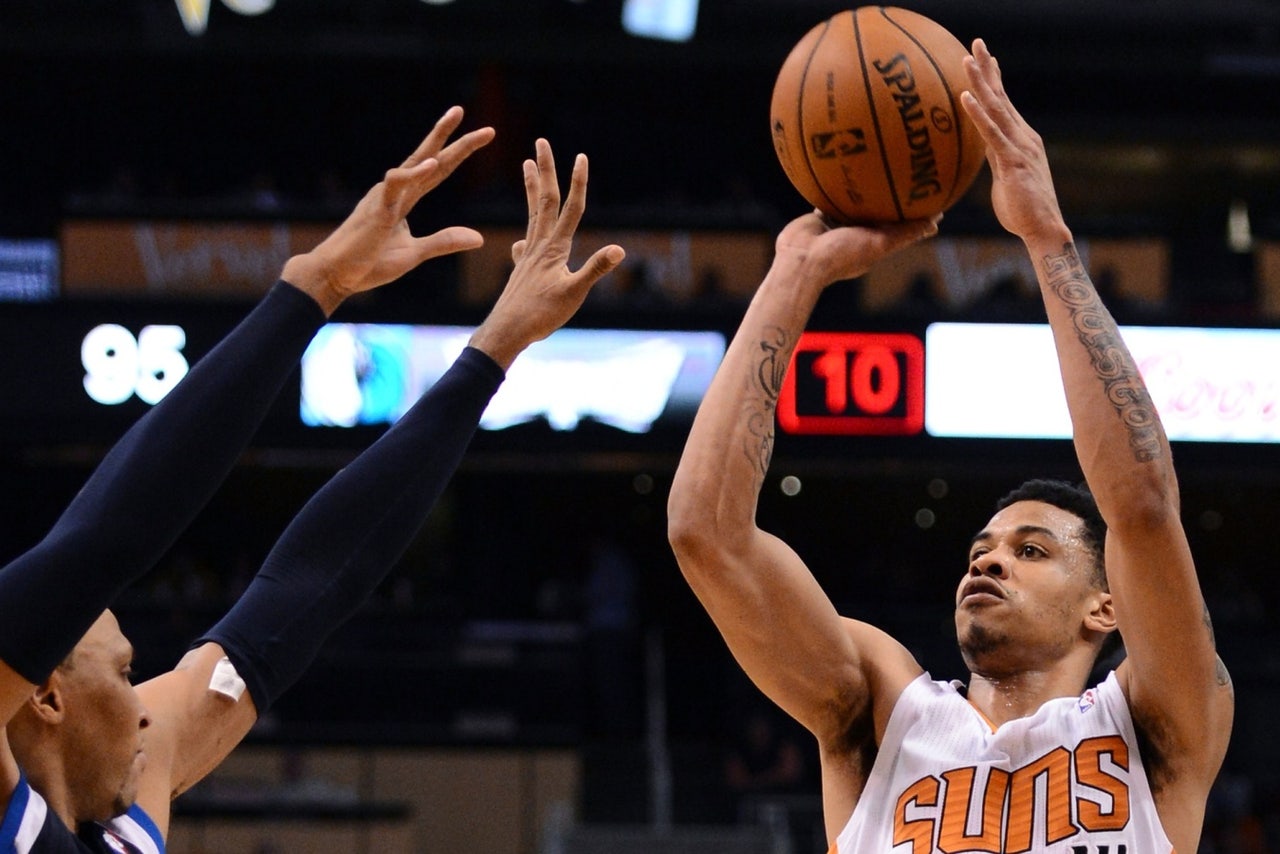 PHOENIX -- They surrendered 62 paint points, allowed the opposition to make 48 percent of its shots and burped up 18 turnovers.
Obviously, there were a few blemishes for Suns coach Jeff Hornacek to chew on after Saturday's date with the Mavericks at US Airways Center.
"We're striving for perfection," Hornacek said, "whether you win or lose."
Oh, the Suns did win, by the way. With a 123-108 triumph, they improved to 16-10, just a half-game behind the Rockets for the fifth seed in the Western Conference.
Please note that the Suns' 16th victory last season was claimed against the Lakers on Jan. 30. They also had 30 losses by then. What they have now, thanks to this particular win, was a season high for points in a game and a .615 winning percentage (8-5) against teams that were .500 or above through Saturday.
But as for this game, we can look at three reasons why the Mavericks were vanquished. More specifically, a 3-point reason why.
Phoenix, which checked in fifth among NBA teams at defending the 3-point line, allowed Dallas to go only 3 of 17 from beyond the arc.
But the eye-popping stat line was the Suns' 15-of-30 long-range firestorm that included a 7-of-10 run in the opening quarter. Considering that they worked in Denver on Friday night, that's not bad. The older Mavs, however, hit town after an overtime shift in Dallas the same night.
"We knew that they played back-to-back tonight like we did, even playing overtime in Dallas," said guard Goran Dragic, one of the few Suns who didn't knock in a 3. "We knew we had to play fast, because we're the younger team and they have some veteran players on that team."
With their younger wheels beneath them, the Suns extended to 18 their franchise record for making at least seven 3-pointers in a game. The treys were going in so frequently Saturday night that a fan drawn from the crowd hit a 3-pointer for a $7,777 jackpot from Casino Arizona.
Going into this season of nationally suspected tanking, it was posited that Phoenix would have few floor-spacing threats to assist Hornacek's effort to regenerate a more typical Suns offense.
Channing Frye, for example, was returning from missing the previous season with an enlarged heart but wasn't expected to be making 4 of 6 from 3-point range (as he did in Saturday's 18-point effort) before Christmas.
With Jared Dudley gone, the Suns weren't expecting P.J. Tucker to step up and bag 46 percent of his 3s. They knew Gerald Green (4 of 8 from 3, 22 points against Dallas) could shoot, but the Pacers knew that while the bouncy swingman was making only 31 percent of his attempts from downtown for them last season. He's at 37 percent in Phoenix.
And Marcus Morris (41.5) has bumped his 3-point success rate 10 percentage points.

What's happening? Well, although Phoenix still leads the league in fast-break points per game, the recent healthy reunion of Dragic and Eric Bledsoe certainly has a knack of constricting an opponent's defense, creating open looks for spotting-up teammates.
"Everybody's so worried about our penetration," Dragic said. "If they don't rotate, we have open layups, and if they do, we kick it out for the 3."
That seems simple enough. Unfortunately, the veteran Mavs and coach Rick Carlisle are pretty crafty and unafraid to mix things up defensively. But their willingness to play zone against NBA-caliber shooters obviously didn't work against the Suns, who are pushing the pace closer to what Hornacek prefers.
"They surprised us a little with the zone," Dragic said. "Jeff was just saying, 'Just push the ball, even if they score, try to push the ball and score some easy baskets.'"
This tempo, of course, makes it more difficult to get set defensively before the onslaught arrives. And with the Suns screening the top of the zone effectively or just rotating the ball quickly Saturday, Bledsoe and Dragic were able to penetrate gaps and find shooters.
Bledsoe, who led Phoenix with six assists, also found enough personal space to go 3 for 4 from 3-point range and finish with a game-high 25 points.
"You have to share the ball," Dragic said. "If you share the ball, then everybody gets a feeling of confidence that is way up. We are shooting the ball well.
"This is so much fun, playing like that. Everybody is on the same page, and when we play like that, I think it's hard to stop."
And if Suns fans agree with Dragic about the fun part, remember that there are 25 games remaining with teams from the Eastern Conference.
---