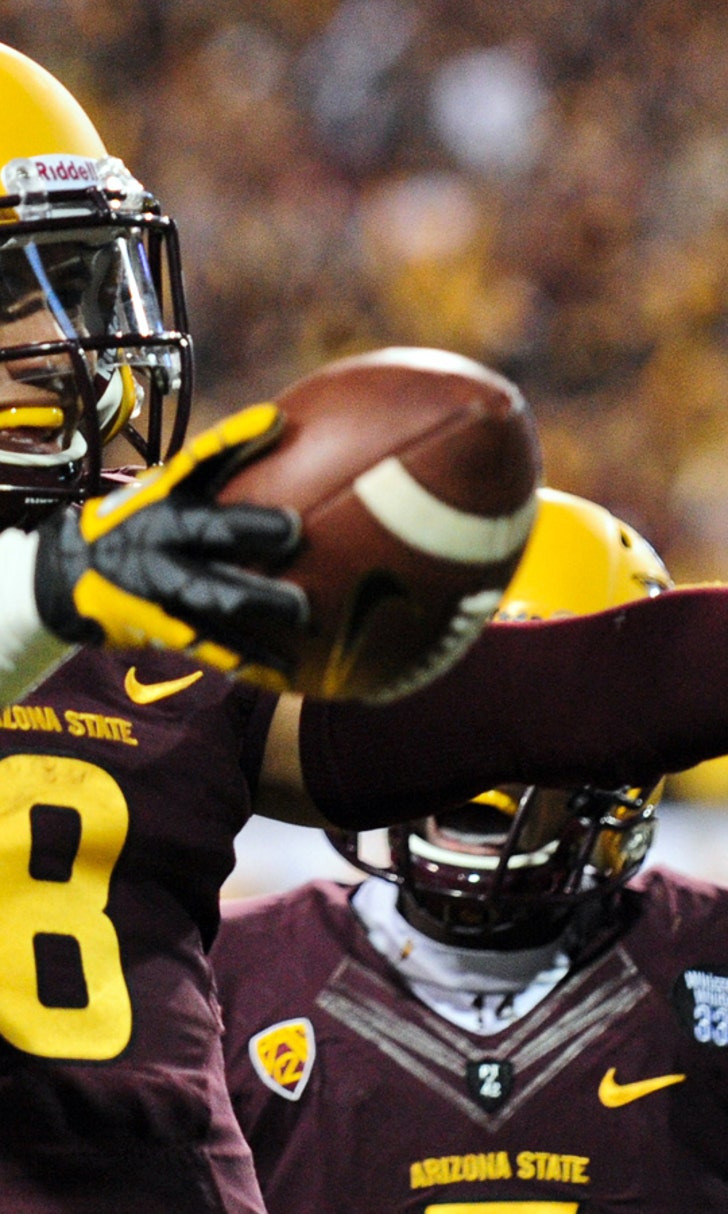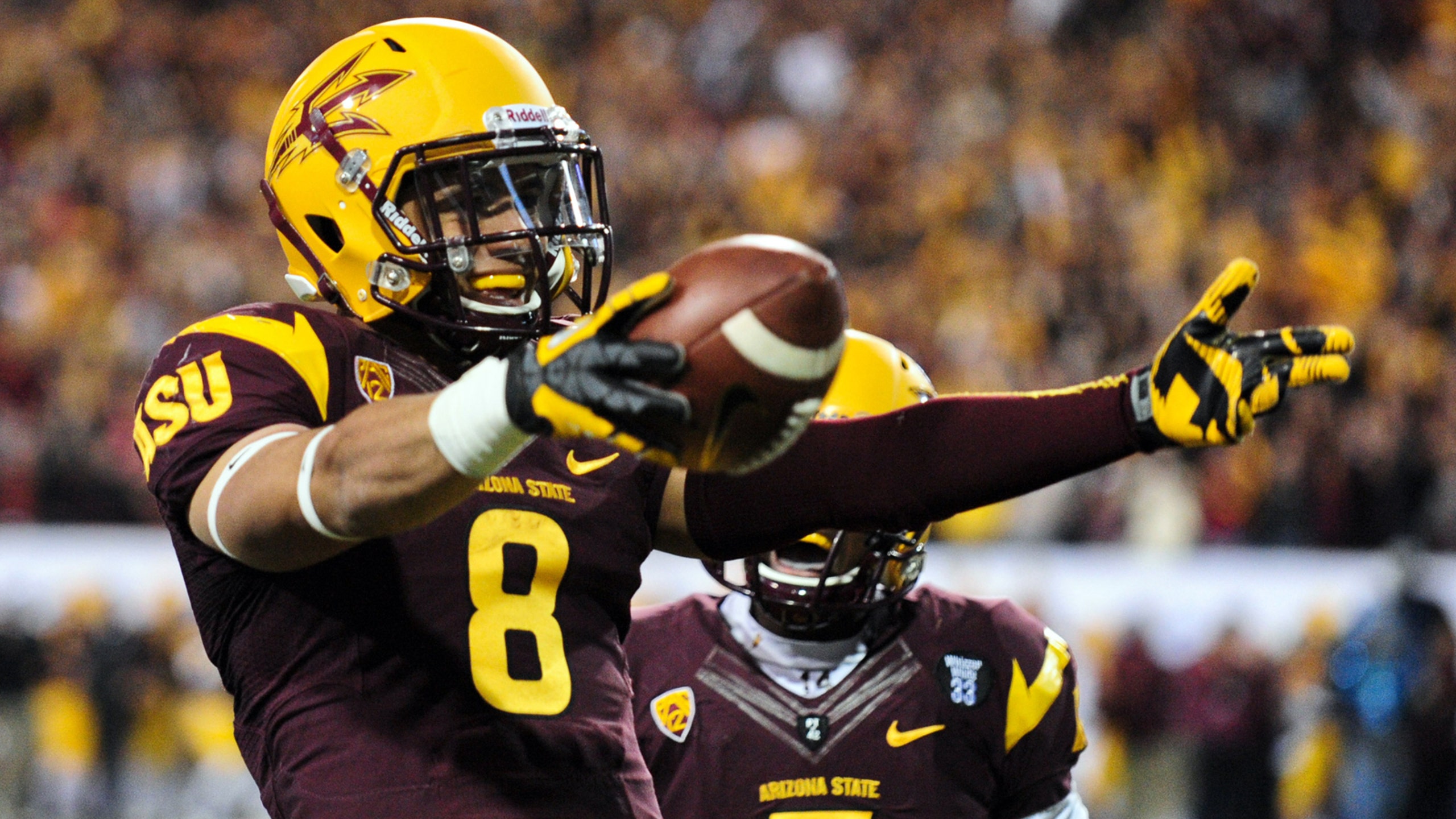 Sun Devils 'jacked' as spring practice begins
BY foxsports • March 18, 2014
TEMPE, Ariz. -- An unusually large crowd populated the Kajikawa practice field Tuesday morning as Arizona State opened its spring practice session, reinforcing the notion that excitement around the program remains on an upward trajectory.
With unprecedented financial and administrative support, ASU football is in a good place. Coach Todd Graham can't say enough how thrilled he is about the prospects ahead. That excitement carried over onto the field Tuesday, as the Sun Devils appeared energized for the first of 15 spring practices.
"That was the best first day of spring we've had since I've been here," Graham said after the 2 1/2-hour practice. "I was jacked, that's all I know. I thought we had great energy."
As always in practices under Graham, players ran on and off the field and between drills as coaches barked alongside them. The defense roared in celebration after the first turnover of the spring, and the offense showed flashes of what could be the most explosive unit in ASU history.
"Guys did a good job of being energized, coming out and having fun," senior quarterback Taylor Kelly said. "We have new goals and new standards, whether it's in practice or the classroom or the weight room. Guys are training a lot harder than we were last year."
The Day 1 energy suggests players have bought in to the "unfinished business" edict Graham has preached for a few weeks now in reference to the Pac-12 title ASU missed out on last season, losing to Stanford.
"We wanted to finish, man, and we want to honor those guys that laid that foundation by finishing," Graham said. "How are we going to do that? We leave no doubt. That's in every rep every day -- spectacular attitude, spectacular effort. Our deal is, at the end of practice, 'Did you give national champion effort today?' If you can stand up and be counted and say that, that's how you leave no doubt."
Running back D.J. Foster had a different presence about him Tuesday. It wasn't just the muscle he's added since the end of the 2013 season -- though he looks like a more prototypical running back at a thick 208 pounds -- or the way he moved quickly through drills. It was the way he carried himself like a No. 1 back.
Entering his junior season, Foster steps into a featured role following the graduation of Marion Grice. Along with an increased workload, the role comes with a greater expectation of leadership.
"I tell D.J. he can be a great football player, he can be an All-American and not do everything that I'm asking him to do, but if he'll do what I'm asking him to do, we can win it all because his teammates will follow whatever he does," Graham said. "I'm counting on him to have a spectacular year."
Graham called Foster and Kelly the two most influential players ASU has, and Foster has clearly embraced the leadership role. He could be seen coaching teammates Tuesday but also showed his leadership in subtle ways, setting an example and working harder than anyone in his group.
"The whole staff, they want me to be more of a vocal leader and just kind of help the younger guys and some of the guys that haven't been out here as long, just making sure our running back group is solid," Foster said.
Foster said he enjoys being "the guy" because it requires him to step outside his comfort zone and challenges him to remain accountable. He wants to keep improving as a leader this spring while also working on his blocking and technique.
He also maintains a lofty personal goal for 2014, one that might seem a little more achievable now that he's an offensive centerpiece.
"I always want to go for that Heisman," Foster said. "That's a goal of mine, a dream of mine. Why stop now?"
-- A standout Graham mentioned on the first day: Safety Jordan Simone. A walk-on transfer, Simone sat out last season but is making an impression. He had an interception during 11-on-11 work Tuesday. Graham said Simone will be a key special teams player and compete for the starting bandit safety job vacated by Alden Darby.
-- Defensive tackle Jaxon Hood was not at Tuesday's practice. Graham said Monday that Hood would be extremely limited this spring due to a ligament injury in his right hand.
-- Linebacker Carlos Mendoza was also limited with an apparent right foot injury. He wore a walking boot and rode a stationary bike most of practice. Mendoza, a candidate at spur linebacker, has struggled to stay healthy since early in his freshman season (2012). Also limited Tuesday: safety Marcus Ball and tight end Kody Kohl.
-- Personnel notes: Freshman and early enrollee D.J. Calhoun worked at spur linebacker in his first practice. Graham said Calhoun will work at spur and will before settling at one of the spots in the fall ...  Sophomore Matt Haack handled first punting duties. Graham said recently if given the chance to do it over, he would have made Haack ASU's punter in 2013 and left him there. Senior Alex Garoutte punted as well Tuesday, while walk-on Dom Vizzare was not present. ... Redshirt freshman Chans Cox took first reps at Devil linebacker, Carl Bradford's old spot. ... Nick Kelly took first reps at center; Evan Goodman was the first team left tackle. ... Simone and Ezekiel Bishop shared first team reps at bandit safety, while Lloyd Carrington and Rashad Wadood were ASU's first team cornerbacks. ... Wide receiver Rick Smith told the Long Beach Press-Telegram that he will transfer to Boise State after the spring semester.
Follow Tyler Lockman on Twitter
---