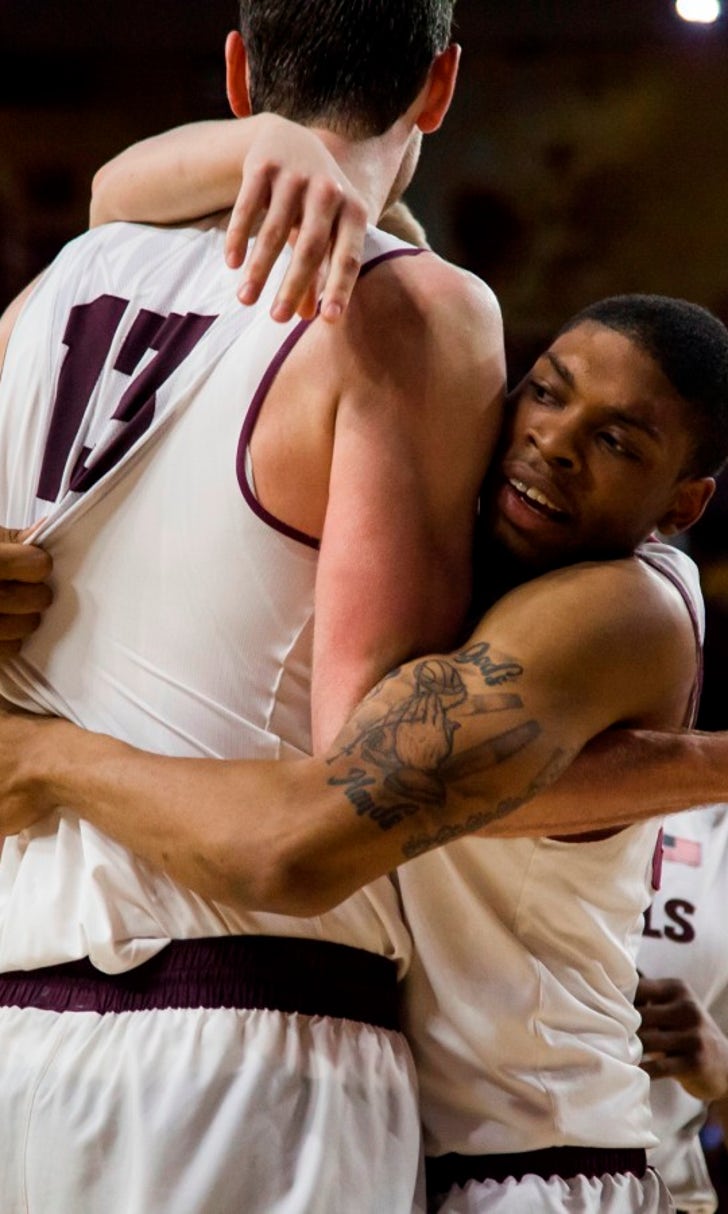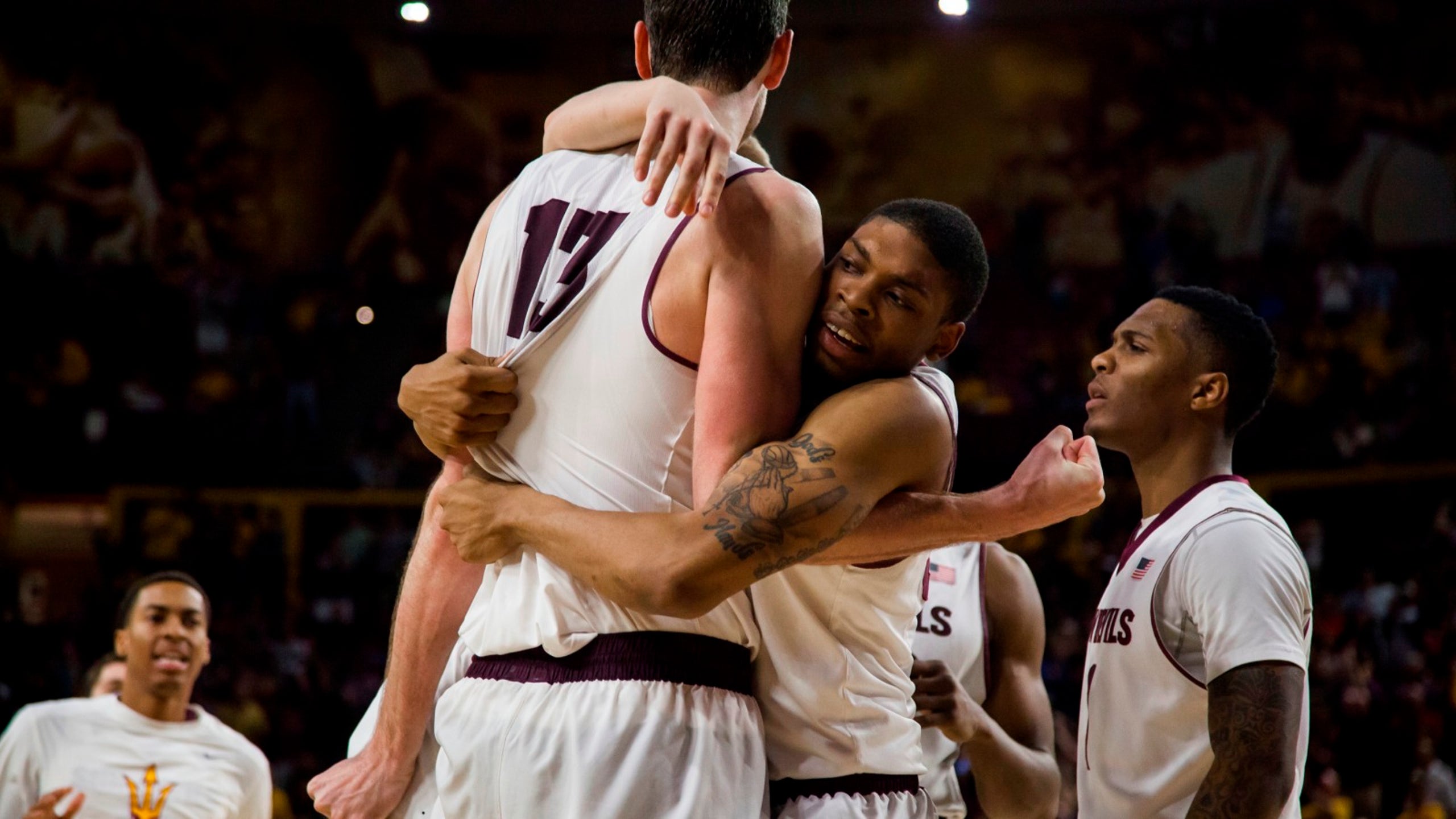 Sun Devils headed to the Big Dance
BY foxsports • March 17, 2014
TEMPE, Ariz. -- Arizona State fulfilled a season goal by making the NCAA Tournament, an emotional moment for many in the Sun Devils locker room, even as some were able to celebrate a split-second sooner than others on Sunday afternoon.
"It was weird, because there was a wall between" two groups of the ASU viewing party, "and one side had a faster (TV) feed than us, so they screamed and everyone in our room was like, 'Uh, what's going on?'" senior center Jordan Bachynski said.
"Then we saw our name. It was just deafening, the noise that everyone was making. I had to take a step back, and I kind of got a little emotional. I had to hold the tears back, because it has been a long road. To end my career going to the tournament and hopefully win a few games, that would mean the world to me."
ASU (21-11) is slotted a No. 10 seed in the Midwest Region and will play No. 7 seed Texas (23-10) in a second-round game Thursday night in Milwaukee. The ASU-Texas winner will play the Michigan-Wofford winner on Saturday. Michigan is the No. 2 seed in the Midwest. Unbeaten Wichita State is region's No. 1 seed.
It is the Sun Devils' first NCAA invitation since 2009, James Harden's last season. ASU, a six seed in the East that year, beat Temple behind 22 points from Jeff Pendergraph and Derek Glasser in the first round in Miami before falling to No. 3-seed Syracuse.
"It's hard not to be (emotional) in a situation like this," Bachynski said. "You put your whole everything into this. Your blood, literally your blood. Your sweat. Your tears. Your emotions. Everything you have goes into this. We're working hard every day to make the tournament, to win games. To have this happen to us is a dream come true."
Four of ASU's starters will play their last college game in the NCAA tournament -- seniors Bachynski, Jermaine Marshall and Shaquille McKissic and sophomore Jahii Carson, who said he will enter the NBA draft this summer. Seniors Richie Edwards, David Whitmore and Jarett Upchurch also will play their final game in the tournament. Marshall is the only one with NCAA experience, having played in one game while at Penn State.
"When our name went up on the screen, there was tremendous joy and excitement in the room," ASU coach Herb Sendek said. "As a coach, being able to stand in the back and watch our guys celebrate like that is about as good as it gets.
Most faux brackets had Arizona State firmly in the field after its 69-66, double-overtime victory over then-No. 1 Arizona on Feb. 14, and two had ASU as a likely No. 8 seed entering the final week of the regular season. Losses to the Oregon and then a loss to Stanford in the second round of the Pac-12 tournament dropped the Sun Devils, but there never seemed to be any question they would make the field after finishing tied for third in the Pac-12 and earning the No. 3 seed in the conference tournament.
"You have a pretty good sense of where things stand because everything is so covered, but until your name is called and actually appears up there, you wait in anticipation," Sendek said.
As he said before the start of the Pac-12 tournament, Carson said ASU will push the reset button and move forward.
"Anything can happen now," he said. "We're in there. It's crazy, unbelievable. I'm speechless."
Six Pac-12 teams made the NCAA tournament, including West No. 1 seed Arizona and South No. 4 seed UCLA. Oregon (seven), Colorado (eight) and Stanford (10) also were invited, and California was one of the first teams out. Stanford probably moved up a seed after its 79-58 victory over ASU in the Pac-12 quarterfinals Thursday. ASU has lost five of its last seven games and has not won away from Wells Fargo Arena since an overtime victory at Cal on Jan. 29.
"Now we're part of March Madness," Bachynski said. "You are going to see us play some of the best basketball we've had all year. We've had a little rough road lately, but that's behind us."
Follow Jack Magruder on Twitter
---