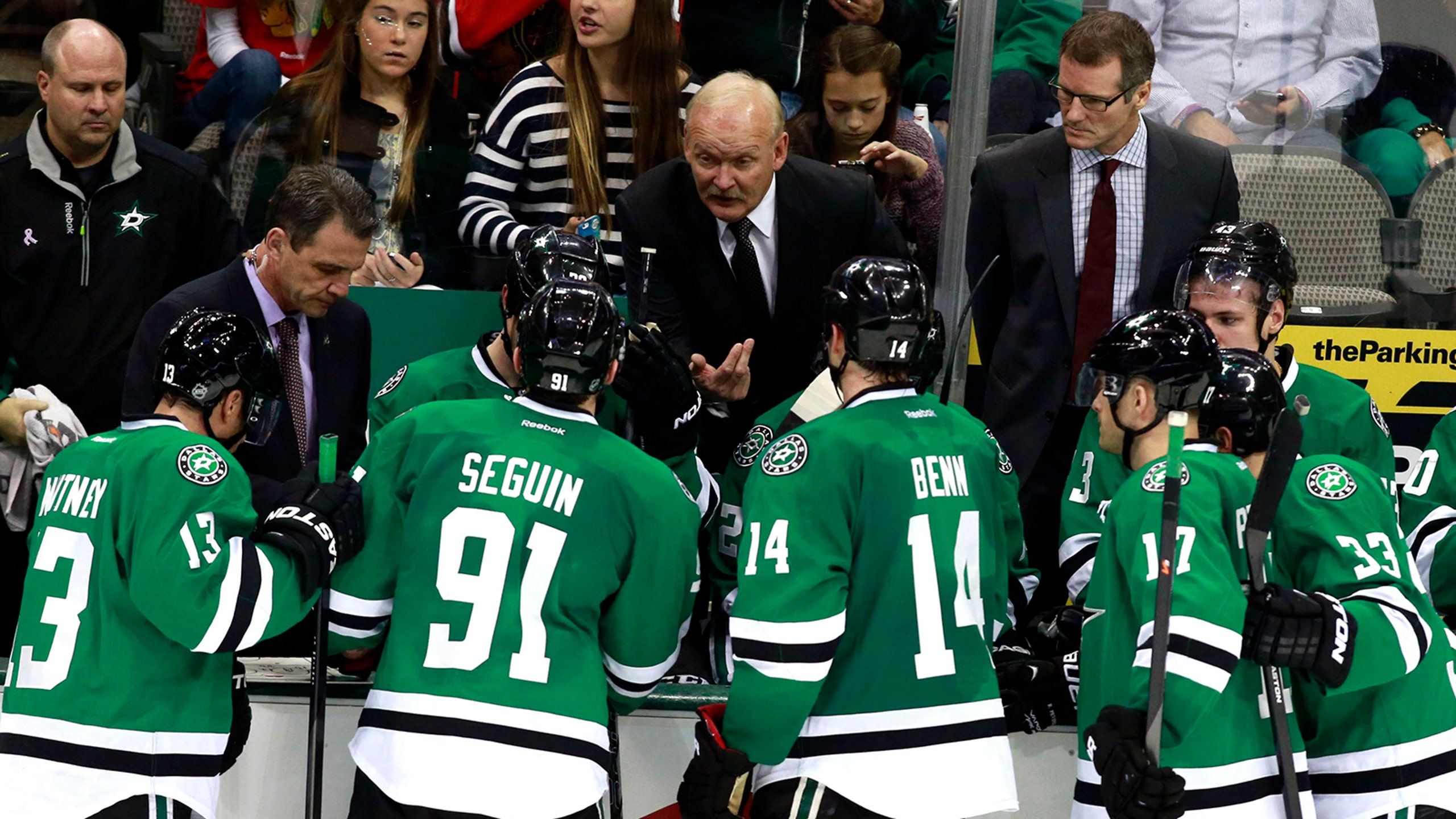 Stars set for quick trip out west
BY foxsports • December 21, 2013
Dallas Stars head coach Lindy Ruff has every right to be happy about where his club is currently at. That's because not only did the Stars complete a sweep of a two-game homestand with Thursday's 4-1 win over the Vancouver Canucks, but Dallas now hits the road for a quick two-game road trip to the West Coast to face the San Jose Sharks and Los Angeles Kings.
And considering how well the Stars have played on the road thus far this season, where they are 10-8-1, there isn't any reason to think Dallas won't be in contention for at least a point on Saturday against the Sharks and also on Monday night against the Kings at Staples Center in their final game before Christmas.
"(We're) coming off a couple good games, emotional games at home here where I thought we really played well defensively, played well away from the puck," Ruff said of the last two wins at American Airlines Center. "We showed a lot of support for our young D and I thought our young D played very well for us."
Once Dallas gets this road trip, their final one of 2013, in the books, the Stars will start a five-game homestand next Friday against the Nashville Predators, a run of games at the AAC that will end on Saturday, Jan. 4 against former division rival Detroit.
"We've played more road games (so far)," Ruff said. "The balance of the schedule, looking through January is more home games and you look at all the good teams, teams that are up in the standings, their home record is usually eight, nine games over."
Winger Ryan Garbutt missed practice on Friday with what Ruff dubbed a "maintenance day," a somewhat common occurrence for practices on the day following a game.
"He's in the maintenance shop today. So we'll see where he's at tomorrow. It's a possibility he could miss, he could play," Ruff said of Garbutt's status.
But it appears that Vernon Fiddler, the fourth-line center who has been out since suffering an upper-body injury in a win over the Philadelphia Flyers on Dec. 7, is very close to returning for the Stars.
"The conversation I had with him yesterday (Thursday) was to get involved physically today, do some extra battle work afterwards. He felt good yesterday," Ruff said. "We'll see where he's at after all the extra stuff today but there's a good chance he could play tomorrow."
Of course, San Jose and Los Angeles are two teams the Stars are more than a bit familiar with since they were all members of the Pacific Division for a number of years, at least until this year when Dallas moved to the Central.
But in what has to fall under the category as no surprise, the Sharks and Kings continue to be neat the top of the Pacific standings and both clubs are also tough on their home ice, something which Dallas defenseman Alex Goligoski is well aware of.
"Yeah, two good teams obviously, teams we're familiar with. We're just looking to go out there, play well, get some points. Two games left before Christmas, so we want to end on a good note here," Goligoski said.
With both Trevor Daley and Stephane Robidas, two of the Stars' heavier-minute defensemen currently on the shelf, the man known as "Goose" has been called upon to pick up some of the slack and log more minutes for Dallas at the blue line.
It's a responsibility Goligoski has not only embraced, but one he has also excelled in.
"Yeah, it's been good. I think our forwards have done a good job in helping us out back there," Goligoski said. "Forwards have been real responsible because everyone's kind of increased roles back there right now. So it's going to be a team process to keep playing the way we are."
Dallas will definitely need every aspect of the team firing on all cylinders if they are to come away with at least one win during this trip against two teams that are a combined 23-5-5 at home, two big tests indeed for a Stars club that has been playing some pretty good hockey recently.
---