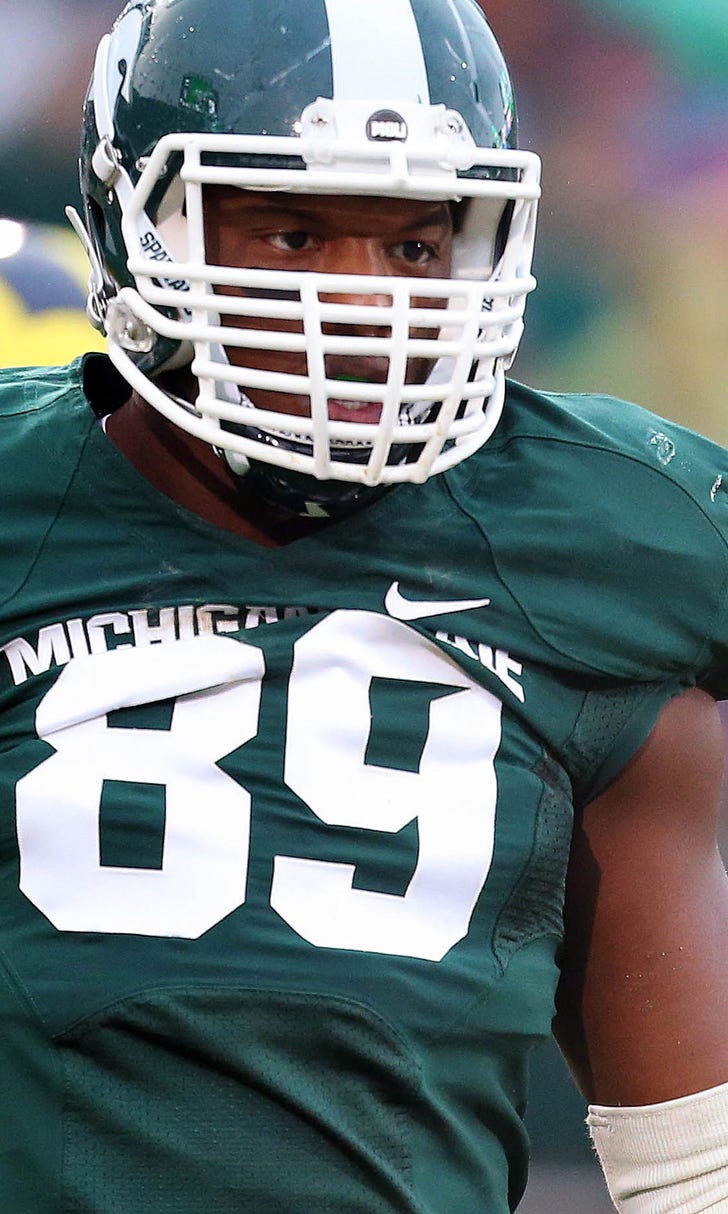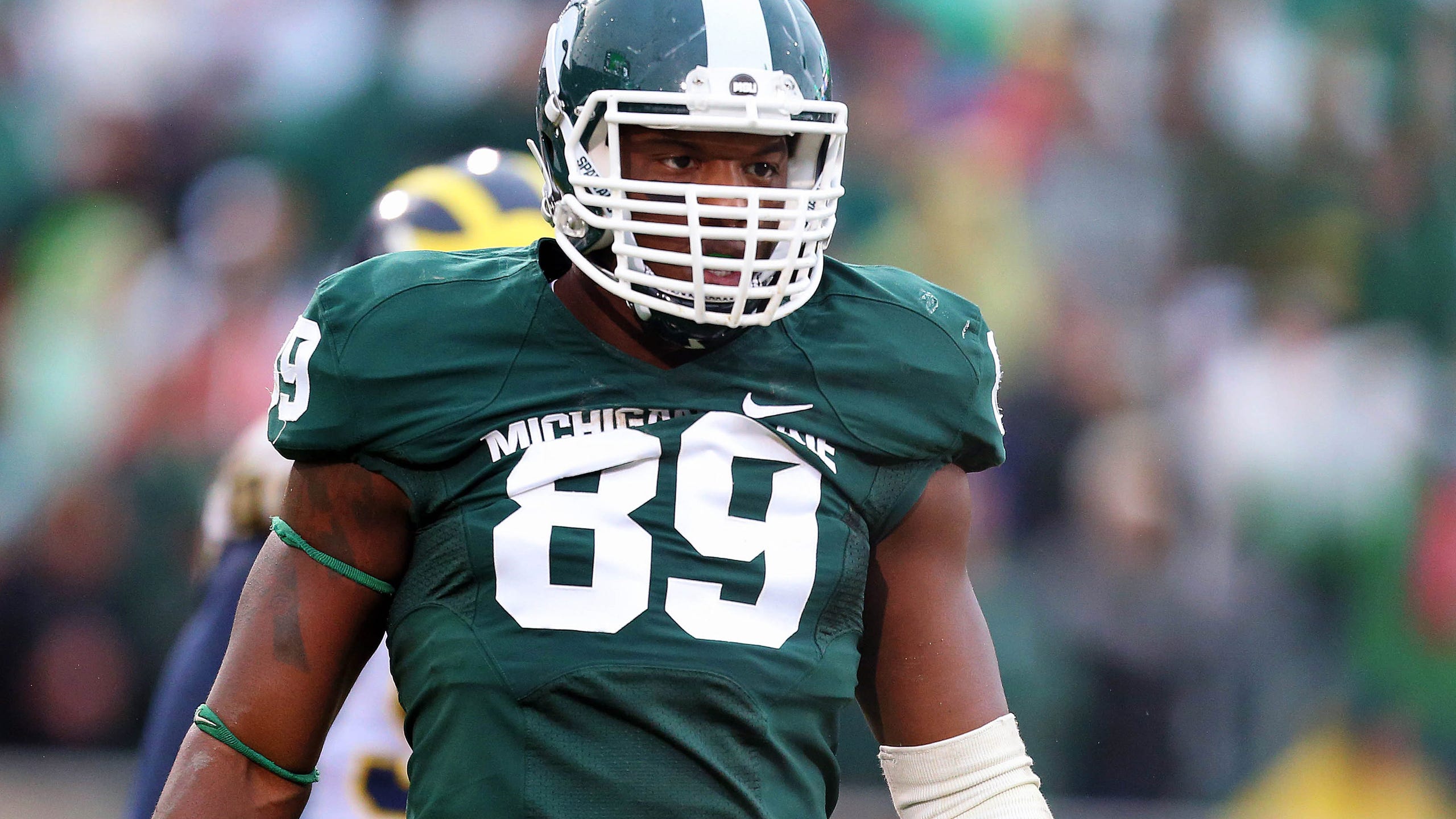 Spartans' Calhoun is one funny, scary guy
BY foxsports • August 4, 2014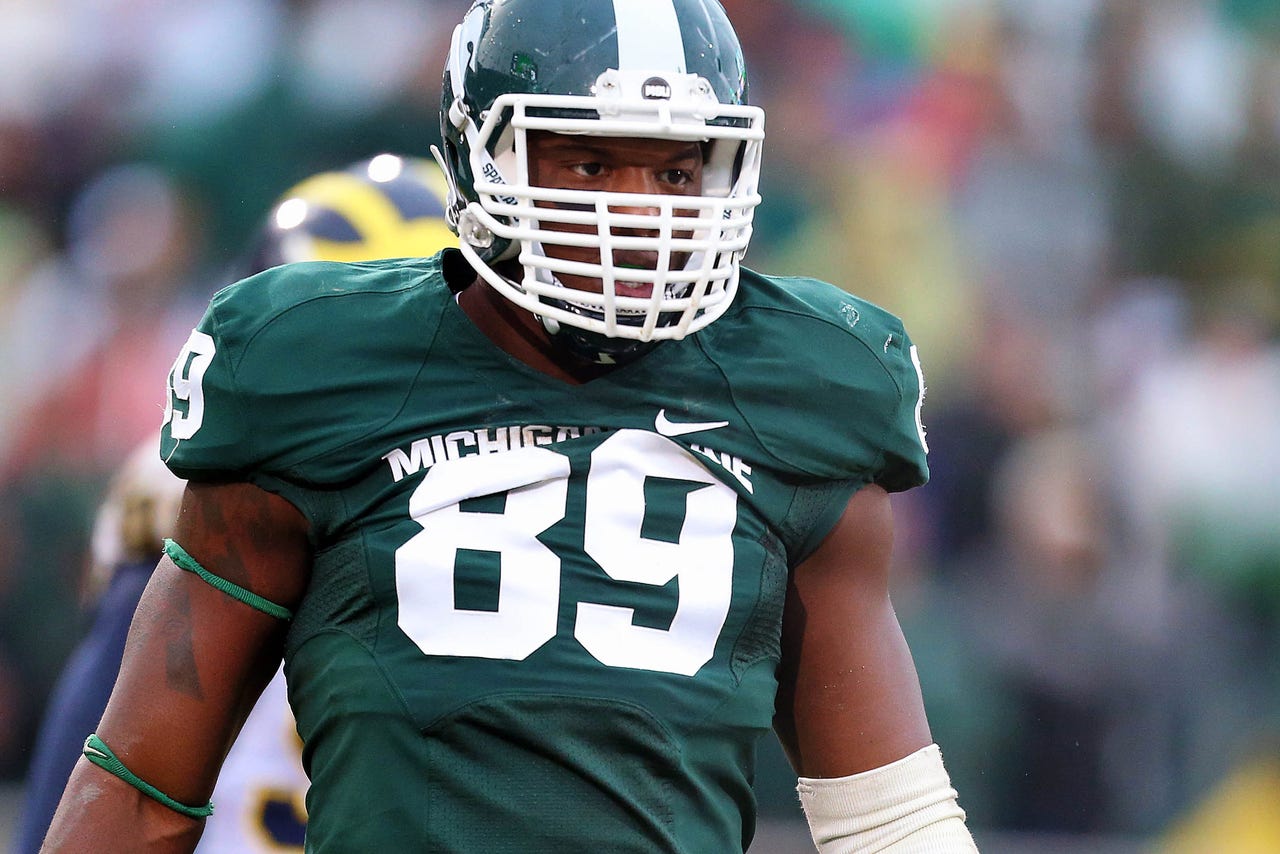 EAST LANSING, Mich. -- Michigan State football coach Mark Dantonio says Shilique Calhoun should be on "Saturday Night Live" someday.
Dantonio also had this to say on Monday about the Big Ten's Defensive Lineman of the Year from last season: "His next step in evolution is total domination."
So, while the well-chiseled, 6-foot-5, 256-pound Calhoun is a funny guy. He's also a scary guy for offenses, and could emerge as one of college football's brightest stars as a junior defensive end for the defending Big Ten and Rose Bowl champions.
Calhoun returned three of his four fumble recoveries for touchdowns in 2013, and also had 8.5 sacks. He was as formidable up front as middle linebacker Max Bullough and cornerback Darqueze Dennard, a first-round pick by the Cincinnati Bengals, were behind him.
Dennard popularized the "No-Fly Zone" moniker for the secondary last season, and Calhoun is calling the defensive line the "AWOL" gang this year.
Calhoun explained: "It stands for Always With Out a Leash. The linebackers are our masters. They get us in place (in their gaps) and take the leashes off so we can wreak havoc."
Marcus Rush is an accomplished fourth-year starter at the other end spot, and Joel Heath and Damon Knox are the new starting tackles in the middle. Ultra-talented Lawrence Thomas also factors into major playing time at tackle.
But Calhoun is the leader in ability, and Dantonio added that Calhoun's also "done a great job from a leadership standpoint."
Calhoun is one of 17 defensive players on the Walter Camp Player of the Year Award watch list. He's also on watch lists for the Bednarik and Nagurski defensive player of the year awards and the Lombardi Award that goes to the nation's top offensive or defensive lineman.
Spartans strength and conditioning coach Ken Mannie brought up Camp, Bednarik, Nagurski and Lombardi to Calhoun one day this summer.
Calhoun said, "Ken Mannie said, 'You are on so many watch lists that it blows my mind. But the only watch list you have to worry about is mine.'  And he made me do five extra pull-ups. Winning his trophy and his heart is all that matters to me.'"
There are cut-up players who cause coaches to roll their eyes. They are seen as players lacking focus. But Calhoun knows when to play, and when to be playful. And his teammates both adore him and love egging him on.
While being interviewed Monday, after the team's first padded practice for the Aug. 29 home opener with Jacksonville State, several teammates surrounded him at his chair with microphones and recorders.
"The offensive players are saying you are a prima donna and you enjoy this kind of thing," said free safety Kurtis Drummond, playing reporter for a moment.
Strong safety RJ Williamson rubbed Calhoun's shoulders while standing behind him, and said, "Breathe. Breathe."
Calhoun paused, shook his head, and said, "Check your noodle."
He checked it and opted not to fire back at his supposed detractors on the offense.
"No further questions," Calhoun said.
And everybody laughed.
That brief skit revealed why Dantonio has a special team. They feel good around one another and that goes a long way in terms of sticking together when the chips are down.
Calhoun might gain some major awards this year, but for now his trophy as the conference's top defensive lineman and Big Ten and Rose Bowl championship ring are his main baubles.
"I sent the trophy home to my mom," said Calhoun, who is from Middletown, N.J. "It's important to her. It's to remind her that I am always keeping up the grind here."
He kept the ring for himself, though.
"I save it for special suit-and-tie occasions," Calhoun said. "It completes the suit. I don't wear the ring other than times like that, though. Where do I keep it? I cannot tell you because then I would have to kill you!"
Calhoun then led the laughter.
And this year, he will lead both as an example and a voice. Bullough, Dennard and linebacker Denicos Allen are gone. It's his time to step up as a leader and he understands that.
"We want to leave a team legacy," said Calhoun, "not an individual legacy."
Though, he allowed that he aspires to one personal accomplishment.
"I definitely want to be first-team All-American," said Calhoun. "I was second-team last year. And I want to provide this team what it needs at defensive end.
"We want to be known as a swarming defense. If the ball is in the air, we consider it our fault that it was not a sack."
That's where his AWOL gang comes into play.
And there's no doubt Calhoun is the gang's leader. I asked him about Dantonio's "total domination" goal for his play.
Calhoun nodded and said, "I'm just going to take it day by day, and every day I am working harder to be as dominant as I can be. And I am working to be the best in their eyes, and the best in my eyes."
Being Will Ferrell for the guys is fun. But being the next-best thing to Bubba Smith at MSU would be the best.
---