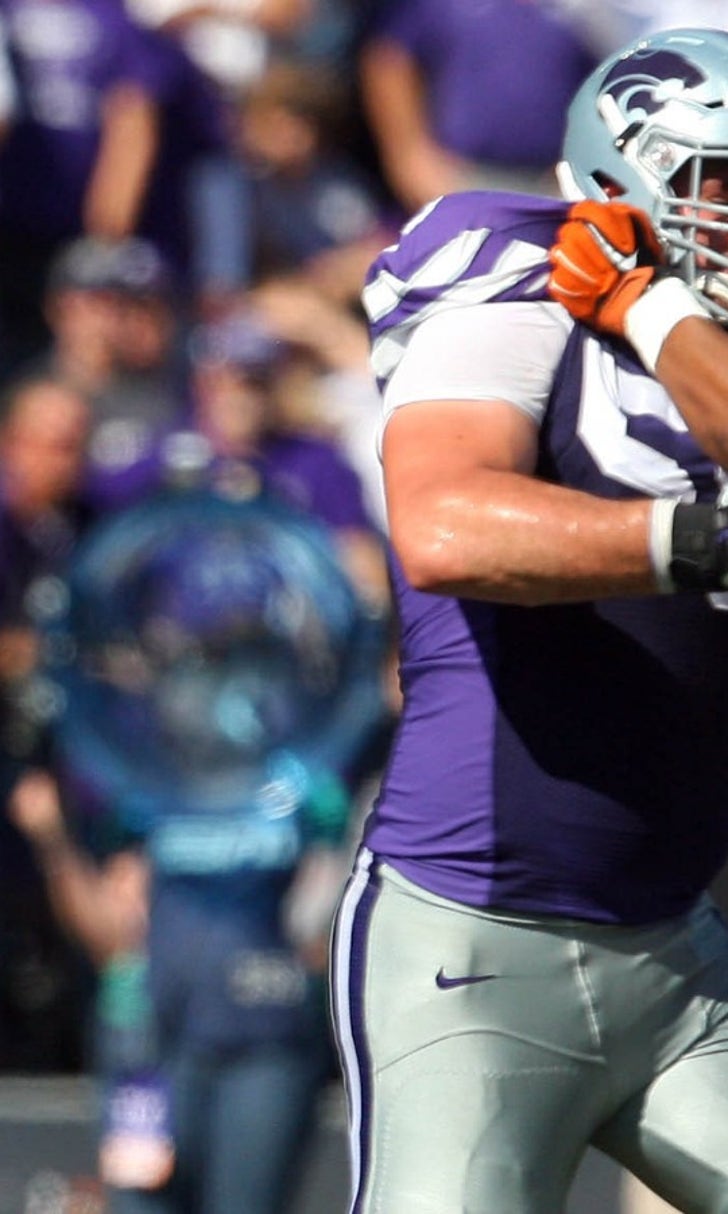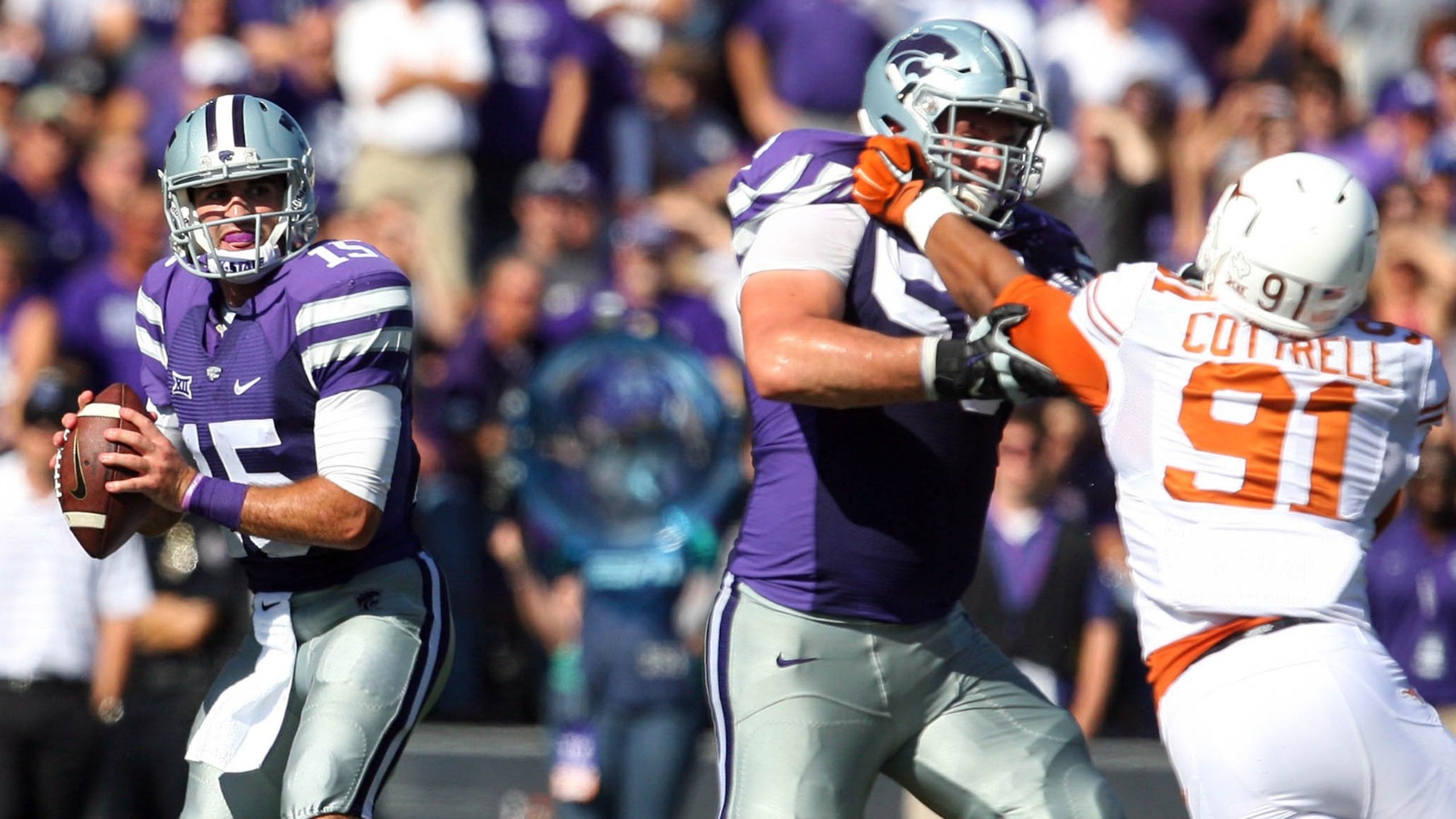 Snyder: No. 11 K-State didn't 'outscheme' Texas in the trenches -- it just beat 'em
BY foxsports • October 25, 2014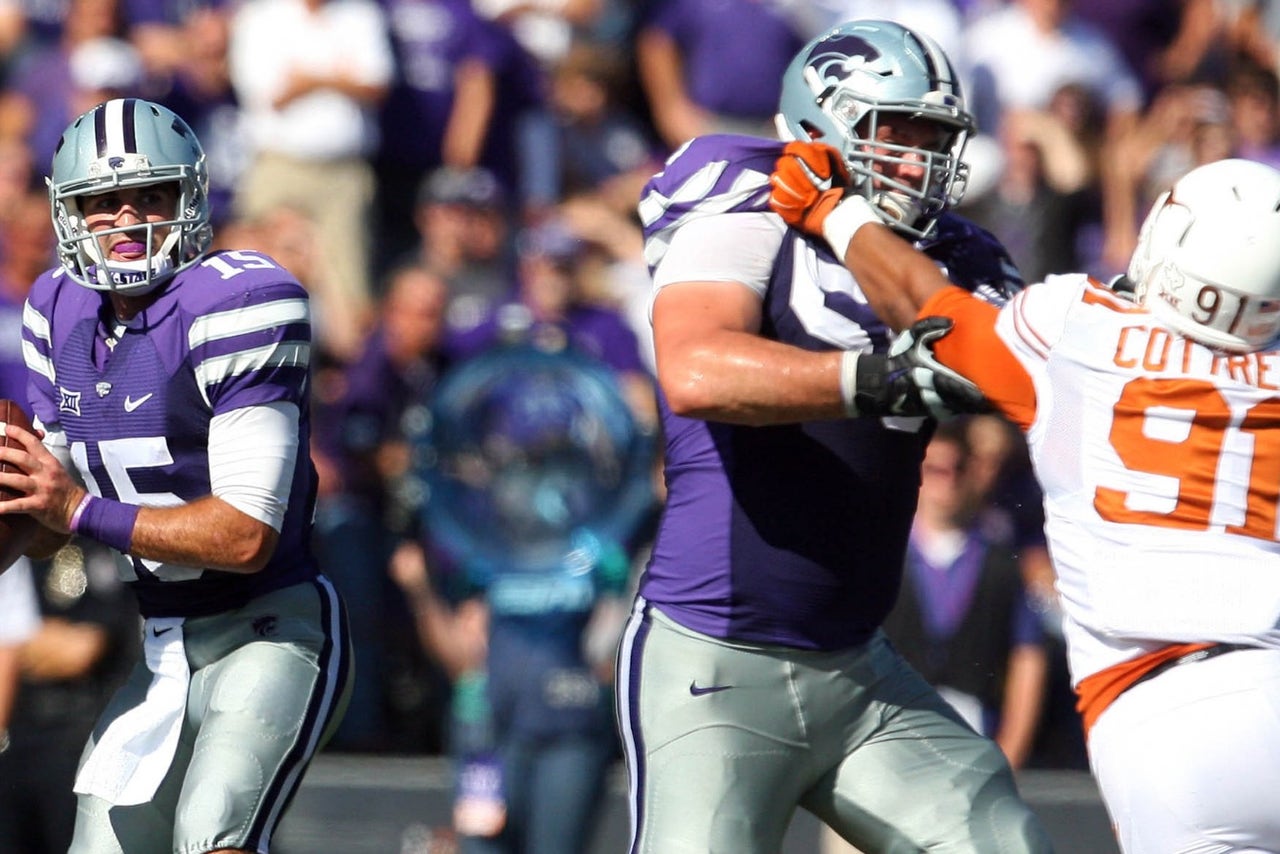 MANHATTAN, Kan. -- In hindsight, we should've seen this coming. But here's a thought: Instead of focusing on the easily resistible force that is the Texas Longhorns' offense of present, let's give a little love to the immovable object on the other end of the mat.
Heading into Saturday's 23-0 whitewash of the Burnt Orange, Kansas State was tied for sixth nationally in terms of fewest rushing touchdowns allowed while backed up within its own red zone -- just three opponent scores in 28 opposition attempts. At least, that's according to the database over at CFBStats.com, and if it sounds like an improvement, that's because it is: Last fall, the Wildcats tied for a more middling 64th in the Football Bowl Subdivision in that same statistical category, giving up 17 rushing scores in 83 tries. In 2012, the Big 12 champions wound up tied for 29th (12 in 74).
More fun with metrics: CFBStats late last week pegged the Wildcats at 16th nationally in terms of lowest opponent rushing average when backed between their own 39 and 21-yard lines (2.90). And that's a pretty healthy spike in the right direction, too -- the 'Cats ranked 69th in the same department last fall, surrendering 4.33 per carry in those situations. The 2012 Big 12 champions ranked 34th, giving up 3.76 a tote.
All of which is a roundabout and somewhat -- OK, completely -- nerdy way of saying that the harder you pin Bill Snyder's No. 11 'Cats against the wall, the harder they swing back. And it's not just a one-week thing or a two-week thing anymore. This is an identity, a mantra and a mindset, a big part of why K-State is 6-1 and 4-0 in the Big 12 and kicking it in the Bob Bowlsby Penthouse Suite again.
"That's just being the lower man (who's) going to win that battle," explained defensive end Ryan Mueller, the freckled reactor at the heart of one of the nation's most underrated defensive crews.
"Everybody's got to shoot their gaps hard and fast and use good footwork, hat placement and hand placement, and come in with an attitude (of), 'Well, I'm not going to come in and get knocked back. I'm going to knock you back.'"
And this is who the Wildcats are, too, in a nutshell: The buggers who knock you back.
Auburn's zone-read monster truck averaged just 2.8 yards per carry at Bill Snyder Family Stadium; UTEP averaged 1.9; Texas Tech averaged 3.3; so did the 'Horns (3-5, 2-3 Big 12). K-State's last four opponents -- two of whom were Oklahoma and Texas -- have averaged just 98.3 rushing yards a contest, and that's with the Sooners' whopping 198 on 42 carries thrown in.
"We are only as good as today, and tomorrow is a different day," noted Snyder after his 'Cats recorded their first shutout of a Big 12 opponent since a 45-0 shellacking of Iowa State at Ames in November 2003. "To have the continuity and to be able to do it consistently would be a good thing. We haven't done it consistently all year. We've got a ways to go."
Fair enough. Although it should be noted that while the 'Horns rolled into the sunny Flint Hills with the No. 90 rushing offense in the FBS, the No. 96 total offense and the No. 100 scoring offense, Texas had also been averaging 37 points over its last two contests and 26 per tilt in league play. Plus, pitching a shutout in the spread-happy Big 12 is a bit like tossing a no-hitter at Coors Field: A rare and beautiful thing.
"(It means) a great deal, a great deal," Snyder continued. "You're absolutely right -- I can't remember the last time we had a shutout. It just doesn't happen in this day and age. I thought it was something to be truly proud of."
Also, this: Saturday's shellacking was the first time the Longhorns had been shut out by a Big 12 opponent since dropping a 12-0 decision to rival Oklahoma in 2004. College football's "One Percent," Texas, hasn't won at middle-class K-State in 12 years -- a fact not lost on Wildcat students, who chanted during the final few minutes:
"WE OWN TEXAS!" (Clap, clap, clap-clap-clap) "WE OWN TEXAS!" (Clap, clap, clap-clap-clap)
Meanwhile, Snyder owned the guy in the other headset for roughly the millionth time he's put on a windbreaker. The 'Horns had six possessions in the first half, and three ended on three-and-outs; Texas' final two possessions in the fourth quarter suffered the same, candle-snuffing fate, with the reserves pitching in to put a bow on a defensive masterpiece.
"We were just excited when the clock was running out," linebacker Jonathan Truman said.
So excited, in fact, that he and Mueller grabbed some of their defensive teammates on the sideline, huddled 'em up and told them how proud they were, and just how hard and rare that goose egg is to get in this loop.
"Sometimes in a game, you've got a big lead and you put the twos and threes out there and (the other team gets) some touchdowns and points and that kind of is a bummer to the defense, (to) the first-team guys," Mueller said. "Yeah, that's certainly quite a challenge to shut teams out, especially in the Big 12."
And yet few league teams play the down-and-distance chess game better: The Wildcats went into the Texas contest ranked ninth nationally in lowest rushing average allowed on first down (3.15 per attempt) and 30th in terms of rush average surrendered on third down (1.9). Before Saturday, K-State's foes had run on third-and-3-or-less 18 times for 33 yards, or 1.83 a carry, and half of those attempts failed to reach the first-down marker. Fourth down was even more impressive: four attempts coming into the Texas game, minus-7 net rushing yards, or minus-1.75 per tote.
Basically, you're forcing teams to throw at a secondary that features the likes of Randall Evans (one tackle for loss), Danzel McDaniel (three stops) and Dante Barnett (four pass breakups), thanks to an unsung rotation of defensive tackles who can raise hell high (Travis Britz is 6-foot-4; DeAndre Roberts, 6-5) or low (redshirt freshman Will Geary checks in at 6-foot-even, 290), depending on the circumstance.
"They make the linebackers' jobs so much easier because they get a push on the offensive line, they get in their gaps," said Truman, who wound up with eight tackles. "And they make plays up front that people don't notice all the time."
Or set the guys behind them up for the plays that do get noticed. On fourth-and-1 at the K-State 14 with 13:17 left in the game, the hosts up 16-0, Texas coach Charlie Strong went for broke and sent tailback Johnathan Gray into the pile. Barnett and Truman closed in to corral the Longhorn runner, and Gray was ruled just shy of the 13 for no gain. Replays showed the spot was probably unkind, but the ruling was upheld by replay, and the shutout remained on the table.
"We didn't outscheme 'em," Snyder said. "We just beat 'em."
Because that's who these Wildcats are, too. Warts and all.
You can follow Sean Keeler on Twitter @SeanKeeler or email him at seanmkeeler@gmail.com.
---