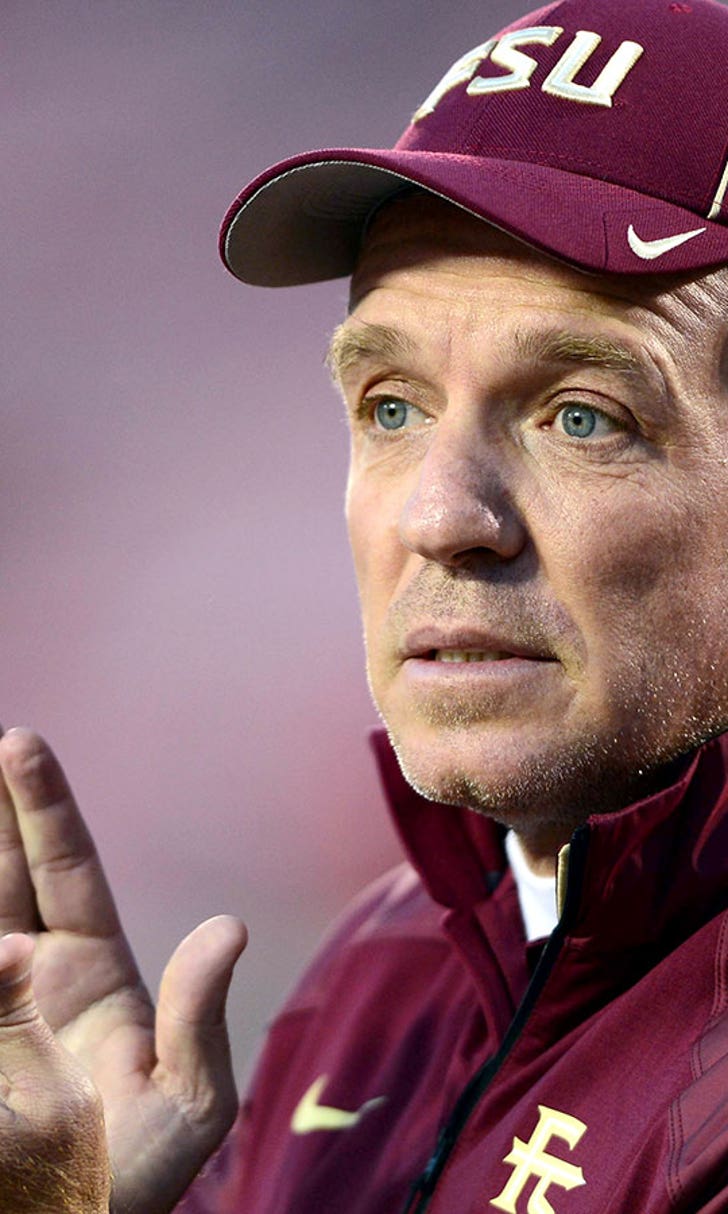 Seminoles look to cement a top class on National Signing Day
BY foxsports • February 3, 2015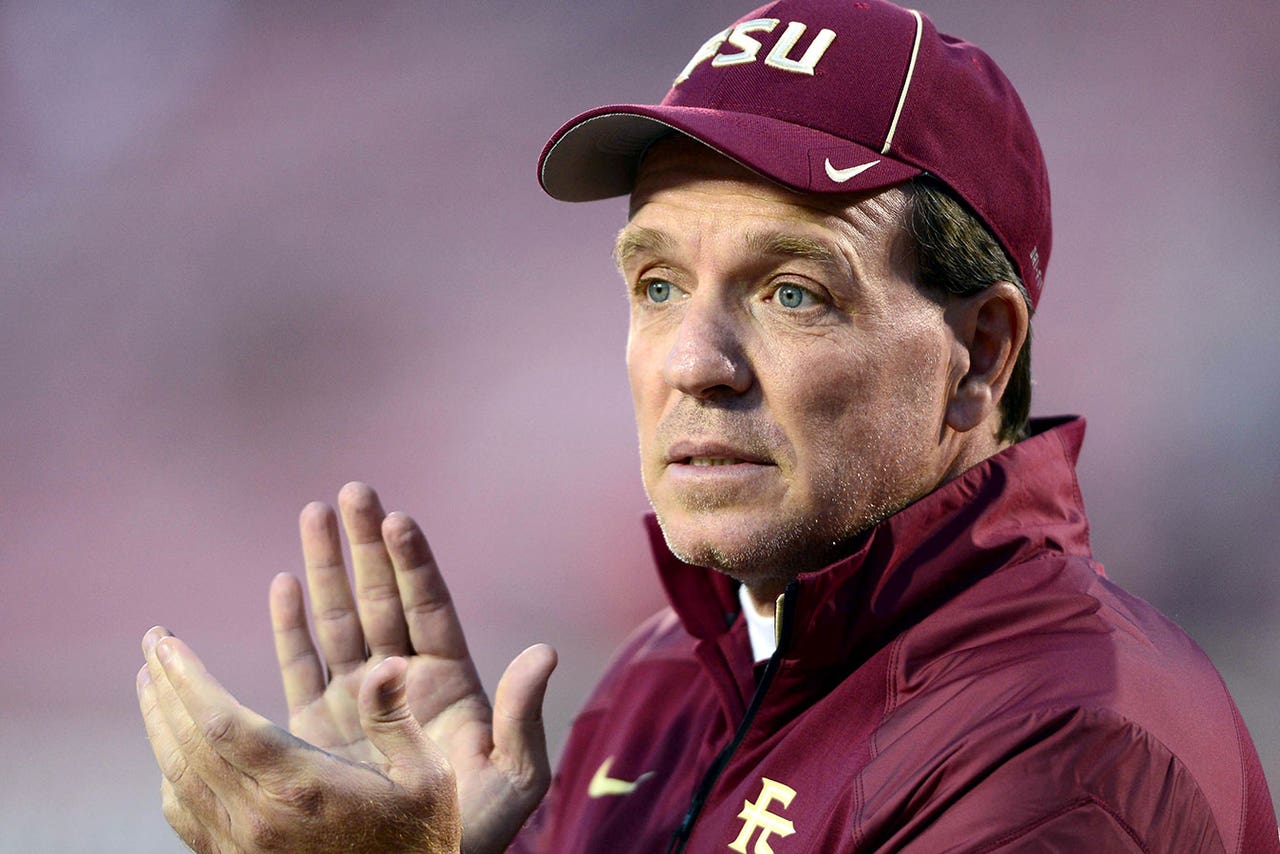 College football's National Signing Day is upon us. Coaches, players and fans from around the nation sit in limbo, watching television sets and constantly refreshing their Twitter feeds, with the hopes of seeing the nation's most sought-after recruits reach for their school's cap.
The Florida State Seminoles and head coach Jimbo Fisher will be among those anxiously awaiting player's decisions. But thanks to the school's recent success and tireless recruiting efforts from the coaching staff, many of FSU's top 2015 recruits have already signed and enrolled early at Florida State.
The Seminoles welcomed eight new recruits to Tallahassee and all of them are set to be available for spring practice after successfully enrolling for spring semester classes.
According to Scout.com, FSU's 2015 class of early signees consists of three five-stars (defensive end Josh Sweat, defensive back Derwin James and wide receiver George Campbell) and three four-stars (defensive back Clavin Brewton, running back Jacquez Patrick and wide receiver Da'Vante Phillips). Rounding out the group are three-star recruits quarterback De'Andre Johnson -- the 2014 Mr. Football in Florida -- and 6-foot-7 offensive lineman Ethan Frith from Summit, Miss.
James, a consensus five-star recruit, is arguably the biggest "get" for the Seminoles and is expected to come in and immediately challenge for playing time, and possibly even a starting position, in an FSU secondary loaded at safety but thin at corner.
Campbell is ranked as the No. 34 overall player in Scout.com's 2015 Top 300 recruits and with a 40-yard dash time of 4.36 seconds is a player who can most certainly take the top off of opposing defenses.
The 6-foot-5 Sweat is Scout.com's No. 1 defensive end and will have the opportunity to fill a huge void left by Mario Edwards Jr. entering the NFL Draft. Before a serious knee injury sidelined him, Sweat was thought by many to be the No. 1 overall player in America. He is expected to be ready for this upcoming season and will enter a group of defensive ends and outside linebackers full of talent but lacking in experience. Regardless of immediate playing time, his size and speed will help a Seminoles pass rush that must become more of a factor in 2015.
Patrick, the 2014 Gatorade Player of the Year in Florida, is a bruiser of a running back who ranks No. 61 in Scout.com's list of the Top 300 recruits. He will enter a backfield led by last year's team-leading rusher RB Dalvin Cook and try to repeat the freshman season that Cook put together (170 carries, 1,008 yards and 8 touchdowns).
"I'm extremely excited to have eight of our young freshmen come in early," Fisher said. "They're a very talented group, exactly the type of guys we wanted to recruit for our program. I think they all have bright futures ahead at Florida State. I'm looking forward to them making huge contributions to the program starting this spring.
"Overall, it's a tremendous group with a lot of talent and I know they'll keep the legacy of our program intact, headed in the right direction and winning championships."
This current class of eight is a great start for Fisher and his team, but don't think for a minute they're content.
Scout.com has the Seminoles 2015 recruiting class ranked No. 9 in the nation with 12 other players listed as FSU commits; led by five-star recruit CB Tarvarus McFadden and four-star QB Deondre Francois.
The McFadden signing would serve as a much needed addition for the Seminoles after losing last year's starting corners -- P.J. Williams and Ronald Darby -- to the draft. A 6-foot-2, 198-pound corner, McFadden has the size and versatility to come in and contribute to the Seminoles defense right away if he signs his letter of intent with Florida State.
Francois is ranked as the No. 2 quarterback in the state of Florida and listed as a "soft verbal" FSU commit according to Scout.com. The Seminoles are hoping that Francois' relationship with IMG Academy head coach and former Heisman-winning Seminoles quarterback Chris Weinke will be enough to assure his selection of the garnet and gold cap come Wednesday. Francois' signing would provide Fisher with a talented, yet crowded quarterback group as he attempts to find a replacement for Jameis Winston. He is scheduled to announce his decision Wednesday morning at 10.
Florida State is also still in the running for three more high-profile recruits in defensive lineman Terry Beckner Jr. and five-star defensive backs Iman Marshall and Minkah Fitzpatrick.
Beckner, a four-star, is ranked in the top 40 players on Scout's Top 300 list and could fill a huge hole in the middle of the Seminoles defensive line left from defensive tackle Eddie Goldman's departure to the NFL.
Marshall and Fitzpatrick would be huge signings for Florida State and give them one of the most talented defensive backfields in the nation. However, with that much talent, playing time could become an issue and therefore deter one of these major recruits from coming to Tallahassee.
If Marshall, the No. 1 ranked cornerback in the nation and the No. 7 player overall, chooses an FSU cap on National Signing Day, it would seriously help the Seminoles take care of an area of need. This would give defensive coordinator Charles Kelly three current and previous five-star recruits to play at corner -- Jalen Ramsey, Trey Marshall and Iman Marshall.
This year's National Signing Day is shaping up to be just as crazy as years past. Recruits this young can change mind at any second. Florida State's approach of signing their sought-after recruits early allows the coaching staff's stress level to drop a little, but in the never-ending quest to get better, Fisher and his team will still sit in suspense as the nation's top undecideds make their choices.
KEY ANNOUNCEMENT TIMES
QB Deondre Francois (4-star): 10 a.m. (FSU and Florida)
DL Terry Beckner, Jr. (4-star): 10:45 a.m. (Missouri, FSU, Auburn, Oregon, Ohio State)
---