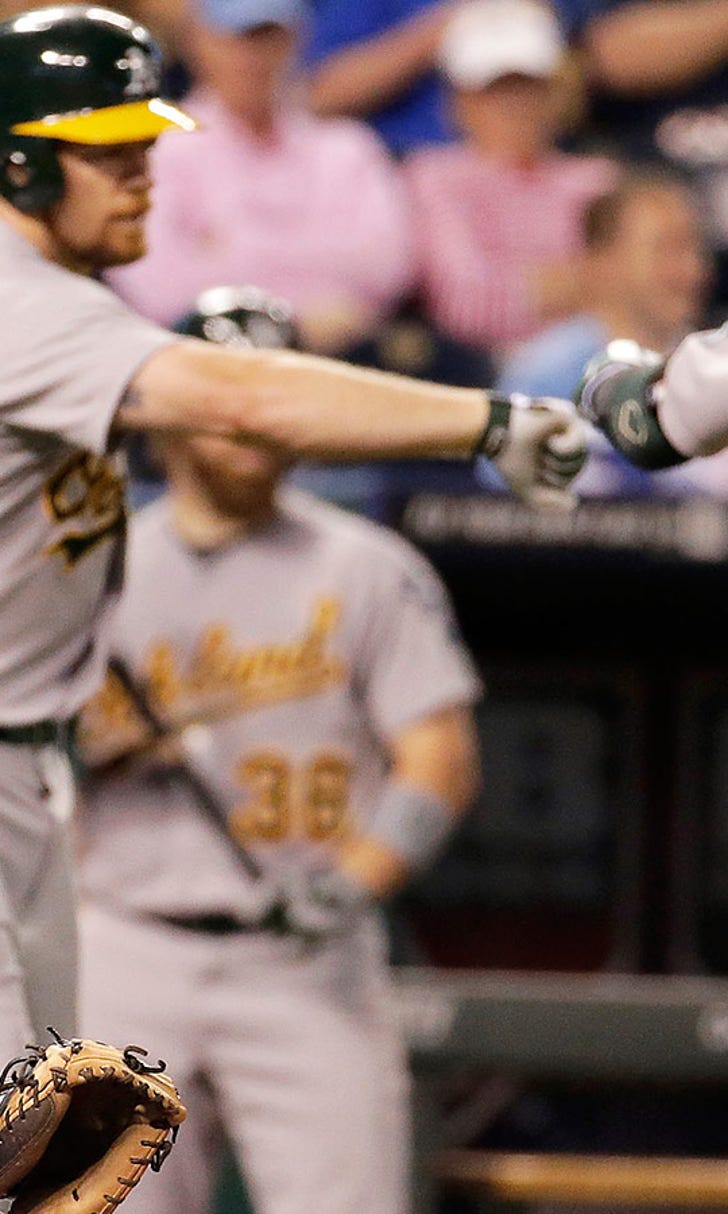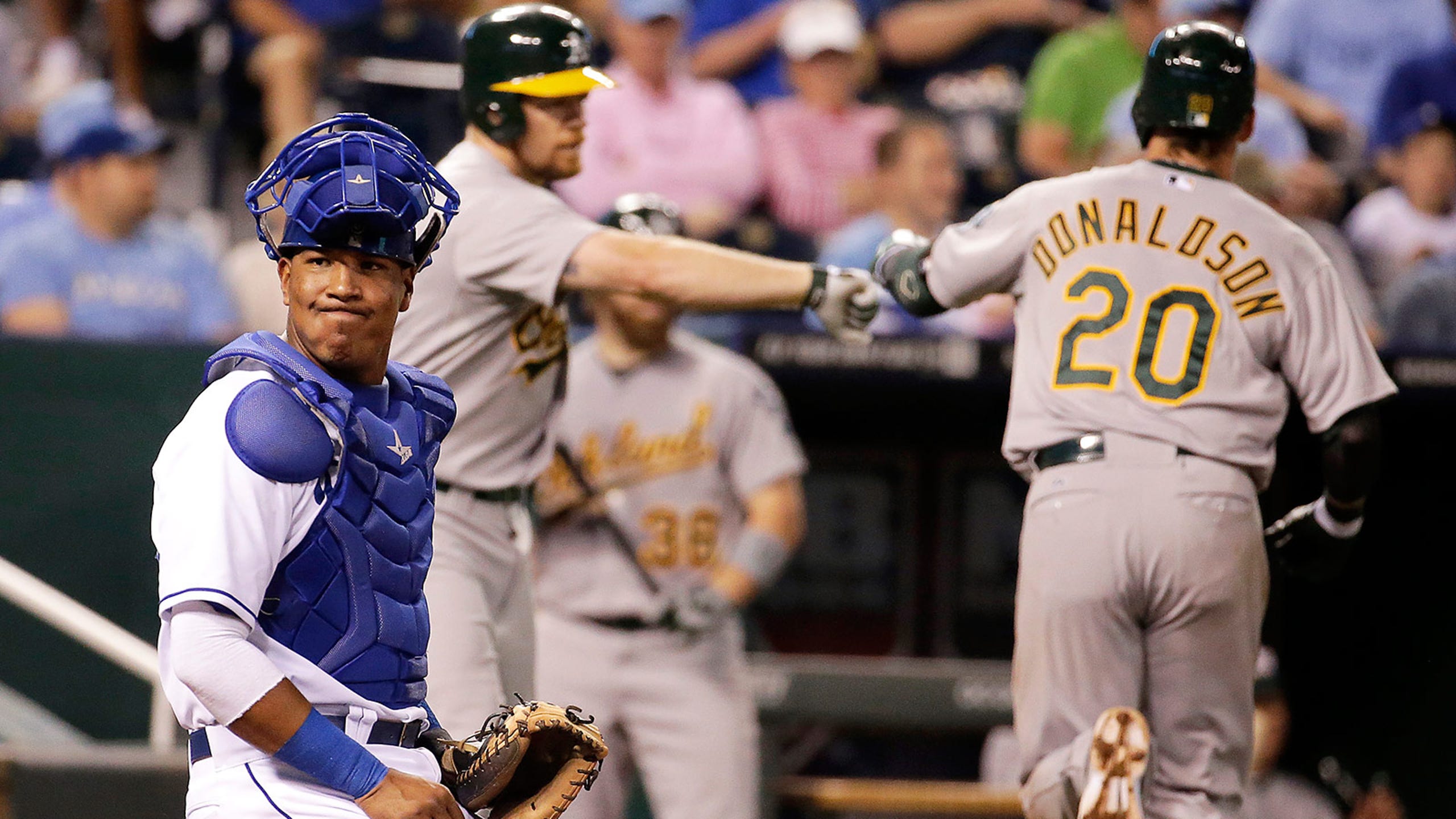 Royals fade away as A's lumber lights up the scoreboard at The K
BY foxsports • August 12, 2014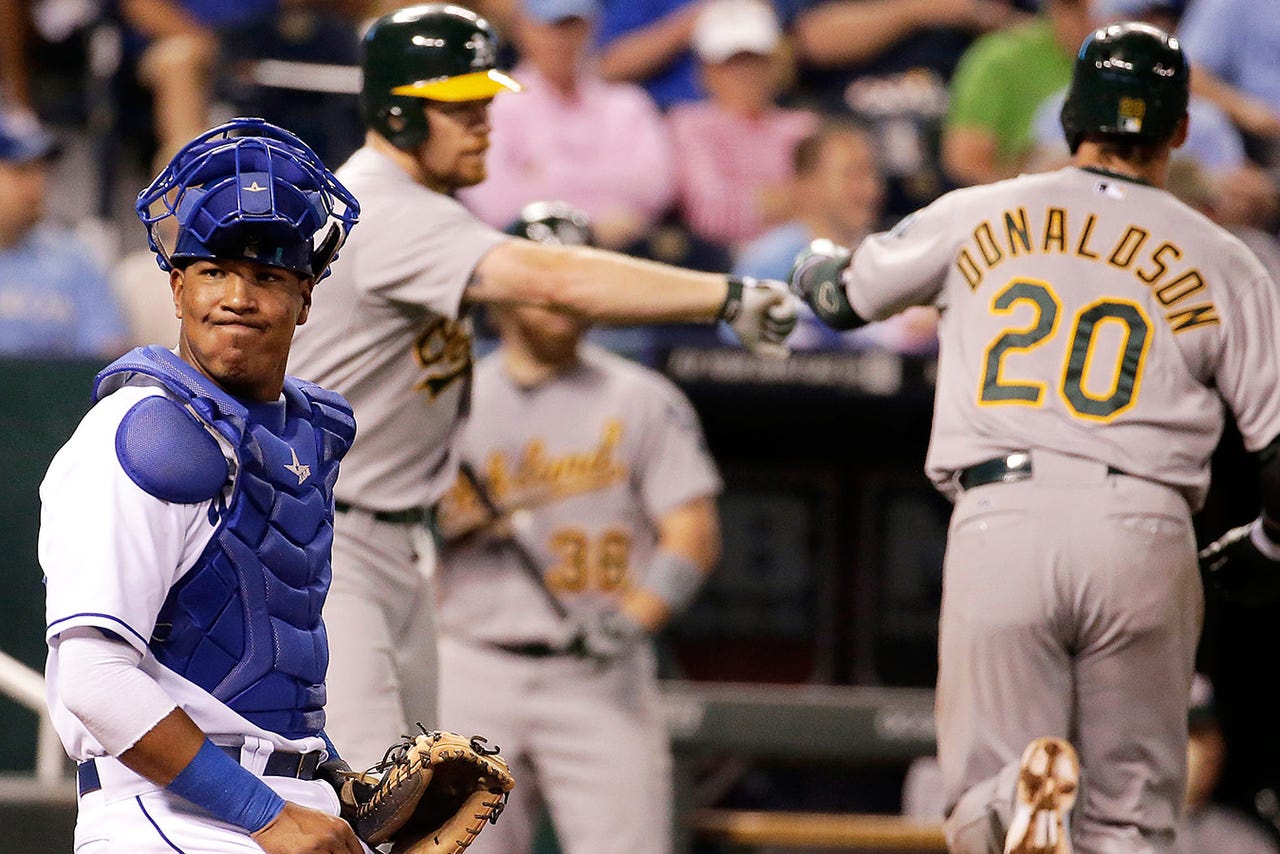 KANSAS CITY, Mo. -- Well, if it was necessary for the Royals' eight-game winning streak to finally end, best to spare the fans any late-game heartbreak.
The Royals' pitching collapsed early and late, and the Oakland A's, who had lost three of four to Kansas City this season, bounced back with a vengeance, 11-3.
The A's battered the Royals for 20 hits.
Manager Ned Yost hinted it would be easy to flush this one.
"We're not going to win every game," Yost said. "You just try to keep these games few and far between. But these are games that are easier to take than a 3-2 loss, which will stay with you awhile."
The good news? The Tigers' free fall continued with a 4-2 loss to the Pirates, and so the Royals remain in first place in the American League Central by half a game.
That was about it for consolation. Move along, nothing to see here.
3 UP
-- Showing fight. Give the Royals some credit for fighting back from a 6-0 deficit against Jon Lester with a three-run fifth. Facing that deficit, the Royals easily could have put up the white flag, especially with their offensive limitations. They didn't, and rallied to within three. But the Royals' bullpen could not keep it close enough to warrant another rally.
Watch the Royals Live pregame and postgame shows before and after every Kansas City Royals game on FOX Sports Kansas City.
"I thought Lester pitched better tonight than he did against us in Oakland," Yost said. "And we battled pretty hard against him. Got his pitch count up early, had some good at-bats. But it just got away from us."
-- Aoki was A-OK. Nori Aoki did his part against Lester. Aoki lined out to shortstop his first time up, singled to deep short his next time up and then, with a runner on third and one out in the fifth, he again singled to short, driving in the Royals' second run. Aoki also made a terrific leaping catch at the fence in the ninth.
-- Another nice AB from Esky. Alcides Escobar was the offensive hero Monday night, and he came through with a really nice at-bat in the fifth Tuesday.
With runners on second and third and none out, Lester got ahead of Esky 0-2. But Esky hung with a cutter, stayed behind the ball and shot a fly ball into medium-deep right field for a sacrifice fly. Nice job.
3 DOWN
-- Guthrie throws BP. Jeremy Guthrie, who pitched so effectively in Oakland to really jump-start this Royals surge, was no match for the A's this time around.
The A's jumped on him for a run in the first and would have had more if not for an out at the plate on a nice relay throw from Escobar to catcher Sal Perez. Guthrie wound up lasting just 4 2/3 innings and gave up 11 hits, though 10 of them were singles. He dug the Royals a 6-0 deficit that was too huge to overcome.
"He wasn't as bad as his line will look in the morning," Yost said.
Guthrie, naturally, was disappointed he was the one who stopped the streak.
"I just didn't do a good job of pitching with two strikes," he said. "I made some poor pitches there."
-- No music for Chen. The Royals did battle back against Lester, and pulled within 6-3. Two bloops and a blast and they would have been right back in it, right? Well, Bruce Chen took care of that.
Chen gave up a homer to Josh Donaldson in the seventh that pushed the deficit to four. Then Chen got hammered in the eighth, giving up four runs, and that decided the matter for good. That pretty much emptied out The K as most of the 27,161 fans (nice crowd) filed out.
Yost said he didn't have Kelvin Herrera, Wade Davis or Greg Holland available, so Chen had to suck up some innings.
"If we had gotten closer than 6-3, maybe I could have gone with (Francisley) Bueno or (Jason) Frasor," Yost said. "But once it got sort of out of reach, I just decided to let (the A's) run it out."
-- Joining the DP crowd. Newcomer Josh Willingham got a nice ovation before his first at-bat, and he got a huge roar when he ripped a double off Lester. But the rest of his night didn't go so well.
His biggest at-bat came in the sixth when the Royals were still in the game, trailing 6-3. Mike Moustakas led off with a walk, and the big crowd rose up again to try to energize the Royals. Willingham took care of that, bouncing into a 5-4-3 double play.
The Royals went down quietly the rest of the way.
You can follow Jeffrey Flanagan on Twitter at @jflanagankc or email him at jeffreyflanagan6@gmail.com.
---