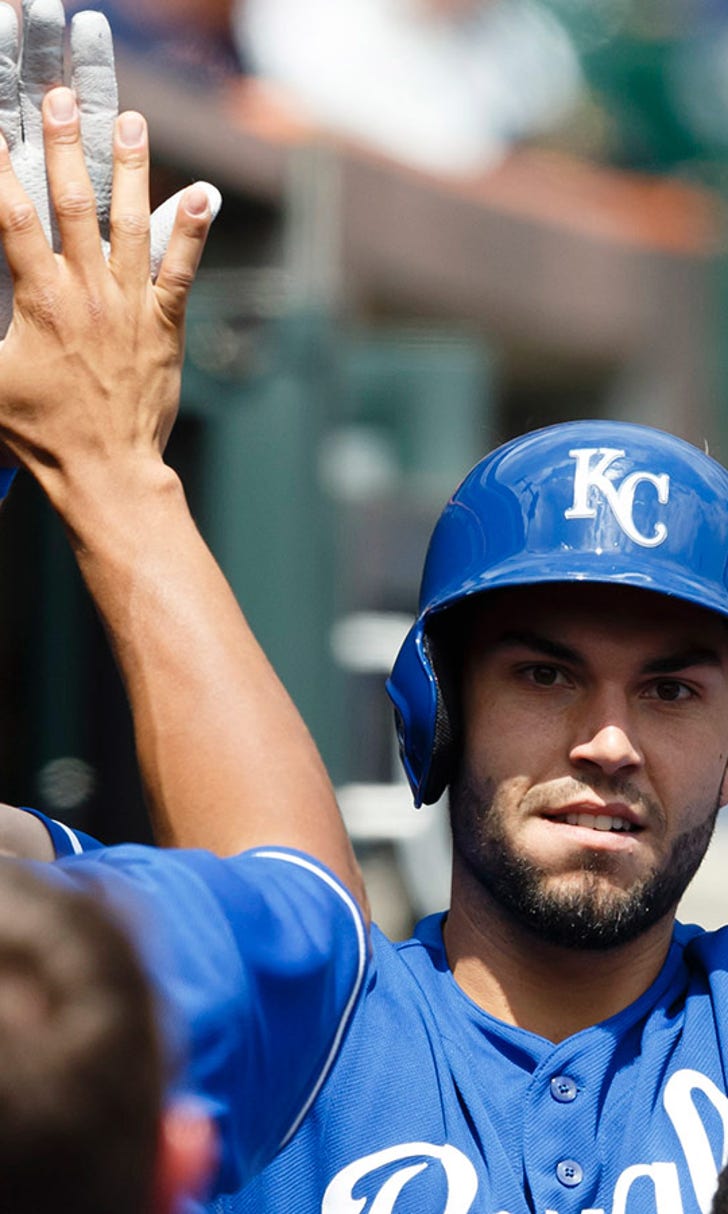 Royals and FOX Sports Kansas City announce biggest TV schedule ever
BY foxsports • February 27, 2014
KANSAS CITY, Mo. -- Royals fans hoping to see their team on television as it embarks on a possible playoff run won't have to fret this season: Every Royals game in September will be broadcast on either FOX Sports Kansas City or FOX Sports 1.
In fact, every August game also will be televised with the exception of an Aug. 14 afternoon game at Kauffman Stadium against Oakland.
It's all part of a new 150-game television package that FSKC will be delivering -- and six other games will be shown on either FOX Sports 1 or FOX, bringing the total number of televised games to 156, the biggest Royals television package ever.
From 2008-13, the Royals and FSKC had 140-game packages, though last year FSKC increased the number of televised games to 143 when several August and September games were not scheduled and the Royals had hopped into the playoff chase.
But this year, every September game will be aired as the Royals will maneuver through an extremely challenging month starting with three home games against Texas followed by a six-game road trip through New York and Detroit.
The Royals then will have a 10-game homestand with Boston, Chicago and Detroit before finishing the regular season with a seven-game road trip through Cleveland and Chicago.
"Last season was a breakthrough year on the field and on TV, and there's tremendous anticipation for 2014, so it's an ideal time to expand our schedule," said Jack Donovan, FOX Sports Kansas City general manager and senior vice president. "We'll show an all-time-high 150 games, including every game in September during the pennant race."
The only other non-televised games this year will be an 11:05 a.m. game April 24 at Cleveland, a 1:10 p.m. game at home against Houston on May 28, a 6:10 p.m. game July 5 at Cleveland, a 6:10 p.m. game at home against Detroit on July 12, and a 1:10 p.m. game at Chicago on July 23.
There is always a chance that any or all of those games could be picked up by MLB Network.
Every game on FOX Sports Kansas City will be preceded by a 30-minute pregame show, "Hy-Vee Royals Live," and followed by the "Boulevard Royals Live" postgame show.
FSKC will televise two spring training games: March 17 against Texas (8:05 p.m. Central) and March 25 against Seattle (8:05 p.m. Central). Additionally, MLB Network will air live Royals spring training games March 20 against the Los Angeles Angels and March 22 against Texas. Both contests are scheduled to begin at 3:05 p.m. (CDT).
FSKC will air Kansas City's Opening Day contest March 31 at Detroit and the April 4 home opener vs. the Chicago White Sox.
The complete season schedule with telecasts is listed on the attached schedule. All game times and the TV schedule are subject to change.
Ryan Lefebvre will call 95 regular-season games and one exhibition for FOX Sports Kansas City, and Steve Physioc will provide the play-by-play on 55 games during the season and one exhibition. Rex Hudler will return for his third season as the analyst, and Royals Hall of Famer Jeff Montgomery will provide analysis throughout the season on "Royals Live" with host Joel Goldberg.
You can follow Jeffrey Flanagan on Twitter at @jflanagankc or email jeffreyflanagan6@gmail.com.
---