Rodriguez thrashes UFC legend Penn with 2nd-round TKO (full event coverage)
BY Alexa Tieu • January 16, 2017
Yair Rodriguez vs BJ Penn (Featherweight bout)

A lot of quick movements from the two featherweights. Yair 'El Pantera' Rodriguez attacks first with a spinning kick that misses and allows BJ Penn to come in and push Rodriguez against the cage. The atmosphere is insane with half the crowd chanting "El Pantera" and the other half countering with "BJ." Rodriguez continues to be the aggressor and is able to catch Penn with a series of head kicks and leg kicks. Rodriguez lands a huge head kick that stops everyone in the building. Penn is able to clench and land a few shots but Rodriguez pushes off and lands another log leg kick to end the round.

Just as quickly as the second round started, it was over. Penn came in aggressively but Rodriguez clips Penn's chin causing him to drop. Rodriguez jumps on and continues the barrage of punches and elbows as Penn tries to defend and roll away, but Big John McCarthy steps in and stops the fight.




WINNER: Rodriguez, 2nd round, TKO stoppage

Joe Lauzon vs Marcin Held (Lightweight bout)

The co-main event begins with the two fighters circling the ring and missing almost everything they throw. Joe Lauzon finally lands a huge blow on Marcin Held and as Held drops, Lauzon takes advantage and throws elbows to the side of Held's head. Held is able to get to the ground and tries to grab Lauzon's ankle, which stops the attack. After more traded blows, Held gets on top of Lauzon and is able to gain side control. Lauzon find his way back to his feet but Held keeps the pressure against the cage. They get back to the middle of the ring and before the round ends Lauzon lands a huge hook which drops Held as time expires.




Held comes out of the first break fast - with a back spinning kick and shooting at Lauzon. Held and Lauzon roll around for a bit as Held stays on Lauzon's back. Lauzon is able to spin out of the grapple, pushes Held up against the cage and scores a take down. Held shoots at Lauzon and is able to get him down in the middle of the ring. After trying for an armbar, Lauzon opens himself up as Held gets free and comes down with an elbow to Lauzon's head seconds before the round ends.

The final round begins with Lauzon missing a couple punches while Held's tries land. Both men tentatively move around the ring before Lauzon tries to come in for a clench, but Held counters. Moving back to the middle of the ring, they clench again and Held pushes Lauzon up against the cage and drops him for a takedown. Round of applause as referee Herb Dean re-inserts Held's mouthpiece as Held is on top of Lauzon. The two go back to trading blows before Held scores another takedown. Held stands up and tries another spinning kick which lands him directly on top of Lauzon as the round ends.




WINNER: Lauzon, Split Decision (30-27 Held, 29-28 Lauzon [2])

Court McGee vs Ben Saunders (Welterweight bout)

Court McGee and Ben Saunders come out guns blazing and instantly start to trade blows. Each score takedowns and are able to tag the other. Strong punches, a wild ground game and a lot of patience describes the entirety of the fight.




WINNER: Saunders, Unanimous Decision (29-28 [3])

#8 John Moraga vs #15 Sergio Pettis (Flyweight bout)

John Moraga is patient as he moves forward against Sergio Pettis. Pettis, however is quick on his feet and moves forward with vicious combinations that continue to land on Chicano John. The first round continues this back and forth action.

More action from Pettis comes in the second and third rounds as he continues to push forward to find his moments. Moraga is able to use his patience to avoid some major swings and land some significant strikes of his own. In the end, it's Pettis' aggression that is maintained through the bout as he tags Moraga a few times.




WINNER: Pettis, Unanimous Decision (29-28, 29-28, 30-27)

FS1 PRELIMS

Devin Powell vs Drakkar Klose (Lightweight Bout)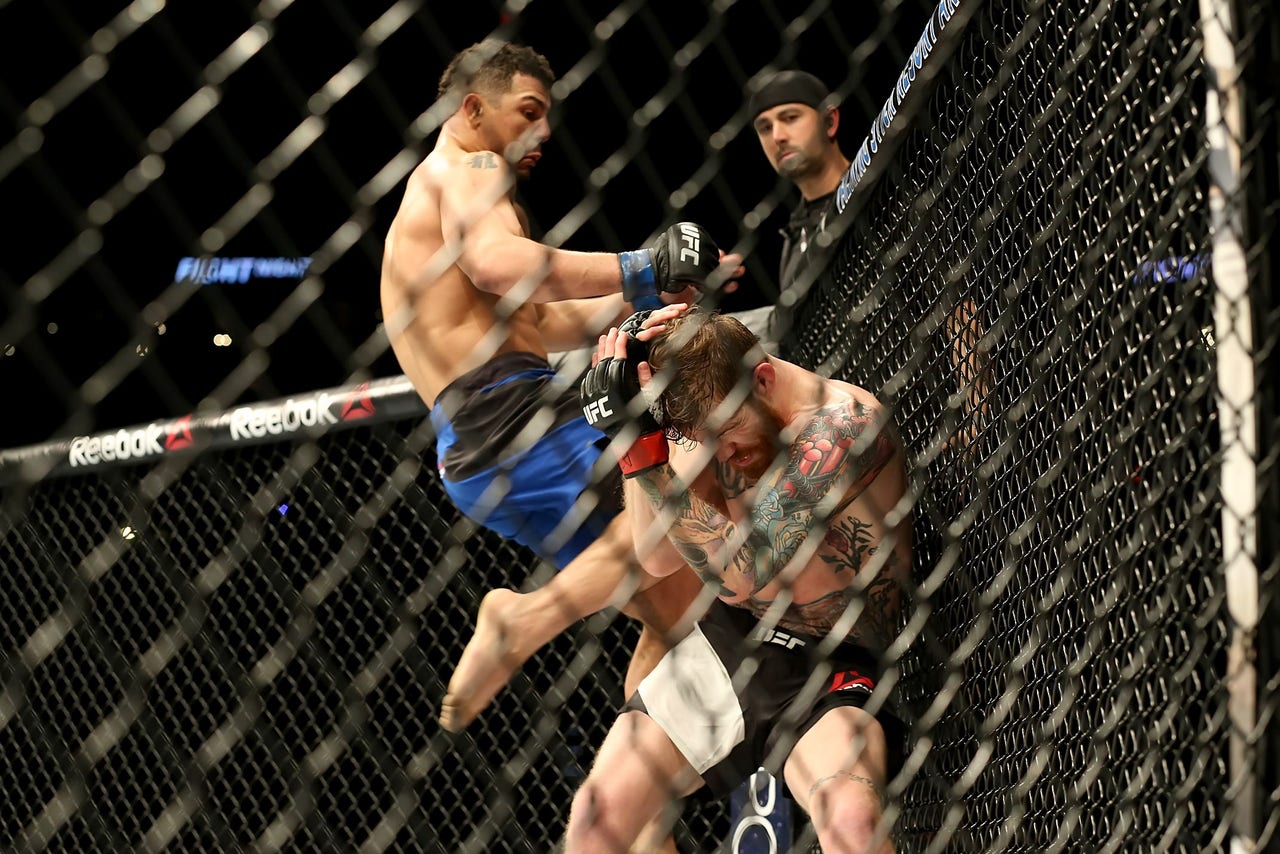 Bruce Yeung/Yeung Photography

Instantly, Drakkar Klose bills himself as the aggressor in his first fight in the UFC as he closes the distance between himself and Devin Powell every chance he gets. With a few big punches and strong pushes to the cage, Klose is able to get Powell to make mistakes and stumble. Klose is able to land far more significant strikes and while moving forward does also open him up for some other shots, Powell is never able to capitalize on the opportunities.




WINNER: Klose, Unanimous Decision (30-27)

Frankie Saenz vs Augusto Mendes (Bantamweight bout)

Quick moves from both fighters and strong strikes and leg kicks. Augusto "Tanquinho" Mendes lands a big right hand which opens up Frankie Saenz to be taken down. Tanquinho gets top control but only briefly as Saenz is able to get back up. After another big right which causes Saenz to wobble, Tanquinho moves in and lands more strikes before the round ends.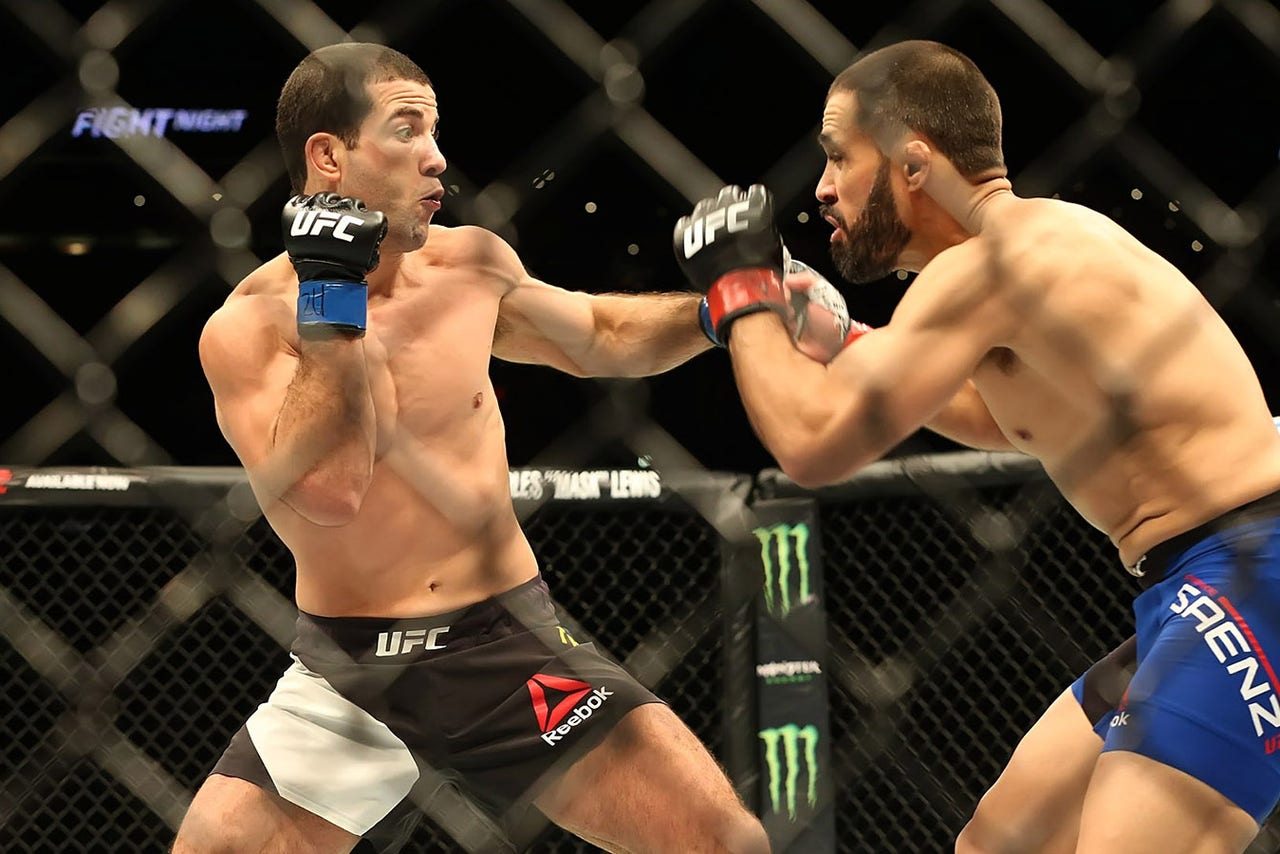 Bruce Yeung/Yeung Photography

 

 

 

 

 

Round two proves to be just as fast paced as round one. Tanquinho lands another right hook which causes Saenze to wobble, but can't control Saenz on the ground. With his back against the cage, Saenz pushes Tanquinho off and throws a big elbow which drops Tanquinho. Saenz tries to take control on the ground but lets Tanquinho back up. More explosive stand-up action with both fighters landing big punches and kicks. The round ends with Saenz lifting Tanquinho off the ground and gravity helping Tanquinho land a knee on Saenz' head.

Mutual respect from these two fighters as they touch gloves again at the beginning of the round. Tanquinho lands a big right hook and causes Saenz to run around the edge of the cage to get away. Both guys throw close range punches, uppercuts and knees. Tanquinho gets Saenz to stumble but Saenz turns it around and pushes Tanquinho onto the cage. Saenz lands a few sold punches and knees but backs up to the middle of the cage again. Tanquinho scores another take down and Saenz turns it around again. The fight ends with Saenz throwing a flying knee - that doesn't hit.




WINNER: Mendes, Split Decision (29-28 Saenz, 29-28 Mendes [2])

Aleksei Oleinik vs Viktor Pesta (Heavyweight bout)

After a couple strikes, Viktor Pesta pushes Aleksei Oleinik into the cage. They grapple away and end up on the ground with Pesta on top. Oleinik tries to get up, but Pesta pushes him down once more and takes control again. Oleinik locks in an Ezekiel choke from the bottom and forces Pesta to tap. This was the first ever finish via Ezekiel choke in UFC history.




WINNER: Oleinik, 1st Round, Submission via Ezekiel choke

Tony Martin vs Alex White (Lightweight bout)

Tony Martin and Alex White come out and trade small blows and clenches. All three rounds pretty much started and finished the same – White landing some blows but Martin being able to take White down and controlling on the ground.

WINNER: Martin, Unanimous Decision (30-27)

UFC FIGHT PASS PRELIMS

Jocelyn Jones-Lybarger vs Nina Ansaroff (Strawweight bout)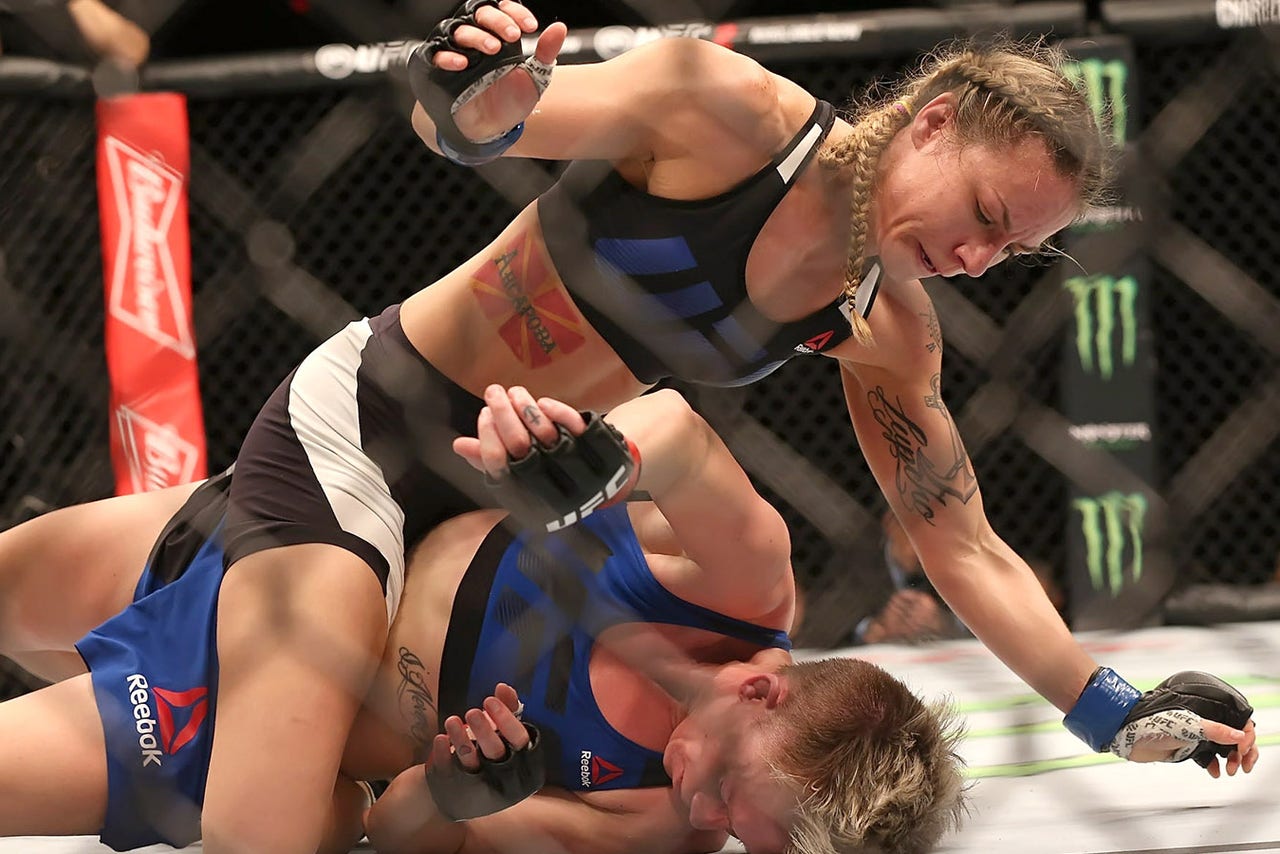 Bruce Yeung/Yeung Photography

Jocelyn Jones-Lybarger starts the bout off fast and forward moving while Nina Ansaroff is about patience and picking her spots. After a few exchanges, Ansaroff lands a coupe of strong leg kicks and gets Jones-Lybarger to the dround. As the round ends, Ansaroff lands a few big punches to the head of Jones-Lybarger.

At the start of Round two, Jones-Lybarger lands two big strikes but Ansaroff counters with another sweeping low leg kick and is able to get Jones-Lybarger on the ground again early. Jones-Lybarger looks like she's in trouble but is able to roll to her side to avoid the choke. After two more attempts at a choke by Ansaroff and two more escapes by Jones-Lybarger, the round ends on the mat again.

Jones-Lybarger is instantly in trouble as she attacks and drops again. Ansaroff takes control and finally gets the submission victory.




WINNER: Ansaroff, 2nd round, Submission via Rear Naked Choke

Walt Harris vs Chase Sherman (Heavyweight bout)

Two very quick moving heavyweights. Walt Harris comes in strong with a few body hits which instantly turn red. Chase Sherman tries a few head kicks but Harris blocks each time. Harris lands three giant punches which gets the crowd into it. Aggressiveness leads to a a few good hits from Sherman landing, but also opens him up to bigger counterstrikes from Harris - eventually causing Sherman to bleed.

Big exchanges from both guys throughout the entire round. It's a back and forth of huge hits from both fighters. It ends with Sherman dropping after a left hook, clench, right knee, right hook, and left hook from Harris.

WINNER: Harris, 2nd round, KO

Bohan Mihajlovic vs Joachim Christensen (Light Heavyweight bout)

Joachim Christensen patiently on the attack. Bojan Mihajlovic keeps moving in and lands a big right hand but Christensen comes in quick and lands his own right which drops Mihajlovic. Christensen takes control but can't get fully mounted. After almost two minutes of no progress, the referee steps and and stands both fighters back up. Mihajlovic goes in fists blazing and gets caught by a huge uppercut and another big right hook by Christensen as the round ends.

For taking as many big hits as Mihajlovic did in the first round, he still seems pretty steady. After a few minimal exchanges from the two men, Christensen kicks Mihajlovic squarely in the groin and causes and stoppage. Short spurts of punches from both guys, but nothing substantial as the round ends.

Third round starts with both fighters calling for applause and claps from the crowd. Christensen pushes Mihajlovic to a corner of the octagon and Mihajolovic pushes him away and catches Christensen with a big knee. Christensen comes back and off another advance catches Mihajlovic with a right hook to the chin, causing Mihajlovic to go to sleep on his feet.

WINNER: Christensen, 3rd Round, TKO Stoppage

Dmitrii Smoliakov vs Cyril Asker (Heavyweight bout)

Dmitrii Smoliakov with an early barrage of body punches, but catches Cyril Asker in the eye and causes a stoppage. Right off the restart, Asker goes right into Smoliakov with body nches and scores a take down. After a few quick hits from the bottom from Smoliakov, Asker takes full control on top and continues to attack with punches and elbows to Smoliakov to foce the TKO stoppage.

WINNER: Asker, 1st Round, TKO Stoppage

 

 
---
---