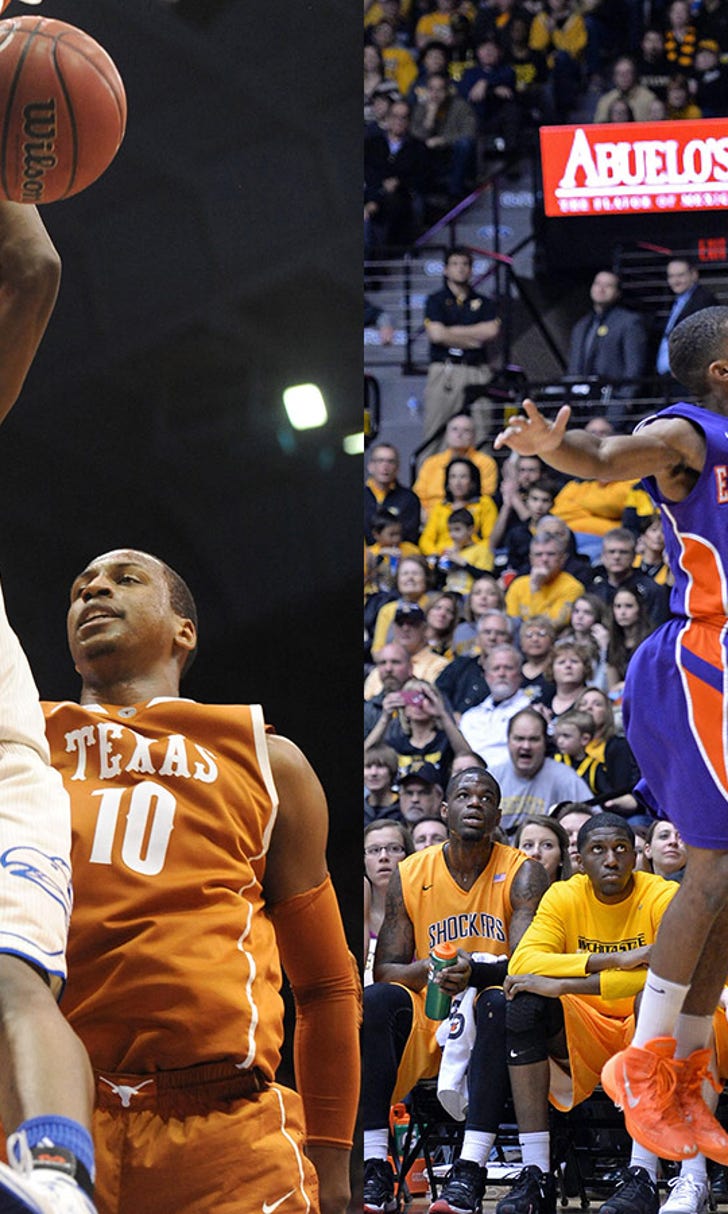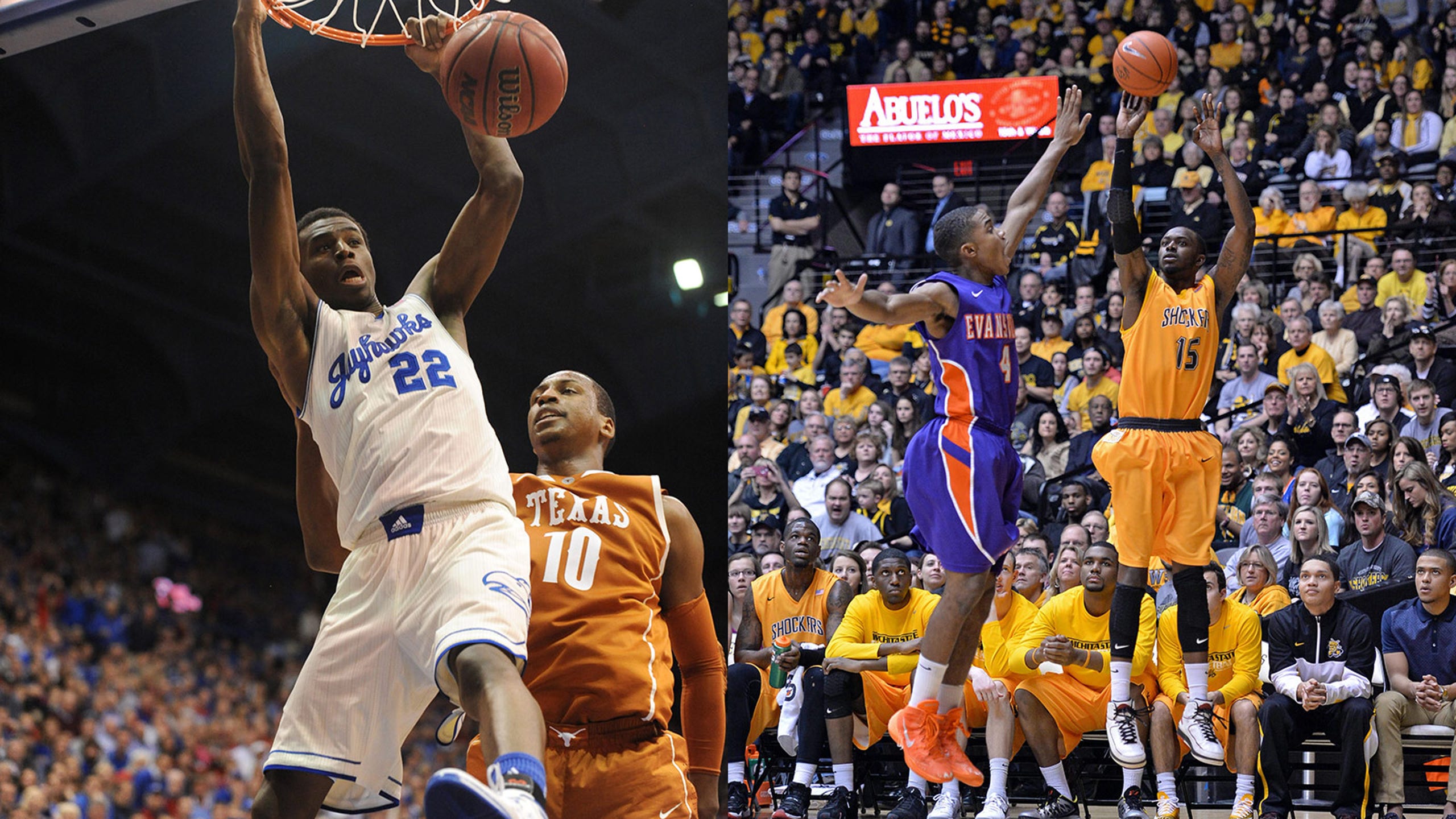 Rivals and friends: Wiggins brothers have been a bridge between Jayhawks and Shockers
BY foxsports • February 25, 2014
LAWRENCE, Kan. -- Before he was on the cover of Sports Illustrated, before he was anointed as the Second Coming, before he was built up and torn down more times than a Vegas casino, Andrew Wiggins was Little Bro.
To the Wichita State basketball team, he was brother Nick's right-hand man (and vice versa), the guy who turned up and played "NBA 2K" and "Call of Duty" until his eyelids gave up the fight. That dude.
"He's a big 'Call of Duty' (guy)," Nick Wiggins, senior reserve guard with the No. 2 Wichita State Shockers, says of little brother Andrew, the freshman wing sensation with the No. 8 Kansas Jayhawks. "He will stay up and play 'Call of Duty' by himself.
"When he comes, he kind of kicks it with us. He's just a little kid. Still 18-19 (years old)."
No star treatment. No pretense. No shock. No awe.
"They (The Shockers) don't look at him like that," Nick says of Andrew, who'll be an NBA lottery pick in a few months, a ray of hope for basketball-smelly towns such as Orlando, Philly and Boston. "He's just Little Bro."
Up all night. Again. Doing Little Bro things. Again.
"He's a cool dude," Shockers guard Tekele Cotton says of Andrew. "He's very humble. And he's a young kid and he's one of the best in college basketball, obviously; he's a great player. I know him as a friend. Me and Nick are real close, and Andrew, he's cool."
These are cool, complicated, crazy, fun times in the Sunflower State. The Shockers (30-0, 17-0 Missouri Valley Conference), who thumped Bradley by 20 points Tuesday night, are the last unbeaten team in Division I basketball, knocking on the door of a No. 1 ranking nationally. The Jayhawks (22-6, 13-2 Big 12) on Monday clinched a remarkable 10th straight league title and boast a three-game lead atop America's toughest basketball conference.
The Shox are coming off a Final Four. The Jayhawks are angling to play in their 15th. Everybody's got something to brag about. Everybody's got an argument to stand on.
When the talking heads break down Wichita State's achievements, KU people harrumph and dismiss it and grumble silently that they should try that trick in the Big 12, or see how they'd fare surviving the toughest schedule in the country.
When Wichita people hear KU people harrumphing and dismissing, they just point to the loss column and accuse the Jayhawks of "ducking" a three-game, Lawrence/downtown-Wichita/downtown-Kansas City series coach Gregg Marshall told FOX Sports Kansas City he pitched to KU. Round and round it goes, like a "Tom and Jerry" cartoon.
But among the respective rosters, it's a different dynamic, a different deal. A family deal. Jayhawk fans and Shox fans don't always get along, but here's the neat part: The players themselves actually do.
And the Wiggins brothers -- Nick and Andrew -- are the bridge.
"Nick (Wiggins and the Shockers), they're really good dudes," says Kansas forward Perry Ellis, one of two Wichita natives in the Jayhawks' rotation. "And I talk to them, sometimes, when I get a chance."
"I wouldn't say that we're buddy-buddy," Nick Wiggins says. "But we're cool.
"If I see them out somewhere, I will say, 'What's up?' Just out of (the) respect I have for those guys over there."
In fact, Wiggins and his teammates respect the Jayhawks so much, about a half-dozen of them -- including stars Cleanthony Early and Ron Baker, this past week's SI cover boys -- showed up at Allen Fieldhouse on Jan. 20 to watch the KU-Baylor game in person.
Since moving to Kansas last summer, Andrew has made several pilgrimages to hang out in Wichita with his brother and his Shockers teammates. And the two rosters have fraternized before, most notably at a camp this past September coordinated by the Pray & Play Players AAU team, one that featured KU players Ellis, Conner Frankamp and both Wiggins brothers.
"I got to talk to a lot of them," Ellis says. "(Nick and Andrew), they're really close. (For) even Nick and them to make some of our games when he's in season, there has to be something there."
There is. While the 6-foot-6 Nick is the smaller of the two, he's also more vocal, an unabashed, unafraid charmer -- like father Mitchell Wiggins, the former NBA guard. Andrew and older brother Mitchell Jr. are more reserved -- like mother Marita Payne-Wiggins, the former Florida State and Olympic sprinter.
"(Nick) just always has his brother's back," Cotton notes. "You always see them talking to each other -- their whole family."
KU faithful tend to grumble when the Shockers -- and Wichita's unbeaten season -- get discussed, but without that "Baby Brother" program to the south, Little Bro Wiggins might not have seriously considered Kansas at all. Proximity to Nick in Wichita was a factor, for both the prep star and his parents.
"I don't want to say it was the biggest factor, but it played a part in it, sure," Nick says now. "We're very close, man. Very close.
"And I feel like KU was a good fit for him, a good college for him, and what Andrew needs. But it definitely played a role in him coming to KU."
Even if everybody knows he'll likely be leaving soon, it's a place Andrew enjoys.
Lookin' good! CLICK HERE to check out our gallery of cheerleaders from around the Big 12.
"Oh, definitely," Nick says. "He likes it up there. It's a big college town. He always said everyone treats him like a superstar, man. He takes it how he takes it. So (even though) he's still (19), he's probably walking around like Kobe Bryant."
And with that, Nick laughs.
Both brothers would love to see the arguments in the heads of KU fans and Shockers fans played out on the court. Depending on the whims of the NCAA tourney's selection committee, it could happen on the biggest stage imaginable.
If present forms (and projections) hold true, both the Jayhawks and Shox could be starting their Bracketville run at the same second/third-round site -- St. Louis, with one program expected to claim a 1 seed and the other a 2. Your opinion on which team deserves which seed, of course, depends on which colors you hold closer to your heart.
"It's pretty exciting to think about," Nick says. "We just take it one game at a time, man, and try to rack the wins up, keep the ball rolling."
An all-Kansas regional final, well -- that might be as nuts as when an ESPN camera crew spotted the Shockers in attendance up at the Phog last month. Nick says the players drove the 160 miles or so separately, and that some Wichita fans recognized them after the contest and sought them out for autographs.
Imagine that: While KU players were passing through their usual signing line, a postgame tradition at Allen Fieldhouse, a circle of Shockers were doing the same.
"It was fun," Nick says. "I'd never seen a game (there). That atmosphere is crazy over there. It's almost as good as Koch Arena."
He laughs again.
"Almost."
You can follow Sean Keeler on Twitter @seankeeler or email him at seanmkeeler@gmail.com.
---