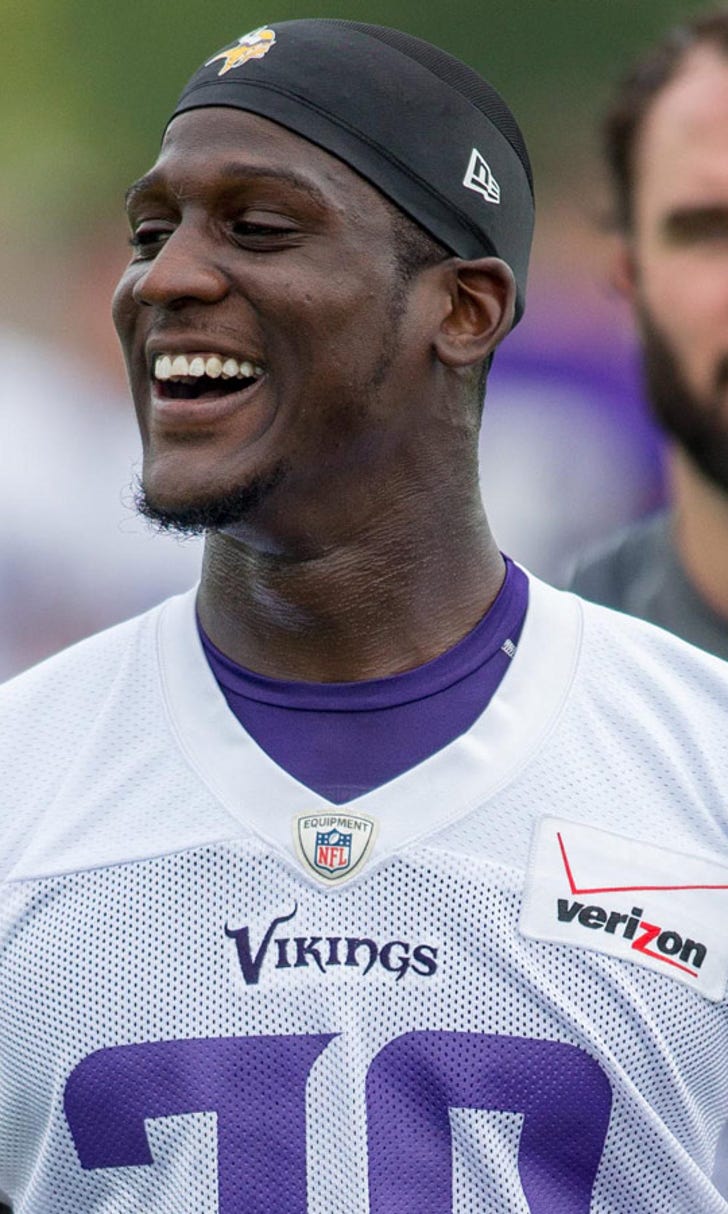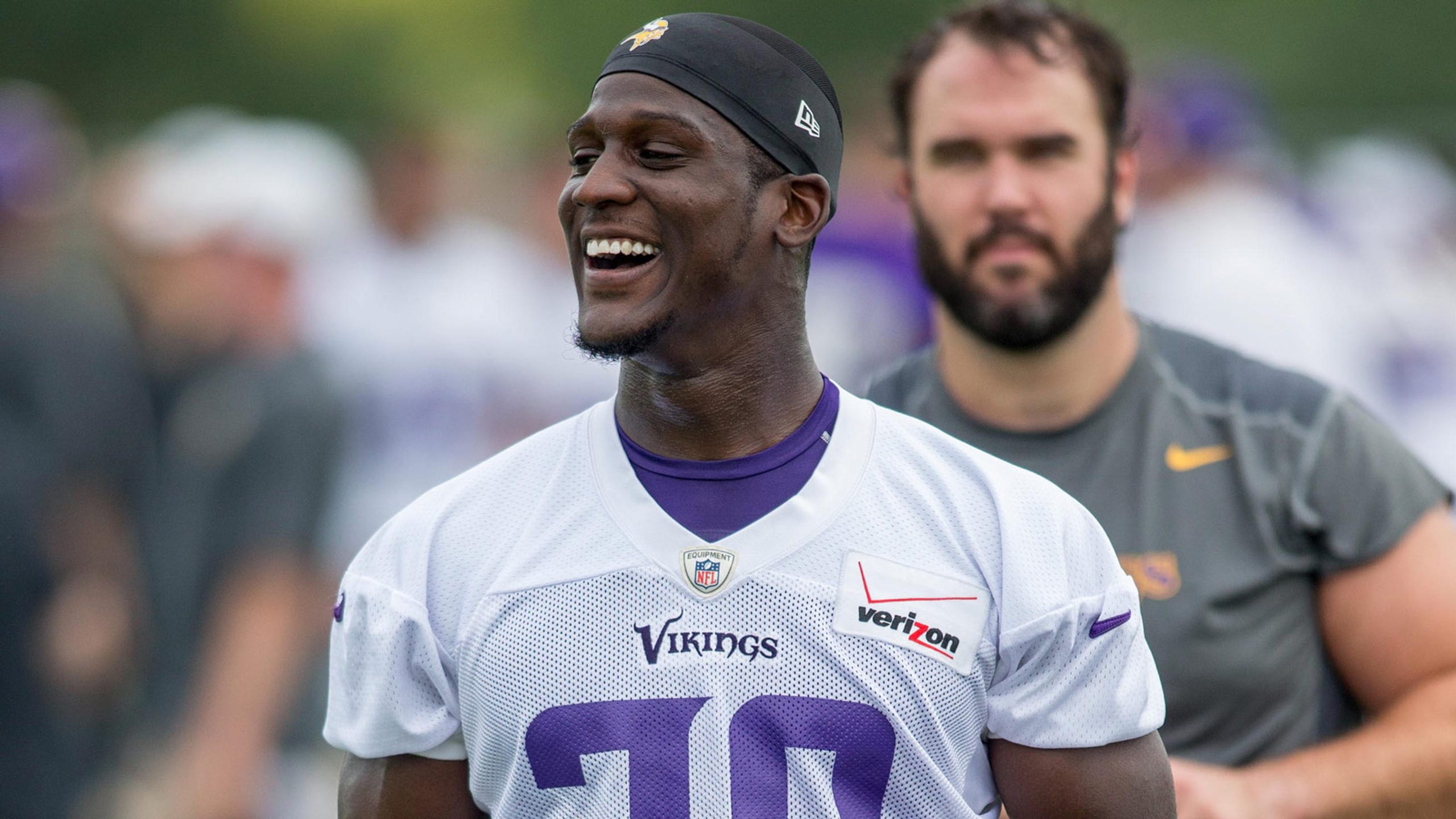 Rhodes getting schooling during summer camp
BY foxsports • August 6, 2014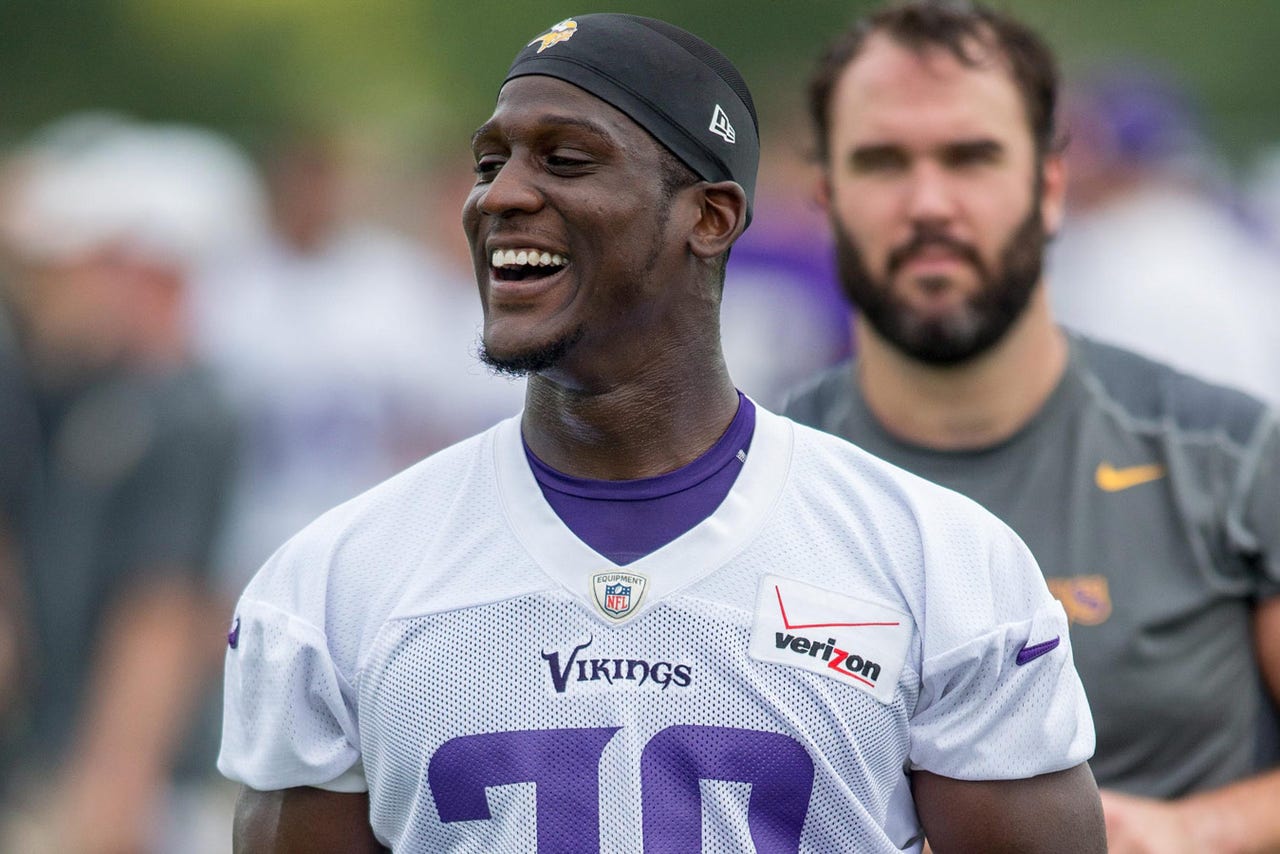 MANKATO, Minn. -- The standout play from Minnesota Vikings' training camp so far came on a Saturday evening with second-year cornerback Xavier Rhodes providing the highlight.
In a full-team drill, Rhodes was trailing receiver Jarius Wright down the field on a Matt Cassel pass attempt. Rhodes jumped in the air and hauled in a two-handed, over-the-shoulder interception to the delight of 9,300 fans on Family Day. Rhodes, providing a glimpse at the talent that made him a first-round pick last year, was met with high-fives by teammates as he made his way to the sideline.
Head coach Mike Zimmer was asked about the play two days later.
"Yeah, it was a great interception," Zimmer said. "It was poor position on the receiver but he made a great play. So, we got to get him to be in the right position and then make the play easy, and then he doesn't have to make great plays."
Consider Zimmer's response another lesson in the summer education of Rhodes.
"He's been on me a lot," Rhodes said earlier in training camp. "He sees the potential in me, not only him but the players and coaches do too."
Rhodes was Minnesota's second of three first-round picks last summer out of Florida State. His rookie season was set-back by injuries and he finished with 48 tackles in 13 games. He had 10 pass deflections but is still looking for his first NFL interception. Just as Rhodes appeared to be developing into the Vikings' top cornerback, he missed the seasons' final three games with an ankle injury.
Rhodes has the ability to become a significant part of Zimmer's defense, and the coaches understand the importance of Rhodes reaching his potential.
Perhaps no other Vikings player has received the same attention or individual instruction as Rhodes this summer. Zimmer will prod his young cornerback after mistakes or to instruct on technique. Defensive backs coach Jerry Gray, a former Pro Bowl cornerback himself, is also in Rhodes' ear.
"To me, anytime a guy gets drafted in the first round, there's an expectation of you," Gray said. "You got to come in with a mindset that, 'You know what? My first round came from college. Now I've got to work my way back up.' That's what we're trying to get him to understand. The reason why we're on you is because you should be thinking zero, working your way back up to be better, not because I'm using what I did in college."
Rhodes, who is 6-foot-1 and 210 pounds, has the size to match up with some of the NFC North's tall, quality receivers. He also has the ability to become the true cover cornerback that Minnesota's defense hasn't had in years.
Zimmer wants to see Rhodes become a vital part of the defense. The vocal Zimmer will come out often to Rhodes, yelling from across the practice field if Rhodes makes a mistake. Zimmer will also pull Rhodes aside at times, as he did again Tuesday after a full team drill.
The new coach is still figuring out the best way to reach Rhodes.
"I've changed a little bit how I approach trying to teach him," Zimmer said. "I'm a little bit more softer, I guess, the way I handle it, just see how that goes. He seems to be doing good that way. It's about every player. You try to figure out which buttons to push."
Rhodes said he appreciates the tough love, which has come from Gray as well.
"He's a great coach," Rhodes said of Gray. "He's on me too, hard. Like I said, they see the potential in me. So, I'm really thankful for that. Very thankful."
Gray likened another former Florida State cornerback, Samari Rolle, who was similar to Rhodes coming out of school. Gray, then as the Tennessee Titans' defensive backs coach, helped Rolle develop into an All-Pro cornerback.
"You're here for one reason and that's to make sure he's the best in the league," Gray said of Rhodes. "He's got the talent to do it. Now let's put my brain and your work ethic together to where I can help you get to where you got to go. And it's going to be hard, but you know what, you can get there."
Rhodes said the coaches want him to trust his instincts. He has speed and long arms and all the physical tools.
"The biggest thing is just play football and not go out there and be thinking too much, just react," Rhodes said.
Zimmer said Rhodes is coming along, improving in his ability to play off receivers while continuing to work at his strength in press coverage.
The coaching is ongoing, but Zimmer and Gray are pleased with how Rhodes has responded.
"He's got a lot of ability," Zimmer said. "We've got to keep refining his technique. He's such a young guy I've got to keep teaching him about the game, the situations in the game and different things that receivers do. But I'm pleased with his progress."
Follow Brian Hall on Twitter
---