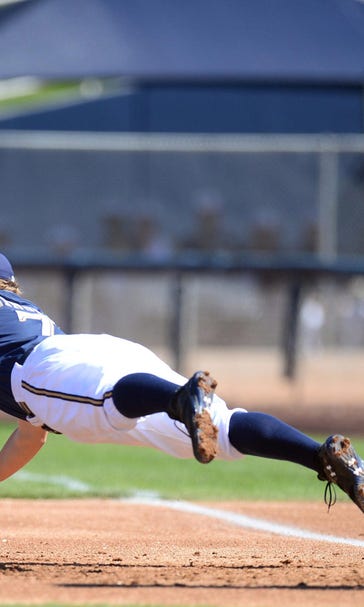 Reynolds not feeling pressure to make Opening Day roster
March 12, 2014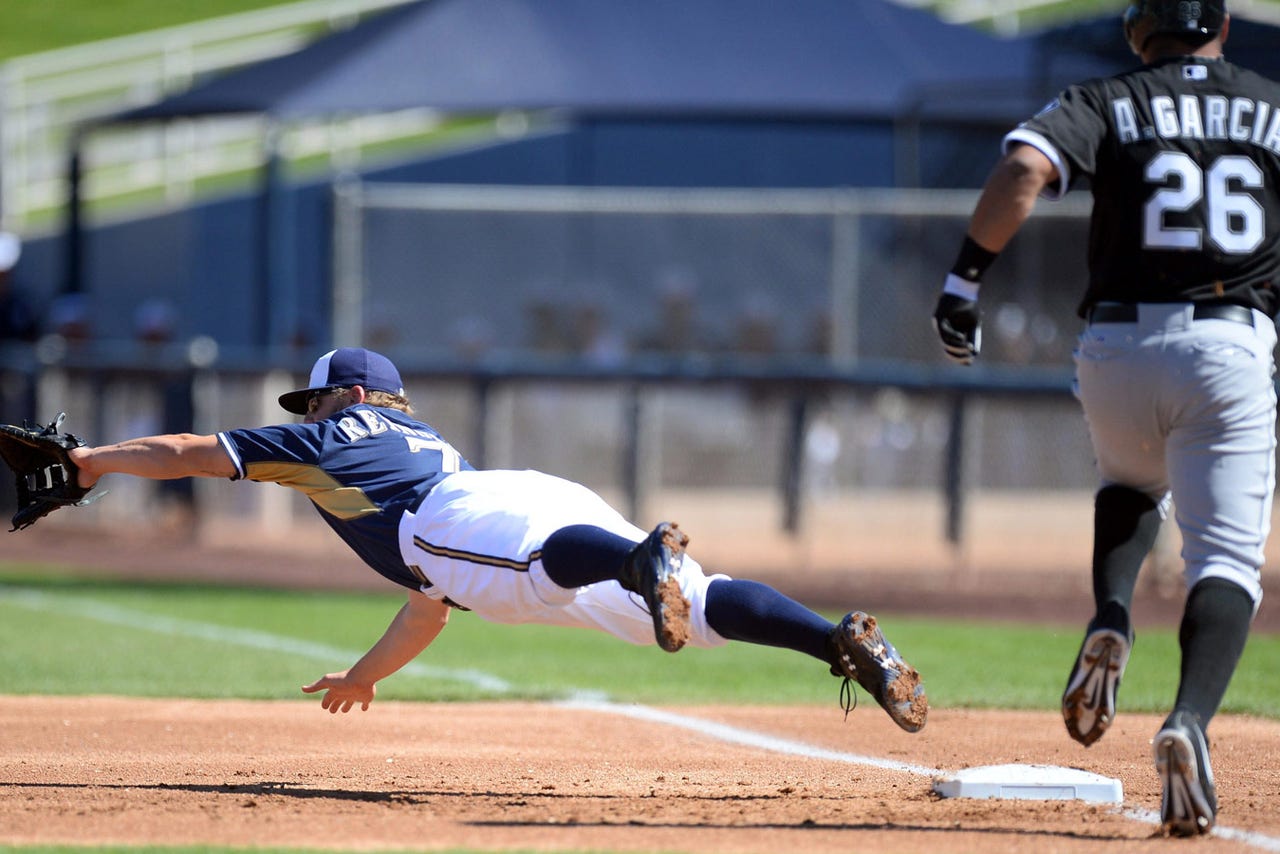 PHOENIX -- Spring training has been business as usual for Mark Reynolds, but there's nothing normal about this camp for the veteran.
Ever since his rookie season of 2007, Reynolds has come to camp knowing he's going to be on the Opening Day roster. There's no certainty this spring.
"It's definitely different, but I'm not going to approach it any different," Reynolds said. "I'm still going to get my work in. Obviously there's a lot of added pressure. It shouldn't affect me. I'm going to do what I'm going to do and hopefully impress the coaches enough."
Reynolds is locked in a first-base battle with Lyle Overbay and Juan Francisco with two of the three likely to be with the Brewers when they head back to Milwaukee. Although he's on a minor-league deal, Reynolds likely won't be headed to Triple-A.
With an opt-out clause in his contract, the Brewers must let Reynolds know if he is on the team by the final week of spring training. He can, and most certainly will, move on to other opportunities if the news is bad.
All signs thus far have pointed to Reynolds having a good chance to not only make the team but play quite a bit at first base. He turned down a chance to return to the New York Yankees on a minor-league deal to come to the Brewers knowing the position was wide open.
Reynolds will make $2 million if he makes the big-league roster, a significant incentive on a minor-league contract.
"I think it was my best opportunity to get some consistent ABs," Reynolds said. "It's not really how many but the consistency of them. It's hard to come in every couple days and put together good games. Hopefully I can play consistent in spring training, make the team and carry that up to Milwaukee."
The Brewers have a choice between the power bats of Reynolds and Francisco or the defense of Overbay. Reynolds is also a good defender at first base, while Overbay can contribute with the bat.
Reynolds is a high-strikeout player with the potential to hit close to 30 home runs if playing every day. He spent last season with the Indians and Yankees, hitting a combined 21 home runs in 445 at-bats. Cleveland released Reynolds in August despite his team-leading 15 home runs, as he was hitting .215 with 123 strikeouts in 99 games.
New York quickly scooped him up and he had a .236 batting average with six home runs in 36 games down the stretch with the Yankees, where he also was teammates with Overbay.
"I think with me and Lyle, we have a pretty consistent track record," Reynolds said. "You kind of know what you are going to get."
Strikeouts have always been a part of Reynolds' game -- he set a single-season record with 223 in 2009 and led the National League in whiffs for four straight years. But his 154 strikeouts last season were the fewest in his career, and Reynolds has always drawn walks.
"He sees pitches," Brewers manager Ron Roenicke said. "He waits for the pitch he wants to hit. He's not up there hacking at everything, and I think that's the difference."
Then there's the pop Reynolds would bring to the bottom of the Brewers lineup. He carries 202 career home runs in 988 games, including hitting 25 or more in five seasons and could really thrive hitting in hitter-friendly Miller Park.
But he hopes to bring more than thunder to Milwaukee.
"Having an older guy -- I don't consider myself old at 30, but old in baseball years -- around and kind of showing these younger kids what it takes to stay at this level and succeed," Reynolds said. "Hopefully I can be the example."
The veteran presence of Reynolds and Overbay has already rubbed off on young players, especially guys at their position.
"They are just so consistent offensively and defensively with their routines," Brewers first baseman Hunter Morris said. "It's nice to be able to pick their brain or listen to other people pick their brain about the kind of things they did when they were at the stage of the career I'm at.
"What landed Lyle in the big leagues for 14, 15 years? Same with Mark. He has seven or eight years under his belt."
Reynolds feels the key to the Brewers turning things around at first base is having consistency. Milwaukee used seven different players at the position in 2013 and got historically low production.
The Brewers brought in Reynolds and Overbay with the goal of consistency in mind.
"Any time you have consistent guys playing out there every day, it helps with the comfort level of the coaching staff and infielders," Reynolds said. "Having a consistent lineup night in and night out -- there are always going to be interchangeable parts -- but if you can run the same guys out there for the most part, I think it helps the team out a lot."
What may separate Reynolds in the battle for a roster spot is his versatility. He came to the big leagues as a third baseman and even played four games at second base for the Yankees last season.
The Brewers are going to need to spell Aramis Ramirez at third base from time to time, and Reynolds has 709 big-league games under his belt at the hot corner.
"I can go anywhere," Reynolds said. "I don't care where I play as long as I get some at-bats consistently. With 'Rami' coming off the injury and the surgery, hopefully he's healthy, but I can give him some days off when he needs them.
"I think it helps my chances being able to play multiple positions, but I think my best chance is if I swing well."
Reynolds has proven valuable already by filling in at third base at the beginning of spring training when Ramirez was still recovering from surgery to remove a polyp from his colon.
He's hit .222 with three RBI, four walks and five strikeouts in 24 plate appearances in nine Cactus League games, but Reynolds is more focused on preparing himself for Opening Day than worrying about where he'll be come March 31.
"If I was younger I'd probably be pressing more, a little more nervous worried about making a team," Reynolds said. "I'm at the point in my career where I'm going to come in and do my job. If I don't make it, hopefully there's other opportunities. There's a lot of things that can happen between now and Opening Day."
Follow Andrew Gruman on Twitter
---