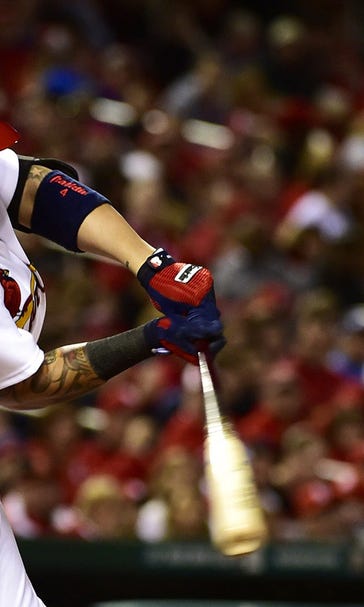 Reds try to avoid sweep in St. Louis
BY foxsports • April 9, 2014
Shelby Miller's rookie season included plenty of memorable moments, among them a trip to the World Series. But the most noteworthy ones on the mound likely happened during the regular season in front of a home crowd.
He'll try to extend that success at Busch Stadium Wednesday against the Cincinnati Reds as the Cardinals go for a three-game sweep while also extending a stretch of home dominance over their NL Central Division rivals.
Miller went 10-3 with a 1.61 ERA at home last season and ended the year with victories in four straight starts at Busch.
He certainly didn't mirror that in his 2014 debut, a 12-2 loss in Pittsburgh on Friday. Miller allowed five runs on six hits while walking three in 5 1-3 innings.
He's 1-0 with a 3.24 ERA in three career starts against Cincinnati, and his teammates providing him the offense they've managed in the first two games of the series would certainly better his chances to earn his first win of the season.
After Tuesday's 7-5 victory, the Cardinals (5-3) have scored 12 runs on 22 hits for a pair of two-run victories. It could have been more, though, as they've stranded 20 runners thus far in the series. But after falling behind 3-0 in the top of the first, it's an outcome they'll certainly take as they now attempt to support Miller in the same way they supported Tuesday's starter, Lance Lynn.
"There's no secret that (Lynn) gets good run production," manager Mike Matheny said. "It's hard to explain with Lance. I think some guys just have a knack of being in the right place when we've got a lot of offensive support."
Yadier Molina went 3 for 5 with his third home run and a double while Peter Bourjos is 5 for 9 in the series after starting the season 0 for 13.
The Reds' struggles in St. Louis date back a number of years, and they've now lost six straight series there with a 3-26-2 series record since 2003.
"They've been good against us here, in St. Louis in particular, taking advantage of RBI opportunities," Reds manager Bryan Price told the team's official website. "They got some guys in scoring position and did what they've done the last couple of years and drove them in. We couldn't avoid the big inning. If there's been a nemesis for us, against this team in particular in St. Louis, it's been avoiding the big inning."
The Reds (2-6) allowed the Cardinals to come right back with four in the bottom of the second. And though Cincinnati's bats haven't yet broken out in a big way, Price would like to see his pitching staff help the team salvage a 2-4 record as their road trip comes to an end.
"We just haven't been able to hold the opponent down," Price said. "I just saw some better things offensively. Unfortunately, we weren't able to take advantage of the lead and maintain it."
To put an end to it, the Reds will turn to Mike Leake, who went 0-2 with an 8.27 ERA in three starts last season versus St. Louis.
The right-hander's first start came Friday in a 4-3 road loss to the New York Mets. Leake allowed four runs on five hits in 6 2-3 innings.
St. Louis left fielder Matt Holliday is 10 for 23 lifetime against Leake.
Cincinnati second baseman Brandon Phillips went 3 for 6 with a home run off Miller in 2013.
Reds catcher Devin Mesoraco returned to the lineup Tuesday and went 2 for 4 with two doubles after missing the first seven games of the season with a strained left oblique muscle.
---