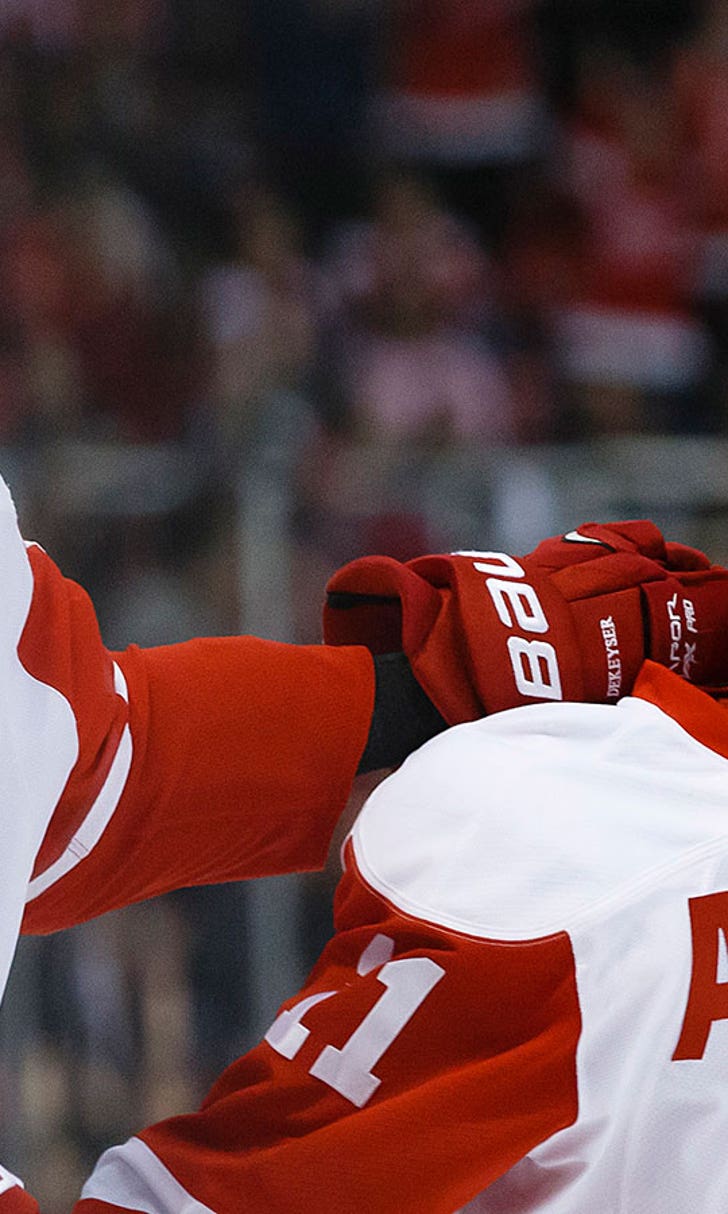 Red Wings edge Penguins in OT thriller
BY foxsports • March 20, 2014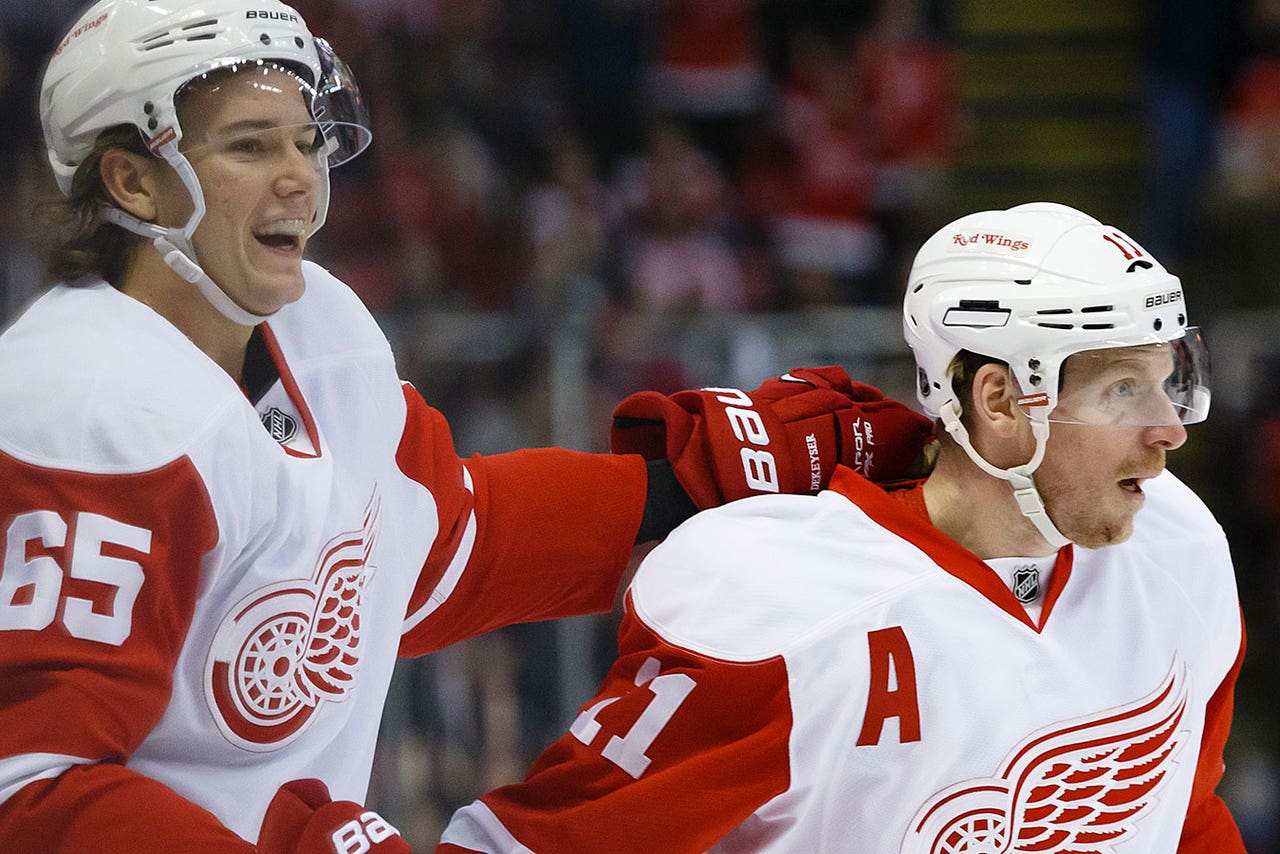 DETROIT -- If the Red Wings do somehow get a miracle and make the playoffs, they will look back on Thursday night's game against the Penguins as a turning point.
It's not just that the Wings won 5-4 in overtime with just four-tenths of a second left on the clock, it was how they did it that mattered.
The Wings had a 2-0 lead on goals by Daniel Alfredsson and Gustav Nyquist late in the second period and were probably feeling pretty good about themselves.
But the high-powered Penguins are never out of a game, especially not when they have their power play going.
In a span from 15:17 to 17:58, the Penguins made the two-goal lead disappear and took a 3-2 lead on a rebound goal from Lee Stempniak and two goals (one 5-on-3) from Evgeni Malkin.
The undermanned Wings could have easily packed it in at that point, but they regrouped and found a way.
"They got their second scoring chance at the 15-minute mark of the second period," Wings coach Mike Babcock said. "They hadn't done anything. They scored. Then we shot one over the glass, then we didn't line up right on the face-off, then we didn't do a good sort-off off the face-off. Let's not make it worse than it was, let's just play. We really felt we had an opportunity. Our guys played hard in the third."
Tomas Tatar ended an eight-game goalless streak as he got his 15th of the season on a 2-on-1 with Riley Sheahan.
Then Todd Bertuzzi got a lucky bounce when he threw the puck at the net and it bounced off of Penguins defenseman Olli Maatta past Marc-Andre Fleury.
"They got a few bounces too," Alfredsson said. "That's the way it goes sometimes. You do a lot of good things, you get lucky. We've been on the other side of those a few times."
The Wings never make it easy on themselves and didn't again as Craig Adams tied the game with 5:43 left in regulation.
Then David Legwand got a five-minute butt-ending major and a game misconduct with 3:46 left in regulation, so not only were the Wings down another center, but the Penguins had a long power play.
"We have been doing a decent job earlier in the game and over the course of the year we've done some good things on the PK," Niklas Kronwall said. "Howie (Jimmy Howard) came up huge for us a few times and we had some guys blocking shots."
The Penguins got five shots on the power play but couldn't beat Howard.
"We should be able to put it away with that five-minute major," Penguins coach Dan Bylsma said. "They killed it off, and they came back."
That set up Alfredsson for his late heroics as he took a shot at the end of overtime.
As time expired, the referee behind the Penguins net was saying Alfredsson's shot was in the net. But was it in time?
"I saw it," Alfredsson said. "I didn't know there was just a few seconds left, but I know I didn't hear the horn go off before the puck went in so I thought it would be good. Big break for us, rebound goes off their D and in so we'll gladly take it."
Alfredsson now has 24 goals and 44 assists in 66 games against the Penguins.
"These are exciting games," Alfredsson said. "We know pretty much every game we play will go down to the wire. There's not going to be any easy wins. Winning like this, two in a row, late in games will give us confidence."
Babcock said he thought Alfredsson started looking more like himself last Sunday against Chicago.
With so much leadership missing with the absence of captain Henrik Zetterberg, Pavel Datsyuk, Daniel Cleary, Jonathan Ericsson, Darren Helm, Stephen Weiss and Justin Abdelkader, Alfredsson's presence can make a big difference.
"He was leader actually all the time but right now we need him most like with all the injuries that we have and all the experience we miss, Alfie's unreplaceable right now too so he's been great," Tatar said. "He's been great leader, he's helping coach, he's been really important piece for us right now."
Being able to beat a Penguins team that had 94 points coming in can also give those young players more confidence going forward.
"The young people, including me, and a lot of guys in here have had a good opportunity to play a lot," Nyquist said. "I don't know how many game debuts we've had this year but it's great to see. On paper, they're a more skilled team than us right now but it's a team game and it was great to see that we found a way to win."
---