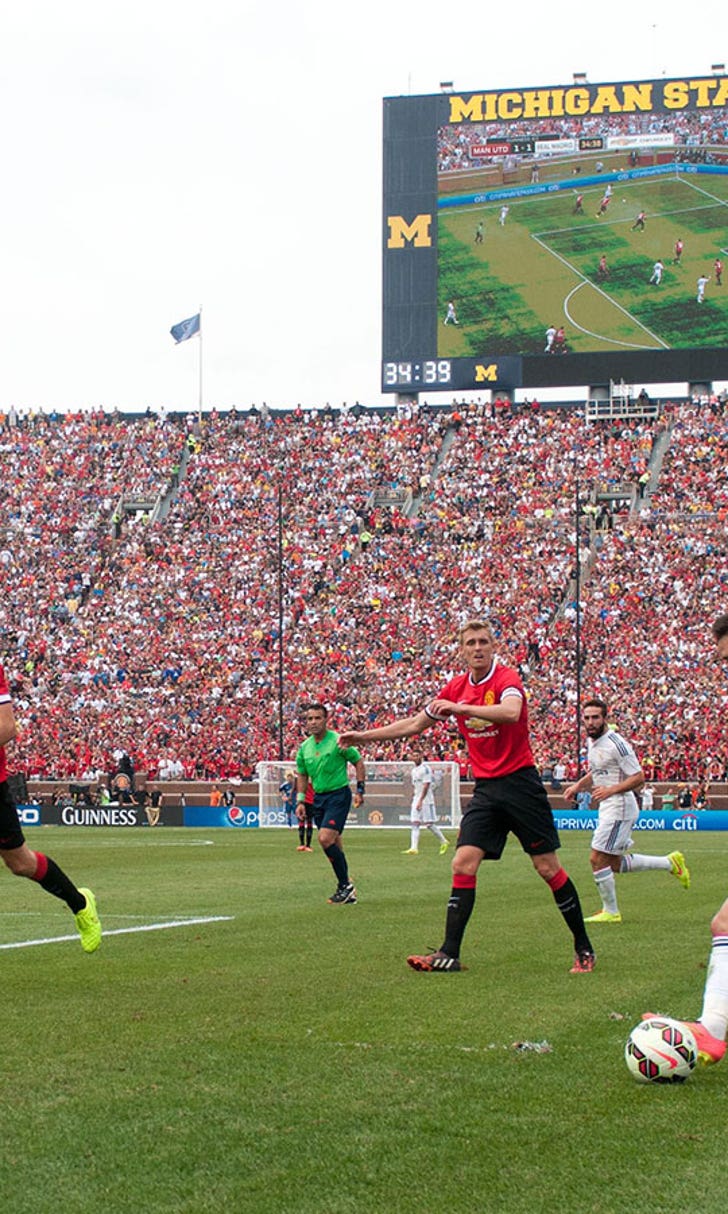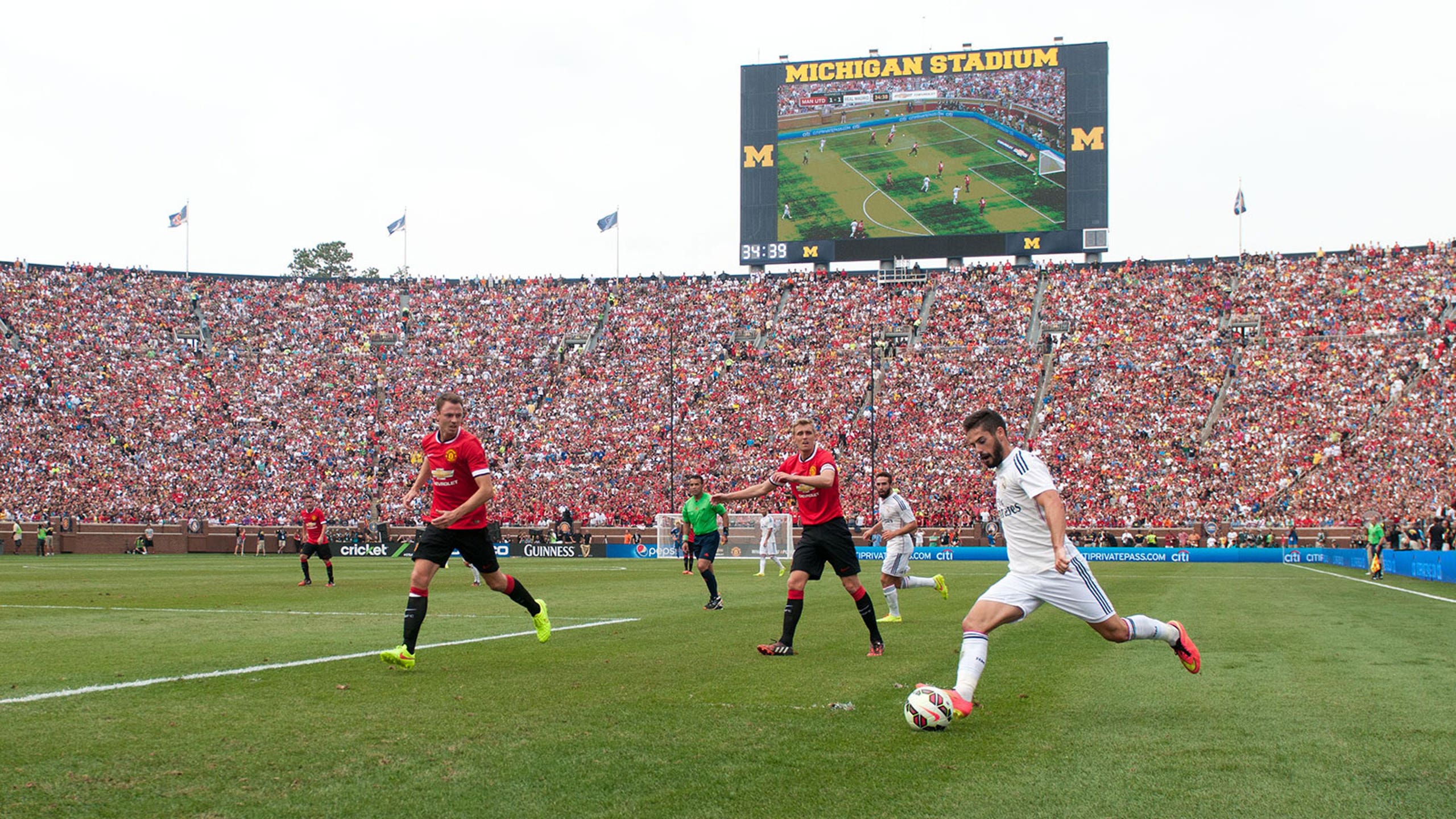 Record soccer crowd turns Michigan Stadium red
BY foxsports • August 2, 2014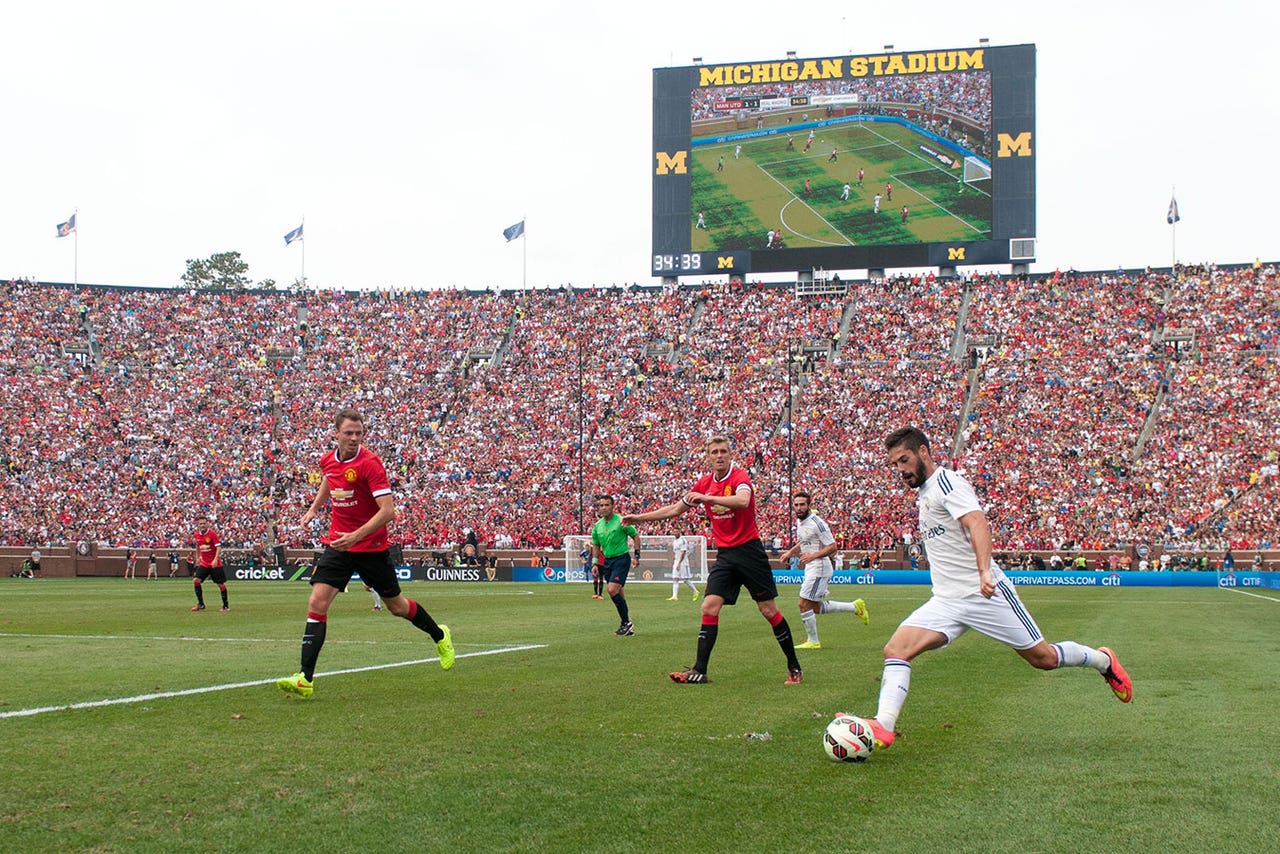 ANN ARBOR, Mich. -- The strangest sight at Michigan Stadium on Saturday wasn't the grass field or even the soccer markings.
In a scene right out of Brady Hoke's nightmares, it was a Big House filled with his least favorite color.
Even last year's Ohio State game didn't turn the stadium as red as Manchester United fans did during their team's 3-1 victory over Real Madrid in front of the largest crowd in American soccer history.
The game drew 109,318 fans, easily surpassing the record of 101,799, set by the France-Brazil Olympic gold-medal game at the Rose Bowl in 1984.
"All we hear in England is that the States don't care about our kind of football," said Manchester United defender Michael Keane. "It's hard to believe that after seeing this crowd. This was a friendly and there were 109,000 people out there cheering for us.
"That's the biggest crowd I've ever played in front of and it happened in the States, so they must like the sport after all."
Real Madrid might be the richest club in the world and the defending European Champions League winners, but at the Big House, their white jerseys were massively outnumbered by the red, white and black of Manchester United. United was even wearing jerseys adorned with the logo of their new sponsor, Detroit's own Chevrolet.
"It was a fantastic atmosphere," said Madrid manager Carlo Ancelotti. "We did our best to bring joy to all of those people, and I think it was a very entertaining match."
The game certainly wasn't played at the intensity of a Champions League match. Both teams are still resting players after the World Cup, and United pulled most of their starters after an hour. World Player of the Year Cristiano Ronaldo played only the last 15 minutes.
That didn't stop both teams from playing attacking soccer and showing off the kind of skills that have made them world powers. Ashley Young scored twice for United, once off a 20-pass move that finished with a perfect set-up from Danny Walbeck and the second when Wayne Rooney's fake header froze Madrid goalkeeper Iker Casillas.
"We're learning a new system, but so far, it has been working quite well," Young said. "We've won our four preseason games, and the offense worked beautifully today."
Mexican star Javier (Chicharito) Hernandez finished the scoring with an 80th-minute header, and Gareth Bale got Madrid's only goal on a 26th-minute penalty kick.
That was more than enough action to keep the huge crowd entertained, but they probably would have been just as thrilled to see a scoreless draw. This was about a rare chance to see the stars of the game in person, rather than on television from Europe.
The scene after the game was straight out of a newsreel about the Beatles coming to America. A massive crowd surrounded the teams' buses, screaming when they saw Rooney, Ronaldo or any other player they recognized.
Those names are the reason this was the game chosen for Ann Arbor. Although the tournament officially ends with Monday's final between United and Liverpool, Saturday was clearly the marquee matchup.
Even though United is coming off a rare down season -- they finished eighth in the English Premier League in their first season after the retirement of manager Sir Alex Ferguson -- there's only one team that comes close to matching them in terms of worldwide recognition, and that's Madrid.
Madrid's strategy is simple. They have more money than anyone else, and they are willing to spend all of it to build the most star-studded roster on the planet. As far back as 2003, they were the team that could lure David Beckham away from Manchester, and things haven't slowed down in the last decade.
Bale is currently the most expensive player in the world, having been bought from Tottenham Hotspur for $134 million last summer. That broke the record set by Madrid four years earlier, when they paid Manchester United $126 million for Ronaldo.
Last month, after James Rodriguez had a breakout performance for Colombia in the World Cup, Madrid immediately swooped in with their checkbook. He had only played for Monaco for one year, but they didn't resist long when presented with a check for $107 million.
United, on the other hand, built their world reputation by combining relentless marketing with a staggering number of championships. In Ferguson's 27 seasons as manager, they won 38 trophies, including 13 Premier League titles and two European Champions League.
Like Madrid and the MLS after them, they used Beckham's charisma to launch themselves into the two untapped markets for soccer -- Asia and the United States.
Both plans have clearly worked because while there might have been 70,000 United fans at the Big House, that still left 40,000 people cheering for Madrid.
Two of the most familiar faces in the crowd -- Ndamukong Suh and Ziggy Ansah -- seemed happy to split their allegiences down the middle. They waited for nearly an hour in the sweltering Michigan Stadium tunnel to get their pictures taken with both Rooney and Ronaldo.
At the end of the day, everyone went home happy. The fans got to see the stars play an entertaining game, and the teams got in some preseason work without injuries.
And Michigan Stadium gets to add the soccer record to the ones they already hold for football and hockey.
Big House baseball, anyone?
---