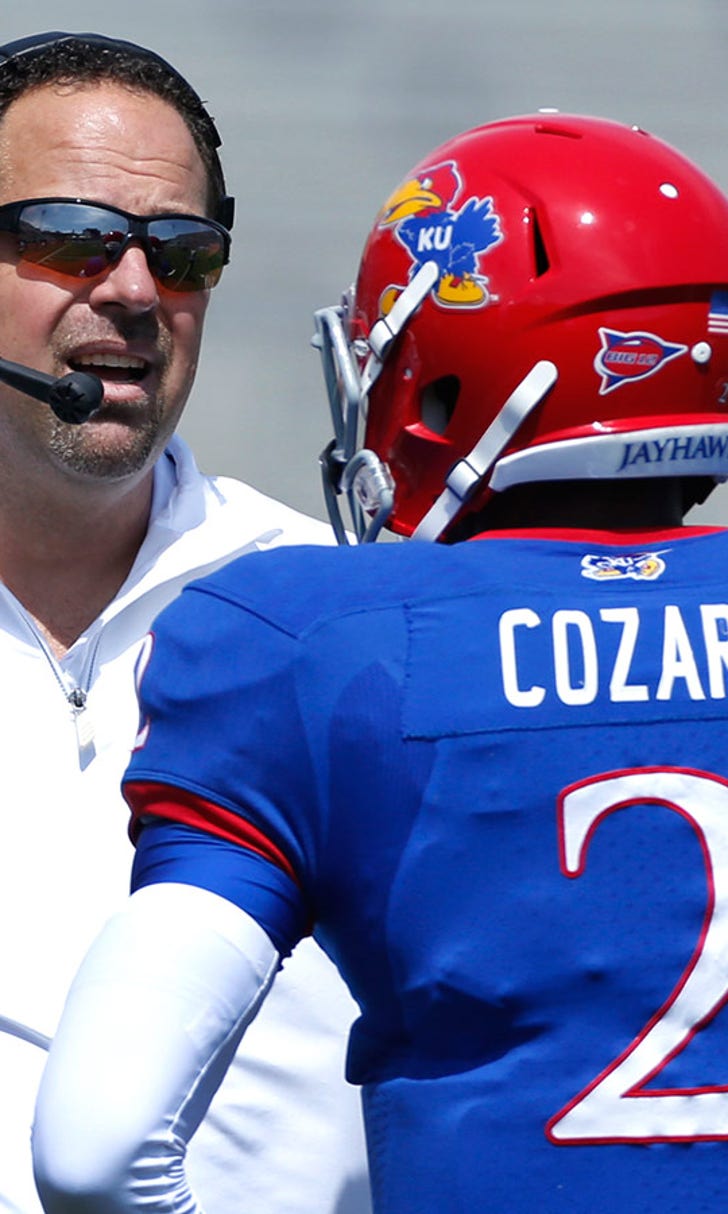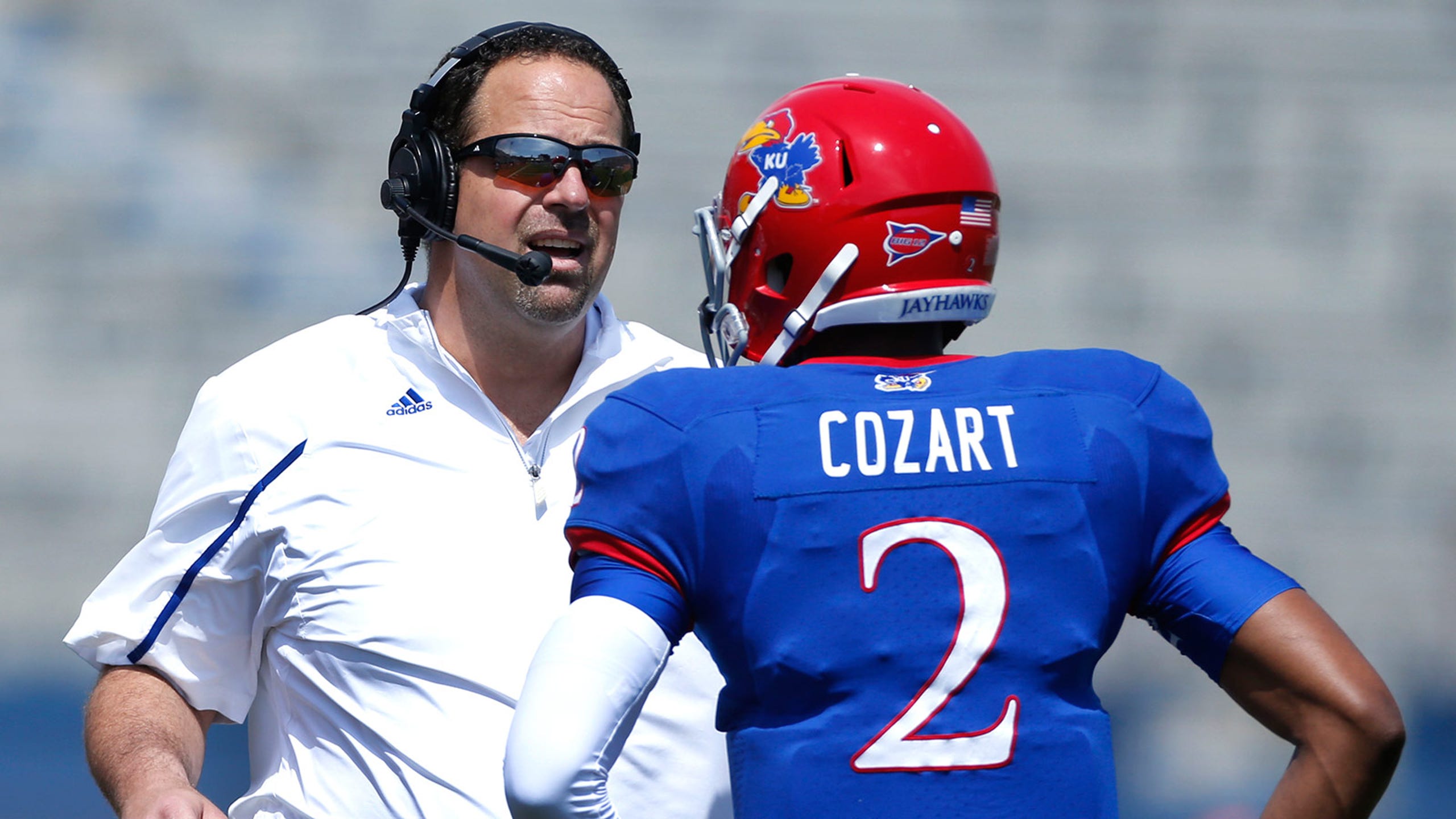 Reagan has keys to the KU offense and baby, that's him driving
BY foxsports • August 7, 2014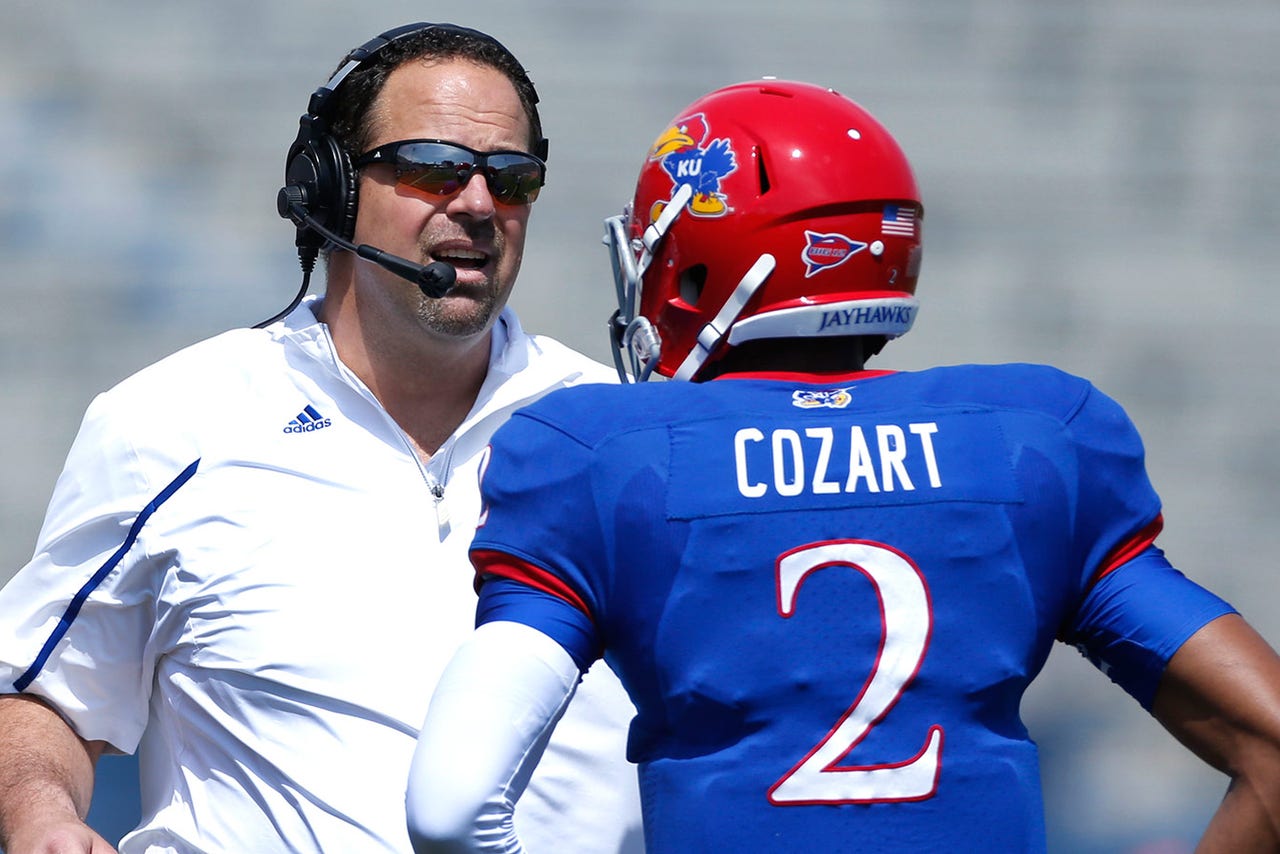 LAWRENCE, Kan. -- Julia Child hands you the knife. Dario Franchitti offers to ride shotgun. Ian Gillan leans over and declares that dude, you should be singing lead on this one.
Charlie Weis calls you and says, Run my offense. Complete autonomy. Hands-off. Your show.
Hey, if you were John Reagan, you'd do a double take, too.
"When I got it, we were in the midst of a championship run (at Rice)," Reagan, Kansas' new offensive coordinator, said Thursday, which was "Camp Reporting" day for the 2014 Jayhawks. "And so I certainly was flattered by it. I was really excited about it and was able to stay focused on finishing what we were doing.
"But I don't bring the same perspective and approach that all of you (in the media) do it, without any history. And it's been exactly what I expected since I've been here."
The master chef is still running the restaurant, but he's effectively locked out of the kitchen. Weis says he doesn't go to offensive meetings. Says that he doesn't fiddle with the playbook, the personnel, or the play-calling in general.
"I had nothing to do with it," Weis said Thursday.
Really? Nothing?
"I'm not saying it's them-versus-me," the head coach continued. "If I hire him and then I'm in there all the time, I'm defeating the whole purpose. Then they're saying, 'Weis can't help himself.' That's why I hired the guy."
This isn't just a big deal. When Weis brought Reagan -- a much-respected former offensive line coach with the Jayhawks who had been the Owls' coordinator the past three seasons -- up north, it was a tectonic plate shifting, personally and professionally. Weis is an offensive guru by trade, a guy who, despite his head coaching resume, won four Super Bowls, a guy who helped make Matt Cassel look like a Pro Bowl quarterback with the Chiefs in 2010. Whatever you think of Weis as a collegiate figurehead, the man's NFL track record is comparatively sterling.
But facts, as they say, are facts: According to the stat-tracking blog at BCFToys.com, KU ranked 111th in the Football Bowl Subdivision in points per drive against FBS opponents (1.43) in 2012 -- and dipped to 122nd in 2013 (0.89). Reagan's Owls, meanwhile, checked in at 64th and 60th, respectively. KU's first-down rate, as charted by FootballOutsiders.com, ranked 91st in 2012 and 122nd in '13; Rice: 55th and 48th.
"I think what we're doing on offense (now) gives us a better chance to win," said Weis, who has won only four of his first 24 contests in Lawrence. "And if it didn't (give) us a better chance to win, we wouldn't have made the change that we did."
Weis did not "fire" himself as play-caller so much as divest himself of something that was going nowhere fast. So, hey, if nothing else, give him credit for that.
"I think that the No. 1 thing to being a successful football coach is the ability to change and adapt," Reagan said. "Not necessarily to change for change's sake, but to adapt and therefore change when you need to."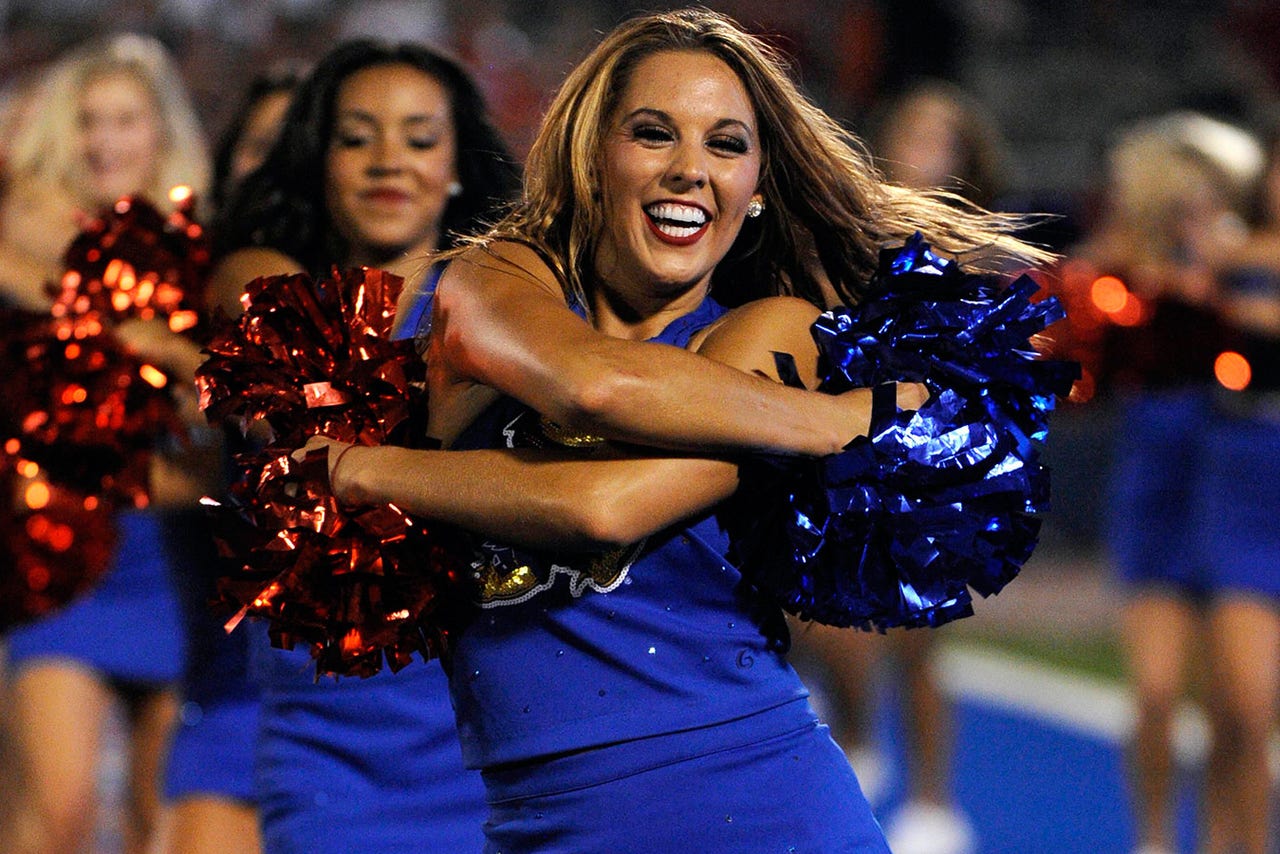 Lookin' good! CLICK HERE to check out our gallery of cheerleaders from around the Big 12.
This change, suffice it to say, was needed. And as CEO of the operation, Uncle Charlie isn't entirely hands-off -- he's "literate" with the terminology, so all the decision-makers can get on the same page with what's coming, when, and why.
"I'm literate with the defense," Weis said. "I'm just not going to tell them what to call."
So far, so good. Apparently. Weis says he likes that Reagan is a run-first guy -- the spread is, after all, a term that's more about formation than philosophy; the most effective practitioners often use the space it creates to set up the ground game as much as the aerial one. As its use has trickled down to the preps and up to the pros, dual-threat quarterbacks who can exploit defense with their athleticism aren't the exception anymore. They're the norm.
"If we throw it 70 times," Weis quipped, "it's because we're down by 50."
To localize that concept somewhat, Jake Heaps is out, Montell Cozart is in. For a read-option game, the threat of the quarterback run, a legitimate quarterback run, is the base of the entire operation.
"Montell will fit John's scheme much more than Montell would fit my scheme," Weis said. "In (Reagan's) scheme, he's another guy you have to defend."
That's the foundation of what Reagan ran at Rice, the base of what Reagan wants to start stirring on Mount Oread. That cockpit, Cozart fits.
"With where we are in the development of who we are as an offense, it's probably even more important right now," Reagan said. "You need a guy with the ball in their hands who can erase the mistakes of other players. And we felt (Cozart) can do that."
If there's a mantra for a read-option quarterback in 2014, that statement sums it up as well as anything, nutshell and all. Football still isn't basketball in terms of the scale to which one gifted individual can disproportionately change the entire complexion of a contest, but the right dual-threat signal-caller, an elite dual-threat guy, is awfully close. Make them fear the passer as a runner. Make them defend the whole field, boundary to boundary.
"I don't think you hire somebody to take over an offense and not do that," Reagan continued. "And so I never wavered, I never was concerned by it.
"He always asks me, 'You know, are you surprised?' And I said, 'I'm not really surprised. I think everybody else might be, but I'm really not.' I never wavered on it, or questioned it.
"The one thing I believe about (Weis), without a doubt, is that he is painfully honest, sometimes. And so I never doubted that he was telling me the truth from the start."
Reagan, like Weis, deals in reality, the world of truth. The trick now is to create one that doesn't hurt so dang much.
You can follow Sean Keeler on Twitter at @SeanKeeler or email him at seanmkeeler@gmail.com.
---