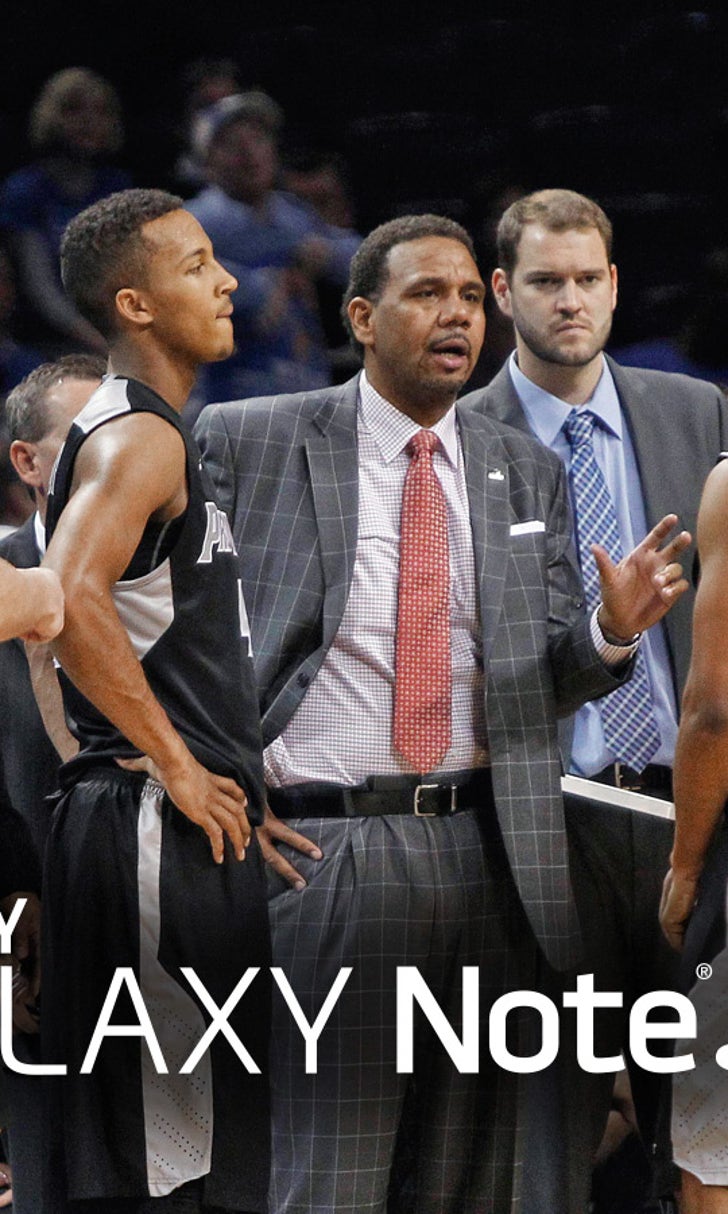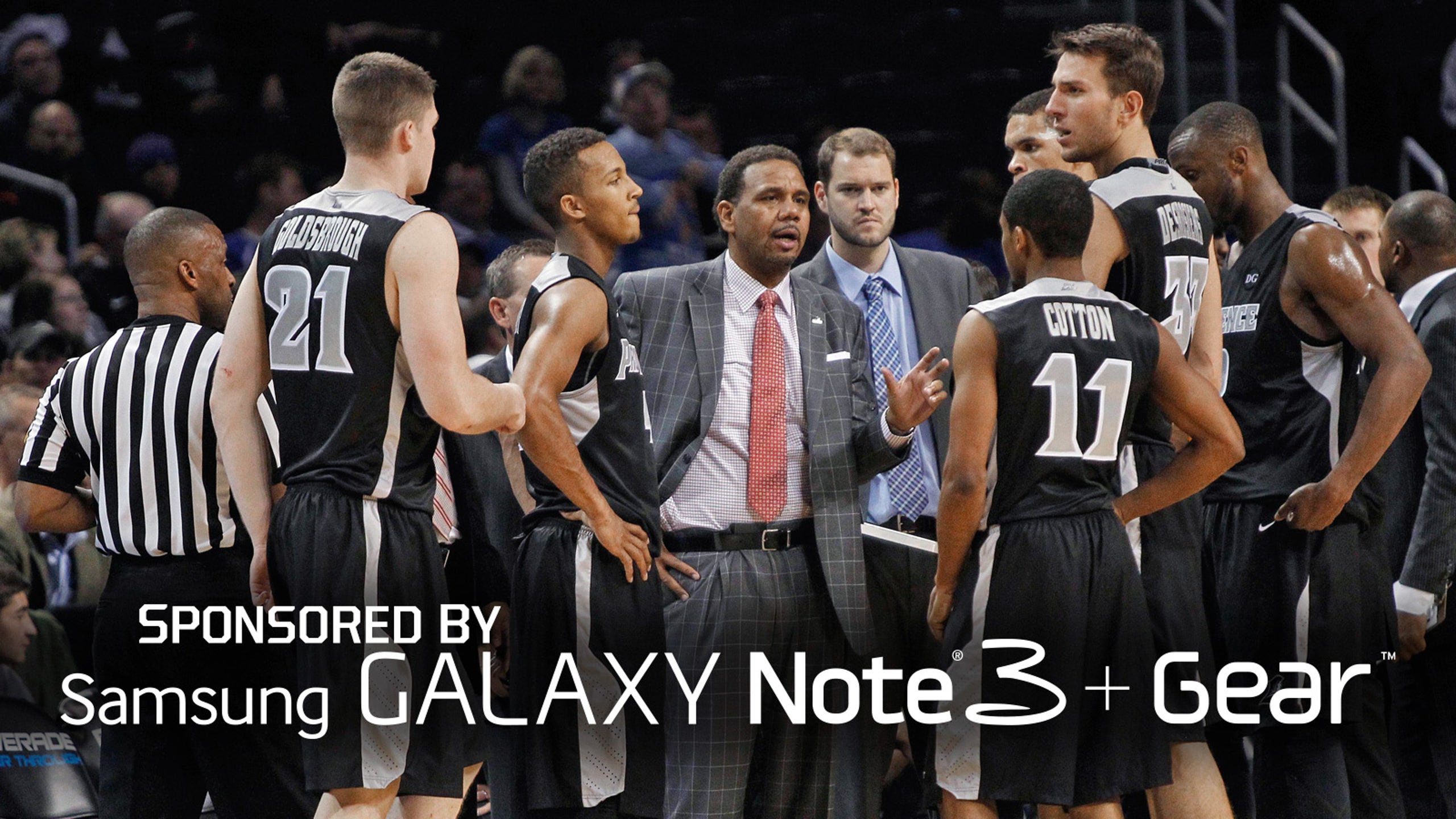 Providence coach sheds more than 100 pounds: 'I needed to feel good about myself'
BY Sam Gardner • December 16, 2013
Last summer, Providence basketball coach Ed Cooley stepped on a scale, saw the No. "344," and finally decided to make the change that might some day save his life.
Cooley had weight-loss surgery in July, put himself on a strict diet -- starting with 400-calorie liquid days and, later, a strict 1,200-calorie maximum -- and started working out. As a result, the Providence Journal reports, Cooley has lost more than 100 pounds in the past five months.
His pants size, a hearty 50 when Cooley's Friars were eliminated by Baylor in last season's NIT quarterfinals, is now a much more healthful 38.
"I've been thinking about this for the last five or six years," Cooley told the paper of the surgery. "I got to the point where I needed to feel good about myself. You put on a false facade of happiness, but deep inside you know you have a problem. I looked at my weight problem like I was an alcoholic. Unless you admit you have a problem, you're always going to deal with it."
Cooley's problems with his weight date to his teenage years, with yo-yo dieting making it impossible to keep his waistline under control in high school and college. Once he got into coaching, Cooley says, things really went downhill.
"I didn't eat breakfast and I didn't eat much lunch, but I'd eat all night," Cooley said, recalling his days on the road as an assistant at Rhode Island and Boston College. "I'd watch film and I'd eat; snacks, cereal, sandwiches, chicken wings, whatever."
These days, Cooley has no qualms about downing a protein shake, but the chicken wings are out of the question — and his life and his family are better for it.
"I know there are people out there in a similar situation that I was in," Cooley told the Providence Journal. "I will say this is the toughest thing I've ever done. Emotionally and mentally, it's hard. But it's the best thing I've ever done for myself, and I know this will help me see my children grow old."
Now, for some links:
• Derek Jeter reportedly does not allow photos inside his sprawling Florida mansion.
• Milan Lucic got in a fight outside a Vancouver nightclub.
• Some members of the VCU basketball team sang Katy Perry's "Roar" with patients at a Virginia children's hospital:
• The Lakers need to brush up on their reindeer history:
• Meanwhile, Rudolph got his own baseball-reference.com page.
• Bill Belichick's girlfriend wears a "Ms. Belichick" jersey to Patriots games.
• Actor John Goodman said he's upset that Turner Field will be torn down.
• Andre Drummond honored the 26 victims in the Sandy Hook Elementary School shooting by writing each of their names on his shoes:
• Injured Patriots tight end Rob Gronkowski buzzed around Whole Foods in a motorized cart:
• Stevie Johnson played Sunday despite having learned of his mother's passing on Saturday.
• Ryan Freel was reportedly suffering from CTE when he took his own life last year.
• After injuring his ankle, James Harden shot free throws on one leg Sunday:
• A Washington Capitals fan got hit in the face with a puck Sunday, but waited until after the game to go to the hospital:
• Which NBA coaches are the best at drawing up plays during timeouts?
• Ben Tate got his helmet stuck under the Texans bench Sunday. But don't worry, he wasn't wearing it at the time.
• Jerome Simpson said an official at Sunday's Vikings-Eagles game "said some questionable things" to a few Minnesota players.
• If there's anything Phil Jackson loves, it's a good boat parade:
• If you like beer pong and air hockey, then you'll love "alcohockey."
• Sergio Garcia won a tournament this weekend with his girlfriend as his caddy.
• Orlando Magic forward Glen Davis dislocated his shoulder Sunday, but had it popped back into place, then returned to the game.
• The Atlanta Hawks trolled Tony Romo on Twitter, for some reason:
• Shoppers in East Columbus, Ohio, literally busted down the doors trying to get into the mall to get new Air Jordans:
---
---