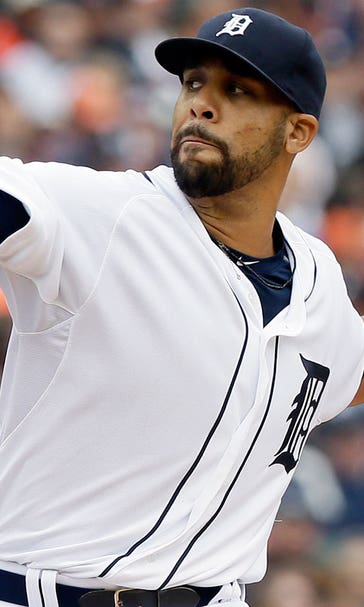 Price, Tigers try to stay perfect today
April 11, 2015

After David Price got Detroit off to a splendid start by nearly recording a shutout in the season opener, the Tigers kept on rolling through their next three games.
With Price on the mound again, Detroit can improve to 5-0 for the first time in nine seasons Saturday (4 p.m on FOX Sports Detroit PLUS) against the Cleveland Indians by spoiling another home game for reigning AL Cy Young winner Corey Kluber.
Price recorded all but one out in a 4-0 win over Minnesota on Monday and got the Tigers started on a 24-inning scoreless streak that was the longest by an AL team to start a season since at least 1912.
They gave up one unearned run in their three games against Minnesota and held the Indians scoreless in the first five innings in their opener in Cleveland on Friday. An 8-4 victory pushed their staff ERA up to 1.00 even with Justin Verlander out of the rotation because of a strained right triceps.
Detroit also registered a season-best 18 hits against a team that took a combined no-hitter into the ninth inning Thursday in Houston and is now batting .366 with 30 runs. Jose Iglesias was one of four with three hits and is 9 for 15 in the first four games.
"We feel pretty good about what we have in the lineup one through nine," manager Brad Ausmus said. "But especially two through six, two through seven, is tough. There's no breaks in there for pitchers."
The Tigers will try to repeat that effort and win their first five for the first time since 2006 - a start which was their best since opening 6-0 in 1985.
Price (1-0, 0.00 ERA) will try to deliver that by improving on his 7-1 mark and 2.64 ERA in nine career starts against the Indians (2-2). The left-hander won each of his two matchups with Cleveland last season after being acquired from Tampa Bay on July 31, and had a 1.23 ERA and 15 strikeouts in 14 2-3 innings in those games.
Price pitched opposite Kluber in a 12-1 rout Sept. 1 that marked the last defeat the Indians right-hander would suffer in 2014. He won his next five outings to finish 18-9 then edged Seattle's Felix Hernandez for the Cy Young.
Kluber (0-1, 2.45) hasn't done enough to beat Detroit in seven career matchups at Progressive Field, going 0-4 with a 4.10 ERA for his worst record there against one opponent. He'll try to end that drought in this highly anticipated pitching showdown with the 2012 AL Cy Young winner.
"If I was a fan, I would buy a ticket, for darn sure," Cleveland manager Terry Francona told MLB's official website. "I wish it was Kluber against some A-ball guy, but it's not."
Kluber pitched well enough to win his season debut Monday in Houston but took a 2-0 loss. He was charged with two runs, three hits and two walks in 7 1-3 innings while striking out seven.
Miguel Cabrera has more hits off Kluber than any other batter, going 17 for 30 with four home runs. Victor Martinez is tied for second on that list with nine hits.
Cabrera is batting .448 in his last 14 games against Cleveland and Martinez is hitting .400 in his past nine. Each player had three hits and drove in a run Friday.
---