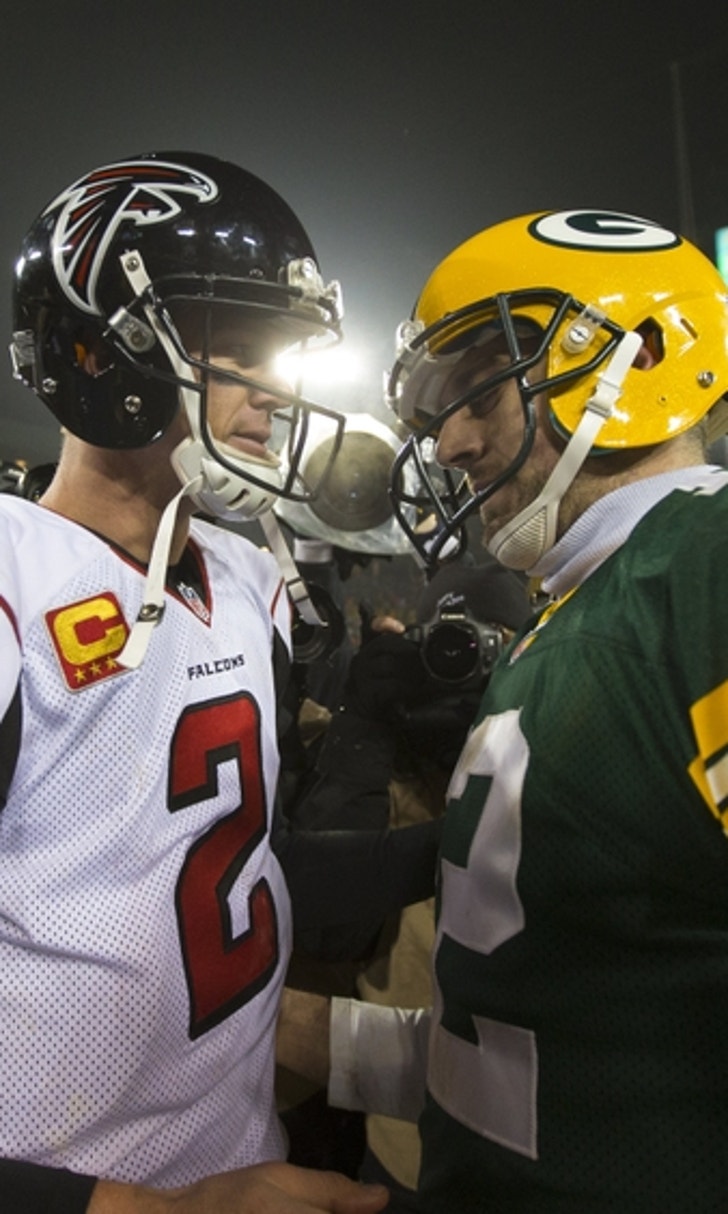 Preview: Defense an afterthought as Rodgers, Ryan battle
January 22, 2017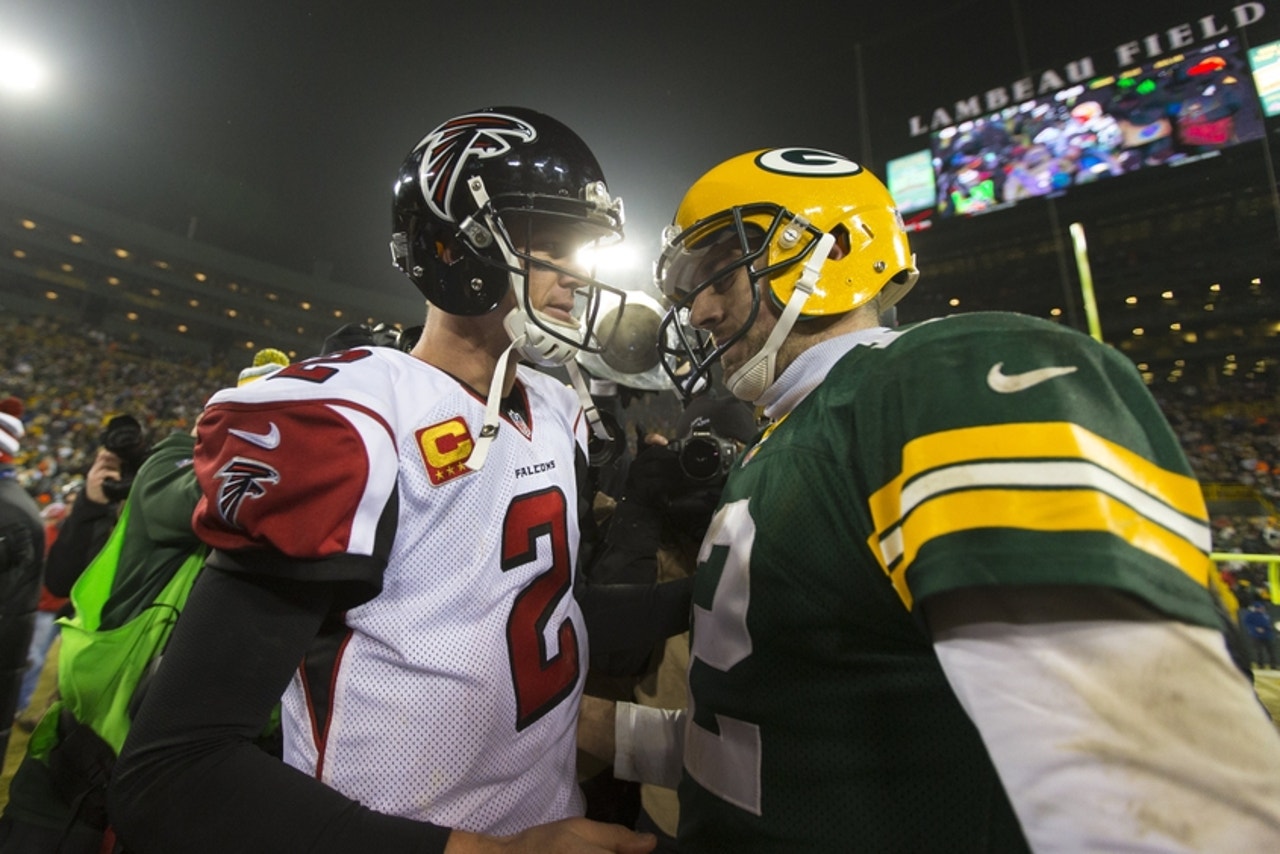 Quarterbacks Aaron Rodgers and Matt Ryan are expected to turn the NFC championship game into an offensive slugfest.
Defense wins championships.

That's the old adage. And it's about to be turned on its head by either the Green Bay Packers or Atlanta Falcons.

The Packers finished 21st in points allowed. The Falcons finished 27th. And yet, one of them will win the NFC Championship Game on Sunday in Atlanta.

The victor will be playing in Super Bowl LI, and it figures to be a battle of brilliant quarterbacks -- Atlanta's Matt Ryan and Green Bay's Aaron Rodgers -- who decide this one.

Behind Ryan, the Falcons scored 71 more points than any other team in the NFL. Ryan's 117.1 passer rating not only led the NFL, but was the fifth-best in NFL history. He threw for 4,944 yards with 38 touchdowns and seven interceptions. He topped 100 in passer rating in 12 of 16 regular-season games, then did it again against Seattle in the divisional round.

The Falcons enter the game on a five-game winning streak. Ryan has 14 touchdown passes and zero interceptions during the five-game streak.

"It's always a cool thing to watch when you see a good player go to a new spot," Falcons coach Dan Quinn said. "You guys have for sure seen it (with Rodgers). You know what it looks like, and Matt did that with his own game.

"It started way back in February in terms of his intent for the offseason, the way he was going to set it off. He had some things in his own game that he wanted to improve upon and, honestly, it carried over all the way through OTAs, into training camp."

Not to be outdone, Rodgers led the Packers to eight consecutive wins. Through the first quarter of the season, Rodgers ranked toward the bottom of the league in completion percentage (56.1) and yards per attempt (6.30). But he has been unstoppable as of late. During the winning streak, Rodgers has posted a 117.9 passer rating with 298.0 yards per game, 68.9 percent accuracy, 21 touchdowns and one interception. For the season, Rodgers threw for 4,428 yards with 40 touchdowns and seven interceptions.

"I think he's played incredible," Packers head coach Mike McCarthy said. "It's important for our team to play our best football come Sunday. He's in a great rhythm right now. Is he playing the best he ever has? He's played at this level so often, but I think this is probably one of his best runs."

Both teams will need huge efforts from their quarterbacks in what could turn into a shootout. They'll be attacking what are at times poor defenses. Green Bay finished 31st in pass defense. Atlanta wasn't much better at 26th. Both teams finished in the bottom fourth of the league on third down and in the red zone.

GREEN BAY (12-6) at ATLANTA (12-5)

Sunday, 3:05 p.m. EST, Fox

OPENING LINE -- Falcons by 4

RECORD VS. SPREAD -- Packers 10-6-1, Falcons 10-6

SERIES RECORD -- Packers lead 17-14

LAST MEETING -- Falcons beat Packers 33-32 at Georgia Dome, Oct. 30

LAST WEEK -- Packers beat Cowboys 34-31; Falcons beat Seahawks 36-20

AP PRO32 RANKING -- Packers No. 6, Falcons No. 4

PACKERS OFFENSE -- OVERALL (8), RUSH (30), PASS (7)

PACKERS DEFENSE -- OVERALL (22), RUSH (8), PASS (31)

FALCONS OFFENSE -- OVERALL (2), RUSH (5), PASS (3)

FALCONS DEFENSE -- OVERALL (25), RUSH (17), PASS (28)

STREAKS, STATS AND NOTES -- Packers lead playoff series 2-1, including 48-21 win in divisional playoff on Jan. 15, 2011. Michael Vick and Falcons won at Green Bay on Jan. 4, 2003 to give Packers first home playoff loss. ... First time teams have met in NFC championship game , this will be final NFL game played in Georgia Dome, which will be torn down in offseason. Falcons moving into $1.5 billion Mercedes-Benz Stadium for 2017 season. ... Over/under of 60 points is highest for any postseason game since records were kept beginning 1980, according to R.J. Bell of Pregame.com. ... Packers have won 13 NFL championships, most for any team. Falcons are playing for only second Super Bowl berth and first championship. ... Game matches two of NFL's top quarterbacks and MVP candidates: Falcons' Matt Ryan led NFL with 117.1 passer rating, fifth highest in NFL history. Packers' Aaron Rodgers (104.2) was fourth. ... Rodgers has passed for at least 350 yards and two touchdowns in both postseason games this season, and third straight playoff game with those marks would tie Drew Brees for most in postseason history. ... In last eight games, Rodgers is 8-0 with 2,384 yards passing, 21 TDs and one interception. ... Rodgers' 100.1 postseason passer rating is fourth best in NFL history. ... Packers coach Mike McCarthy has 10-7 postseason record and has led team to playoffs in nine of his 11 seasons. ... WR Jordy Nelson missed win over Cowboys with injured ribs after leading NFL with 14 TD catches. ... PK Mason Crosby made two field goals of more than 50 yards in final two minutes last week, including winning 51-yarder on final play. ... Packers LB Clay Matthews and Falcons LT Jake Matthews are cousins. Clay Matthews missed regular-season game at Atlanta with injury. ... Falcons 5-3 all-time at home in postseason. ... Win over Seattle gave second-year coach Dan Quinn first playoff victory. ... Ryan set franchise record with 4,944 yards passing -- sixth straight with at least 4,000, tied for second-longest streak in NFL history. ... Ryan would set NFL record by passing for at least three TDs in fourth straight postseason game. ... RB Devonta Freeman has 10 rushing TDs in last six home games, including postseason. Freeman posted second straight season with more than 1,000 yards rushing. ... Despite missing two games with sprained toe, WR Julio Jones was second in NFL with 1,409 yards receiving. ... WR Taylor Gabriel had 47-yard TD catch in first game against Packers, his first TD with Falcons. ... DE Dwight Freeney's 10 career postseason sacks rank fourth among active players. ... LB Vic Beasley Jr. had sack in regular-season meeting and led NFL with 15 . ... CB Ricardo Allen had interception last week in first career postseason game. ... Fantasy Tip: Passing games of two teams get most attention, but Packers RB Ty Montgomery has been reliable option for fantasy points. Converted WR Montgomery ran for two TDs against Cowboys last week and has four TDs in last three road games.
---