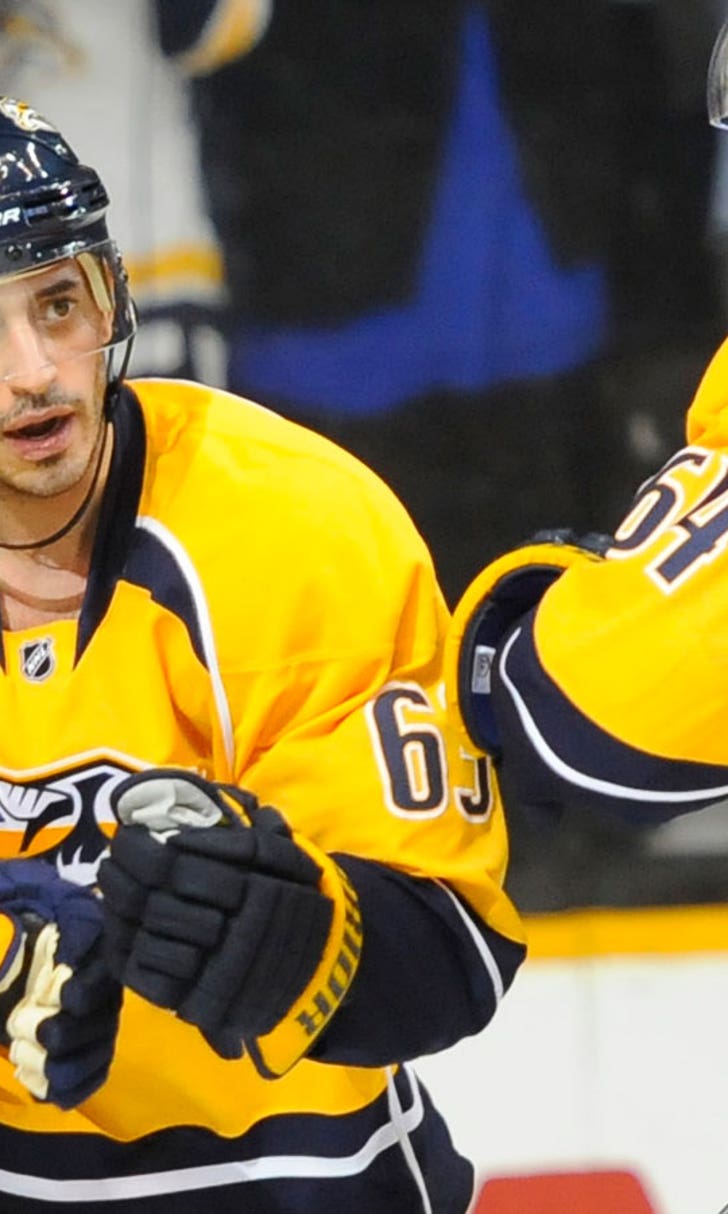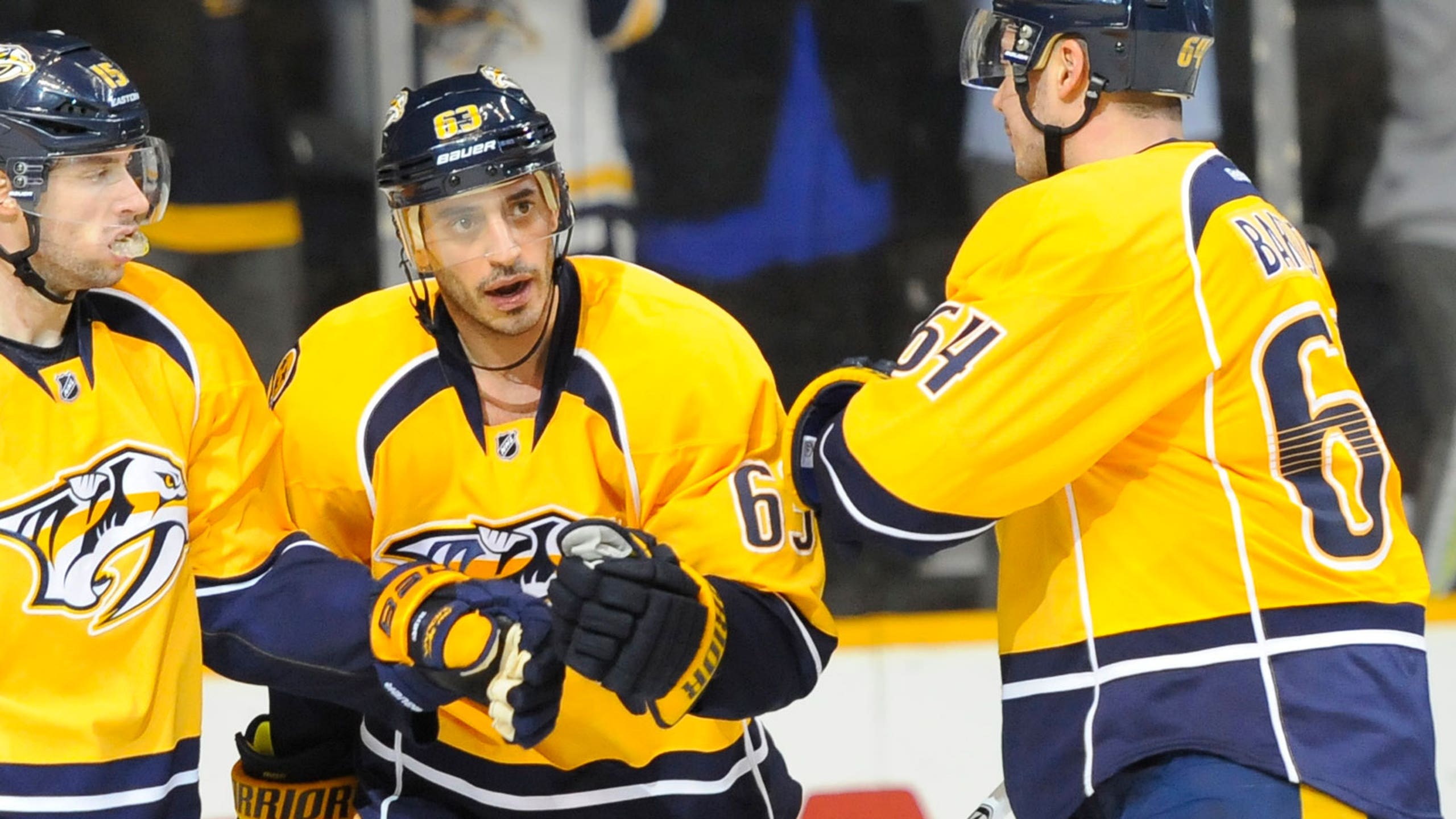 Power Play: Predators beat Rangers on top of Ribeiro's 700th point
BY foxsports • February 7, 2015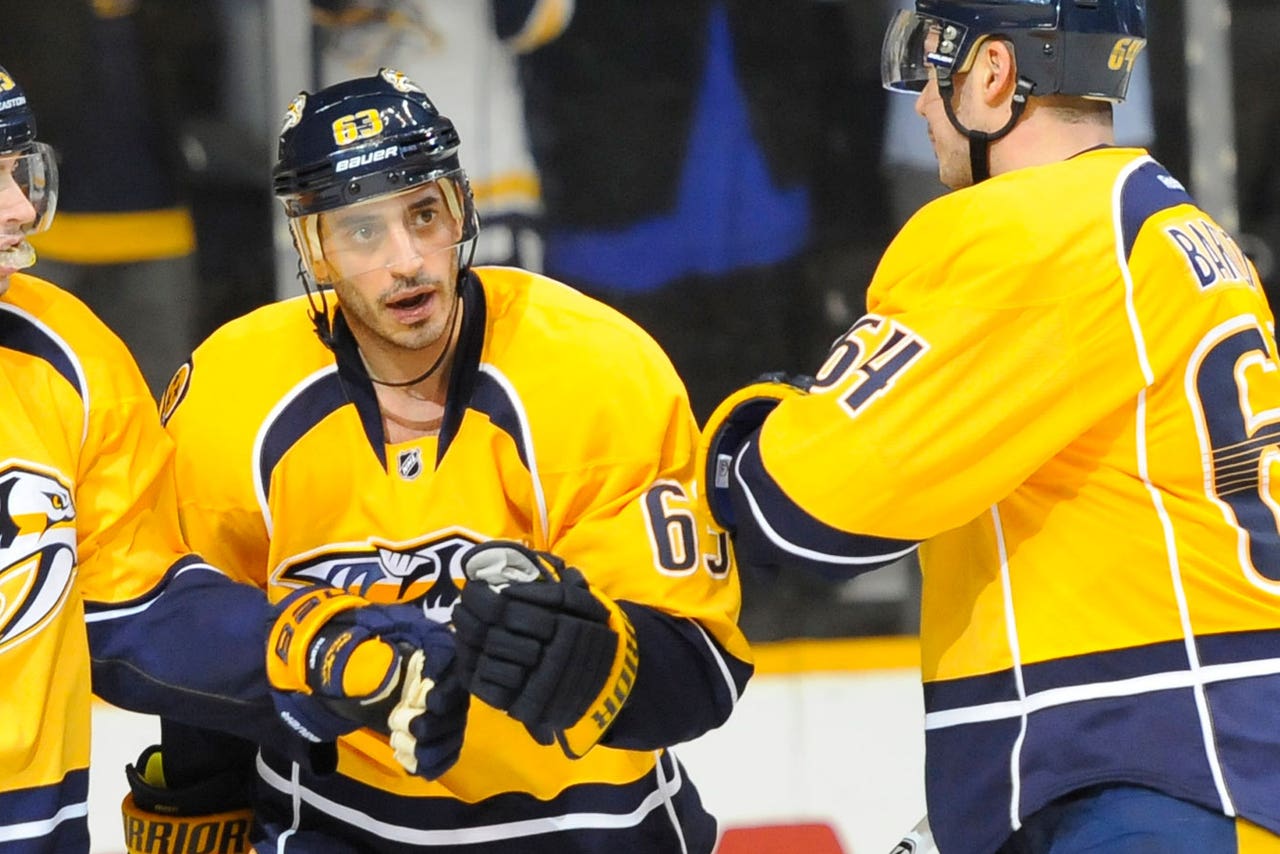 Nashville, Tenn. -- Coming off a tough loss on Thursday night, the Nashville Predators (34-12-6) benefited off a Mike Ribeiro slapshot in the third period to seal the game against the New York Rangers (30-16-4) and win 3-2 in an afternoon tilt at Bridgestone Arena.
1. Rebounding after a tough loss
Whether or not the third period in Thursday night's loss to Anaheim was Nashville's attempt to rebound themselves in preparation for its matinee contest against New York, it seemed to have worked. The Predators entered their game against the Rangers with a fresh mindset and played the majority of the first period in the offensive zone.
"It was good," Predators captain Shea Weber said. "[New York] played a really good game. We got some timely goals. We came out hard, but we kind of dipped in the second. We got to get back to playing 60 minutes the way we know we can.
Although Nashville was officially outshot 10-8 in the first, the Predators had 18 chances toward New York goaltender Cam Talbot compared to 16 for the Rangers. Nashville has been one of the best teams this season at maintaining offensive and neutral zone possession, which is highly important in finding long-term success through the course of the regular season.
The Predators needed the start they had against the Rangers just to wash the taste of Thursday's loss to the Anaheim Ducks out of their mouths. Finishing on a winning note only made it that much better.
"It's huge. I thought New York came really hard," said Predators goaltender Pekka Rinne. "They played a fast game. They have a pretty skilled team with a lot of speed. It was a challenge for us. I think they played a pretty good game. Obviously timely goals, Josi and Weber at the end of the second period was huge for us. Then when they tied the game in the third, we got that [goal from Ribeiro]."
2. Covering Rick Nash
He's one of the best scorers in the NHL and has been that way for some time -- and Nash added to his point totals against Nashville, collecting his 33rd goal of the season. Coming on the power play, Nash found himself all alone in the blue ice in front of Predators goalie Pekka Rinne and put his own rebound into the net.
His power play goal was the first Nashville's penalty-killing unit had allowed in 24 previous attempts.
"We've seen him for a long time when he was in Columbus in our division for a few years," said Weber. "We know he's capable of doing special things. He's got 33 goals for a reason. He's a very good player"
The penalty kill has been the source of much criticism this season, but it had been fantastic over their previous six games. However, Rick Nash can be one of the most difficult players to cover in the entire league.
Nashville opted not to take the body against Nash on that play and he made them pay.
"He's a big body. He's fast," Predators defenseman Roman Josi said. "He's got that goal-scoring touch. He makes a lot of good plays out there. Like I said, he's really fast and he kind of flies in the zone. It's tough as a defenseman, you can't really move him too much in front of the net either. He's definitely a great player and he's having a great year."
3. Comeback Kids of the Cumberland
When the Predators trail throughout the course of a game this season, chances are they find a way to come roaring back to life.
"We just keep playing," said Josi. "Even if they score one or two, we just try to keep playing our game and never give up. It's been good so far when we're [down]. We just plug away. Even if we're up we try to play the same way and get the next one. I think that's been the key for us."
Down 1-0 after Nash's power play goal in the second period, Josi tied the game with 1:21 left to go in the frame. Just 41 seconds after that, Weber sent one of his patented slap shots right past Talbot to give Nashville a 2-1 lead.
"We don't panic," Weber said. "We just know that we're able to score goals and if something happens we try not to change our game. We just play the same way. We're comfortable in those types of games."
After Rangers captain Ryan McDonagh tied the game 1:37 into the third period, Mike Ribeiro sent a game-winning slap shot of his own into the net for a 3-2 Predators lead.
All season long Nashville has been finding ways to come back against different opponents. Now tied with the Islanders for 15 wins after allowing the first goal, the Predators are truly the Comeback Kids of the Cumberland.
"It doesn't seem like we're down a goal," Predators coach Peter Laviolette said. "Somebody's got to score the first goal and we just got to keep playing for the 60 minutes. I wouldn't think that the players, nor do I, think that there is ever any danger at that point.
"We like to score the first goal, but it's probably like cutting a deck of cards, right? Everybody has a good hockey team. 50 percent of the time you can score (first) and 50 percent of the time you can't score (first). Our guys have done a really good job with staying focused on the sixty minutes."
Roman Josi: His goal and assist paced the way for the Predators against New York. Josi now leads Weber by one in points for a defenseman on Nashville's roster with 37.
Mike Ribeiro: A game-winning goal for Riberio gave Nashville the two points on the afternoon and also helped him collect his 700th career NHL point.
Ryan McDonagh: With a big goal only 97 seconds into the third period, McDonagh tied the game for the Rangers at that point and gave them a fighting chance the rest of the way.
---