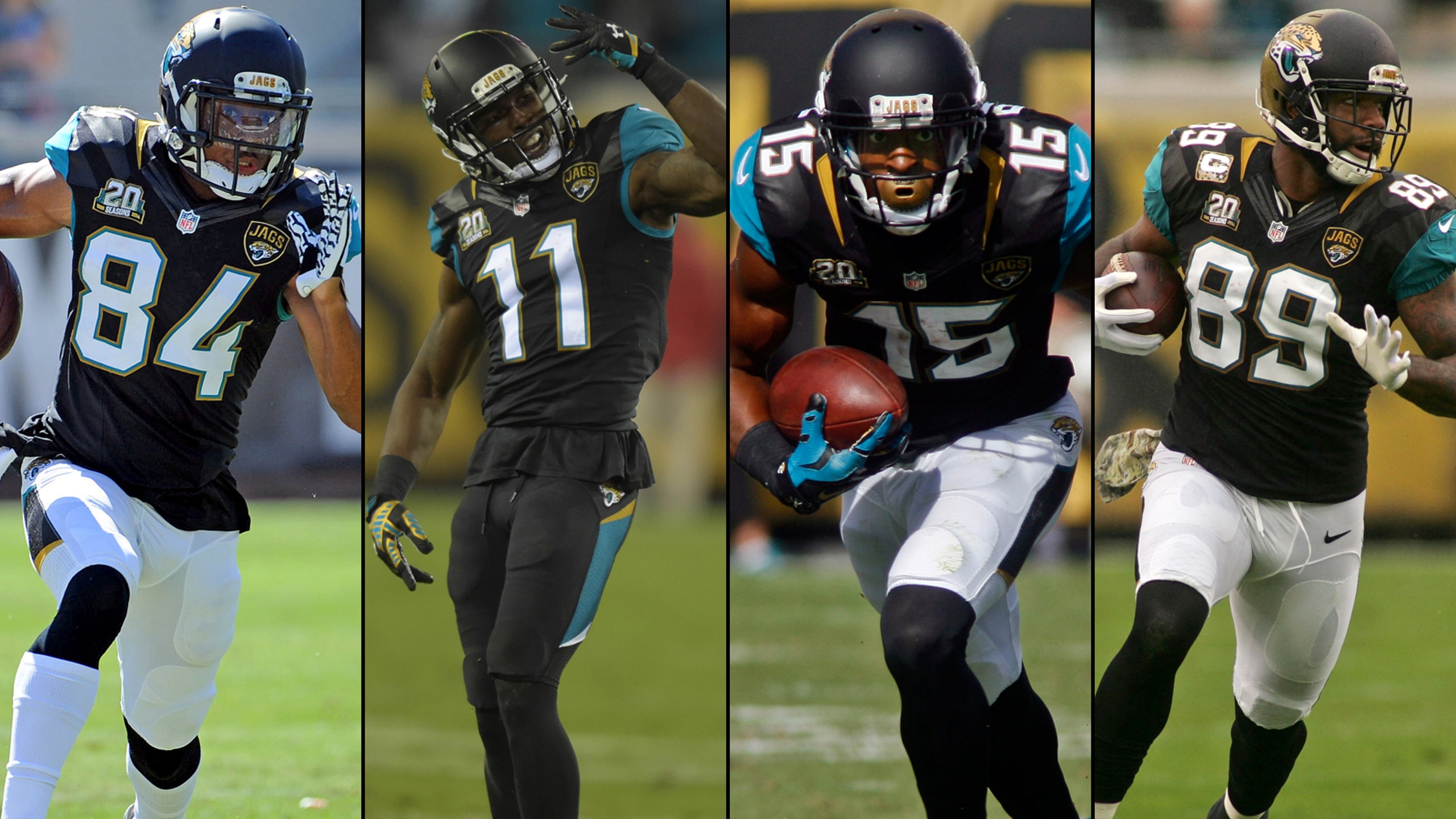 Position review: Rookie trio makes impact at wide receiver for Jaguars
BY foxsports • February 3, 2015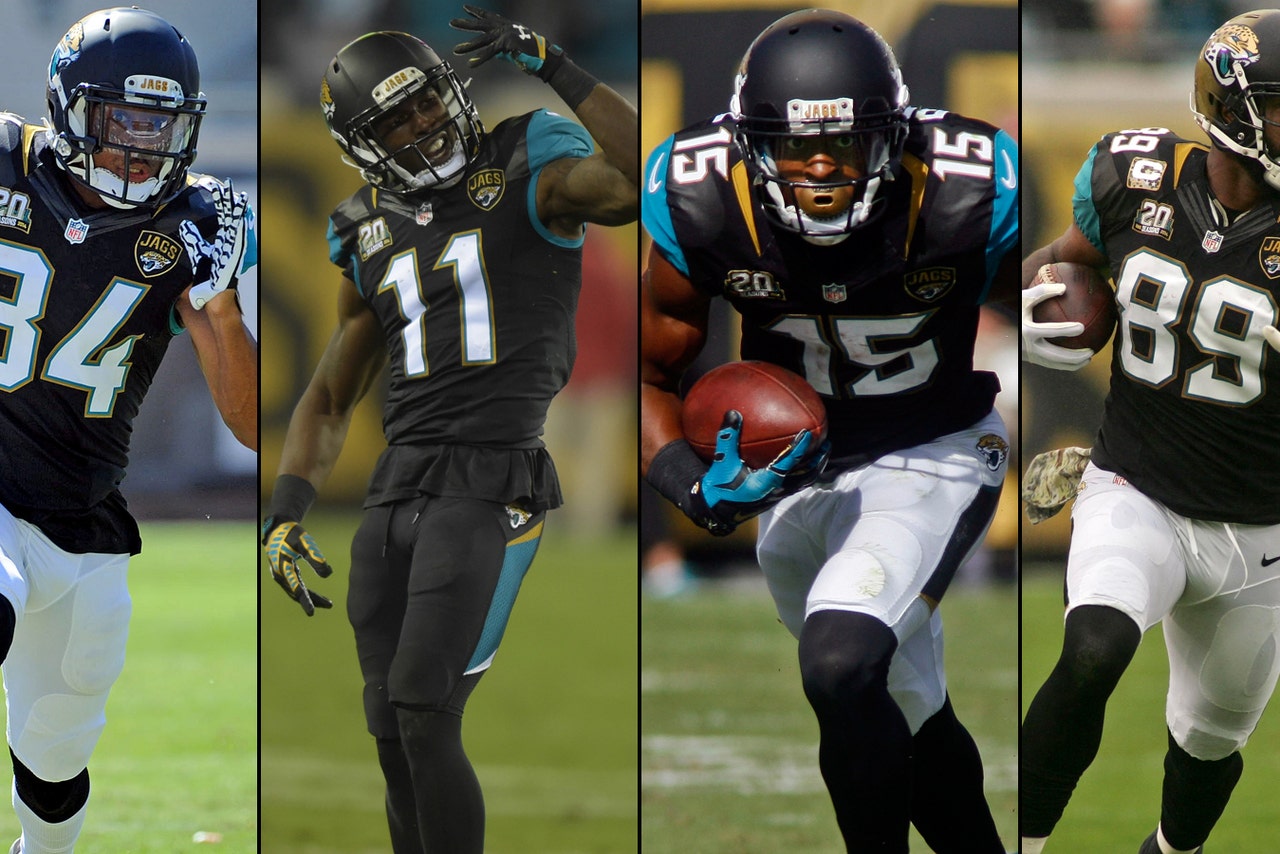 In their first season under coach Gus Bradley, it was not rare for the Jacksonville Jaguars to start three rookies in their defensive backfield.
In his second season in charge, three rookies at wide receiver were almost as common a sight.
Yes, veteran Cecil Shorts III ended up leading the Jaguars in receptions for the second year in a row. But Allen Hurns, Allen Robinson and Marqise Lee accounted for 43.1 percent of the team's 325 catches and 48.3 percent of its 3,451 receiving yards.
Expectations for both Robinson and Lee were high, considering they were the next players drafted by the Jaguars after their first-round selection of quarterback Blake Bortles. It was a far different case for Hurns, who wasn't chosen at all out of the University of Miami following a senior year where he had 62 catches for a single-season school record of 1,162 yards.
Both Hurns and Robinson finished among the top 10 rookies in the NFL receptions, even with Robinson being placed on injured reserve Nov. 17 after suffering a foot injury against the Dallas Cowboys in London.
Robinson was hardly the only Jaguar receiver to be bitten by the injury bug. Shorts was inactive for three of the first five games because of groin and hamstring problems, while tight end Marcedes Lewis went down in Week 2 with a high ankle sprain and did not return until late November.
Shorts is the most prominent of the Jaguars' seven unrestricted free agents, and his chances of getting the type of contract he wants from them appear to be slim. If he goes elsewhere, that could be offset by the possible return of 2012 first-round draft pick Justin Blackmon, who has not played since being suspended halfway through the 2013 season. Jaguars owner Shad Khan said last week he would be open to welcoming back Blackmon should the league decide to reinstate him after his substance-abuse suspension.
STARTERS
Cecil Shorts III (WR) -- Despite missing much of the first month, he finished with a team-high 53 receptions. But his yards per catch since 2012 have dropped from 17.8 to 11.8 to 10.5, and his only touchdown this season came in the final minute of a lopsided Week 3 loss to the Indianapolis Colts. A fumble deep in Tennessee territory proved to be costly in a two-point loss to the Titans which dropped the Jaguars to 0-6. Getting to throw a pass in each of the final two games, including a touchdown to running back Jordan Todman at Houston, took on the air of a parting gift to the last remaining Jaguar from the draft class of 2011. "I'm not sure how it's going to work out," Shorts said the day after the season concluded.
Allen Robinson (WR) -- He missed the entire preseason with a hamstring injury and spent the final six games on injured reserve. In between, the former Penn State standout established himself as a reliable target. He had at least five receptions in six of his final eight games, a stretch which included a 31-yard touchdown against Cleveland and a 48-yard score against Miami. One statistic that could be a cause for concern: He averaged only 3.4 yards after catch.
Marqise Lee (WR) -- From an aesthetic perspective, Bortles' best touchdown pass of the season was his 30-yard strike to Lee in the Jaguars' come-from-behind victory over the New York Giants. Lee started the first two games but missed the next three with a hamstring injury and was far less of a factor than both Robinson and Hurns until after the bye week. For someone who was also a long jumper and sprinter at USC, Lee's athleticism and big-play capability weren't on display often enough.
Allen Hurns (WR) -- In the season opener at Philadelphia, Hurns became the first player to catch two touchdown passes in the first quarter of his league debut. While no one could have possibly sustained that sort of pace, the former Hurricane wound up leading all of the Jaguars' rookies in receptions with 51 and scored a team-high six touchdowns. Hurns was their only receiver to appear in all 16 games, although he injured an ankle late in the fourth quarter at Washington and went out in the third quarter against Dallas with a concussion.
Marcedes Lewis (TE) -- His 18 receptions for 206 yards were the lowest totals in both categories for Lewis since his rookie season of 2006. He had as many as three catches just once after coming off the injured reserve/designated to return list and was shut out in the final game of the season. Perhaps the arrival of Greg Olson as offensive coordinator can revive the career of Lewis, a 2010 Pro Bowl selection who will turn 31 in May.
BACKUPS
Ace Sanders (WR) -- After returning from a four-game suspension, Sanders looked nothing like the receiver who registered 51 catches the year before as a rookie. He had but six catches for 55 yards over the final 12 games and could be in danger of becoming the first member of the Jaguars' 2013 draft class to get cut. His main value has been as a punt returner, although he averaged only 7.1 yards with a long of 23 on 32 runbacks.
Tommy Streeter (WR) -- Originally a sixth-round pick by the Baltimore Ravens in 2012, he was promoted by the Jaguars from the practice squad Nov. 28 after the release of Mike Brown. Streeter was inactive for the final two games with an abdominal injury.
Clay Harbor (TE) -- As was the case in 2013, injuries to Lewis gave Harbor a shot at extended playing time. His 26 receptions for 289 yards included a 59-yarder on the opening drive at Tennessee. Until Week 4 at San Diego, Harbor had been sidelined with an injury to his right calf during the one practice at training camp that the Jaguars held at a nearby high school.
Nic Jacobs (TE) -- An undrafted rookie who spent the preseason with the New Orleans Saints, Jacobs was signed Sept. 23 by the Jaguars and caught a 2-yard touchdown pass from Bortles against the Chargers five days later. His contributions were more on special teams than on offense.
POSSIBLE FREE-AGENT TARGETS
If general manager Dave Caldwell holds to his plan to bring in noteworthy free agents in his third year on the job, this should be where the Jaguars make their biggest splash. Demaryius Thomas of the Denver Broncos will be on the market in March and might not be up for staying on a team where Peyton Manning is finally showing his age and John Fox just stepped down as head coach. Presuming Jerry Jones opens up the coffers to keep Dez Bryant a member of the Cowboys, the Jaguars would be better off pursuing Randall Cobb, who had 91 catches for 1,287 yards and 12 touchdowns this past season with the Green Bay Packers.
BEST DRAFT OPTIONS
After getting a combined 85 receptions from Robinson and Lee while discovering a diamond in the rough in Hurns, it's hard to imagine spending a pick on a wide receiver unless the Jaguars whiff in free agency and Blackmon is not reinstated.
FINAL THOUGHT
Hurns averaged 13.3 yards a catch, a figure better than the ones turned in by both Antonio Brown of the Pittsburgh Steelers and Julian Edelman of the New England Patriots. None of the Jaguars' other receivers averaged more than 11.4 yards per reception. A proven home-run threat like Thomas, Bryant or Cobb is sorely needed.
You can follow Ken Hornack on Twitter @HornackFSFla or email him at khornack32176@gmail.com.
---