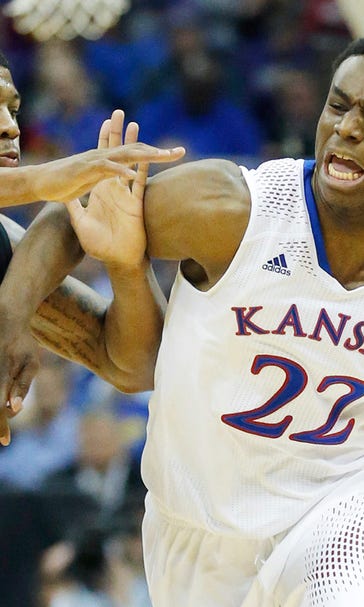 Phew! KU survived -- and avoided some ugly, awful questions in the process
March 13, 2014

KANSAS CITY, Mo. -- There is life without Joel Embiid. Granted, it's a hard life, soaked in sweat, caked with toil, carried four fifths by Andrew Wiggins and one fifth by a prayer. But it's life. In March, there are no style points for survival.
The Jayhawks survived. Period. Full stop.
That's the golden ticket, the lasting takeaway, the biggest victory from Thursday's roller-coaster of a Big 12 tournament quarterfinal with Oklahoma State.
In a bracket turned upside down by Marcus Smart's temporary insanity, KU drew the second-best team in the league (at the moment) on the second day of the event without the services of its second-best player. The Jayhawks won anyway, 77-70, in overtime.
"We don't think of ourselves as underdogs," senior forward Tarik Black said. "If everybody else thinks we're underdogs, that's fine with us. Here in this locker room, we still think we can win it all."
That's what made Thursday so huge. Not so much that it was about stepping on the Cowboys' throats (although KU fans loved that), or that it was about breaking Smart's heart (although KU fans loved that even more), or that it was about keeping the Big 12 tourney championship in play (although KU fans really, really, really want to see that trophy lifted Saturday; so do businesses in the Power & Light District that sit adjacent to Sprint Center and dig the Rock Chalk traffic).
Lookin' good! CLICK HERE to check out our gallery of cheerleaders from around the Big 12.
It was about survival. More than that, it was about not having to deal with the horrible, ingrown toenail of an alternative.
Say the Jayhawks lost Thursday. Say Smart's 3-pointer with 32 seconds left in regulation had been true instead of doinking off the iron, and the Pokes had escaped with a 70-67 victory.
You know what the narratives would have been, right? Sure you do:
1. Forget the '1' seed. You can kiss good-bye to that '2' seed, too. KU has lost two straight without the services of Embiid, its 7-foot freshman center who's also not expected to play in the first weekend of March Madness because of a stress fracture in his back.
2. And now the NCAA Tournament Selection committee has several days to ponder where/how to seed this slumping, Embiid-less crew. At this stage in the Bracketville game, you don't want to be up for discussion. You don't want to be pondered. You want to be set.
3. March is for guards, yada, yada, yada. Oklahoma State has them in bulk; KU has Wiggins (30 points, eight boards) and the Keystone Cops.
See, Kansas, more or less, avoided all of this. Three days of questions; three days of handwringing; three days of talk-show pap and message-board panic. Three days of collective doubt.
The Jayhawks (24-8) survived. Period. Full stop.
"There (were) a couple times that they came back on us," said point guard Naadir Tharpe, who collected eight points, with four of those coming on free throws in the extra session that sealed the Pokes' fate. "The game got close ... things got tight, but (guys) didn't just hang their heads or anything like that. We kept on playing and we made it happen."
Thursday was a carbon copy of the first two KU-Oklahoma State tilts, in a sense: The Jayhawks dominated the first half; the Cowboys found a way to make up a deficit in a hurry -- in this case, an eight-point KU lead with 7:59 left got whittled to just one in a span of about 87 seconds; and everybody whipped out the big guns for a wild, frenetic finish.
"That's how good the Big 12 conference is," said Black, who collected seven points and 12 boards in Embiid's stead. "That could potentially be a championship game. Obviously, that was supposed to be the championship game, if you look at the preseason rankings and all that type of stuff."
It played out like one, too.
Thursday felt as if the Jayhawks got the worst one, the first one, out of the way. In video-game terms, the Cowboys (21-12) were the big boss, the beastie you normally face at the end of the round, not at the beginning, winners of six of their previous seven and brimming with crazy confidence. Smart and company had beaten the Jayhawks in Stillwater back on March 1 and were unapologetically full of swagger afterward.
"I think all our games (with KU) have been pretty good this year," Pokes coach Travis Ford said. "(We) played some good games last year. But they're always good against Kansas. (Against) Kansas, you better play well. You better play well."
The Cowboys whiffed on 20 of their first 29 shots and were just 2-for-12 from beyond the arc in the first half. But this was the biggie: Not only was Oklahoma State outboarded 24-13 over the first 20 minutes. Of those baker's dozen rebounds, only one came on the offensive end.
Translation: No second shots. Like KU fans, that's the sort of thing in March that travels awfully, awfully well.
"Everybody on the team ... needs to contribute, any time when their name is called," said Tharpe, whose Jayhawks (24-8) meet Iowa State (24-7) in Friday's first Big 12 semifinal. "Once their name was called, I feel like guys came in and they gave everything they had. And that's just what we need to continue."
They need continued veteran smarts from Black, who played 26 minutes in a starting role and didn't pick up his second foul until two minutes into the second half. They need continued intimidation from power forward Jamari Traylor, who came off the bench to collect six points, nine boards and two blocks -- one of which lead to a Jayhawk run-out and a two-handed, rim-bending Wiggins dunk.
They need continued mop-up duty from Perry Ellis (nine points, eight boards) down low and continued fearlessness by off-guard Wayne Selden (14 points) on the wing.
They need Wiggins, who's averaging 35.5 points over the Jayhawks' last two games, to continue to feel like he has to take the law into his own hands. Because he does.
They need the hunger. They need to play like their pants are on fire. They need to play like they'll have to walk back to Lawrence if they don't.
"What would you rather be doing?" Self allegedly asked his guys in the huddle before the overtime period, stoking the embers. "What would you rather be doing?"
The answer: Nothing, coach. Not a damn thing.
"We came to play basketball," Black said later. "We didn't come to Kansas City to pack and go home."
The Jayhawks survived. Period. Full stop. Everything after that is gravy.
You can follow Sean Keeler on Twitter @seankeeler or email him at seanmkeeler@gmail.com.
---