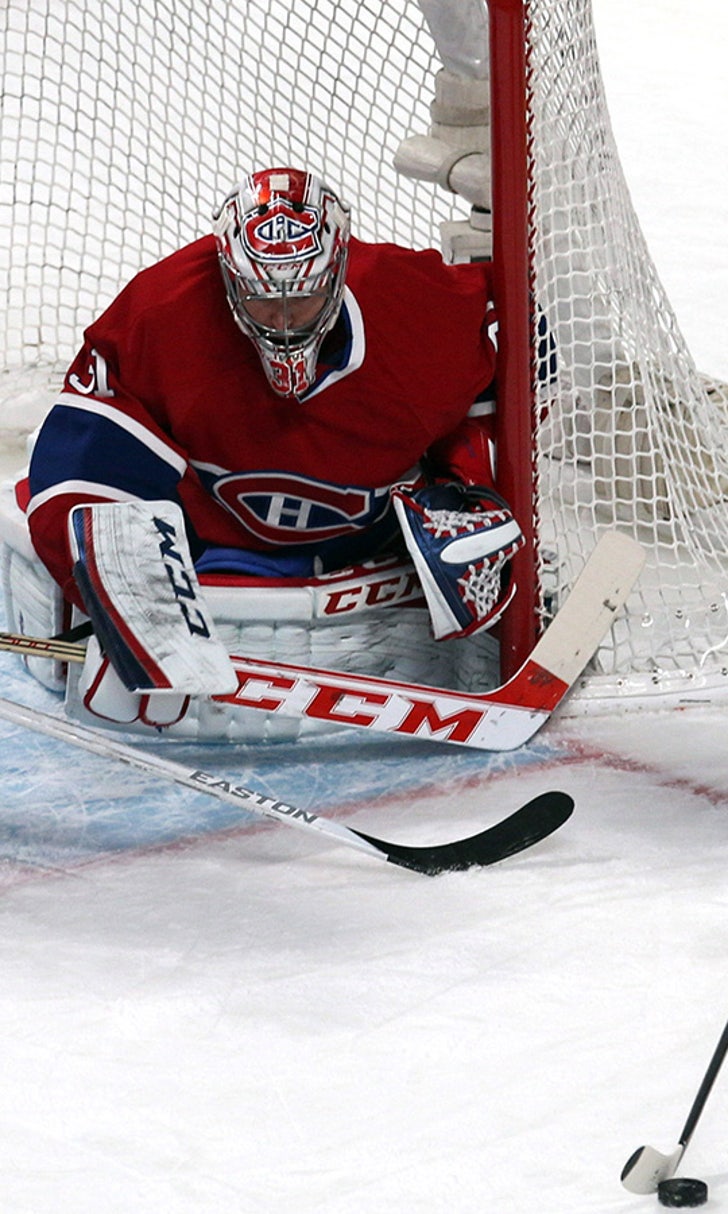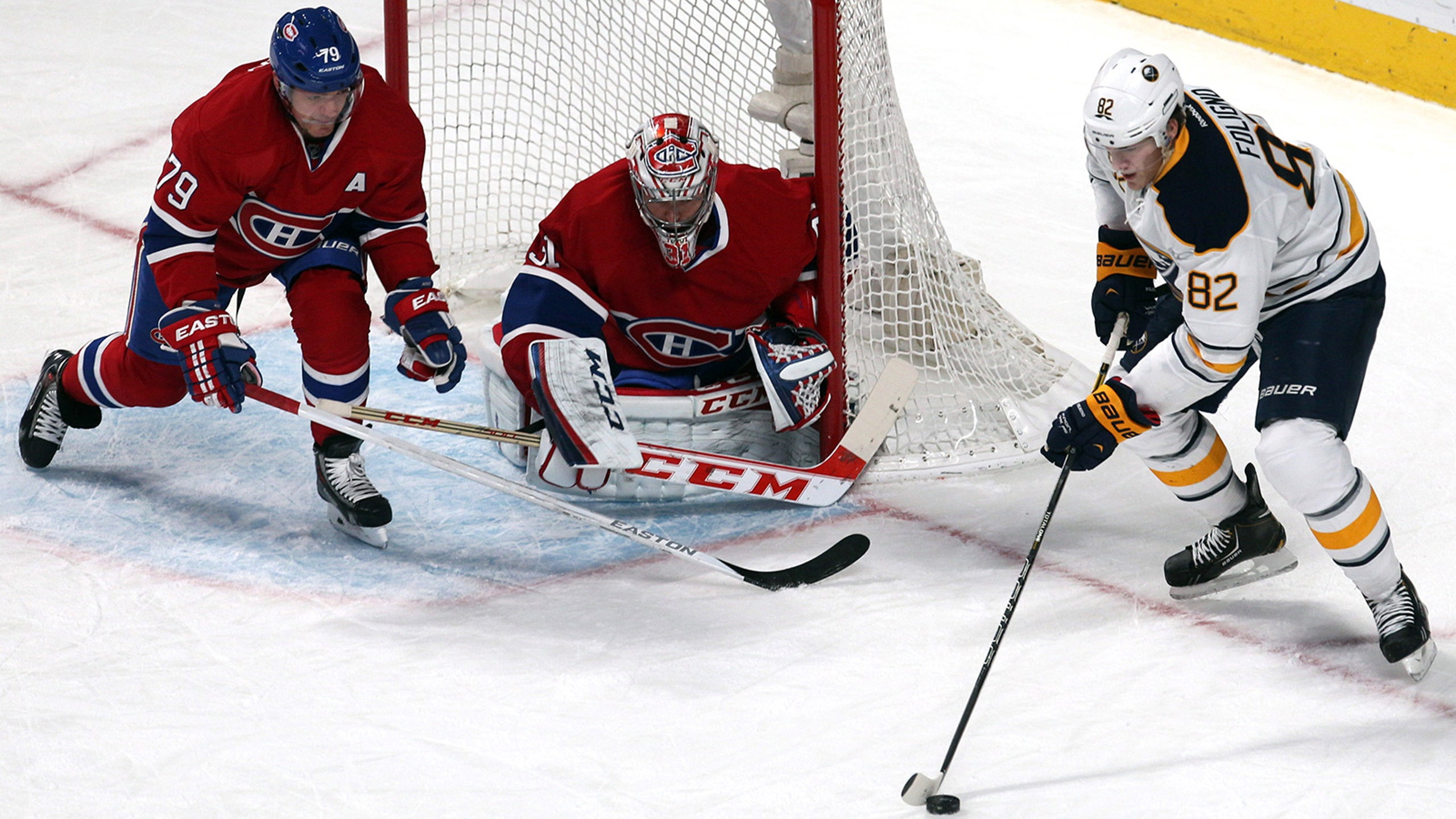 Penalty Minutes: Canadiens relying on defense for success
BY foxsports • December 11, 2013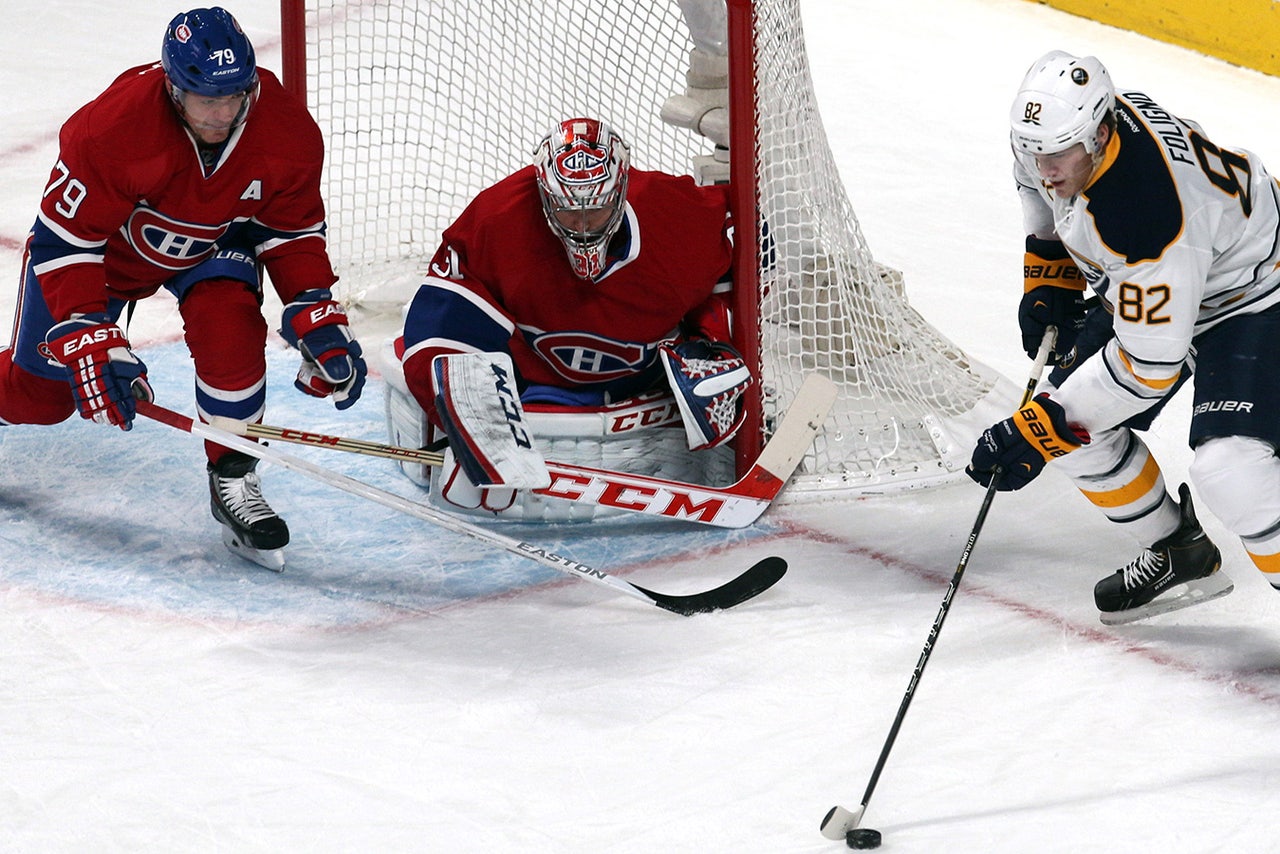 Without a scorer in the top 50 of the NHL points standings, the Montreal Canadiens nonetheless have become the hottest team in the league. 
Until a shocking 6-0 loss at home on Tuesday to the Los Angeles Kings, the Canadiens had gone unbeaten in regulation in their previous 10 games (9-0-1). 
As one might guess, the Canadiens have done it with defense and goaltending. At 2.59 goals per game, they rank 17th in the league in scoring but are giving up the third-fewest goals against in the league (2.12 per game). Excluding shootout goals, the Canadiens outscored opponents 32-19 over that 10-game stretch. 
The Canadiens put forth a defense-first team in more than one way: Their defensemen also rank among their top scorers. Reigning Norris Trophy (best defenseman) winner P.K. Subban's 24 points lead the team and his defense partner Andrei Markov is fourth with 19 points. Forwards Tomas Plekanec and Max Pacioretty sport 11 goals apiece and 19-year-old Alex Galchenyuk, in his second season, has eight goals to go with 12 assists, ranking third on the team in points.
In goal, Carey Price, who could be the favorite to start as Canada's goalie in the 2014 Olympic Games, ranks fourth in the league in save percentage (.934), eight in goals-against average (2.08) and is tied for eighth in wins with 14. Backup Peter Budaj, a potential Olympian for Slovakia, is 5-1-1 with a 1.92 GAA and .929 save percentage. 
While all of that is working for the Canadiens right now, it could be a difficult formula to employ come playoff time. After getting ousted in the first round in five games by Ottawa last season -- the Habs failed to score more than two goals in any single game -- it would behoove the Canadiens to get going in the offense department. 
The Canadiens might be hot right now, but it's hard to anoint them a playoff favorite, based on their limited margin of victory on a nightly basis. 
It almost seems inconceivable that a unit powered by Dustin Byfuglien, who ranks fourth in the NHL in points by a defenseman and owns one of the league's most powerful slapshots, could be as inefficient as the Winnipeg Jets' power play. 
Until a power-play goal by Bryan Little on Tuesday, the Jets were on a 0-for-19 streak and owned the league's worst power play. The goal improved them to 28th in the league but they are still functioning at a dismal 11.3 percent. They have scored only 12 power-play goals all season in 106 attempts. 
Three years ago, Byfuglien and defense partner Tobias Enstrom each earned a trip to the NHL All-Star Game, as they finished in the top six in scoring in the league by a defenseman. That same season, Byfuglien's 20 goals, eight of which came with the man advantage, were the most in the league by a defenseman. 
That season, their team, then playing in Atlanta as the Thrashers, finished 12th in the league on the power play at a respectable 19.7 percent. To be fair, four of Byfuglien's six goals have come on the power play, but it still raises the question: What is wrong with the rest of the Jets' power play? 
It would seem that part of the answer is that numerous players are underperforming. Enstrom, who earlier this year announced he would not play for his native Sweden at the Olympics, perhaps to spare himself the indignity of not being chosen, has not scored since Nov. 2. Two players expected to be the Jets' top guns, Evander Kane and Andrew Ladd, have one power-play goal combined. In the last 82-game season, those two combined for 58 goals, 10 of which came on the power play. 
The situation is not helped by injuries. Kane has missed his last four games with a lower-body injury and defenseman Zach Bogosian has missed the last 11 with a groin injury. 
In the long term, Bogosian himself remains something of a puzzle. The former third overall pick in 2008 broke in as an 18-year-old and set the league afire with 19 goals in his first 128 games. Since then, he has 16 in his last 190 games. Bogosian's contract averages $5.14 million for this season and the next six seasons after this one. That's an awful lot of money for a defenseman who is third in average minutes played and does not score very much. 
At 2.44 goals per game, the Jets rank in the bottom third of the league and they sit eight points out of the final playoff spot in the Western Conference. Making matters worse, they have played three more games than eighth-place Colorado. If the organization wants to earn its first playoff berth since relocating -- and since 2007 overall -- a few more power-play goals, whether it's from a new set-up, plays or personnel, would point them in the right direction. 
If not, the natives could start to get restless. 
1. Chicago: The Blackhawks lead league with 122 goals scored this season.
2. Anaheim: 22-year-old defenseman Cam Fowler leads the Ducks in time on ice per game at 24:03 and could be a candidate for U.S. Olympic team. 
3. Boston: At 9-0-1 at home in their last 10, the Bruins have surged near the top of the league standings. 
4. St. Louis: Alex Steen, who is second in the NHL in goals, broke a four-game goal-less streak on Tuesday in a 2-1 win over Winnipeg. 
5. Los Angeles: The Kings are 6-1-3 in their last 10, even as No. 1 goalie Jonathan Quick remains out. 
26. Calgary: Captain Mark Giordano has returned to the lineup, but the Flames are just 2-2 since. 
27. Edmonton: The Oilers are 6-3-1 in their last 10 but remain 15 points out of last playoff spot in the West. 
28. Florida: The Panthers have won three out of four. Is interim coach Peter Horachek turning things around? 
29. New York Islanders: The good news is that they snapped a 10-game losing streak with a 3-2 shootout win at San Jose on Tuesday. 
30. Buffalo: The Sabres trail the 29th-place Islanders by seven points. 
GAME OF THE WEEK: Boston at Vancouver
Ever since their meeting in the 2011 Stanley Cup Final, it's hard not to get excited about a matchup involving these teams -- especially since they did not play last season. After all, who can forget Canucks goalie Roberto Luongo's infamous comment about "pumping up" the tires of Boston goalie Tim Thomas in that series and Luongo's implosion in Game 7? 
Thomas is gone now, as are some other key players in this rivalry, including then-Canucks coach Alain Vigneault. But one of the key Bruins villains, Vancouver-area native Milan Lucic, remains, adding spice to this one. Another player who likely will be missing is Boston forward Shawn Thornton, who has an in-person hearing with the league on Friday after he knocked Pittsburgh's Brooks Orpik to the ice after the whistle and punched him twice, leading to Orpik's removal on a stretcher. One can only wonder if Thornton's suspension and the ugly act itself might cause the Bruins to tone down some of the rough stuff. 
STAT LINE OF THE WEEK: Alex Ovechkin, Washington
In a game that the Capitals trailed 3-0 to Tampa Bay on Tuesday, the reigning Hart Trophy winner (league MVP) scored his league-leading 23rd, 24th, 25th and 26th goals of the season -- the last one coming with 33 seconds left in regulation to send the game into overtime. Washington edged Tampa Bay 6-5 in a shootout. Ovechkin finished even with six shots, two hits, one giveaway and won his only faceoff in nearly 23 minutes of play. Ovechkin, who has played 29 games, has five more goals than St. Louis' Alex Steen, who ranks second in the league. 
Honorable mention: Jeff Skinner, Carolina. In a 5-2 win over Nashville last Thursday, the 21-year-old registered the first hat trick of his young career and finished plus-2 with six shots, one giveaway and one takeaway in 18:18. In his fourth season, the former Calder Trophy winner has proven himself a prolific scorer. He has 10 goals and nine assists this season in 21 games, having missed almost a month with an undisclosed upper-body injury. In the past, he has missed time for concussions, which would make it worrisome if that's what kept Skinner out. With Skinner and goalie Cam Ward now healthy, the Hurricanes could challenge for a playoff spot in the Metropolitan Division. They have not advanced to the postseason since 2009. 
Dishonorable mention: Nate Guenin, Colorado. In an 8-2 loss to Edmonton last Thursday, Guenin was on ice for five goals and finished minus-4 with two shots, two hits, three blocked shots and three giveaways (ouch) in 24:33. Guenin, who turned 31 on Tuesday, had played only 32 NHL games prior to this season. To his credit, Guenin played a team-high 7:17 of the team's 9:51 shorthanded as the Avalanche yielded three goals on seven attempts -- but only once while Guenin was on the ice. 
It's been a while since Ryan Kesler has been at his best over a full season but that is what appears to be happening this season -- and that can be nothing but good news for the hopes of the U.S. Olympic team. 
The gritty-but-skilled Vancouver center entered Wednesday with a total of five goals in five games and, not surprisingly, the Canucks, who have struggled out of the gate, won all five. While Daniel and Henrik Sedin grab much of the attention for the Canucks -- as does whatever soap opera goalie Roberto Luongo might happen to be enmeshed in -- Kesler is the type of player who can transform them from playoff also-ran to Western Conference powerhouse.
When he was at his best in the 2011 Stanley Cup Playoffs, he looked as if he were on his way towards winning the Conn Smythe Trophy as playoff MVP. He almost single-handedly dispatched Nashville in the second round in a tightly-played six-game series going against what many considered the game's top defensive pairing at the time of Shea Weber and Ryan Suter.
However, during the conference finals that season, Kesler suffered an injury that deprived him of much of the jam that makes him such an effective player. It also seemed sending him spiraling down with injuries that have kept him at less than full strength. In a seven-game series loss to Boston in the Cup final, he had no points in the final six games and was a collective -- and uncharacteristic -- minus-7. 
That summer, he had hip surgery, which took almost three months from which to recover. 
Notoriously prickly on the subject, he insisted the following season that he was healthy, and while he played 77 games his production showed otherwise. He totaled 49 points in 2011-12, 25 less than what he had averaged the previous two seasons. He played only 17 games last season, as his start was delayed by offseason shoulder and wrist surgeries. (A broken foot, suffered after he played seven games, proved another culprit.)
This season, he has dressed for all 33 games and his 15 goals lead the Canucks, tying him for ninth in the league. If ever there were a player who were seemingly created to play for Canucks combative coach John Tortorella, in his first season with the team, it would be the 6-foot-2, 202-pound Kesler: he hits, he block shots, he does all of the dirty deeds necessary to win -- and he can score. 
"Kesler's been playing really well and he was probably our best player tonight and he put us on our shoulders there and I thought led the way," Tortorella said after Kesler scored two goals in a 5-2 win over Nashville last Tuesday in which he happened to play Kesler on the wing. "It's a good thing for me that I know I can use him on the wing. I think he's a better wing than he thinks. He did so many good things for us tonight ... Ryan's been playing really well so I didn't want to screw around with it." 
Asked about the way Kesler has been playing, Tortorella responded, "That's the only way you're going to win. If you want to win consistently in this league, your best players have to be your best players. I thought Kes led the way." 
One person who no doubt must have had ambivalent feelings about that game was Predators general manager David Poile, who also will pick the U.S. Olympic team. While Olympic teams can tend to look like highly-skilled All-Star teams, a sometimes forgotten notion is that they also have to defend. If the United States wants to beat teams like Canada, led by Sidney Crosby, Ryan Getzlaf and Corey Perry, or host Russia, led by powerhouse forwards such as Alex Ovechkin, Evgeni Malkin and Ilya Kovalchuk, then someone will have to defend them. 
Having a forward like Kesler at the top of his game can only help the Americans' chances come February. (Having a defenseman like Suter behind him won't hurt, either.) 
In the meantime, if Kesler keeps on his current pace, the Canucks might be poised to take off in the highly-competitive West.
---