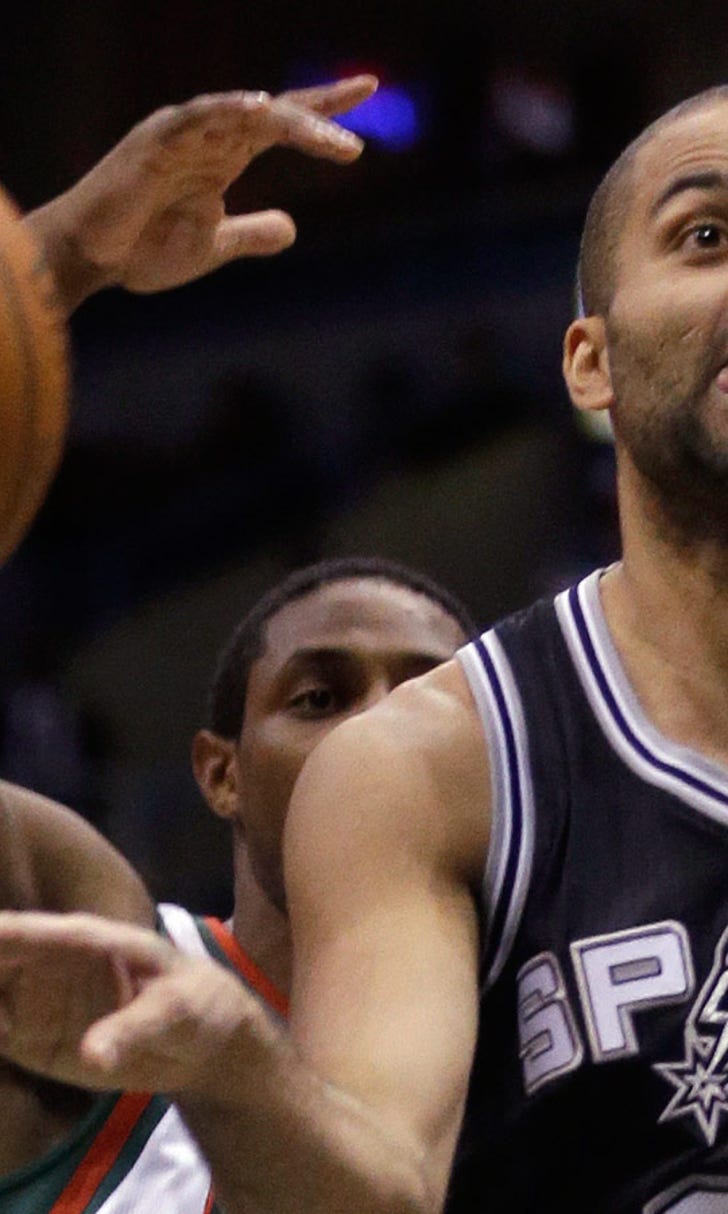 Parker helps Spurs keep 'Wolves at bay
BY foxsports • December 14, 2013
Having no answer for Kevin Love for three-and-a-half quarters, the San Antonio Spurs made Minnesota solve their Big 3. The Timberwolves failed.
Tony Parker had 29 points to offset Love's season-high 42 points and San Antonio rallied for a 117-110 victory over Minnesota on Friday night.
Manu Ginobili had 20 points and nine assists, fueling a 37-21 fourth quarter that helped the Spurs avoid their second home loss this season. Tim Duncan added 12 points and 14 rebounds.
Duncan, Parker and Ginobili have won three NBA titles together and are the active leaders for wins as a trio. That experience paid off against the Timberwolves, who have not made the playoffs since 2005.
"It's got to show up somewhere," Duncan said of the trio's experience. "If you want to call it that, it is what it is. We know what's going on out there, especially when it gets down to crunch time and things really count. We've made plays long enough that we know where each other is going to be."
Ginobili and Parker combined to score San Antonio's final points in a 26-12 closing run, and teamed with Duncan to dish out all but one of the team's final five assists and seven of its last 11 rebounds.
"We know what they're capable of and when you get them into a two- or three-minute game, they're incredible," Love said. "They've played together for a very long time, but they just made plays and we missed shots that we usually make."
Kawhi Leonard had 19 points and Boris Diaw and Marco Belinelli had 12 points apiece for San Antonio.
Nikola Pekovic had 18 points, Ricky Rubio added 15 points and Kevin Martin had 14 for Minnesota, which had won two straight.
Ginobili scored 16 points in the final quarter, helping San Antonio overcome a lethargic start. His reverse layup with 2 minutes remaining extended San Antonio's lead to 111-108.
"Manu is playing great," Parker said. "He's got his legs. He looks like he's fresh and he's making his shots. In the fourth quarter, he was very aggressive. That was big for us."
Parker was just as big, making his only 3-point attempt of the quarter while scoring 12 points on 5-for-7 shooting.
"That's why he is one of the best in the league, and that's why he almost won (the NBA title) by himself last year with the Spurs," Rubio said. "Right now, he's one of the top two or top three point guards in the league."
San Antonio needed the trio's contributions to offset Love. He was 8 for 9 on 3-pointers and had 14 rebounds.
He had 26 points after halftime, nearly besting his previous season-high of 34 in the second half alone.
"He shot the ball incredibly," Duncan said. "He made some tough ones and just kept on going. Boris did a great job in the last six minutes of really getting onto him and making him do something else. It changed the game a little bit for us."
Love's final points came on a pair of free throw with 6 minutes remaining and his last basket was on a dunk 41 seconds earlier.
Leonard scored nine straight points midway through the third quarter, keeping San Antonio in the game while Minnesota got hot behind the 3-point line.
The Timberwolves were 6 for 12 on 3s in the third, making three consecutive attempts to take a 79-75 lead with 4 minutes left.
Love had the opening and closing 3s in the run, finishing with 19 points in the third quarter. He was 5 for 6 on 3s in the period, and 7 for 9 overall as Diaw, Jeff Ayres and all the help defense the Spurs provided failed to slow him.
"He is a great player," Spurs coach Gregg Popovich said. "When you can play inside and outside the way he does, he is a tough cover. I think we could have done a better job. I thought we made some really fundamental errors in guarding him, but, be that as it may, he is a monster."
NOTES: Spurs centers Tiago Splitter (tightness left calf) and Aron Baynes (calf strain) both sat out. ... Minnesota F Chase Budinger (knee surgery) missed the game, as did C Ronny Turiaf (fractured right elbow). ... Entering Friday's game, San Antonio leads the league in assists, averaging 25.0 per game. ... Entering Friday's game, a quarter of Corey Brewer's 114 baskets for Minnesota this season had come on dunks. He is shooting 45 percent from the field.
---