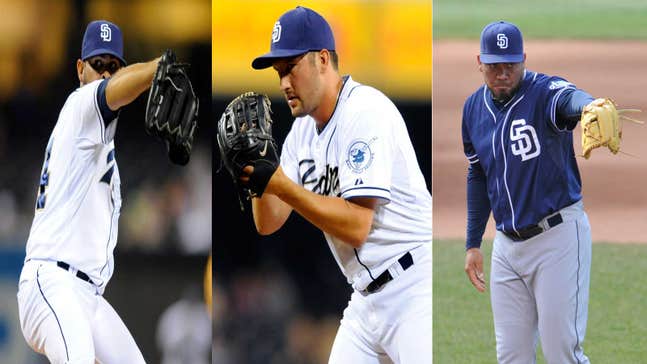 Padres' bullpen proving it's one of the finest in the majors
Published
May. 14, 2014 12:11 p.m. ET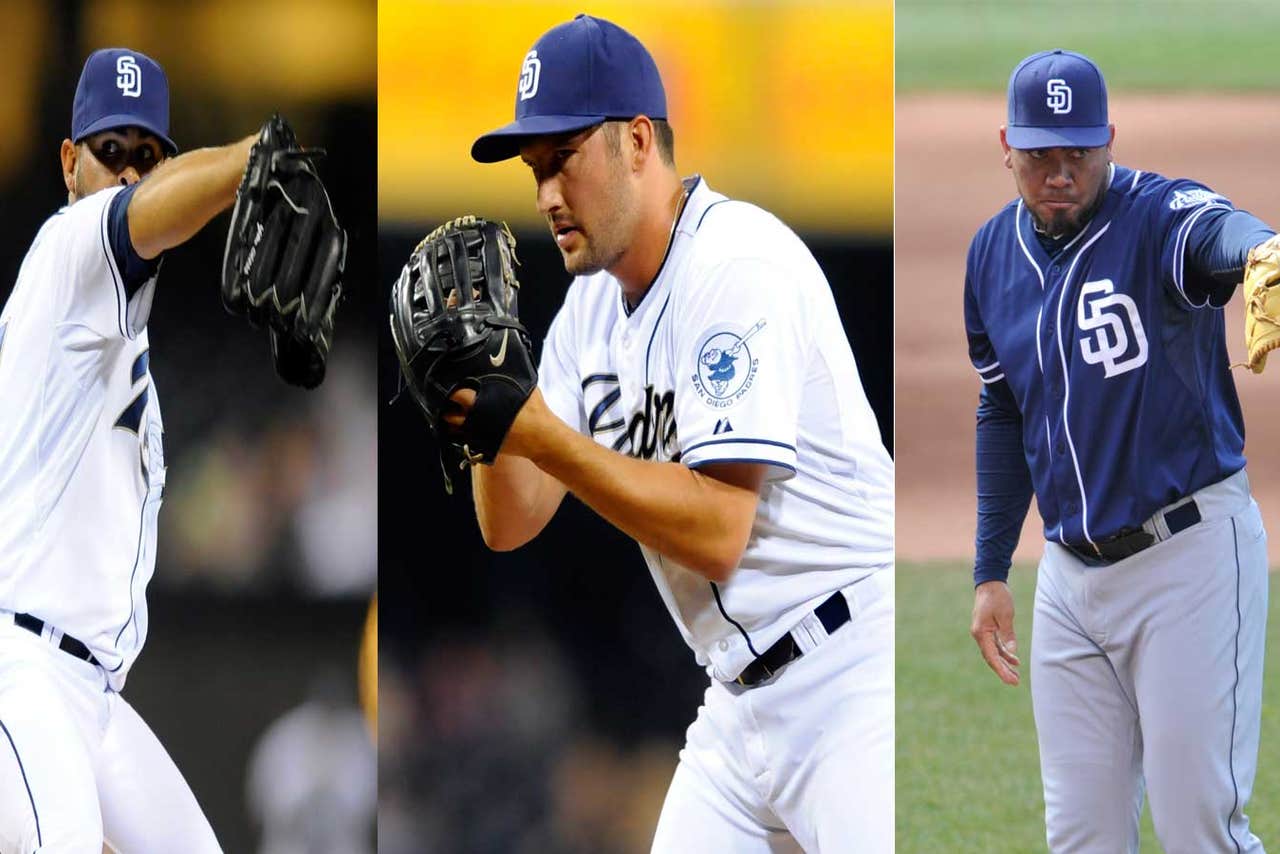 Really, the wild success of the Padres relief corps has little correlation between the fact that veteran Joaquin Benoit says the relievers are "hungry" and the hot pink backpack Benoit purchased with the words "Bullpen Rookie Goodie Bag" stitched onto it.
"High quality," says Donn Roach, who, as the rookie of the corps, is charged with lugging it back and forth from the clubhouse to the bullpen every night.
It is stocked with everything from candy to Advil to sunflower seeds to cold caplets, a solid assortment of anything a reliever might need in the early and middle innings as he awaits the latest call to move from snacking on Snickers to reducing an opposing hitter to snickers.
"A lot of guys are hungry," says Benoit, 36, who last fall pitched in the American League Championship Series for the Tigers and, the October before that, the World Series for Detroit. "So far, they've proven themselves."
Looking around, Benoit really likes what he sees. He's been a part of all types of bullpens during his 11 years in Texas, Tampa Bay and Detroit. Veteran pens. Young pens. Winning pens. Losing pens.
Difficult to rank them all, but what Benoit is helping to build so far this season is one of the finest bullpens in all of baseball. And one essential reason why, despite an offense that mostly remained in hibernation until the Marlins series last weekend, the Padres miraculously remain only three games under .500.
Heading into the opener of this week's series in Cincinnati, the Padres' led all major-league bullpens with a 2.13 ERA. Their .210 opponents batting average was tied with division-rival San Francisco for best in the majors.
"The way Buddy has been using the pen has been good," says Benoit of manager Bud Black. "In the NL, there are a lot of ups and downs, and a lot of mix and match."
Interesting observations from a man who is living in the NL for the first time in his big league career. The "ups and downs" to which he refers are not successes and failures. Rather, Benoit is referring to the number of times relievers get up to warm up and then sit back down without going into the game.
This is far easier to manage in the AL, because pitchers there do not bat and consequently relievers can be scheduled into games with less foresight. The way the game spins in the NL, with pitchers hitting and maybe his slot comes up this inning, maybe it doesn't, it is trickier to have relievers ready and to know when you will need them.
"You have to be careful the way you use a bullpen," says Benoit, a resident expert given that 486 of his 541 appearances entering this season came as a reliever. "You don't want to overuse guys. It's a long season."
One fairly good early trend is that while the Padre bullpen ranks tops in the majors in ERA, it also only ranks fifth in the NL in innings pitched (122 2/3), behind the Diamondbacks (137 1/3), Dodgers (136 1/3), Rockies (124 1/3) and Nationals (123 1/3).
Meaning, while the workload has been heavy to far, it should not be to the point where early fatigue will set in. Though that will be one of the things Black and pitching coach Darren Balsley must monitor going forward.
Part of that equation is tied directly to the rotation, which needs to continue to pitch deep enough into games to keep the relievers fresh.
"The numbers are very good, but it's a long year," Black says in the cautious manner of a manager. "I don't want to say I'm surprised. What they're doing is outstanding work.
"They're capable of stretches like this."
The numbers are impressive from a variety of angles. Closer Huston Street is 12 for 12 in save opportunities. Lefty specialist Alex Torres has retired 14 of the 17 first batters he's faced, and Dale Thayer has retired 14 of 19. Nick Vincent has not allowed any of his eight inherited runners to score. Tim Stauffer, the longest-tenured Padre, has worked scoreless ball in eight of his 11 appearances. Roach has helped save others by working more than one inning in seven of his 11 appearances.
"They've done yeoman's work, to a man," Black says. "All of those guys have contributed to a very good pen."
For his part, Roach, 24, acquired from the Angels in the Ernesto Frieri trade, mostly continues to play the role of the be-seen-but-not-heard rookie, quietly contributing on the mound, dutifully making sure the backpack of treats is in the pen for the snacking.
"All of those guys are great," Roach says. "A lot of different personalities."
OK, then ... who is the funniest?
"Besides me?" Roach deadpans. "Dale Thayer is the biggest character. He's got a different personality. He's everyone's favorite player. He's an individual. His whole routine is funny."
Who is the most serious?
"Street and Benoit," Roach says. "They're the veterans, and they're our leaders. So I nominate either one of those two."
Who is the toughest?
"Benoit," Roach says. "Have you seen that guy? He's a grown man, for sure. He's the guy I wouldn't want to fight."
The way they've got it going now, there's nobody in this pen that any Padres rival would want to fight. At least, not on the field, in a baseball sense, from 60-feet, 6-inches away.
And just one more thing: They're awfully happy with the way things are going right now, so don't bother trying to hang some fancy name from their bullpen gate like they did in Pittsburgh last year with "Shark Tank."
"I think we're good," says the no-nonsense Benoit. "Just go out and take care of business.
"We don't need a nickname."
###
Longtime national columnist Scott Miller will be a weekly contributor to FOXSportsSanDiego.com, discussing the San Diego Padres and Major League Baseball. Follow Scott on Twitter at @ScottMillerBbl.
---