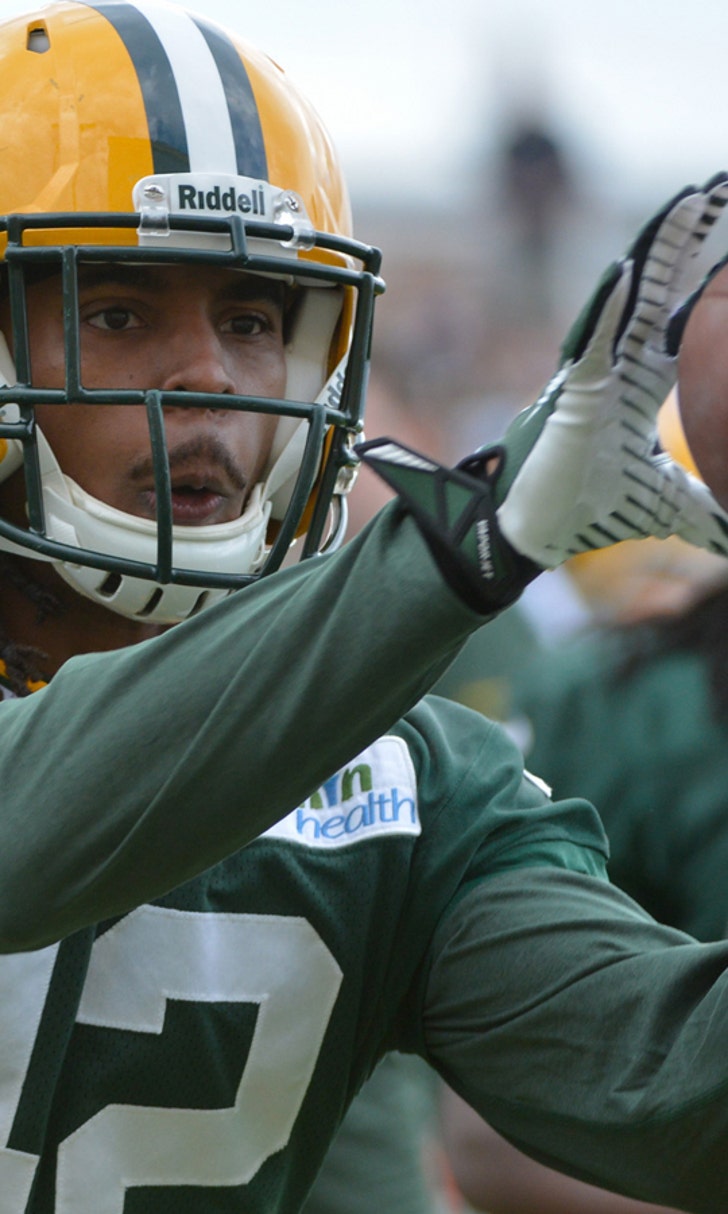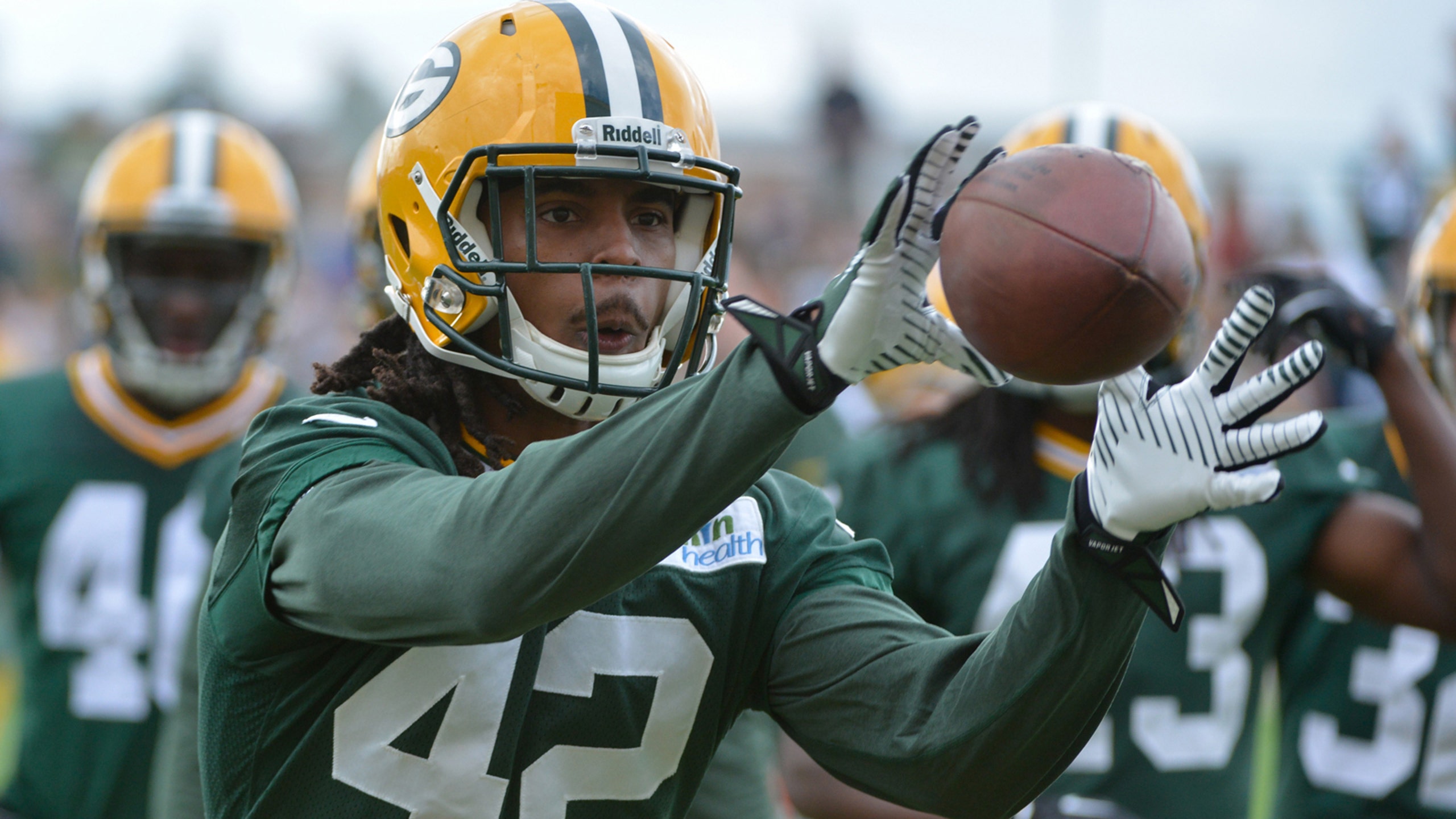 Packers training camp report: Aug. 12
BY foxsports • August 12, 2014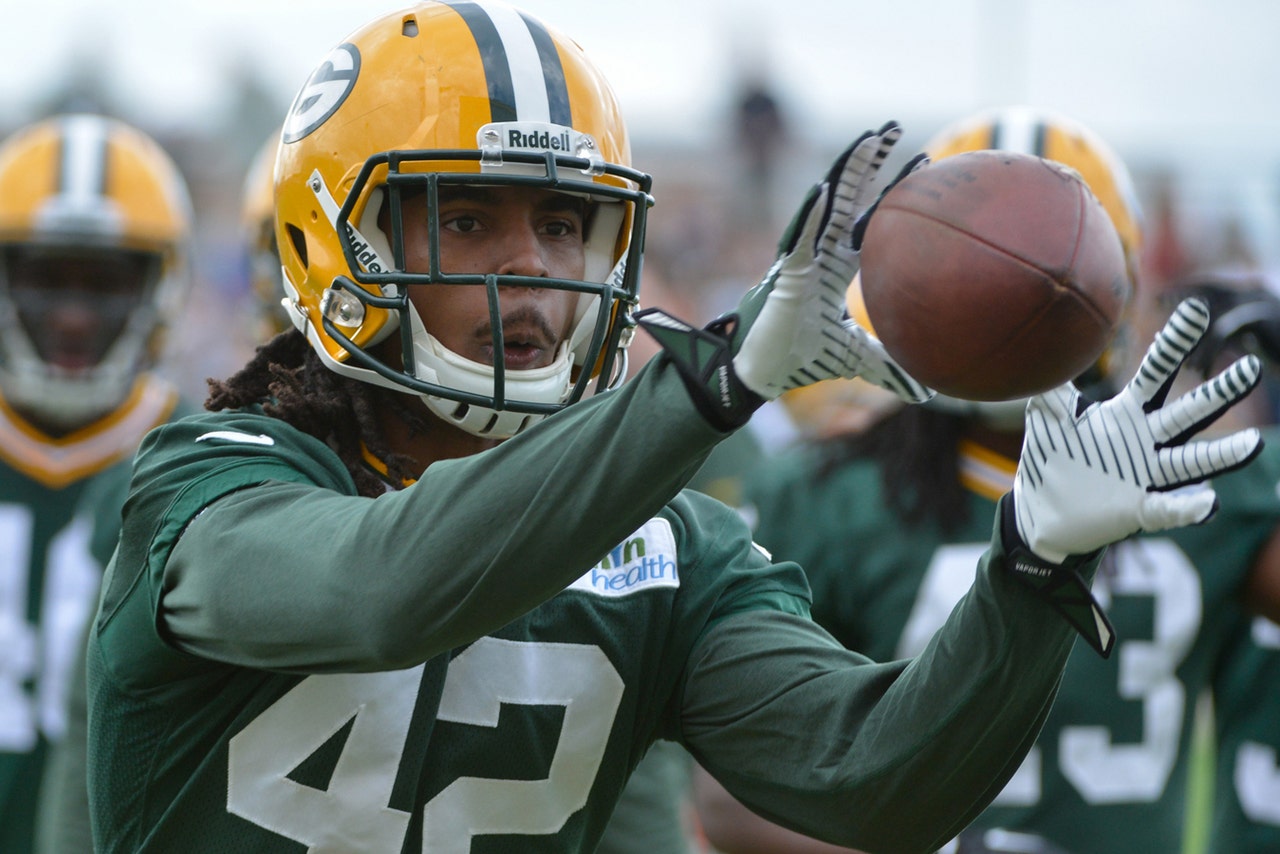 Date:
Tuesday, August 12, 2014
Practice Time:
Noon (Total: 1 hour, 35 minutes)
Movin' On Up:
Safeties Tanner Miller and Morgan Burnett
Practicing in shells, there wasn't much contact happening on the field Tuesday. But in what has continued to be a positive training camp for the entire group of Green Bay Packers safeties, Tanner Miller and Morgan Burnett both made nice plays on the ball in coverage.
It was already a good day for Miller, who was back on the field after missing the previous seven practices with an ankle injury. Miller really made his mark in this practice session, though, when he broke up a pass across the middle from Aaron Rodgers to Randall Cobb. Any pass deflection by an undrafted rookie like Miller is a big deal, but flashing on a play that involves Rodgers and Cobb makes it even bigger.
Burnett broke up a pass, too, showing some strength to turn what otherwise would've been a completed pass from Scott Tolzien to Justin Perillo into an incompletion.
Last season, safety was the Packers' weakest position. And while training camp practices certainly aren't the same as regular season games, it's been a marked improvement so far. Today it was Miller and Burnett, but Sean Richardson has had a big play on multiple days, Micah Hyde has transition well and Ha Ha Clinton-Dix has had his moments.
"I think it's much improved," head coach Mike McCarthy said of the depth at safety.
So You Had A Bad Day:
QB Scott Tolzien
It wasn't necessarily a poor performance from Tolzien, but when given the opportunity to run the two-minute offense, he was unable to lead a touchdown drive.
In Monday's practice, Rodgers and Matt Flynn got a chance to run the two-minute offense, so this was Tolzien's turn in the rotation. He wasn't working with the starting offense or working against the starting defense, but Tolzien was tasked with marching 65 yards down the field with no timeouts and getting in the end zone.
Jeff Janis had his first drop of training camp to bring up fourth down in the red zone. On the next play, Tolzien rolled out to the right, waited for his receivers to work their way open and fired a shot to Chris Harper. Even if Harper had come down with the pass, he was out of bounds and it wouldn't have counted.
As the fourth-down pass fell incomplete, Tolzien was not happy, clapping his hands loudly in frustration and shouting under his breath.
Noted:
- Jordy Nelson returned to practice after sitting out Monday and missing Saturday's preseason opener. However, Nelson was limited in his work. In most team drills, Nelson was in for the first snap and then subbed out. McCarthy said he was "being smart" with Nelson by having it just be a "light" practice for him.
- With Nelson on the sideline, plus Davante Adams missing practice again with a wrist injury, the wide receivers on the field with Rodgers and the first-team offense were Myles White and Jarrett Boykin outside and Cobb in the slot.
- The loudest cheer of the day from fans in attendance at Nitschke Field came when Rodgers launched a 65-yard pass to Cobb for a touchdown.
- Brandon Bostick continued his transformation into becoming the new Jermichael Finley, lining up in the slot and catching a seam route from Rodgers. Bostick turned just as the ball arrived and made a nice grab.
- Kevin Dorsey had an impressive catch across the middle that was heavily contested by Sam Shields. Tolzien put it in the catch radius for Dorsey, and the second-year wide receiver hauled it in.
- The special teams groups are starting to take shape. Seven players earned their way to being a part of the first-team units in kickoff coverage and punt return, which were the two groups that went through practice Tuesday. Those players were Sean Richardson, Chris Banjo, Ryan Taylor, Jamari Lattimore, Jarrett Bush, Davon House and Dorsey. Things could change over the next two weeks, of course, but being involved in multiple first-unit special teams groups is usually a good way for players like Dorsey and Banjo to be part of the active roster.
Sidelined:
* WR Davante Adams (Wrist -- Consecutive Missed Practices: 2)
* RB Rajion Neal (Knee -- Consecutive Missed Practices: 2)
* LB Joe Thomas (Knee -- Consecutive Missed Practices: 2)
* TE Colt Lyerla (Knee -- Consecutive Missed Practices: 5)
* DL Jerel Worthy (Lower back -- Consecutive Missed Practices: 12)
* DL Letroy Guion (Hamstring -- Consecutive Missed Practices: 12)
* WR Jared Abbrederis (Torn ACL -- Will miss 2014 season)
* OL Don Barclay (Torn ACL -- Will miss 2014 season)
He's Back:
* DL Josh Boyd (Ribs -- Returned after missing one practice)
* S Tanner Miller (Ankle -- Returned after missing seven practices)
Limited:
* WR Jordy Nelson (Hamstring -- Did some work after missing one practice and one game)
What's Next:
* Wednesday, August 13 - Training Camp Practice No. 13 (11:45 a.m.)
* Saturday, August 16 - Preseason Game No. 2 (at St. Louis - 3:00 p.m.)
Follow Paul Imig on Twitter
---