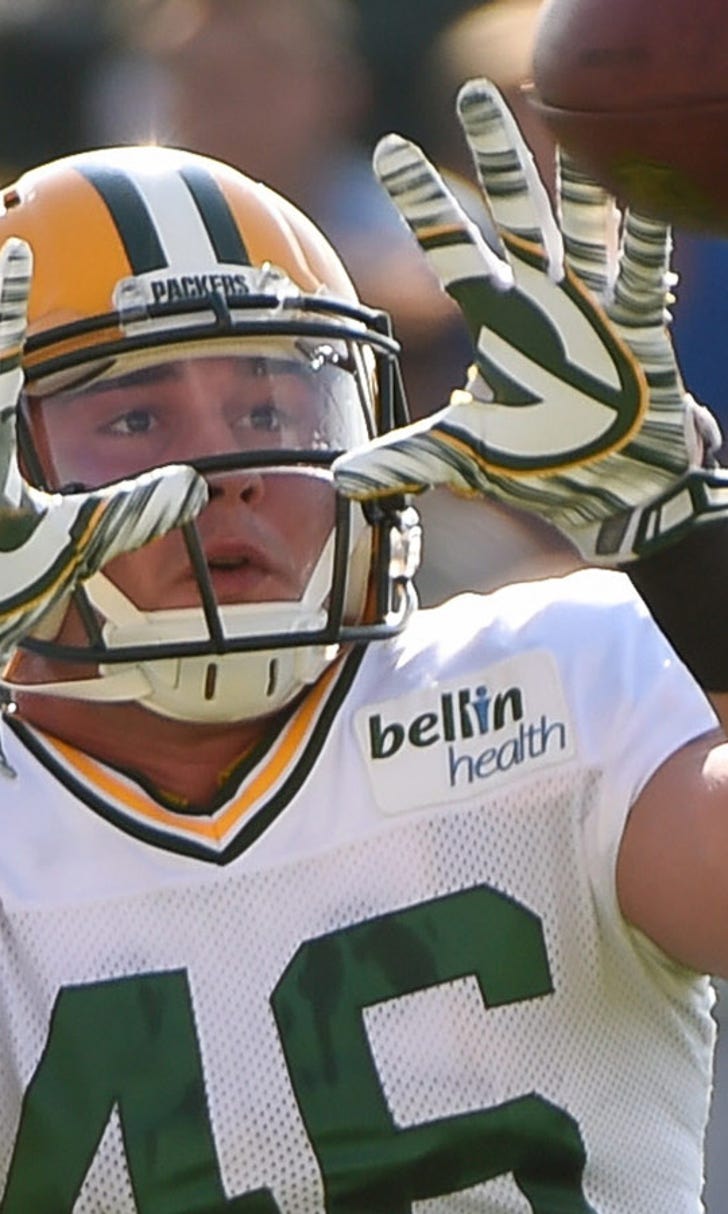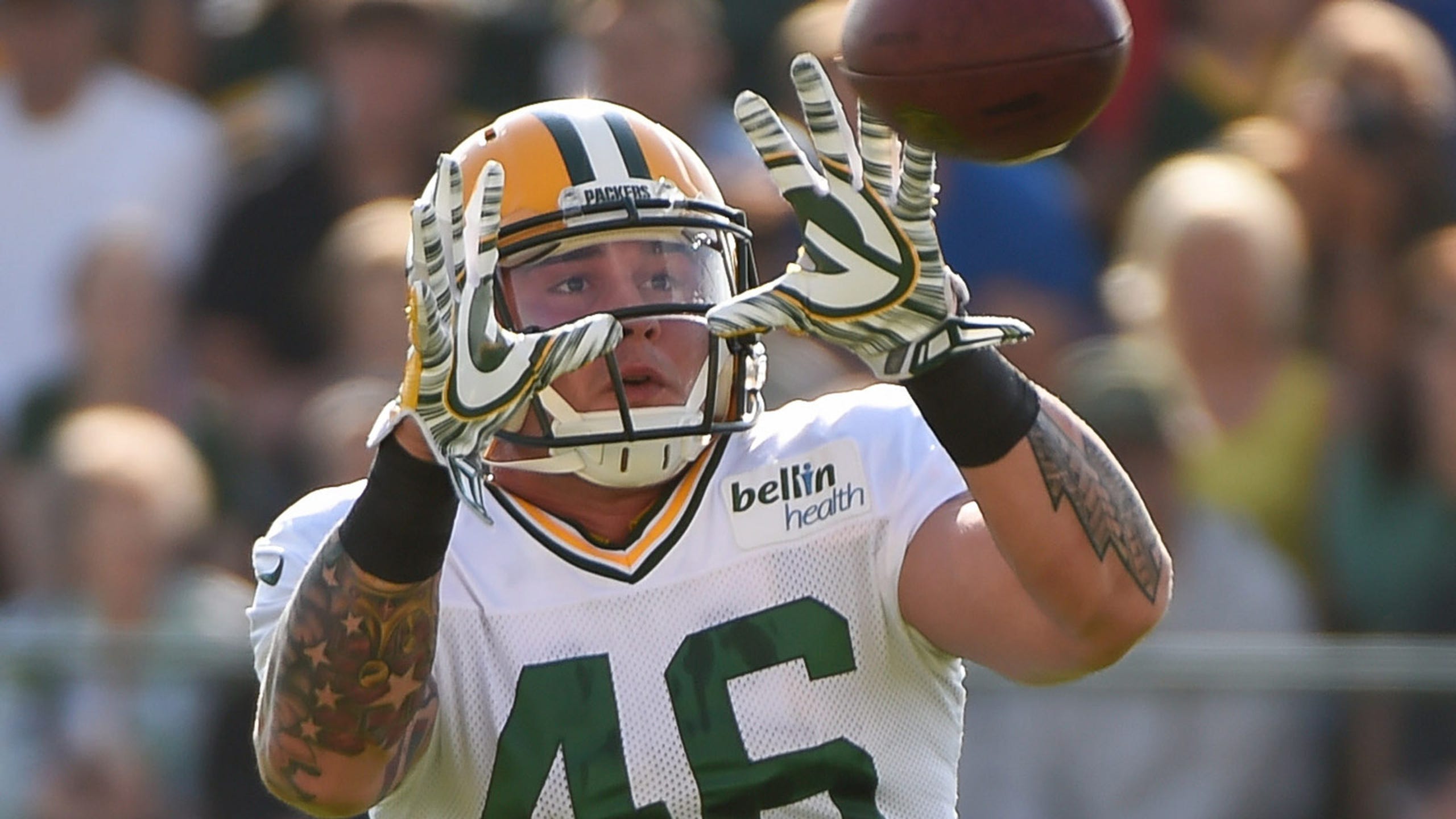 Packers training camp report: Aug. 1
BY foxsports • August 1, 2014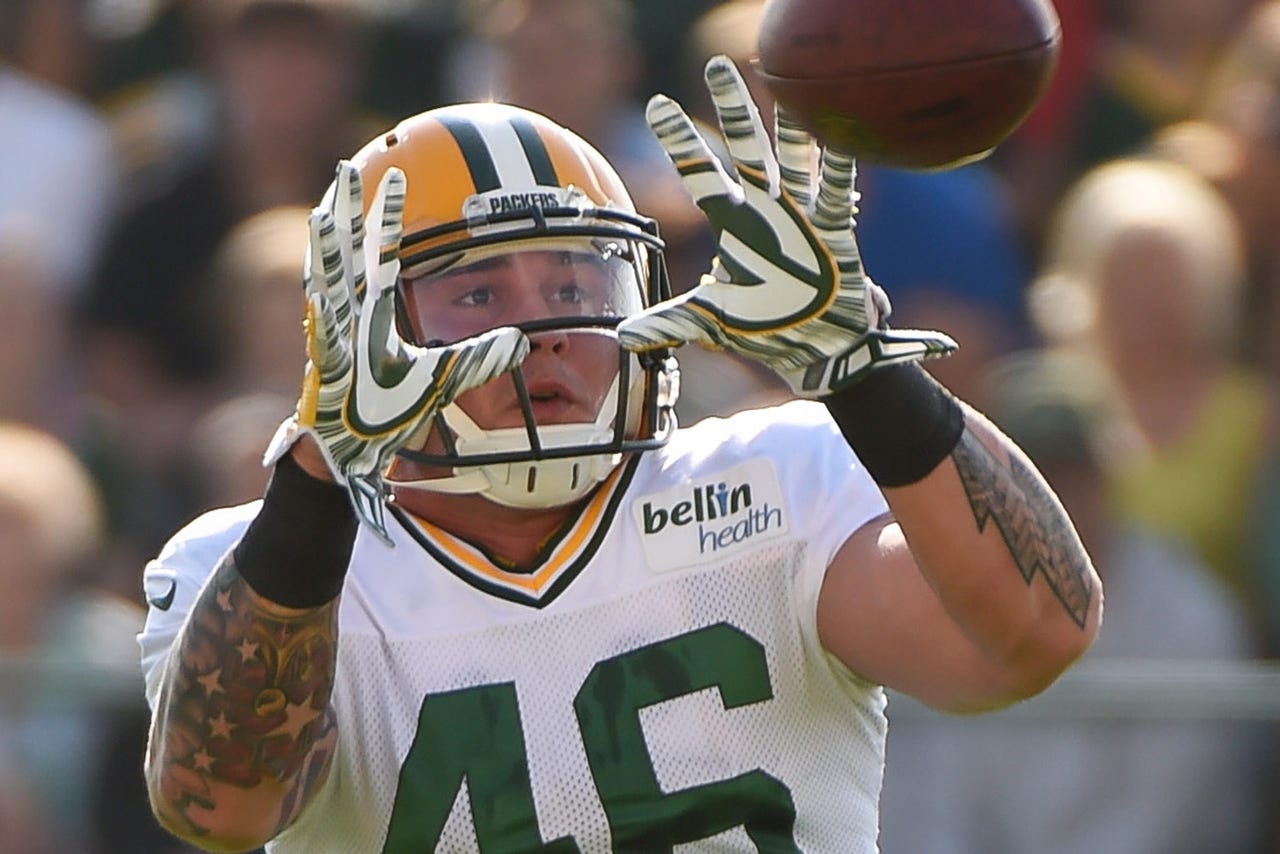 Date:
Friday, Aug. 1, 2014
Practice Time:
8:20 a.m. (Total: 2 hours, 11 minutes)
Movin' On Up:
Tight ends Brandon Bostick and Colt Lyerla
The Packers aren't sure who their starting tight end will be this season. According to head coach Mike McCarthy, it could be a tight-end-by-committee approach until one of them steps up. But as he's done in previous days, Brandon Bostick had more great moments in Friday's practice than bad moments.
Bostick had one catch that had to be seen to be believed. Scott Tolzien threw him a fade pass into tight coverage where Bostick went over Jarrett Bush to bring it in. Later, Bostick had an outstretched, diving touchdown catch. That one came from Aaron Rodgers, who has been going to Bostick quite often. The one downfall of his day came when Bush got a dose of revenge from the earlier catch by stripping the ball out of Bostick's hands for a fumble.
For the first time in training camp, Colt Lyerla made a good impression. The undrafted rookie had two touchdown receptions, the first of which came when he turned just in time and had a "look what I found" moment. To make that catch showed a few of the traits that once had Lyerla as a top prospect.
"He's been away from it for a while, but he's done a great job physically getting himself ready for this," McCarthy said of Lyerla. "I think he's in excellent shape. He's a young guy that needs reps, like a lot of rookies. I'm sure the time off didn't help him."
So You Had A Bad Day:
Cornerback Tramon Williams
This one needs an explanation, as Tramon Williams didn't actually make much of a mistake or do anything necessarily wrong. However, it definitely qualified as a bad day once Eddie Lacy decided to run Williams over.
During a red-zone blitz period with crowd noise blaring through the speaker system, Lacy was running hard straight ahead when Williams met him with contact. But, as Lacy frequently did in 2013 as a rookie, he doled out most of the punishment and flattened Williams. Lacy was in the end zone two yards later as Williams watched from the ground.
"Obviously Eddie's a big boy, and basically what we were doing (on defense) is trying to get in position," Williams said after practice. "Obviously I shouldn't have gotten right in front of Eddie like that, and just try to thud him up a little bit. He just kind of ran through me. I'm 185 pounds, and Eddie's a lot bigger than me, so it's just one of those things."
Had he been allowed to do more as a tackler, though, Williams said the result would have been different.
"Oh, he's going to the ground," Williams said. "First of all, I'm not going to hit him up there. In practice, we have to thud him up and then go down low. Definitely going to the ground and hitting him in the ankles (had it been allowed)."
Noted:
- The mystery of Jeff Janis' non-football illness has been solved. In the locker room, Janis said he had shingles. Janis went to the hospital the day before training camp began with a pain in his abdomen. He believes that he'll be ready in time for practice on Monday, August 4.
- Another rookie wide receiver who missed Friday's practice was Jared Abbrederis. The former Badger walked around with a sleeve over his right knee, but McCarthy would not comment on the severity of the injury.
- Though his NFL playing career ended after just one season due to a neck injury, Johnathan Franklin has been at nearly every Packers practice so far. According to the team's website, Franklin is now an intern with the team's front office, "assisting in sales and business development, community outreach and Packers media departments."
- Morgan Burnett's absence didn't last long. Two days after "tweaking" his ankle, Burnett was in pads and practicing with the starting defense. As has been the case throughout when Burnett was on the field, he was joined by Micah Hyde. Ha Ha Clinton-Dix continues to mostly be with the second-team defense.
- Hyde added another job to his ever-growing list of responsibilities, now taking on the role of personal protector for Tim Masthay on the punt team.
- For only the second time in camp, Mason Crosby took live field-goal attempts in practice. He made 7-of-8, with his one miss going wide right from 40 yards out. Crosby made kicks from distances of 50 and 53 yards.
- Randall Cobb was actually the holder for the final four of Crosby's field-goal attempts.
- Casey Hayward showed that even when he's not intercepting passes he's still around the ball. During the red-zone blitz period, Hayward batted a pass out of play from Rodgers that was intended for Jordy Nelson.
- During the 11-on-9 "pass under pressure" drill, Matt Flynn made a very nice play. Rolling left, Flynn fired a low pass near the sideline to Myles White, who made the catch. The timing and accuracy had to be perfect to result in a completion, and it was executed just as needed by Flynn.
- Loud music blared during the final "team red zone" segment of practice. Motley Crue, Guns 'N Roses, Blink 182, Rob Zombie and 311 were all heard.
- This was the Packers' fourth consecutive padded practice, though this one was 20 minutes shorter than the day before.
- The regeneration / TV timeout songs that played were: Rihanna - "Umbrella" . . . Zac Brown Band - "Jump Right In" . . . Red Hot Chili Peppers - "Snow" . . . Dierks Bentley - "Lot of Leavin' Left to Do"
Sidelined:
Limited:
* RG T.J. Lang (Shoulder -- Limited for sixth consecutive practice)
He's Back:
* S Morgan Burnett (Ankle -- Returned after missing one full practice)
What's Next:
Follow Paul Imig on Twitter
---