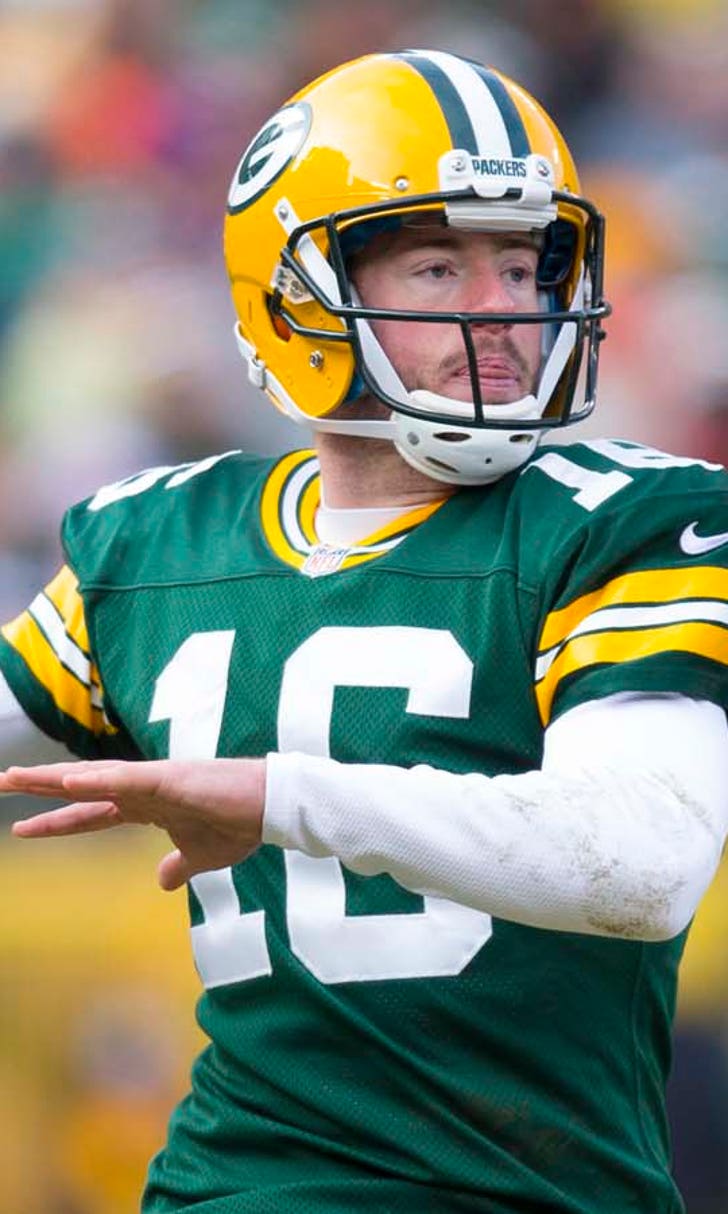 Packers Annual Checkup: Scott Tolzien
BY foxsports • April 13, 2015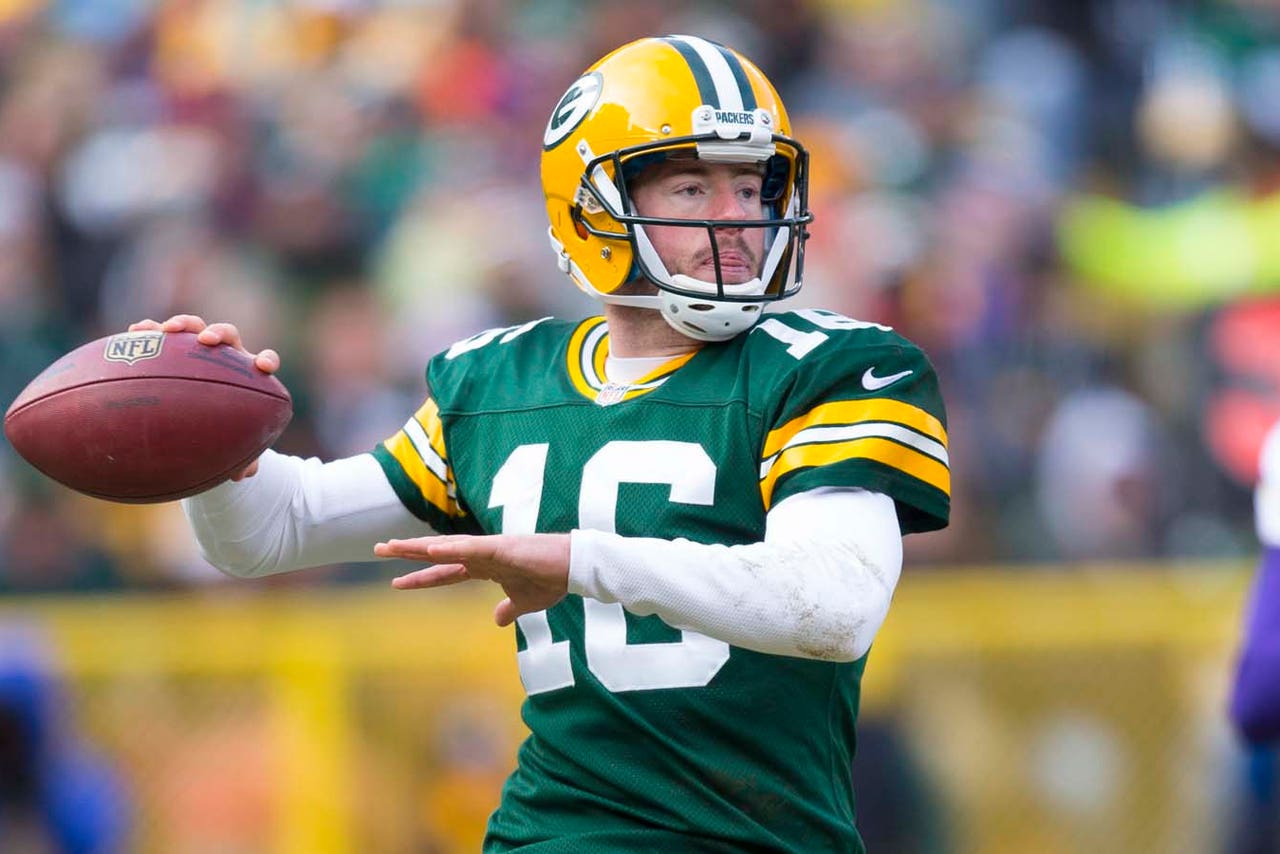 Scott Tolzien, quarterback
FOX Sports Wisconsin's Paul Imig gives an in-depth statistical analysis and film study of every Packers player in his annual offseason checkup. You can find every report here.
Season stats (Preseason only): Four games (118 total offensive snaps); 38-for-56 passing (67.9 percent), 477 yards, three touchdowns, zero interceptions, 112.0 passer rating; sacked five times, fumbled one time
ProFootballFocus.com preseason rating: 6.6 (best among all Packers offensive players during preseason)
Best game: Preseason Week 1 loss at Tennessee; 8-for-12 passing (66.6 percent), 124 yards, zero touchdowns, zero interceptions, 100.7 passer rating; 2.3 PFF rating
Worst game: Preseason Week 2 win at St. Louis; 10-for-15 passing (66.6 percent), 107 yards, zero touchdowns, zero interceptions, 87.4 passer rating; 1.0 PFF rating
Expectations at the start of the season: Low
Expectations were . . .  Met
Looking live: During his first season with Green Bay in 2013, Scott Tolzien was put in a spot that he never would have thought was likely when joining the Packers in September of that year. As the No. 3 quarterback on the depth chart behind former NFL MVP Aaron Rodgers and veteran backup Seneca Wallace, Tolzien's chances of playing any meaningful snaps were very low. But in his two starts, Tolzien had his memorable moments (including his highlight-reel spin move for a rushing touchdown against Minnesota) and his undoing (throwing five interceptions in just 90 passing attempts).
When Tolzien reported to training camp in 2014, he was competing with Matt Flynn to be the next man up should Rodgers get injured again. "I still view him as a young player because he is improving," Mike McCarthy said of Tolzien early in camp. "The work ethic is off the charts; his knowledge of the offense is now where it needs to be. That was a big challenge for him coming from a different system and the time frame when he arrived."
As practices continued and preseason games got underway, it seemed quite evident that Tolzien was the second-best quarterback on Green Bay's roster. He was outperforming Flynn nearly every day. Flynn started the first preseason game and performed fine, but Tolzien came in after five drives and showed marked improvement from a year earlier. "Scott Tolzien played very well," McCarthy said a day after the downpour game in Tennessee. "I thought his tempo was excellent. That was the one improvement I wanted to see from him, playing faster. I thought his footwork was better. I thought he was decisive. I liked the way Scott played."
Tolzien and Flynn continued to split reps as evenly as quarterbacks coach Alex Van Pelt could make it. "Trying to make it as equal a competition as we can," Van Pelt said. By the final couple weeks of training camp, Flynn had started to consistently be the second quarterback in, putting Tolzien third. It was an indicator that McCarthy was leaning toward the more battle-tested Flynn.
Upon further review: If the preseason finale was any type of winner-take-all situation between Flynn and Tolzien, both performed well enough that Green Bay decided both quarterbacks could come out as winners of some sort. "I think Matt and Scott have both championed the case to be on our football team," McCarthy said after the final exhibition game. "I felt very good about their progress from last year through the spring and all the way through training camp. And, watching it live, I think they both played very well tonight. Just the little things, too -- there's a number of little things that went on as far as checks and adjustments and things like that. I thought they both played very well."
While the Packers kept three quarterbacks on their 53-man roster for the first time since 2008, there was still the matter of the depth chart. McCarthy decided the greater familiarity with Flynn outweighed the better preseason that Tolzien had. "They both deserve to be on the roster, and it's good to have them both in the room," Rodgers said after the decision was made.
Tolzien was on the gameday inactive roster from Weeks 1-16. But with Rodgers dealing with his calf injury heading into the division-deciding game against Detroit, McCarthy had Tolzien active for the first time in 2014. Tolzien didn't end up playing, but he remained active for both playoff games as well.
Overall 2014 grade: A-minus in preseason
Status for 2015: Ninety-nine percent chance of being on Green Bay's active roster to begin the 2015 regular season. While the Packers chose Flynn over Tolzien as the No. 2 quarterback in 2014, they made the opposite decision for 2015. Green Bay re-signed Tolzien this offseason to a one-year, $1.35 million contract to be Rodgers' top backup. Meanwhile, Flynn remains an unrestricted free agent. It was obvious during the Scouting Combine in Indianapolis how much McCarthy wanted Tolzien to remain a Packer, and the feeling was mutual. "He (Tolzien) asked for his iPad back," McCarthy explained. "Our video guy said, 'Hey, Scott Tolzien wants his iPad.' I said, 'Awesome. Tell him to sign his contract.'" It's certainly possible that Green Bay drafts a quarterback in the middle rounds one of these years (maybe even this year), and Tolzien will turn 28 years old in early September 2015. He's not a truly young player anymore, but he still has room to improve and become a dependable presence behind Rodgers. Though no one with the Packers hopes Tolzien has to play anything other than garbage time in the regular season, it will be an important year for the former Badger to show whether he's the long-term answer as Green Bay's No. 2 quarterback.
Next: Offensive lineman JC Tretter
Follow Paul Imig on Twitter
---