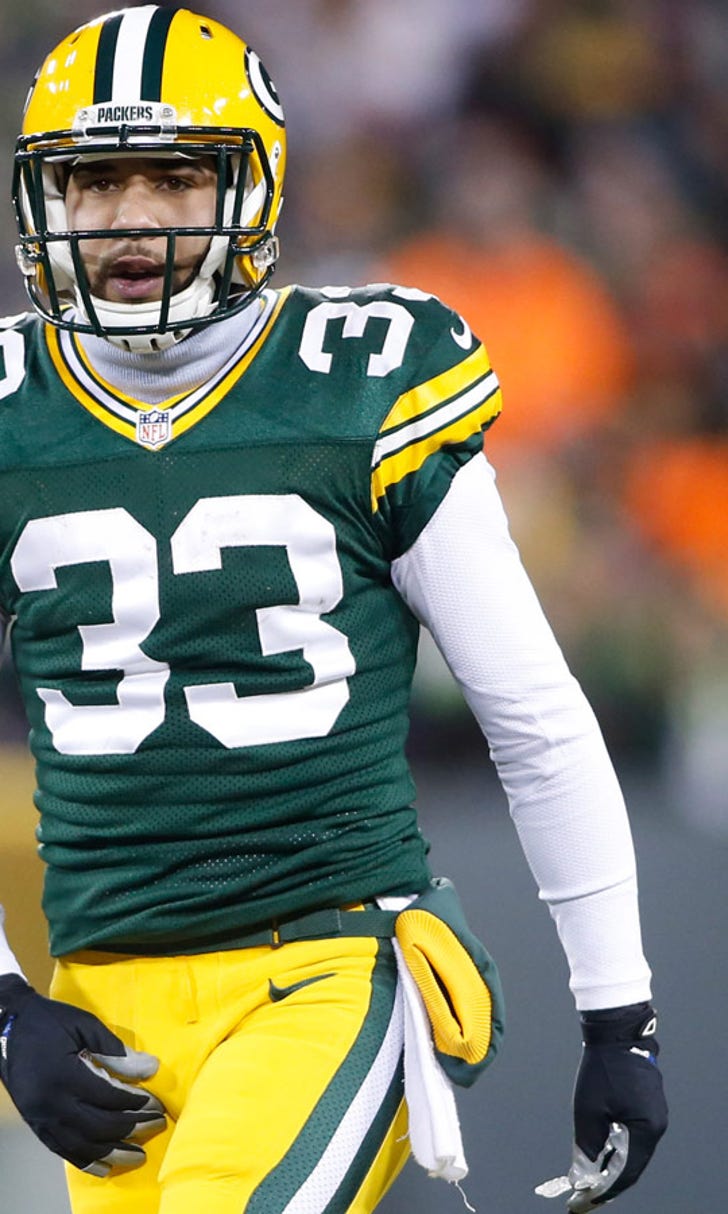 Packers Annual Checkup: Micah Hyde
BY foxsports • March 9, 2015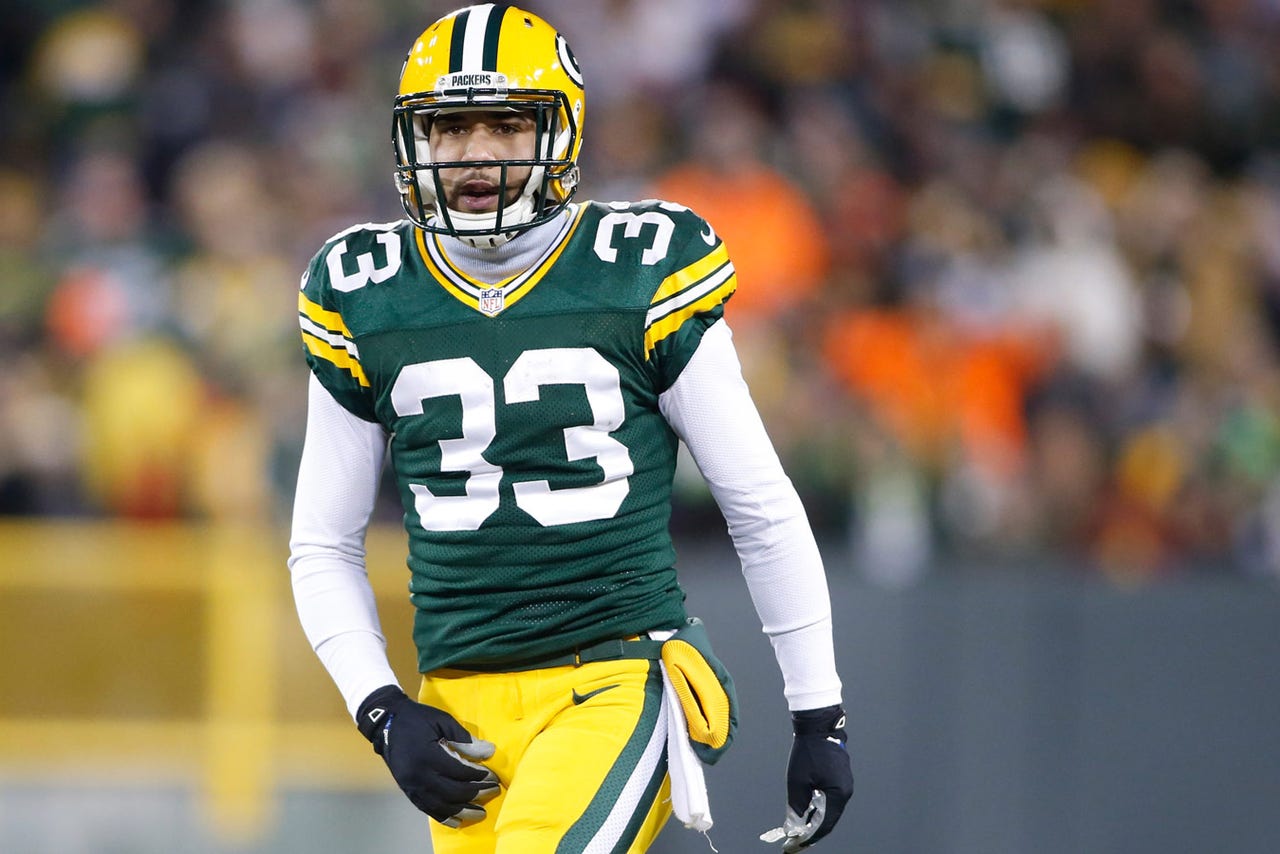 Micah Hyde, defensive back
FOX Sports Wisconsin's Paul Imig gives an in-depth statistical analysis and film study of every Packers player in his annual offseason checkup. You can find every report here.
Season stats (playoffs included): 18 games, 13 starts (811 snaps; 65.2 percent of total defensive snaps), 61 tackles, eight missed tackles, two interceptions, seven passes defensed, one sack, two quarterback hurries, one QB hit, zero forced fumbles, three penalties committed, 14 stops (solo tackles that resulted in offensive failure); targeted 63 times in coverage, allowing 41 receptions for 410 yards and two touchdowns
ProFootballFocus.com season rating: minus-4.8 (ranked No. 18 out of 24 Packers defensive players; ranked No. 44 out of 110 among NFL cornerbacks, ranked No. 66 out of 88 among NFL safeties)
Best game: Week 10 over Chicago (played 57 of 74 snaps); one interception, two passes defensed, one tackle, one missed tackle, one stop; targeted six times in coverage, allowing four receptions for 40 yards; 1.3 PFF rating
Worst game: Week 8 loss at New Orleans (played all 69 snaps); zero interceptions, zero passes defensed, seven tackles, one missed tackle, one stop; targeted one time in coverage, allowing zero receptions; minus-1.9 PFF rating
Expectations at the start of the season: Medium
Expectations were . . .  Met
Looking live: One of Mike McCarthy's most important objectives last offseason was to find ways to keep Micah Hyde on the field. Hyde had a very good rookie season in 2013 (especially based on typical production of a fifth-round pick), but as a slower defensive back by NFL standards he was somewhat limited as to which type of receivers he could match up against. At the time, the Packers were also loaded at cornerback (Sam Shields, Tramon Williams, Casey Hayward, Davon House) but still recovering from having the safety position be the weakest link of the defense.
"Micah, to me, is a multiple-position player," McCarthy said in February 2014 during the NFL Scouting Combine. "I'd like to see Micah compete to play all three downs on defense. So if there's a personnel group that he has to play safety, yeah, that's an option. He's also played nickel, he's played dime, he's played corner. He's definitely someone that I think has earned the opportunity to compete to be on the field all three downs."
With raised expectations upon him (even after Green Bay drafted Ha Ha Clinton-Dix in the first round), Hyde was listed at No. 15 on FOXSportsWisconsin's "Most Important Packers of 2014" pre-training camp series. I wrote at the time how the coaches "now view Hyde as one of Green Bay's 11-best defensive players and thus wanted to make sure he had a more significant role. . . .  If he takes the big Year 2 jump that McCarthy always looks for, Hyde could go from being one of the Packers' 11-best defensive players to being one of the best up-and-coming versatile defensive backs in the entire NFL."
When training camp began, it was Hyde, not Clinton-Dix, on the field at safety alongside Morgan Burnett with the starting defense. Hyde got off to a great start, too. He was recognized as the "Movin' On Up" player in FOXSportsWisconsin.com's Training Camp Report series on the second day of practice for making two noteworthy plays, including breaking up a deep pass from Aaron Rodgers to Jordy Nelson in one-on-one-coverage.
When Burnett missed some practices (first early in camp, and again in late August), it gave Hyde and Clinton-Dix some time to work together as the starting safeties.
Hyde was also the first player to take punt returns in nearly every practice, showing that the Packers had a lot of faith in him after what he did in that role as a rookie.
Upon further review: Hyde's role as a starting safety lasted six regular-season games. It was obvious when Green Bay used its first-round pick on Clinton-Dix that, barring him significantly underperforming, he was the eventual starter alongside Burnett. But the first six games of work from Clinton-Dix showed he was ready, especially after a strong performance Week 6 in Miami.
Defensively, Hyde had his positive moments throughout the season. However, his transition to safety exposed him a bit. It's reasonable to expect a change like that to take time, but with Clinton-Dix now on board it lessened the need for the Packers to force him into that spot.
Hyde proved that his role as a rookie in 2013 is what he's best suited for in the NFL. Yes, he can help out at the traditional safety spot occasionally, but it's as a nickel or dime-slot cornerback where Hyde thrives. His lack of recovery speed can usually be hidden there, and he often sees more favorable matchups. Remember, no team has a better slot receiver than what Green Bay does in Randall Cobb. And with Cobb re-signed, the only time Hyde has to worry about covering him is in practice.
Where Hyde was extremely valuable in 2014 was as a punt returner. His 15.8 yards per punt return was the best mark in the league of any player with more than 12. Hyde also busted open two punt returns for touchdowns. After what each accomplished in 2014, there is no debate between whether Hyde or Cobb is the better punt returner. It's Hyde by a long shot.
Overall 2014 grade: B
Status for 2015: One-hundred percent chance of being on the Packers' active roster to begin the 2015 regular season. The question for Hyde in 2015 is, aside from likely being the full-time punt returner, where else is he used? If Hayward is the cornerback used in nickel packages, and Burnett and Clinton-Dix are the starting safeties, that could really limit Hyde's usage. That's a great situation to be in if you're Green Bay's coaching staff. To have a trusted player ready to go in at multiple spots like Hyde is a luxury that very few defenses have. But by being versatile, Hyde is also somewhat positionless. It's simultaneously a pro and a con for him. Either way, McCarthy is still very fond of what Hyde offers and will make sure to find opportunities to get him on the field. It just seems unlikely that Hyde will play more than 65 percent of the defensive snaps again like he did in 2014.
Next: Wide receiver Jeff Janis
Follow Paul Imig on Twitter
---