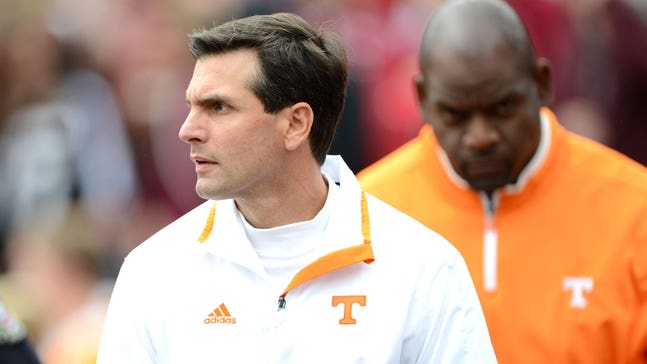 Oral history of the Derek Dooley era at Tennessee
Published
Jul. 6, 2015 10:24 a.m. ET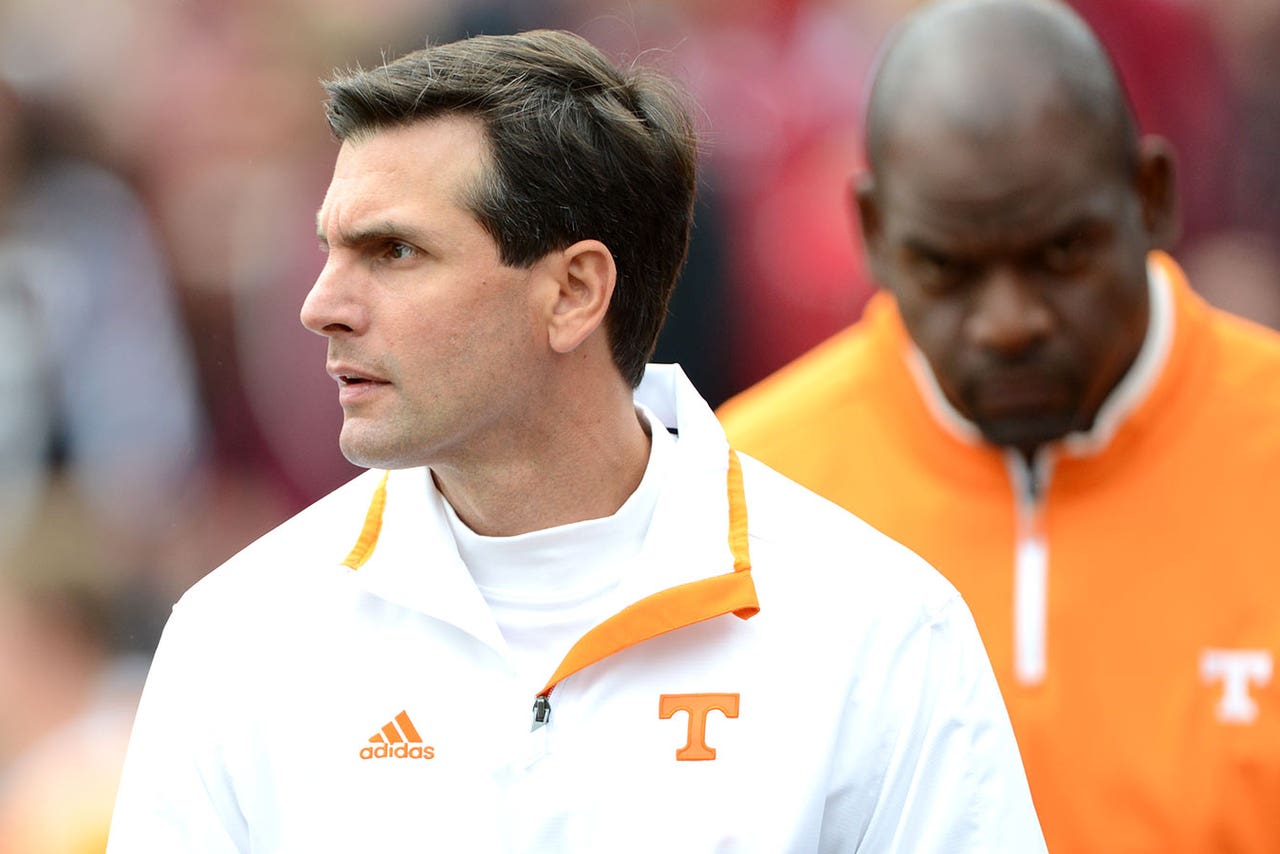 Tennessee's football program appears to be on the cusp of returning to national relevance.  Two straight Top 10 recruiting classes and a lot of preseason hype going into the fall are proof of that.
It wasn't long ago that the Vols were at their lowest point in the program's 124-year history.
The hiring of Derek Dooley, and the 36 games that followed (2010-2012), will be remembered for an Orange Dog, the growing of bamboo, shower discipline, "Opportunity is Nowhere," a Vols' loss when Tennessee had 13 men on the field and a Vols' loss when their opponents had 18 men on the field.
Outkick spoke to Tennessee players, alumni and media to get their comments on that tumultuous time in Knoxville.
So sit back, grab a beverage of choice, and find out what happens when people stop being polite, and start looking for Rommel.
Unless otherwise noted, positions listed are those held by the interview subjects for at least part of the time when Derek Dooley was head coach at Tennessee.
Part I: Kiffin Leaves, Now What?
The surprise resignation of Tennessee head coach Lane Kiffin on January 12, 2010 came as such a shock that UT students burned a mattress and local media had a meltdown.
That memorable night was documented here:
Tennessee athletic director Mike Hamilton led a search for the 22nd head coach in program history.  With National Signing Day only three weeks away, the timing could not have been much worse.  A new coach was needed for the Vols, and seemingly needed fast.
Josh Ward:  Host of "Sports 180" on Sports Radio WNML in Knoxville.
People began giving their opinions on who Tennessee should hire as soon as Kiffin was gone. A lot of fans wanted a coach in place quickly. It didn't help that Mike Hamilton put a three-day window on the hiring process.  Kiffin left just a few weeks before signing day, which meant there wasn't much time to salvage the 2010 recruiting class. I didn't think that should have been the focus -- finding the right coach was the most important thing.
Chris Low:  ESPN.com College Football Reporter.
I remember thinking that Tennessee was really behind the eight ball. They weren't going to get their first choice, or even their fourth choice.  This was going to be their third coach in three seasons.
Steve Phillips:  Sports Director at WBIR-TV in Knoxville. Today, Communications Consultant.
Turnover was already becoming a problem at Tennessee. They had run off a Hall of Fame Coach (Phillip Fulmer) and then been jilted after a season by a hot-shot, big-mouthed former NFL head coach. It wasn't as though Mike Hamilton had his pick of coaches.
LaMarcus Thompson: Tennessee Linebacker (2006-2010). Today, Finance Manager at Airport Honda.
During that week the team was in a strange place. We all thought to ourselves, "Not this again."  We just went through a coaching change.  A lot of guys were very hurt and felt betrayed because of the bond that they had with Kiffin. The team leaders and upcoming seniors really had to step up to keep us together because it was falling apart and fast.  Honestly, we all hoped that Coach Fulmer would make a return.  When I heard (Houston coach) Kevin Sumlin's name I was hoping that he would get the job, because he had all the potential to make us a great team, as you can see what he has done with Texas A&M.
Jayson Swain: Tennessee Wide Receiver (2003-2006). Today, host of "The Swain Event" on WVLZ-AM.
I know everyone was looking for Tennessee to bring in a coach that had a track record of success, to take Tennessee back to the Fulmer days.  I felt like we had a recipe to win... the only thing was to get a guy that wanted to be here and wasn't going to leave in the middle of the night.
Hamilton kicked the tires on candidates throughout the country, but the timing and the situation that the new coach was going to inherit scared off many of them, including Texas defensive coordinator Will Muschamp.  At one point it appeared they were close to bringing in someone from the Tennessee family.
Low: When (former Vols offensive coordinator and Duke Head Coach) David Cutcliffe turned down UT, that's when you knew things weren't going well.  Had they gotten back to Cutcliffe that night and said he was their guy, he would still be at UT today.  But UT felt that they had a chance to get some other guys.  Cutcliffe told Hamilton that if he went to bed and didn't hear back, then "Don't consider me."  That morning Cut told Duke that UT would no longer be an issue.  That's when I knew UT was treading water.  Mike never got a strong commitment from the major brokers. They weren't totally on board with Cutcliffe, which was a big mistake.  But back then they saw Cut as an extension of Phillip Fulmer.  Cut is not Fulmer.  They are different guys.  But they didn't want an extension of Fulmer.
The only member of Lane Kiffin's coaching staff with any true Tennessee ties was Kippy Brown.  Kippy is from Sweetwater (45 miles from Knoxville), was the Vols wide receivers coach from 1983-1989, and had just been re-hired by Tennessee less than 4 weeks before Kiffin's resignation.  Brown was named interim head coach and was a calming presence for the team during those days of great uncertainty.  He wanted the Vols head coaching job but was never given that opportunity.
Low: The low point was without a doubt when they interviewed Kippy Brown after they had already picked Derek Dooley.  That was the low point.  That was shameful.
Dave Hooker:  Reporter for Knoxville News Sentinel, talk show host for 100.3 WNOX and later recruiting reporter for ESPN. Today, Host of "The Dave Hooker Show" on WVLZ.
In retrospect, it would have been much wiser to hire Kippy Brown as at least an interim coach and evaluate him for the 2010 season. The sad part is Brown's interview took place after UT had already decided on Dooley. It was a token interview and a bad way to treat a long-time UT assistant coach with a deep love of the program.
Part II: Winning the Press Conference
On Friday, Jan. 15, 2010, Louisiana Tech head coach and athletic director Derek Dooley, son of legendary Georgia head coach and athletic director Vince Dooley, was officially announced as the new head coach of the Tennessee Volunteers.  Dooley, a former assistant coach under Nick Saban, was seen by many as the anti-Kiffin. Someone that understood the tradition of football in the South, and that would embrace the history of Tennessee Football.
Here is video from his introductory press conference.
Phillips: I thought he won the press conference. If you use the word "britches" as a head coach in the South, you've won the press conference. He was a nice looking, clean-cut guy with a nice looking family who said all the right things about Tennessee's tradition and rebuilding. He was occasionally witty and willing to do interviews. Those two things alone set him apart from Kiffin and made most of the media like him quickly.
Kris Budden:  Weekend Sports Anchor at WBIR-TV. Today, sideline reporter for Fox Sports and Fox Sports San Diego.
He was a very likable guy from the get go. He was well spoken and knew how to win a press conference. He wasn't shy about the difficulties that his team faced, especially on the recruiting trail. Coming from the previous regime under Kiffin, Derek was a breath of fresh air for us TV folk. Great sound bites, energetic, and honest. You weren't going to get some cliche bite. Little did we know just how interesting those press conferences would become.
Brian Rice:  Gameday assistant for UT Media Relations. Today, Writer for UTSports.com.
Derek Dooley looked like us, talked like us and dressed like us. He seemed like a good fit from that perspective.  People in college football had taken notice of the job he did at Louisiana Tech, which was probably the worst job in college football when he took over.  He takes that team to eight wins and a bowl game and is seen across college football as some sort of miracle worker. And people weren't wrong there. But then they take a step back the next year and he still is a "hot" candidate here. It was actually a preview of what was to come here. A year of overachievement, followed by a couple of inexplicable steps backward.
Ward:  Will West and I spent a lot of time during the brief search to replace Kiffin talking about Derek Dooley's resume. In fact, Will was in the middle of explaining why Tennessee could not hire Dooley when Jimmy Hyams came onto our show that Friday afternoon to report that Tennessee was indeed hiring Dooley. Will and I couldn't believe that's what Tennessee had decided to do. We had already said it was a mistake and had laid out what we thought were the obvious reasons.
Travis Haney:  The (Charleston, S.C.) Post and Courier South Carolina beat reporter. Today, ESPN.com National College Football Reporter.
Let's just ask the obvious question here: Does Dooley get the job if his last name isn't Dooley? If "Derek Smith" is 17-20 at Louisiana Tech, does he get a sniff from Tennessee or anyone else? It's not as if he was known there as an innovator of some kind. Hamilton took a gamble on the family name, and it bit him.
Zac Ellis: Sports Editor of The Daily Beacon (UT campus newspaper). Today, writer for Sports Illustrated/SI.com.
Tennessee was one of the winningest college football programs in the country, and it had just hired a guy with a losing career record as a head coach. That wasn't a great start.
Budden: The night of his press conference, a few of the players showed up, including star recruit/early enrollee Bryce Brown.  We asked him if he had ever heard of Derek Dooley. His answer, "Not until this afternoon."
Ben Bartholomew: Tennessee Fullback (2008-2012). Today, VP, Client Services at EnableComp.
All I knew about Derek was that he used to coach at Louisiana Tech. The team was glad to have someone who was going to be loyal to Tennessee.
Ward:  His first press conference went fine. He said the right things about Tennessee, and he had a southern accent. And he wasn't Kiffin, which sounded good to Tennessee fans at the time. But I had another member of the media at Dooley's opening press conference turn to me and ask, "This isn't going to work, is it?" My response to him: "Of course not." I honestly couldn't believe Tennessee had hired an unproven coach coming off a 4-8 season with a losing record overall.
Ellis: After the press conference, I wrote a column for the student newspaper arguing that Dooley might be a breath of fresh air for Tennessee. I'm not sure I've been as wrong about anything else in my career.
Part III: The Media
Derek Dooley's press conferences were rarely boring.  His humor won over a lot of the media.
Here is a video of some of Derek Dooley's top press conference moments.
Ellis: We media types are suckers for good quotes, and Dooley rarely disappointed in that department. He did a good job of alternating between bland coach-speak and humorous one-liners.
John Brice: Senior Writer/Assistant Editor at VolQuest.com.  Today, same title for the Yahoo!-owned Rivals.com network at VolQuest.com.
When Kiffin left, I said, "We'll never get press conferences like that again." And then, boom, Dooley's became even better. He relished the setting, and there's probably some symbolism in him sitting atop the dais looking down upon the room of reporters. But that guy was flat-out entertaining. When he talked about "shower discipline" following a camp practice, maybe on a Sunday, and Austin Ward (then of Knoxville News-Sentinel, now of ESPN.com) quickly asked, "Is shower discipline part of your Vol For Life program?" I thought I'd laugh 'til dark. I still love every time I retell the story or see the clips.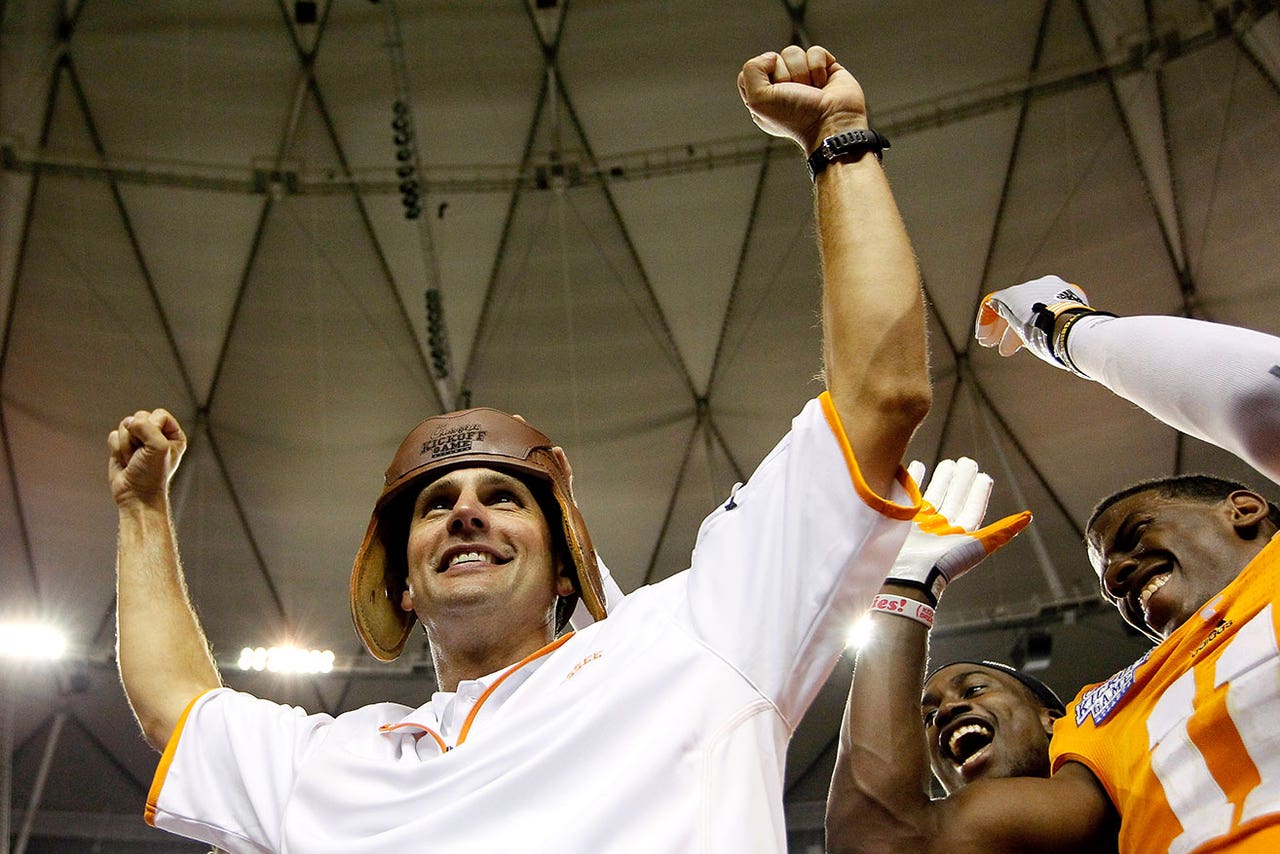 Derek Dooley celebrates a victory over North Carolina State in 2012.  
Budden: The main one is obviously the "Where's Rommel?" answer. It was actually a response to my question. I asked something along the lines of whether his team needed to be more self-sufficient in the games. Never in my mind did I think I was about to get a lesson on World War II. But it was fantastic! And if you knew the team then, the answer was actually very fitting.  You're in this business long enough, and know the coaches/players well enough, sometimes you know the exact quote to the question you're about to ask. Never with Derek.
Phillips: And then there was the after-practice meeting with the media when he went off on "shower discipline".  You certainly never knew when or where he was going to have one of those moments. Initially, I thought he was a breath of fresh air.
Russell Smith: Sports Radio Host at 94.3 Knox Talk Radio.
Dooley's pressers were definitely the best thing about his time at Tennessee. You never knew what sort of tangent he might go off on.
Grant Ramey: Sports Writer at Maryville (TN) Daily Times.   
The most overriding takeaway is the retorts, the tone, and his wit. Dude was hilarious in return if he chose to be, regardless of question or the magnitude of the situation.  But the most common Dooleyism, still repeated to this day, is "Jesus, guys, what are we doing?" That phrase (directed at his team, most of the time, and always not at the media) still follows around the Dooley ghost going on three seasons later.
Justin Worley: Tennessee quarterback (2011-2014). Today, pro football free agent.
He gave us the same kind of talks after practice or in team meetings that he gave to the press.  We got to know and understand his personality and who he was.  He was definitely a smart guy, but he had his quirky ways to describe things.  He was an interesting guy.  Very smart, and I think that showed in ways he talked to media and us, but he might have been too smart for his own good at times.   Maybe he overanalyzed situations.  The guy has a law degree.  You don't see many coaches with that type of degree on their resume.
Ward: It always seemed to me that Dooley was trying to prove his intelligence during press conferences for no reason. Don't get me wrong, I was entertained by a lot of them, and they provided easy material for our radio shows. But I thought he came across as silly, which typically doesn't win in the SEC. He never did anything to make me believe he was doing a good enough job as Tennessee's coach.
Despite that success at the podium, Dooley wasn't the most cooperating when it came to the media.
Hooker:  Dooley didn't think it was important to do interviews shortly after he was hired. That's when most coaches get in front of the media to build fan equity. Dooley did not. Therefore, after his first spring practice, there must have been over 30 media members waiting to interview him. After practice, with many reporters on deadline, Dooley decided to get a jog in while wearing khakis and a straw hat. He ran two laps around the field before meandering over to the assembled reporters. I immediately turned to another reporter and said, "This isn't going to end well." If Dooley didn't want to connect to the fan base, he was never going to succeed.
Joe Dubin: Sports Reporter/Anchor at WKRN-TV in Nashville. Today, Sports Reporter/Anchor at WSMV-TV in Nashville.
The Davidson County alumni picnic rolled through Nashville in 2011 and I was doing the sportscast from Lipscomb's Arena for this event. They brought Dooley down right as I tossed to the break. It was a 1 minute, 30 second break, so 90 seconds total (and remember the 90 seconds, we will come back to that). I thanked him for coming and doing this interview and he nodded. He was headed to SEC Media Days the next day and I said, "That's a lion's den, huh?" He replied, "It is, it certainly is and JESUS, THIS IS THE LONGEST 90 SECONDS OF MY LIFE. YOU SAID 90 SECONDS RIGHT? THIS IS LIKE 90 MINUTES!" During his diatribe, I started talking, "And welcome back to Lipscomb where the UT alumni picnic is getting ready to start and...," as I get ready to turn to Dooley and start talking, he is still bitching, non-stop. "I HAVE TO GO SPEAK AND GET SOMETHING TO EAT AND I AM JUST STANDING HERE DOING NOTHING!" I said, "Coach Dooley, thanks for your patience and how are you?" He was steamed! Walked away at the end as I was thanking him and I thought, man, this has gone to his head.
Prentice Elliott: Sports Photographer/Reporter at WATE-TV in Knoxville.
One year, he gave out "Iron Vol" awards to the media members that hadn't missed a practice. The "winners" were allowed to sit in on an entire scrimmage. The rest of us were escorted out after the typical 10-15 minutes. This caused a myriad of competitive problems for the different outlets as everyone was searching for the smallest bit of information that could differentiate their coverage. Of course, any information gained from one scrimmage was negligible, but it just underscored Dooley's limited PR skills.
Ellis: One summer I had to wait almost an entire month to get a 10-minute phone conversation with Dooley for an SI story. In my career I've never had to wait longer to talk to a coach for a story. As I'd eventually learn, this wasn't the fault of UT media relations. People inside the athletic department later told me Dooley was just frustratingly unaccommodating when it came to media requests.
Tony Geist: Sports Photographer at WBIR-TV in Knoxville.  Today, WBIR-TV Commercial Producer.
By the Music City Bowl (in 2010), I had become the primary sports photographer for WBIR-TV. I showed up a day early to spend time with my family. On the day the team was supposed to get there, I greatly overcompensated for how much time it would take me to get to Vandy's campus (where the Vols were practicing).  I didn't want to be late and I had my phone charger and figured I would just waste time on it, waiting for the team to get there. I look up and there's the team bus, way earlier (at least a couple hours) then when they told us they'd be there. I don't think Dooley could've been more surprised to see Steve Phillips and me standing there. He just looked at us and said he recognized us from Knoxville, looked extremely aggravated that we'd STILL made it to practice, despite the time change, then proceeded to tell us some story about the cold-weather gear they were all wearing and how he was pissed because it made them look like condoms. No joke. His attempt at diffusing his anger was to tell us their long sleeves and hoods made the team look like condoms.
Hooker: Another reporter and I were called in because Dooley wanted to visit with us a few months after he was hired. It was one of the most bizarre meetings I've ever been a part of.  It was a profanity-laced tirade against UT's sports information department for not passing along interview requests for weeks. Now, I've certainly had my fair share of tense dealings with sports information departments but I had trouble believing they wouldn't pass along requests for weeks at a time.  I questioned Dooley on it and he held up a stack of papers that supposedly he'd just received with media requests dating back a month. Of course I didn't get to actually see the documentation so it really just felt like theatrics. He could have been holding up anything. It was just surreal. When the other reporter and I walked out of his office, we just looked at each other and shook our heads. I don't think we talked for a couple of minutes just trying to let it sink in.
Ramey: Maybe the oddest thing of the Dooley Era was after practice, at least during the 2012 season, he would go upstairs and shower, put on a button-down shirt, slacks (usually an orange, fleece vest), and then address the media. Why? Who knows. The media didn't really care, I guess. But it was always odd to just be standing around with other media waiting on the head coach to shower and change clothes before talking to reporters after a random practice in the middle of the week. Was he really that worried about his appearance? Just procrastinating the media obligations? Who knows.
Low: Remember that he cut his teeth under Nick Saban.  And there aren't many more people more controlling than Saban.  But Saban has won four titles.  What Dooley did was a mistake. That is where Dooley did not endear himself to people, players, media and boosters with that distant, "I'm the coach. I'll talk on my time schedule."
Part IV:  Alumni Relations
Derek Dooley is credited for expanding the "Vol For Life" program during his time in Knoxville.  However, many former Tennessee players have made it known that they did not feel welcome at their alma mater while Dooley was in charge.
Hooker: The most prominent memory was his explanation on his policy to only allow former players to come into the facility if they received clearance. That did not go over well. I was called by several players that wanted me to bring more publicity to the policy. Therefore, I asked Dooley about it. He went on some rambling explanation about how his brother wouldn't show up to his house without calling. Many fans cheered Dooley on at the time, saying I had been put in my place. However, I knew that the policy was a bad one and several former players thanked me. Many of those former players still have ties to high school prospects. Some coach camps. Some had sons who would be prospects. Dooley didn't get that. He quickly turned a recruiting tool into a hindrance.
Fred White: Tennessee Defensive Back (1995-1999). Today, VP of Marketing at Concord Insurance and Regional Sales Manager at Volunteer Pharmacy.
Our relationship was non-existent. I was a guest on "The Drive" with VFL Terry Fair and Russell Smith during SEC Media Days, and we got every SEC coach to come on our show except Derek Dooley.  Of course we asked him like we asked every other coach if they could come on and scheduled the time for them to come on.  He agreed to come on and then proceeded to go on every show on radio row except our show.  The only show with two VFLs on it yet he didn't even bother coming on.  We had (former Vanderbilt coach) James Franklin on for 15 minutes and he did the show out of respect that we were two former UT players.  We even got (South Carolina coach) Steve Spurrier to come on and no Derek Dooley. That's how my relationship with Derek Dooley was.
Swain:  To know that the same place players gave their all for was saying you gotta call that place and tell them you are coming?  That's not home.  You don't call your Mom and say you are coming home this weekend, just calling to let you know... you just show up!  Because that's home.  That was weird.  Dooley lost lot of support there. When that happens?  It travels so fast in the community, in the alumni base... anytime someone did something good or bad, we all know with 24 hours.  A lot of people heard about that and decided not to go back. It was weird.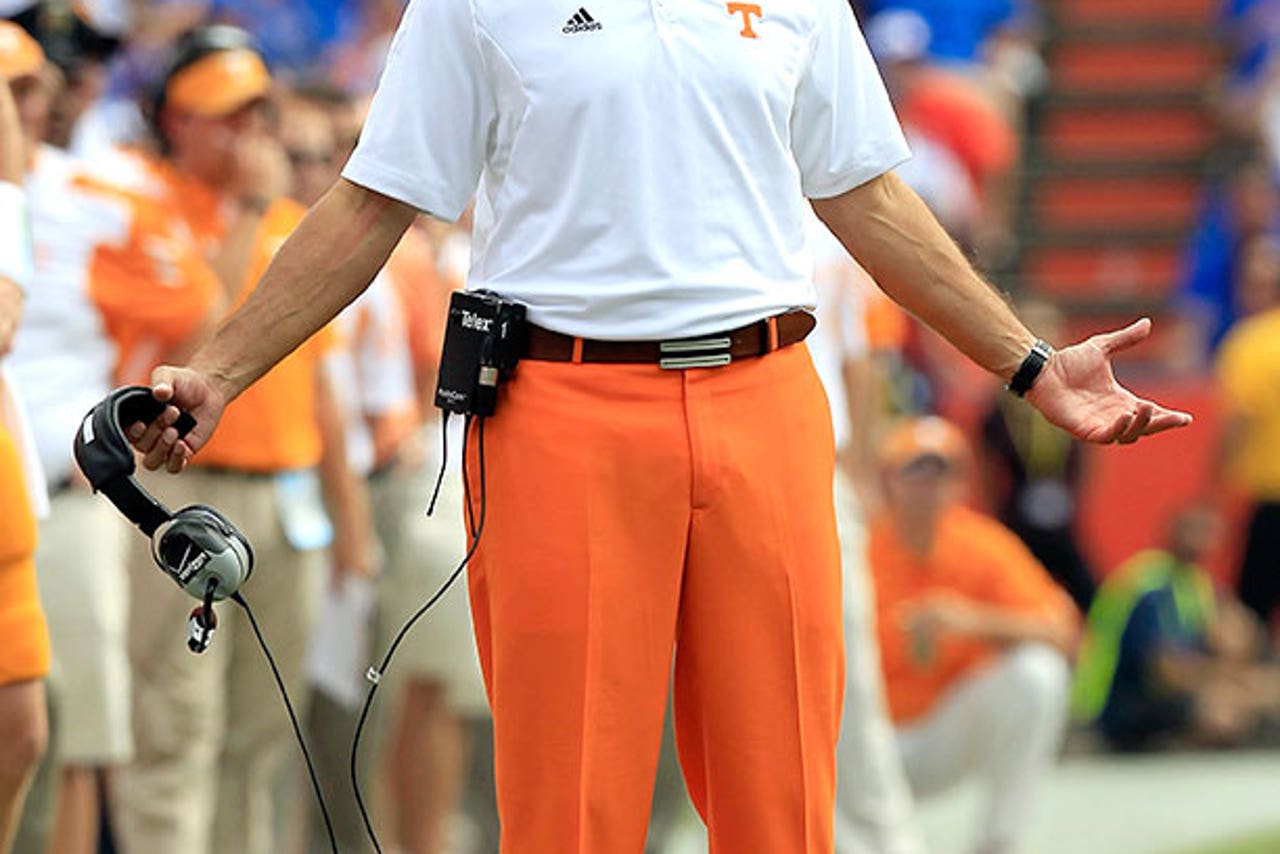 Troy Fleming: Tennessee Running Back (1999-2003). Today, Bible teacher, chaplain and head football coach at Concord Christian School.
There was no relationship at all other than him acting like a spoiled incompetent brat who finally had a "BIG TIME" job and didn't know how to act. Another sign of spoiled, arrogant elitism. Not one time did he truly make an attempt to make us feel welcome.
Smith: I remember in the fall of 2010 during Dooley's first season, I went with former Vols Terry Fair and James Wilhoit to UT's indoor practice facility to perform an experiment to determine if there was a difference in the "kickability" of Wilson and Nike footballs (there wasn't). We went inside and watched James kick a bunch of balls. About 15 minutes after we started, a UT staffer came and informed us that Dooley himself was demanding that we leave the building. I can understand wanting a schlep like me out of there. But Fair and Wilhoit are Tennessee football royalty. And Dooley gave them the boot! Why is an SEC football coach spending time during the middle of game week worrying about a couple of former players using the practice field? Is he worried about the insurance liability? Shouldn't he be watching film or recruiting? It seemed odd at the time.
Rice: I think he saw the alumni as a threat in a lot of ways. He didn't even want to hear a whisper of "That's not how we used to do it." And that's fine. It's healthy to a certain extent.  But when you're coming from the family of the Fulmer era and the free-for-all of the Kiffin year... that's a big adjustment for alumni to make.  He didn't want guys around that would question him or anything he did. He was in charge and sometimes he did things that were clearly to remind everyone around of that fact.  Derek Dooley was completely oblivious to the role alumni play in a program. They are the backbone of your program. They are the people that support and defend you when things go wrong. They can't actively recruit for you, but they can proudly paint the country orange with their pride and support. Recruits see that, fans see that, media see that. But without them, there is a vacuum of support. You can't have that, especially when things go bad.
Low:  If you want to come to practice, you have to go through a process.  More alumni complained about how demeaning he was.  Dooley just alienated so many former players.  He never recovered from that.
Part V: Recruiting/Player Relationships
-- Nick Saban, University of Alabama Head Football Coach.
That quote was featured in Tennessee's press release announcing Dooley's hiring in 2010.  However, some were very critical of the way Dooley and his coaching staff handled the recruiting aspect of their jobs.
Low: Recruiting is all about relationships and Dooley wasn't good at relationships.  Players felt shunned and he really dropped the ball. Where he dropped the ball was offensive line. They (Dooley and staff) weren't good evaluators. They would target the wrong guys. They couldn't bring in enough quality guys.
Stephen Hargis:  Assistant Sports Editor, Chattanooga Times Free Press. Today, Sports Editor for the Chattanooga Times Free Press.
I had heard a lot of rumblings from high school coaches in our area that they never saw or even had contact from the UT staff. After talking with some of them I learned that the majority of our area coaches said they had regular contact from other SEC coaches but that they didn't even know who was responsible for recruiting their school for UT because they had never heard anything from the staff. Once I began visiting or calling all of our coaches (we cover about 80 schools combined in Tennessee, Georgia and Alabama) I learned that UT was even being out-recruited at those schools by FCS schools and that it had reached the point where many of those high school coaches were downright angry about the lack of communication from UT. Several of them attended UT and mentioned they didn't plan to attend games at their alma mater because they had become so disconnected with the program because they felt Dooley and his staff didn't care about their support or having a relationship with them and that when they had reached out to Dooley they had either not heard back or had felt he was arrogant and condescending to them. Several of them said they had reached the point where it was broken and they didn't care about getting it fixed with Dooley.
Dubin: I remember the Jalen Ramsey recruiting story when Dooley allegedly sent a graduate assistant to talk to Ramsey and he never even talked to him. Jalen (from Brentwood Academy in Tennessee) was one of the top recruits in the country and I was just dumbfounded by that. I hope Dooley gets another head coaching job one day. We love train wrecks right?
Ward: For a person who appeared to be so prepared and detailed, there were alarming organizational issues when it came to recruiting. Dooley's staff did a really poor job of communicating with prospects and coaches at the high school level. There are countless stories of them apparently forgetting to contact highly-touted prospects on their board for weeks at a time. Dooley's last signing class in 2012 was a disaster. Tennessee didn't sign one offensive lineman in that class. In the SEC? That's unbelievable.
Patrick Brown: Tennessee beat reporter for Chattanooga Times Free Press.
The Dooley quote I remember most came in 2011 after a morning practice in September when Malik Jackson was absent. He wasn't asked about it during his group session with however many media were there that day, so I followed him off the field and into the parking lot between Haslam Field and the football complex to get an update. So I ask, and Dooley goes: "He had a tummy ache and his mommy wasn't here to hug him ... you can quote me on that."
Haney:  Initially, I thought the news conferences were vast improvements on Kiffin's. Dooley was much more at ease. Kiffin always seemed to be trying so damned hard. Dooley was affable, funny, and candid. As time wore on, though, the way he'd talk about players was grating. He was quick to bury them in public, I thought.
Thompson: Derek Dooley as a head coach wasn't the most effective, to put it nicely. His methods didn't make a whole lot of sense at times. He was a guy that would out coaches in front of the players, and never took the blame for a loss to the media, it was always somebody else fault whether it was a player or a coach. Dooley was a very arrogant person that demanded respect, but didn't earn it; he walked around acting like he was Nick Saban, but didn't have the credentials.
Part VI: Game Management
In Derek Dooley's first season Tennessee lost games in ways that defied logic.  We start with the LSU contest on October 2nd... a game the Vols dropped in bizarre fashion. Here is video of the Vols loss to LSU in 2010.
Brown: I was actually in the stands for the LSU game in Baton Rouge; because that was one of the few remaining SEC venues I'd not yet visited.  After the second-and-goal play is stopped, LSU, out of timeouts, looks like it's not sure what to do, and you can hear the panic take over the stadium. I'm thinking about how much of an epic choke this is going to be if Les Miles screws it up, and they do, as the ball is snapped when LSU quarterback Jordan Jefferson wasn't ready and Tennessee wins.  There was never a replay of the four guys running on, two guys running off and two guys who nearly ran off then stayed on the field. Some Tennessee players already had gone down the tunnel to the locker room. LSU scores, and the stadium explodes in relief, and we just tried to figure out what happened as we left. That night in Baton Rouge, LSU fans were apologetic toward the Tennessee fans I saw. I think my friend and I got a free round or two of beer from them. The majority of them only stopped bad-mouthing Les Miles long enough to offer compliments along the lines of that Tennessee was heading in the right direction with Dooley.
Ward: The loss to LSU was crushing for Tennessee fans. The Vols had just pulled off a double-overtime win at home against UAB the week before, and confidence among the fan base was at a low point heading into the LSU game. Tennessee fans got to celebrate a huge upset win over LSU for a moment before they realized what had happened. I also thought in that moment the Vols had won, of course. Then that was taken away. I think that loss was crushing because fans really liked Dooley and that was the "signature" win for him early in his tenure. Instead, Dooley's staff had trumped Les Miles' mistake of mismanaging the clock at the end of the game. It was a disaster.
Smith: It's one thing to have 12 men on the field. But Dooley had 13 men on the field.  13! Who does that? Even Les Miles had to be surprised that somebody could possibly screw up the end of a game worse than him. The North Carolina loss isn't as bad because the Tar Heels basically exploited a loop hole in the rule book, but it's the kind of bad luck that only happens to coaches like Dooley.
The Vols would win their final 3 games of the 2010 season and earn a trip to the Music City Bowl on December 30th against North Carolina.  Once again, lady luck would not be on their side.
Here is video of the Vols' loss in the Music City Bowl to North Carolina in 2010.
Dubin:  I remember being at the Music City Bowl after the loss to UNC and I will never forget Dooley standing there after the loss and looking like a dad at the mall who can't find his kids. He was speechless, dumbfounded and just zapped.
With the Music City Bowl loss, the Vols would end the 2010 season at 6-7. In 2011 things got worse as the Vols finished 5-7, culminating with a historic 10-7 defeat at Kentucky, Tennessee's first loss to the Wildcats since 1984.
Here is video of the Vols loss to Kentucky in 2011.
Worley:  Something seemed off that day.  I don't know what it was, what the players were thinking, what some starters were thinking, what coaches were thinking, what some of the play calls were at the time... but something was off.  We could never get anything going.  We ended up losing somehow. It was one of more embarrassing losses I have been a part of. There was a rumor floating around that some guys didn't want to play in a bowl game so they weren't playing as hard.  I heard that a few times but I don't think that was the case.  It was just a day we couldn't get things to go right for us.
Brown:  That game remains the one and only time I've been part of a court/field storming. And it all happened because Tennessee couldn't outscore an offense running the same six or eight plays over and over with a wide receiver playing quarterback. I remember seeing Kentucky fans tearing up chunks of the turf at Commonwealth.
Ward: The Kentucky loss has to be the turning point. Dooley lost the support of a lot of people, including fans, former players and financial people who are important to the program. Those people were still going to support Tennessee, and they wanted the Vols to win no matter who was coaching the team. But a lot of people realized after the Kentucky loss that Dooley was hurting the program.  Kentucky's 2011 team was awful... I think Kentucky's staff would tell you they didn't think they were going to win. The loss to Kentucky came just one week after Tennessee had beaten Vanderbilt in overtime with Dooley proudly proclaiming in the locker room, "The one thing that Tennessee always does is kick the shit out of Vandy." The one thing at the time Tennessee wasn't supposed to do was lose to Kentucky --at least until the next week.
Smith: The Kentucky loss was definitely the first major sign that Dooley was in over his head. The Wildcats hadn't beaten the Vols in 26 years. And they finally ended the streak with a converted wide receiver at quarterback. Losing to Kentucky was bad enough in and of itself. But the way key players like Tyler Bray and Da'Rick Rodgers appeared disinterested really was an insult to the players and coaches who built that streak in the first place.
Haney: Losing to Kentucky was the one thing that a Tennessee coach couldn't do. Thou shalt not lose to Kentucky. Butch Jones probably had that sign made, and it's somewhere in the building by a urinal or something.  I was born in Chattanooga in 1981, and Kentucky had only beaten Tennessee twice in my lifetime up until 2011 -- and not once since I was 3 years old. Tennessee had enough trouble trying to keep up with Florida ... Georgia ... South Carolina. When it suddenly couldn't beat Vanderbilt and Kentucky anymore? Yeah, that was a problem. It was going backward as a program, and it was obvious to everyone.
Low: Dooley lost his team in November 2011 when they lost to Kentucky.  I talked to players, and after the game they were saying that Dooley wouldn't recover and that he'd be gone.  Maybe UT should have cut bait with him right then, but that would have been a tough call after only two years.  I knew after the 2011 season he had lost the team and that his firing was inevitable.  Had (UT athletics director) Dave Hart been there longer he might have cut bait right then.
Brice: Sure, he could've saved his job still in 2012 but everyone knew that UK loss to that awful UK team foreshadowed bad things. Many people on campus will tell you it's when (Tennessee athletic director) Dave Hart knew he would have to fire him, much as when Mike Hamilton told me when the NCAA came to investigate Bruce Pearl and then that all unfolded, Hamilton knew he would have to fire Pearl.
Thompson: In 2011 Dooley didn't have a hint of respect from the players due to his methods as a head coach. The players not wanting to play in a "lesser" bowl game wasn't the issue. Players flat out didn't want to play for DEREK DOOLEY. So it wasn't the fact Dooley lost the team. He never had it.
Following that loss to Kentucky, Dooley went a memorable 38 days without public comment.  No interviews, no social media posts, nothing.  This was also at a time when most of his assistant coaches were resigning and some recruits to the Class of 2012 were de-committing.
Geist:  You're the head coach at Tennessee, your team just lost for the first time to a team they've owned for three decades and you won't talk? That's arrogance. I think he felt he didn't need to explain himself to anyone and he wasn't going to. And he didn't.
Brown: I still can't believe he went that long without talking to the media. He should have had a "the-sky-isn't-falling press conference" the week following the Kentucky game, after which he said it was rock bottom and that in some sense it was good his players could get a taste of that disappointment. He could have just come out and said it wasn't acceptable and we'll work harder than ever this offseason to make sure we bounce back from it or something like that. Would that have been too difficult?
Ellis: I guess he didn't want to face all of that criticism. But that's why SEC coaches make the big bucks. The pressure of the job is intense. Coaches don't make it any easier on themselves by avoiding the spotlight. Dooley, in particular, took a hit by somewhat alienating local reporters during that span.
Brice: Dooley's silence upon first getting the job and the silence after that were, in my opinion, two factors that forever limited him and contributed to his downfall.
Budden: The one move that said a lot about the situation was when (Tennessee defensive coordinator) Justin Wilcox left to head to Washington. The year before you turn down Texas, and now you accept a job at a middle of the pack Pac-12 team?  Of the seven assistants that left, that one said the most.
Part VII:  The End
Despite the way 2011 finished, optimism was high among Big Orange fans going into the 2012 season. Tennessee had future NFL players at key positions on offense.  However, a change at defensive coordinator (Tennessee hired Alabama outside linebackers Sal Sunseri to replace the departed Justin Wilcox) and in alignment (4-3 to a 3-4 defense) made it a season filled with frustration, and inevitably the end of the road for Dooley.
Bartholomew: We were confident going into the 2012 season. After we beat NC State in the opener, everyone on that team thought we would have an incredible season. We had some of the best talent in all of college football.
Ellis: Year three is when most expect a step forward under a new coach. Those were the expectations for Dooley, and they seemed fair given the relative talent on the roster.
Hooker: I asked around about Sunseri and one SEC coach told me, "He's not very bright and he's bad with people."  That didn't seem like a good combo to me.
Ramey: Year 3 is generally the do-or-die year for a new coach trying to rebuild a program. But I think media started to scratch its head over Sal Sunseri's practice-field behavior --- language and outbursts that can't begin to be described, even in the context of a football coach.
Brice: The defense looked confused, misaligned and still too slow daily in practice. Sunseri marched all over the field ranting, with combinations of curses I've still never heard. I told a close friend on Capitol Hill in Nashville, "Bro, he's not the answer." Would've been interesting to see what happened had Kevin Steele still gotten the job; he was considered toxic because Clemson had been abused in its bowl game (West Virginia beat Clemson 70-33 in the 2012 Orange Bowl), but Steele was Dooley's first choice all along. Even after the bowl.
Brown: It didn't work out in 2012 because of Sal Sunseri. Tennessee's defense that year wasn't great -- during pro day the following spring, the fullback had a faster 40 time than a few of the defensive backs -- but the 2012 defense was more talented than the 2011 defense, and Wilcox managed to get that group in the top 30 nationally in total defense.  Sunseri, though, was a total disaster. The Vols scored 44, 31 and 35 points in three SEC road games ... and lost all three. They gave up 721 yards to TROY.
Low: Had Dooley not hired Sal Sunseri, he would have made it another 1-2 years.  Sunseri was so far in over his head... it was such a disaster.  That was the tipping point.  That kind of mirrored what they went thru with Dooley, having to settle for Sunseri.  Good position coach, but it just didn't work out.
Elliott: When it really got dark was the Mississippi State game in 2012, when Dooley had to coach from the press box because he needed hip surgery to correct a lingering issue from what he said was a water-skiing accident. There is a picture of Dooley in a wheelchair being taken to the locker room after the game by a state trooper and he looks completely disengaged. That picture kind of embodied the last season.
Ramey: The picture of the state trooper pushing Dooley down the ramp after the loss will never be duplicated in college football. The look on his face.  The situation. The wheelchair. The orange pants. It just summed up the Dooley Era in one photo.
Derek Dooley was fired on the morning of November 18, 2012, less than 12 hours after a 41-18 loss at Vanderbilt.  The Vols went 15-21 during his nearly three seasons at the helm, including a 4-19 mark in SEC play, and no victories over a nationally ranked opponent.  According to the Knoxville News-Sentinel, Dooley's buyout was $5 million, or roughly $102,040 per month through December 2016.
Brice: Dooley knew it was over after the Missouri game, and he was emotional in the locker room following that loss. We at VolQuest posted that night/Sunday morning that Dooley's time was done and nothing could save it, as we had it from roughly six well-placed sources. He was asked about the report on Monday at his press conference, and he was mad. But he never made it personal.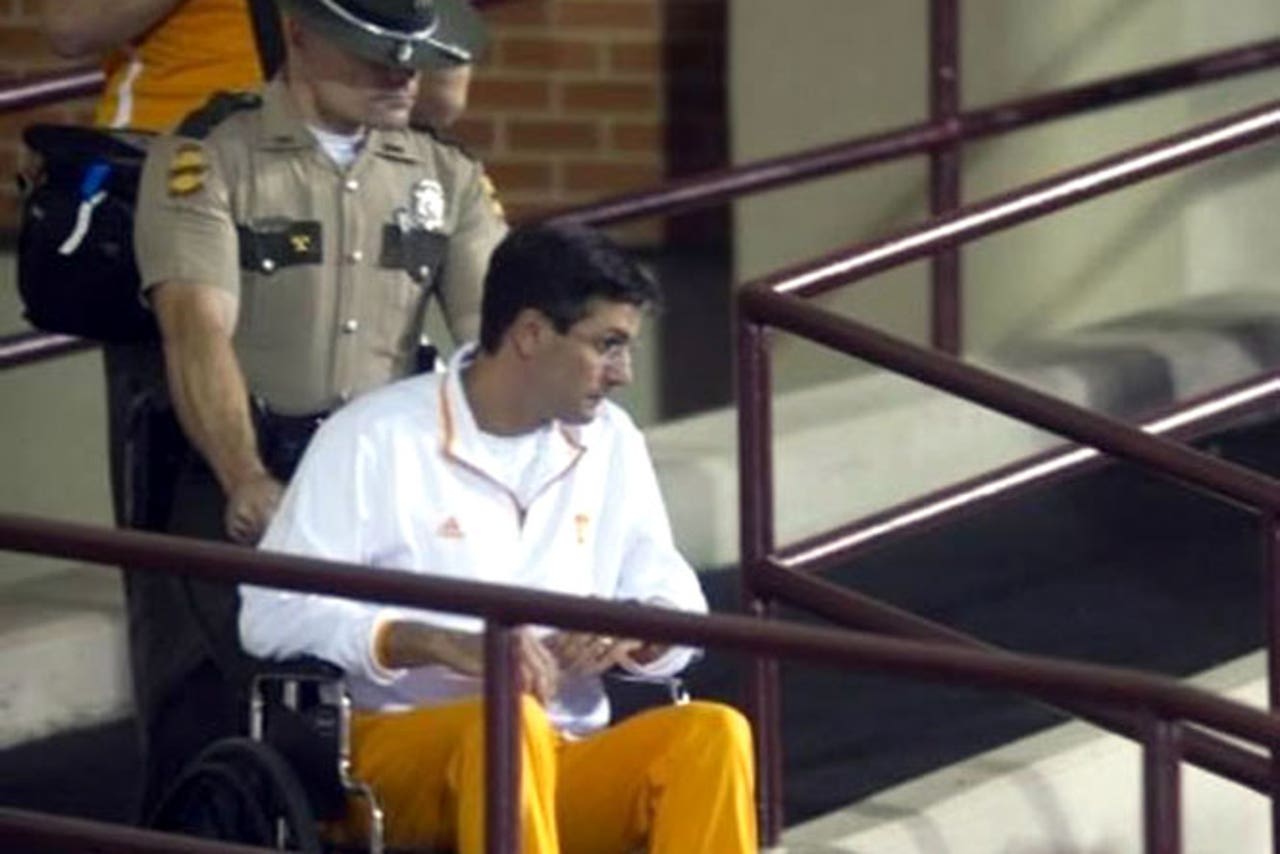 Rice: The last time I ever saw him in person was in the press conference after the loss to Missouri. There has been a lot of conjecture since then about when he was actually told he wasn't coming back. Some have said as early as the Mississippi State loss, some say he wasn't told until he was actually let go after the Vanderbilt game. But after the Missouri game, he knew in his mind that it was over. It was a bad loss to a bad team and he mismanaged the end of the game. He got emotional after leaving the podium and it got very real to me. The fan inside of me was furious over the result and the way the last two seasons had unraveled. But I saw him in that moment as just a guy. A guy that had put everything he had into his job, into his one shot at the big time, and failed. Now, he got a multi-million dollar consolation prize, but it still affected me to see someone in that situation. You start to think about things in your own life that you're poured everything into but still haven't worked out. He did that on a national stage with people criticizing every move.
Dubin: His last game at Vandy. I will never forget James Franklin coming over when Dooley was limping onto the field during warm-ups and shaking his hand. Franklin slaps him on the back and starts yelling at the student section, who was yelling back at him. Dooley walks away, turns around and looks at Franklin firing up the crowd and shakes his head. Dead. Man. Walking.
Phillips: As much as he wanted it to work, Tennessee was too big for him. He wasn't ready for all the responsibilities a head coach has and I don't know if he ever would have been. You can't have three mediocre years at a traditional power like Tennessee and expect to survive.
Part VIII:  Does Derek Dooley get a bad rap?
Dooley would be replaced by Cincinnati head coach Butch Jones.  Ironically, the Vols win over Jones's Bearcats in 2011 would have to be considered one of Dooley's best moments at Tennessee. Considering where the program stood when he took over, does Derek Dooley deserve the criticism he has received over the years for his efforts as Tennessee's football coach?  Opinions do vary...
Low: 25 years from now, history will not judge Derek Dooley well.  He will go down as one of the worst head coaches in SEC history.  But it's not all his fault.  Dooley's last recruiting class was bad, but what started Tennessee down this path was Kiffin's 2009 class.  It was ranked 10th-15th nationally, but that class was a total fraud.  Trouble guys, busts, players that left... that class started it.  Remember the guys Kiffin ran off?  Quarterbacks Bryce Petty and Tajh Boyd... that started it all, and then it got worse under Dooley.
Brown: If anything, what Butch Jones has done in the two-plus years since replacing Dooley has only made Dooley look even more inept. The recruiting success and welcoming back of former players that Jones has done makes you wonder what Dooley and Company were doing while they were here. Jones has provided the stability Dooley could not.
Hargis: Most coaches take over a program that had been struggling, or else there likely wouldn't have been a coaching change to begin with, and it's what they do with that opportunity once they're in place that defines how good a coach they are. Derek Dooley will be remembered as one of the worst head coaches in the history of the SEC, a laughingstock among fans and media, and that is 100-percent on him and his lack of skills - both as an on-the-field coach who seemed ill-prepared for any in-game situation and for being unable to connect in any way with the coaches and players he would rely on for recruiting.
Fleming: He didn't get a bad rap. He knew what he was walking into and he had no plan on how to fix it. If you fail to plan, you plan to fail.
Worley: Everyone is quick to point fingers at him because of the three years he had, but you have to look at what was happening at Tennessee at the time. Hard to come in and set the groundwork when you are getting guys that weren't committed to you and don't even know who you are... so, I think he gets beat up more than he deserves.  There are definitely some things we could have done better while he was here.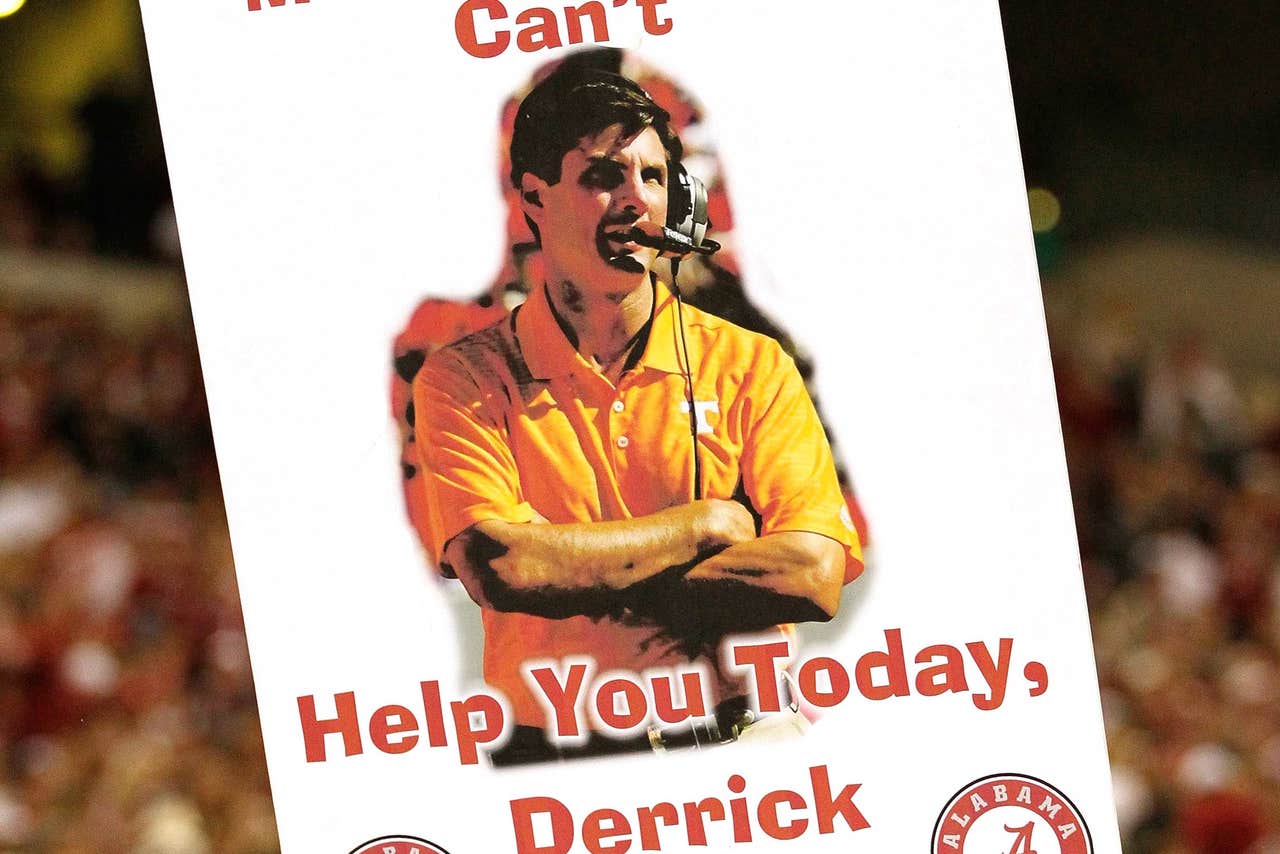 Bartholomew: The difficult time that my class went through brought us closer together. Dooley formed a "Unity Counsel" group that was called to lead the team. That group still keeps up with each other and you can see the leadership carry over with players like (Tennessee Defensive End/Linebacker) Curt Maggitt who was on the counsel with Dooley.
Phillips: It's one of my many pet peeves when people talk about a coach and say he forgot how to coach or the game has passed him by. Dooley wasn't hired by Nick Saban because he was a stooge. He hasn't lasted with the Dallas Cowboys because he can't coach. So to some extent, yes, I think he got a bad rap. Overall, I think Dooley is a bright guy who knows a lot of football and has been a successful position coach. I don't think he has what it takes to be a head coach.
White: He does not get a bad rap, he deserves it.  He was simply not a good coach!! He should have never been hired in the first place.  He may be the worst hire in the history of Tennessee sports.  Maybe in the SEC for that matter.  It is very ironic that when Coach Fulmer was fired, players, former players and staff were very upset! Players addressed their feelings on national media on how they were not happy about the firing.  When Dooley was fired no one said a word. You do the math.
Dubin: He was awful and anyone who tries to defend him should be banished to Elba.
Ramey: I think Dooley has the reputation he has because it's one that he earned, given the amount of evidence he left behind at Tennessee --- both on and off the field. Staff turnover, bad game-day coach, recruited and signed offensive linemen like other coaches sign punters. Yeah, the situation was bad. But Dooley did next to nothing, if anything, to improve the program he inherited.
Brice: I respect Dooley for trying to carve family time and wanting to do things that still allowed his coaches some freedom in the evenings, etc. But Tennessee was in a bad spot then and had been down for a sustained time. Recruiting was hard work; it's even harder now, which makes Butch Jones' work more impressive. Dooley had grown up in Georgia and worked at LSU.  I've said this before but think about it: By and large, Georgia and LSU get who they want in-state. And there's a lot of talent. I'm not sure Dooley understood coming in how hellacious the recruiting battles are at Tennessee, especially when trying to pull up a program.
Elliott: Every time I go to the UT football complex now, I am struck by two thoughts. The first is how massive and impressive it is and the second is how much of it has Dooley's stamp on it. He was only UT's coach for three seasons but he happened to be the guy in charge when the bulk of the work was done on the $45 million facility that houses the coaches' offices as well. Dooley took the media on a 90 minute walking tour of the soon-to-be finished facility in which he showed off every detail and made it clear that many of the ideas were his. Sometimes it is fun to think of how many coaches and players will work and train in what is, essentially, Dooley's building.
Outkick made an interview request with the Dallas Cowboys to speak to Derek Dooley for this article. Dooley is entering his third season as their Wide Receivers coach. The Dallas Cowboys did not respond.
---
---