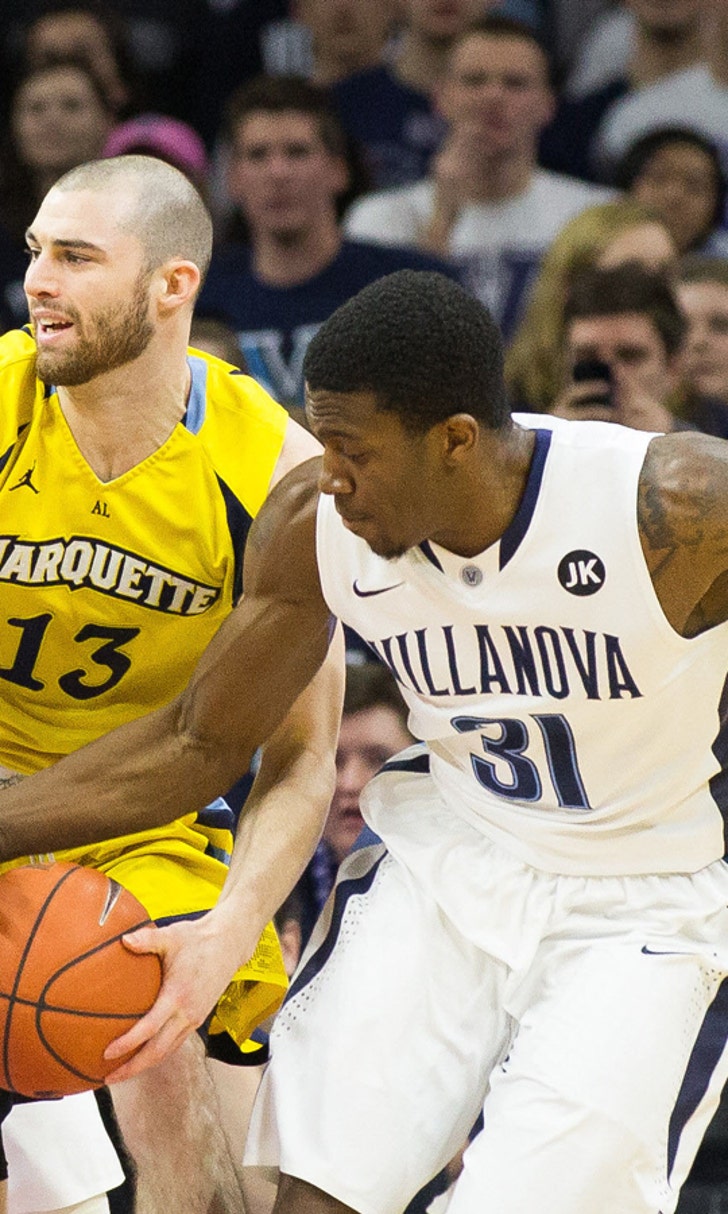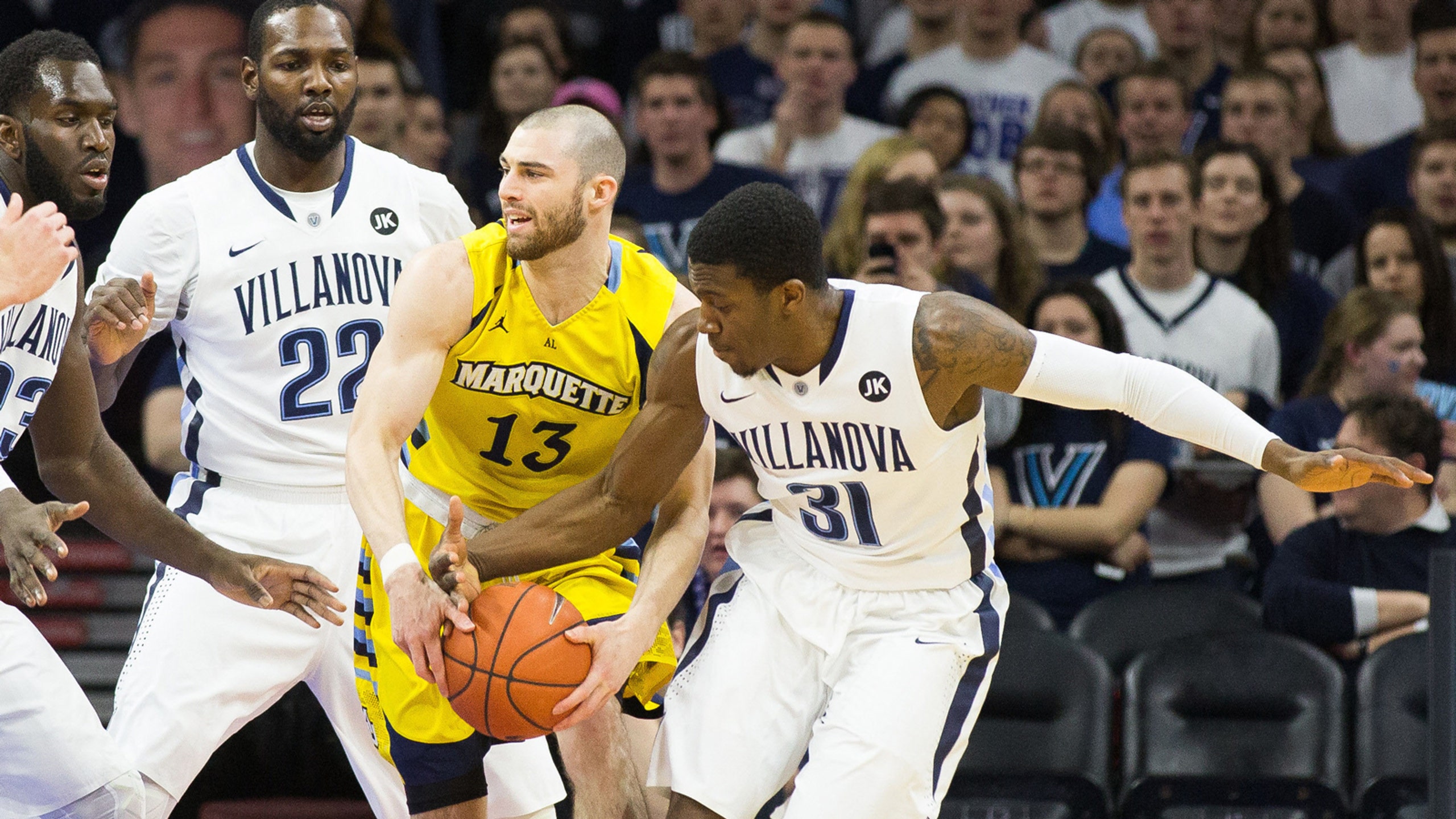 No. 7 Villanova makes quick work of Marquette
BY foxsports • February 4, 2015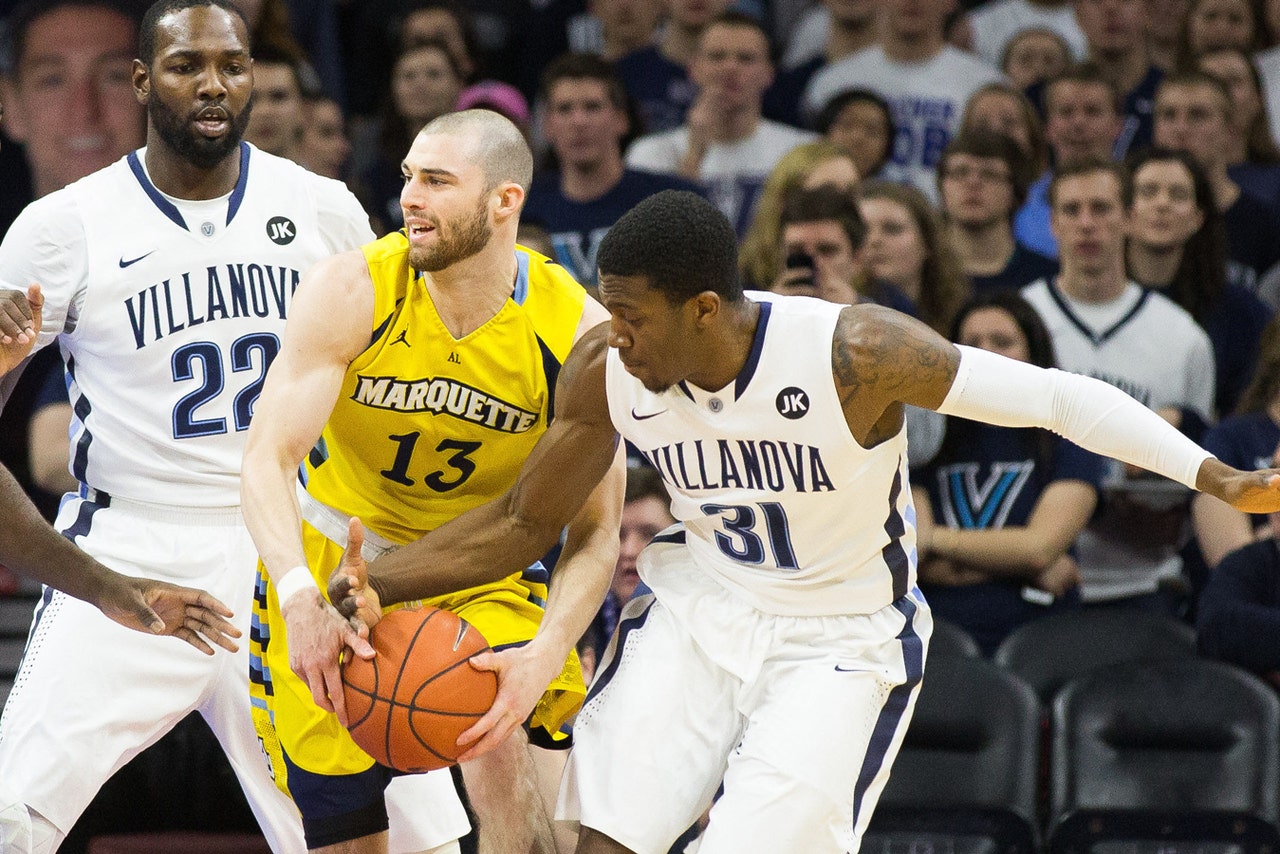 PHILADELPHIA -- Villanova started with the kind of sloppy basketball that made it somehow the worst basketball team to call the Wells Fargo Center home this season.
Once the Wildcats straightened themselves out, they took over.
Ryan Arcidiacono scored 18 points and Darrun Hilliard had 12 to lead No. 7 Villanova to a 70-52 win over Marquette on Wednesday night.
Daniel Ochefu grabbed nine rebounds and Josh Hart scored 11 points in the latest romp for Villanova (20-2, 7-2 Big East). The Wildcats shook off a mistake-prone start to roll past the Golden Eagles (10-12, 2-8) and send them to their sixth straight loss.
"We've been good enough to win," Villanova coach Jay Wright said, "but I really think we're a work in progress."
The Wildcats needed time to work out some offensive kinks. They found their groove from 3-point range: Arcidiacono hit four of Villanova's 11 3-pointers and Hart and Phil Booth each added two.
Villanova led by as many as 24 points in its final tuneup before a rematch with No. 24 Georgetown. The Hoyas thumped the Wildcats by 20 on Jan. 19.
"With this team, we've all been through it before," Arcidiacono said. "We're not afraid of anything."
The Wildcats blew the game open in the second half against the slumping Golden Eagles. Dylan Ennis was all alone on a fast break and his one-handed slam made it 50-26. Arcidiacono's third 3-pointer made it 54-32 and the Wildcats stormed toward their seventh win in eight games.
"This Villanova team reminds me a lot of the Villanova team that went to the Final Four," in 2009, Marquette coach Steve Wojciechowski said.
Marquette's Matt Carlino scored nine points and sat out a few minutes after a hard fall on his head in the second half. Carlino, the Big East leader in 3-pointers, was 3 of 6 and held below his 14.8 scoring average. He is Marquette's only player averaging double-digit scoring, and he had little help against the Wildcats. Marquette failed to match the balanced performance it had in overtime losses at the end of last month to the nationally ranked Hoyas and Butler.
The Wildcats started off playing the kind of basketball normally reserved for the NBA home team at the Wells Fargo Center, the Philadelphia 76ers. They committed five turnovers on their first seven possessions, missed 9 of 11 shots and let Marquette take a brief lead.
The Golden Eagles went 11 straight possessions without a basket over a nearly seven-minute span and the Wildcats rolled off a 10-0 run to take control. The sloppy first 10 minutes were replaced by only one turnover in the final 10.
"I thought that really affected our spirit, missing those," Wojciechowski said. "We don't have the depth and experience of guys who've been in it. It appears, based on tonight, our psyche is fragile right now."
Booth and Hilliard hit consecutive 3-pointers for a 22-12 lead. Arcidiacono hit one 3 for a 16-point lead and another that put the Wildcats up 18 before they settled for a 36-19 lead at halftime.
The short burst at the end masked an overall weak half of shooting for each team: Villanova was only 11 of 34 (32 percent) and Marquette just 7 of 30 (23 percent).
"I didn't think it was that bad," Hilliard said. "We were getting stops. I wasn't worried about offense, just the defensive end."
---