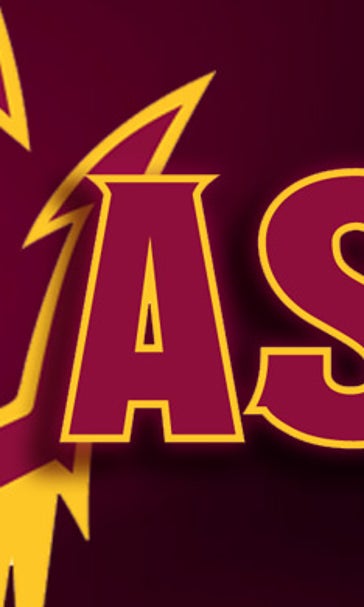 No. 2 Oregon earns run-rule victory over ASU softball
April 12, 2015

EUGENE, Ore. -- Oregon's Nikki Udria hit a three-run home run in the bottom of the sixth inning to give the No. 2 Ducks a 12-3 run-rule victory over No. 19 Arizona State on Saturday.
ASU's Bethany Kemp hit a two-run shot in the top of the second -- her 10th of the season -- to tie the game at 2, but Oregon scored six straight as ASU (27-14, 5-5 Pac-12) struggled to find production in the top and bottom of the order.
Amber Freeman, Haley Steele and Bethany Kemp -- ASU's fourth, fifth and seventh hitters -- combined to go 7 for 9 while the rest of the lineup combined to go just 1 for 17. Freeman went 3 for 3 after going 0-for-3 in Friday's series opener.
Oregon (34-5, 12-2 Pac-12) scored in five of the six innings, dinking and dunking with a lot of singles and walking seven times.
ASU got one back in the top of the fifth as the Duck defense had two errors sandwiched around a Freeman single to allow Chelsea Gonzales to score and make it an 8-3 game.
After Alexis Cooper shut out Oregon in the bottom of the fifth, ASU was unable to build any momentum in the sixth inning, opening the door for Udria's three-run blast -- the only Oregon home run of the day.
Dale Ryndak took the loss for ASU. Ryndak (12-6) pitched three innings, allowing eight runs and nine hits. Cooper pitched 2 1/3 innings of relief, allowing four runs on four hits with four walks.
Karissa Hovinga (9-1) earned the win for Oregon, pitching five innings in relief of Geri Ann Glasco and allowing just one run on three hits with two strikeouts and no walks.
The teams will wrap up the series Sunday at noon PT on the Pac-12 Networks.
---