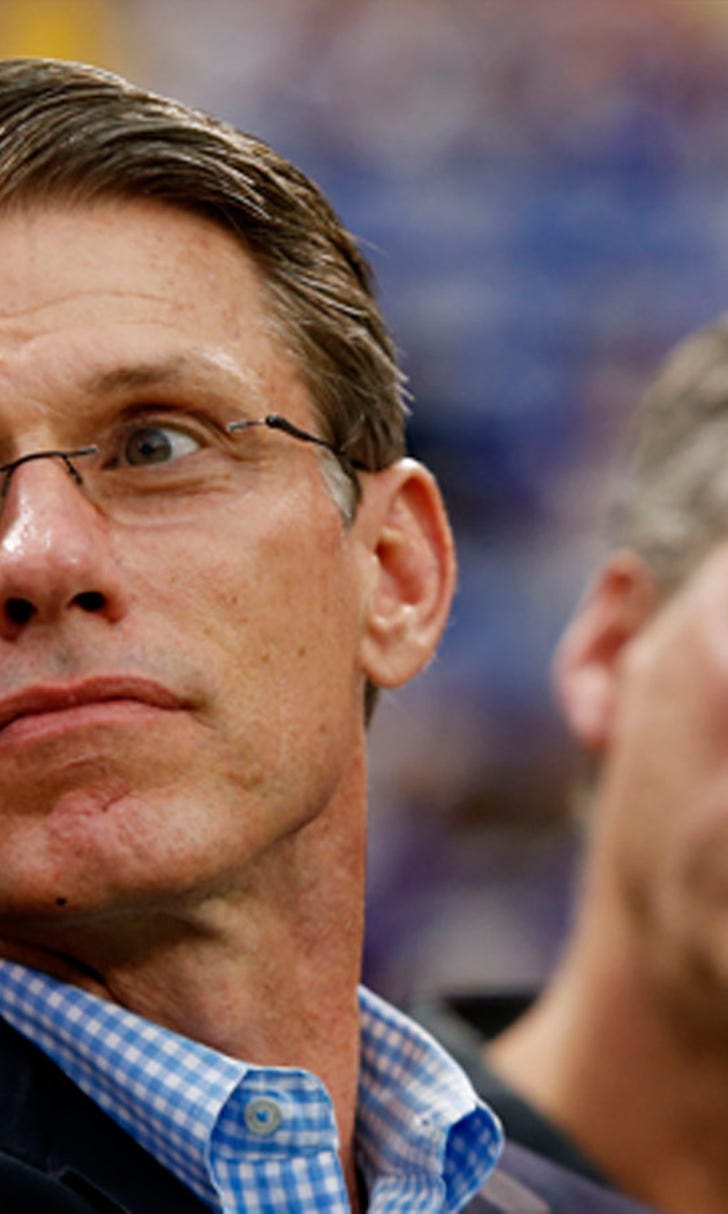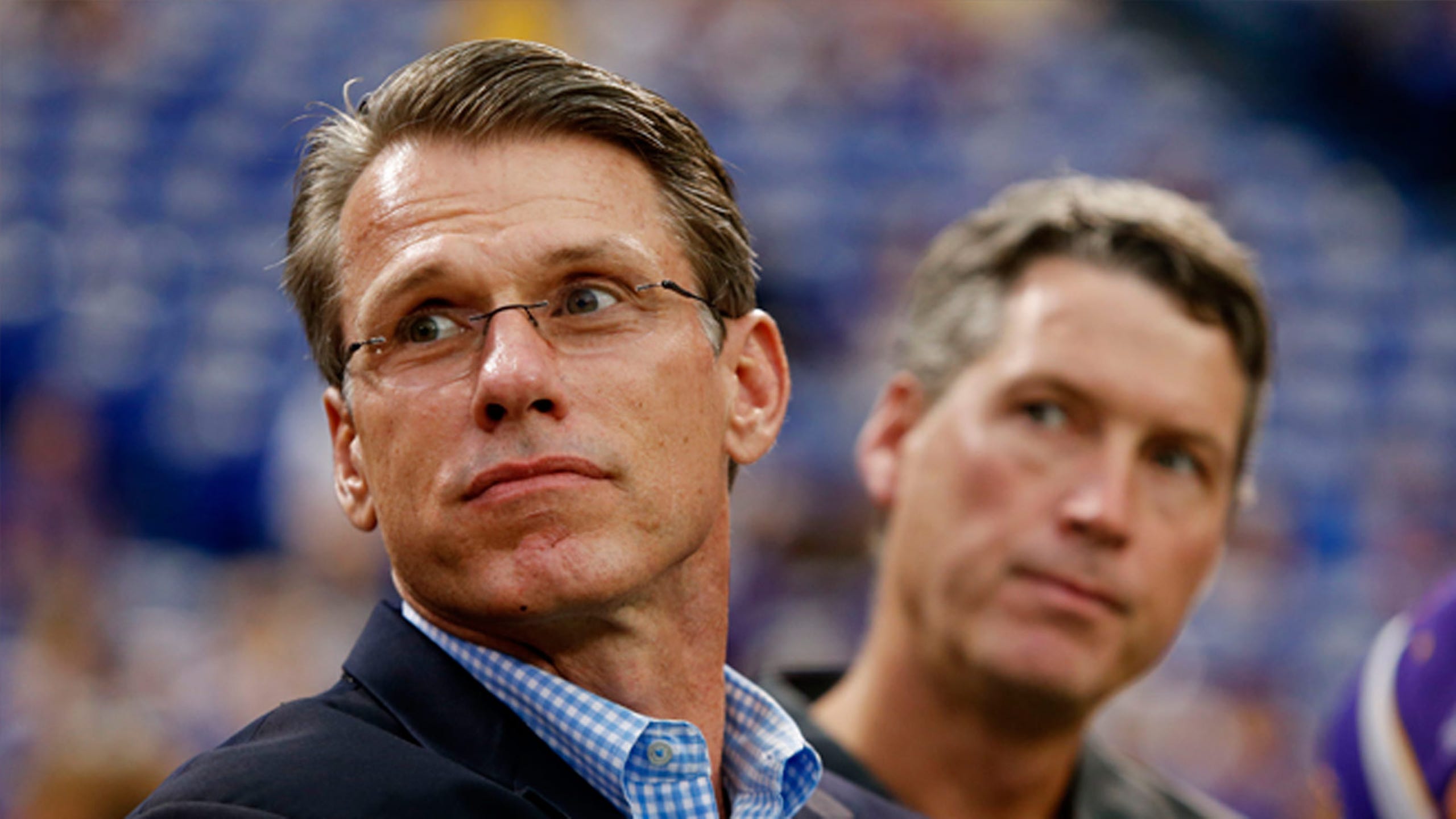 NFL Combine notebook: Vikings would love to trade down in first round
BY foxsports • February 20, 2014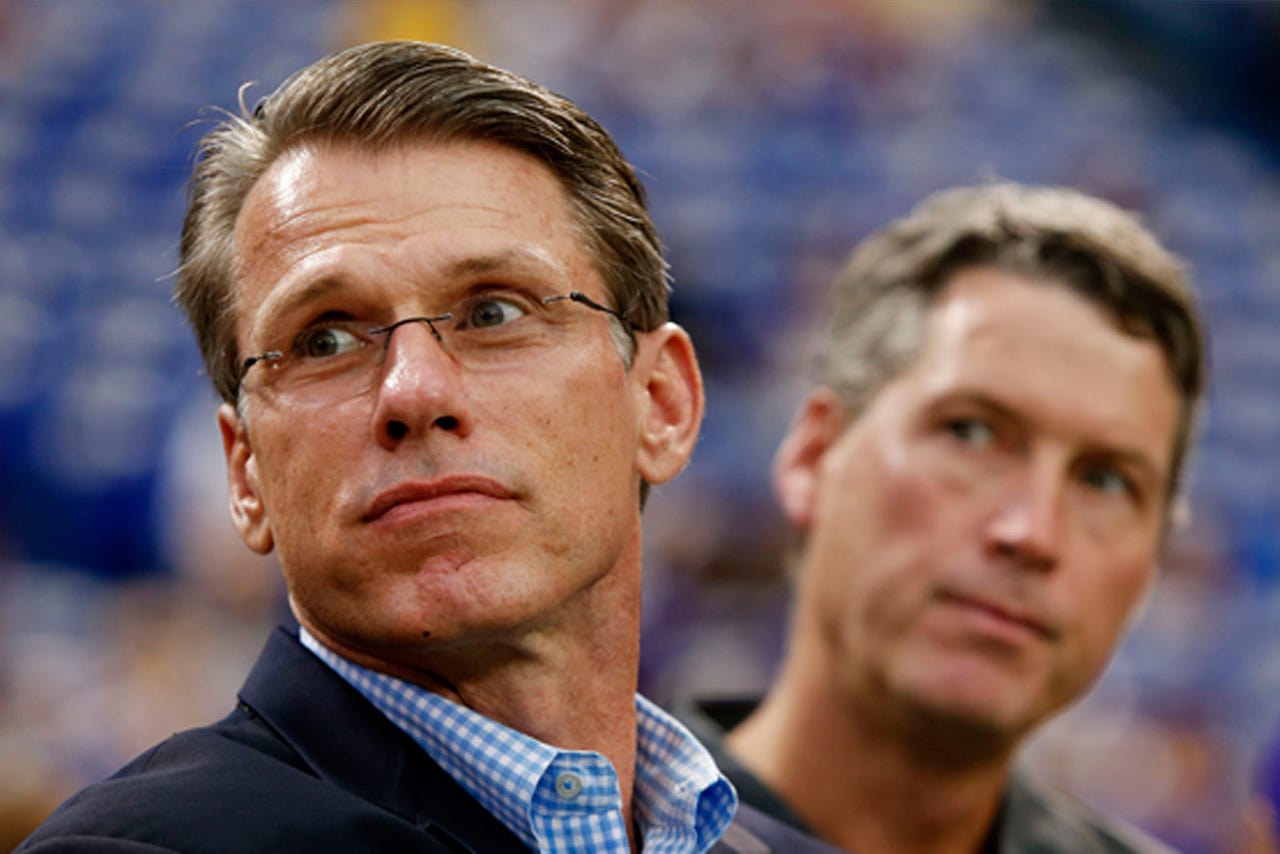 INDIANAPOLIS -- Let the subterfuge begin.
The NFL assembled in Indianapolis this week for the NFL Scouting Combine, the biggest step in a process that will conclude with the later NFL Draft in May this year. The consensus is the draft is as deep this year overall as its been in a while.
Minnesota Vikings general manager Rick Spielman wouldn't mind taking advantage of the deep draft, at least if he's to be believed on Thursday.
Spielman spoke with reporters at the combine Thursday and said he is interested in trading back from where Minnesota sits with the No. 8 pick in the draft to accumulate more picks.
"I would love to trade back from eight if we possibly can, and then that gives you, because of the depth in the draft, I think you can get some quality players," Spielman told local reporters. "I think there's going to be quality players in the fourth round that could potentially come in and have an impact on your roster as well, just because of the depth."
The Vikings have a glaring need for a young quarterback, and Spielman hasn't been shy about saying the team will add one during the offseason. With three quarterbacks -- Johnny Manziel, Teddy Bridgewater and Blake Bortles -- considered the top of the class, Minnesota might not have a chance to snag one of the draft's top signal callers at No. 8 with several other quarterback-needy teams ahead of the Vikings.
So, Spielman might already be looking at Plan B -- or maybe A in his mind -- to address several holes on the league's worst defense last season. Trading back could acquire more assets for Minnesota to use in trying to find help at all three levels of the defense under new coach Mike Zimmer.
"I have a bit of a history of moving up and down in the draft, so if there's a guy that I think we may be able to get in the second, third, maybe fourth round, and just getting the pulse of how guys are coming off the board, if we have enough draft picks to move up and down -- and fortunately, we do -- then we'll be aggressive and go up and get that guy at a certain point in the draft," Spielman said.
The draft is deep in potential Day 1 defensive contributors, which could include nose tackle Louis Nix III, linebackers Khalil Mack, Anthony Barr and C.J. Mosley, and cornerbacks like Darqueze Dennard and Justin Gilbert.
In true general manager speak, Spielman wouldn't rule out moving up from No. 8 either though. Spielman said he won't be forced to take a quarterback, but if they have a guy in mind . . .
"We're going to take the best player, unless we're absolutely in love with a guy," Spielman said. "If we're in love with a guy, and they might go before us, we may move up in the draft. If not, I would love to move down in the draft, if we possibly could. There's so many good players that you're going to get good players in the third and fourth rounds, for as deep as this draft class is."
The rookie pay scale has led to more trades and has made teams more willing to trade up to get a specific player without the financial ties to the rookies.
"I love the first round," Spielman said. "I mean, I love all the rounds, but it gives you an opportunity to move up and down a lot more than -- no one ever wanted to get into the top five because of the financial commitment. You were just stuck, you know, and we've been a part of that the last two years, being able to move up and down in that round."
So the Vikings want to trade back, unless they want to trade forward. Got it?
Bortles will throw, others in doubt: One of the biggest questions at the Scouting Combine is whether the top quarterbacks will participate in the on-field workouts, including throwing in front of the teams' personnel staffs.
Manziel, the former Heisman Trophy winner from Texas A&M won't throw. Central Florida's Bortles has decided to throw. Louisville's Bridgewater is undecided with quarterbacks scheduled to work out Sunday.
"It's an opportunity to put yourself to start jockeying for position," Spielman said. "To me, it's always -- whether agents agree or disagree -- it's a chance to compete and I don't put as much stock into the accuracy thing because I understand they haven't worked with these receivers and the timing. It's more just looking at the throwing motion, the mechanics, things like that, the arm strength. I think if you have a chance to compete, you should get out there and compete."
Turner coming up with plans for Patterson: Spielman made the bold move last year in the draft to jump up and grab receiver Cordarrelle Patterson out of Tennessee. Now, after a season of development where he looked much better at the end, Patterson is being built around in the Minnesota offense.
New offensive coordinator Norv Turner is already designing plays for Patterson after a rookie season in which he contributed mostly as a kickoff returner, going to the Pro Bowl as a rookie. Patterson caught 45 passes for 469 yards and four touchdowns, but had 24 of his catches in the season's final six weeks.
"I know Norv already put in 10 plays for him," Spielman said. "That's the first thing he was doing when he was putting the Xs and Os part of it together. (Patterson) is a unique talent. Last year, we were able to collect three first-round draft picks and felt very strong about him where we did trade back up in the first round to get him and know what type of unique traits that he has as an athlete just not only because of his speed and movement skills, but his size.
"When we did trade Percy Harvin away last year, we wanted to get that dynamic returner back. We wanted to get a guy that had traits Percy Harvin had for us and it's a young guy that I think is going to continue to develop, and I expect him to thrive under Norv."
Cassel talks: Spielman said he was scheduled to meet with the agent for quarterback Matt Cassel on Thursday. Cassel, who started the last four games of the season for Minnesota, exercised the player option on the final year of his contract making him a free agent.
Spielman said there is interest in re-signing Cassel, but said the team has also looked at what other quarterbacks are available in unrestricted free agency. Cassel is one of the top options in a relatively weak crop of available quarterbacks.
"In general terms, they're older guys that are backup guys that some of them may have had success," Spielman said of the unrestricted free-agent quarterbacks. "You look and try to predict guys who could potentially be getting cut, guys who could potentially be on the trade market. We'll just try to explore all those avenues and just kind of see where everything goes."
Bringing in a veteran, experienced quarterback is a desire of the Vikings, who hope to not press a rookie into action early, unless he earns the starting job.
"I think that's huge if we can get that accomplished because I think unless a rookie just comes in and knocks it out of the ballpark," Spielman said. "But a lot of that will be determined once we have our quarterbacks and who's our quarterbacks are on our roster then Norv will have a game plan, Zim will have a game plan and this is what we want to do and we'll stick with that game plan and go forward.
"The idea would be great to have a veteran, Christian Ponder and a young rookie to come and let the go out there and see how things evolve. If the rookie doesn't have to play, it's a great advantage for those guys to sit and learn for a year until they're actually ready."
Roster moves coming: Spielman said the team likely wouldn't be using the franchise tag on any player this season to ensure they can retain the player.
The top options were defensive ends Jared Allen and Everson Griffen. Allen is likely to have some attention in free agency from other teams. Re-signing Griffen is a possibility for the Vikings, who would be looking for a starting right end to replace Allen.
Asked if there is still potential to release players currently under contract, Spielman answered resoundingly, "Yes."
Two possible candidates for release could be tight end John Carlson, who said he will be playing this season despite a history of concussions, and defensive tackle Letroy Guion. Carlson owns a $5 million salary cap hit, while Guion's cap hit is $4.3 million.
Spielman said restructuring is also possible. Spielman did say he feels good about the group of tight ends on the roster.
Follow Brian Hall on Twitter
---