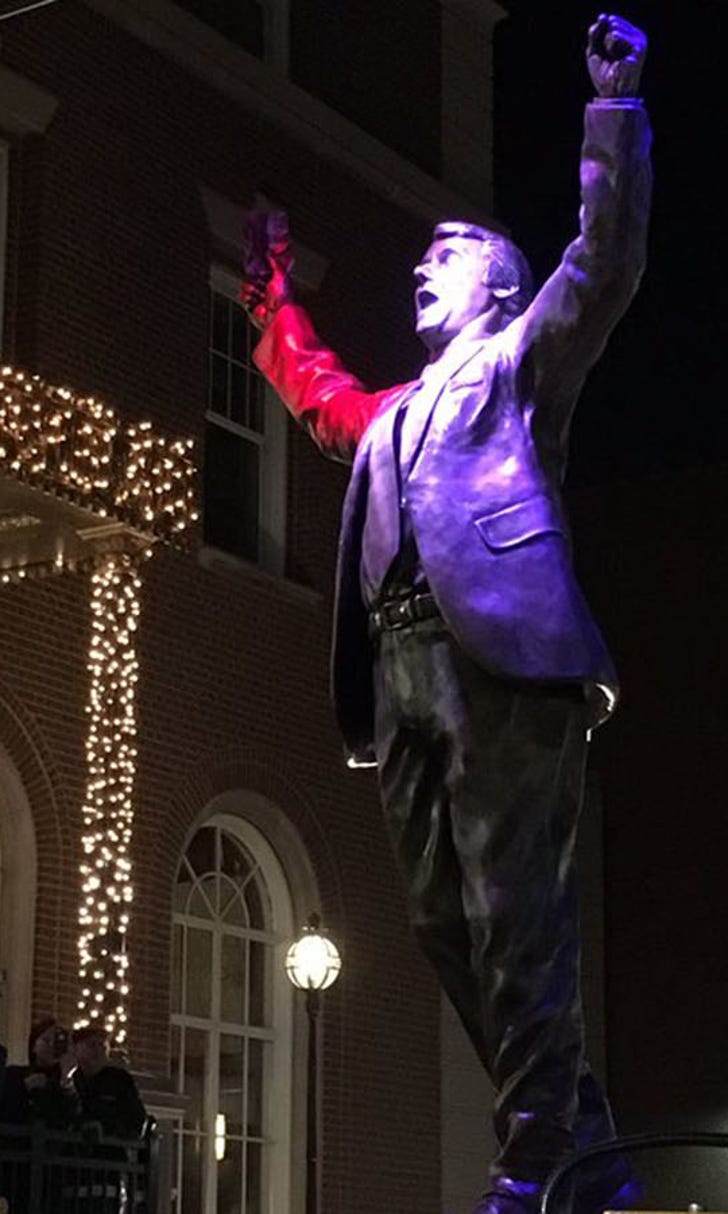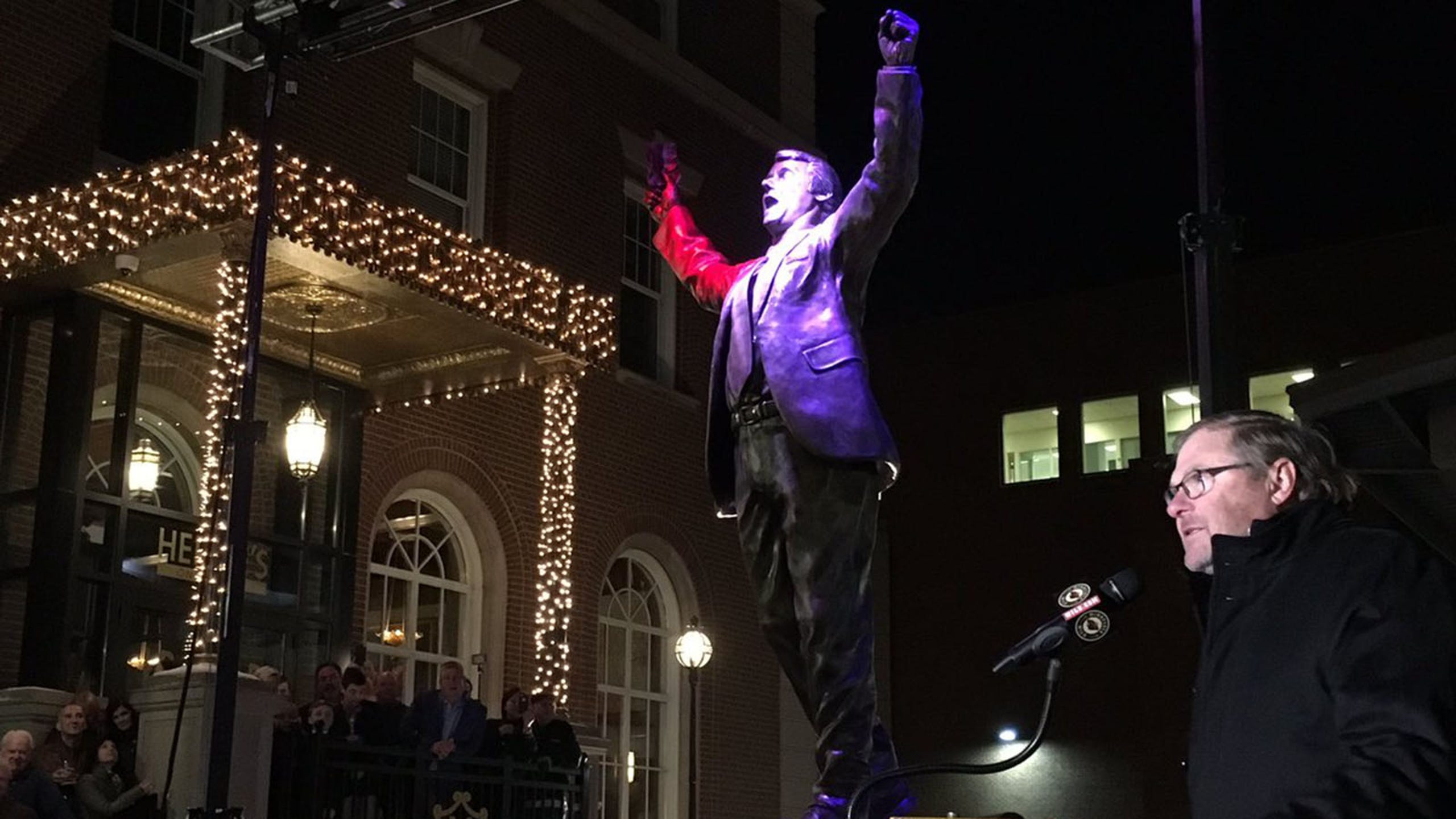 New Herb Brooks statue illuminates St. Paul
January 18, 2017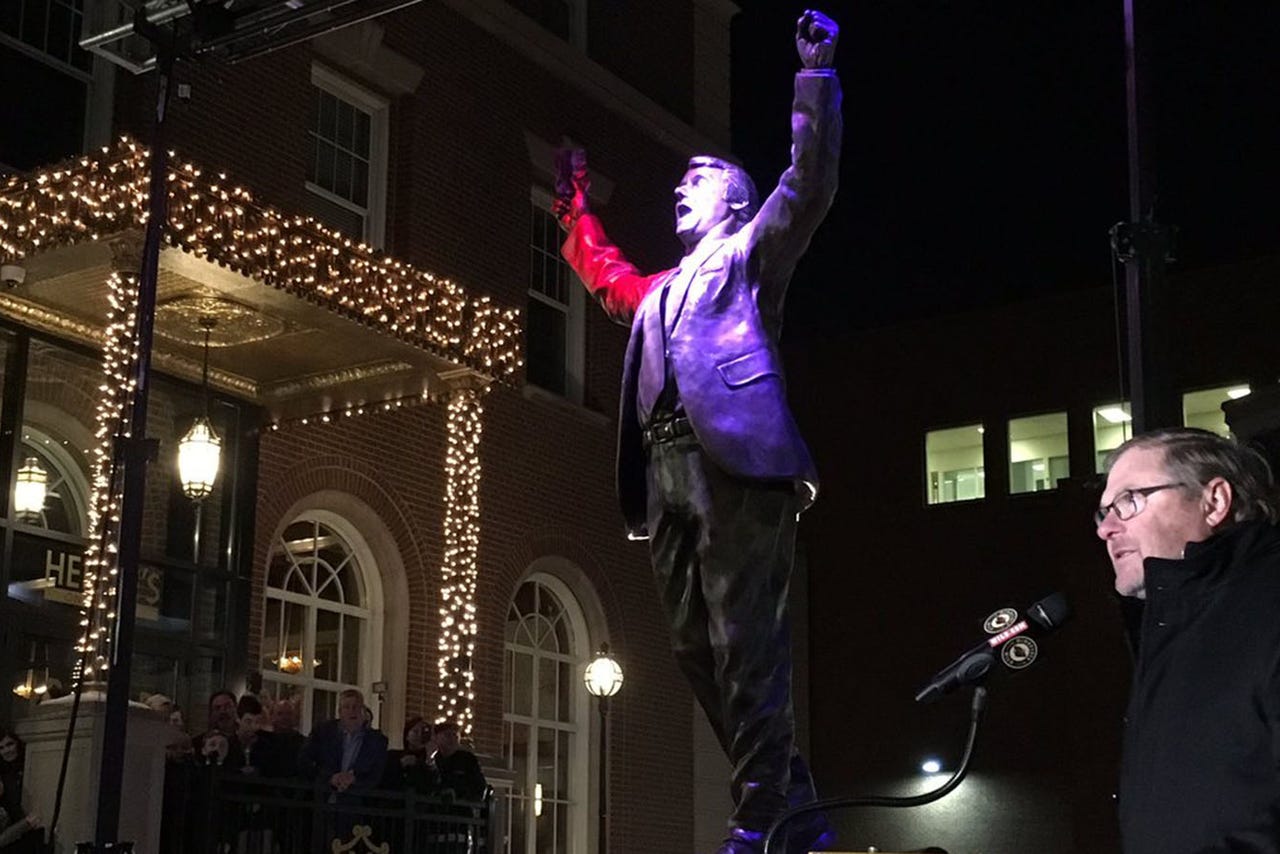 A bigger, bolder Herb Books can now be seen in St. Paul.

The Minnesota Wild Foundation unveiled a new statue of the iconic coach on Jan. 18 in front of hundreds of Brooks' family, friends, former players and fans standing by to watch.

The statue, located at 317 Washington Street, stands 11 feet high. It will illuminate the streets of St. Paul by six permanent lights, which shine as a spotlight on the top of the statue.

"Herb will always be remembered for his love of the game, for his contributions, competitive approach and of course, the results that followed," Minnesota Wild owner Craig Leipold said in a news release. "For some time, we've discussed enhancing his statue. With the recent opening of the new restaurant Herbie's On The Park right next to it, the right moment had arrived."

Brooks coached at the University of Minnesota from 1970-79 and St. Cloud State for one season in 1986-87, where he played a pivotal role in the Huskies' transformation to a Division I program. He served as an NHL head coach for four different franchises: the New York Rangers, Minnesota North Stars, New Jersey Devils and Pittsburgh Penguins.

The new statue takes the place of an older, smaller depiction of Brooks that will be relocated to the Schwan Super Rink in Blaine.

Brooks was a large advocate for the Schwan Super Rink in its creation, which now serves as a multi-purpose facility for hockey, figure skating, speed skating, broomball and various tournaments.

The statue portrays Brooks with his hands extended in triumph after coaching his "Miracle on Ice" U.S. hockey team to an improbable win over Soviet Union in the 1980 Olympics.

Eight members of the gold-medal team were present at the statue's unveiling, including Neal Broten, Dave Christian, Steve Christoff, John Harrington, Rob McClanahan, Mike Ramsey, Buzz Schneider and Eric Strobel.

"It's truly humbling knowing that after all these years, my father continues to inspire," said Herb's son Dan Brooks in a news release. "The Brooks Family is truly honored. Thank you Craig Leipold and the Minnesota Wild for this special day."
---
---