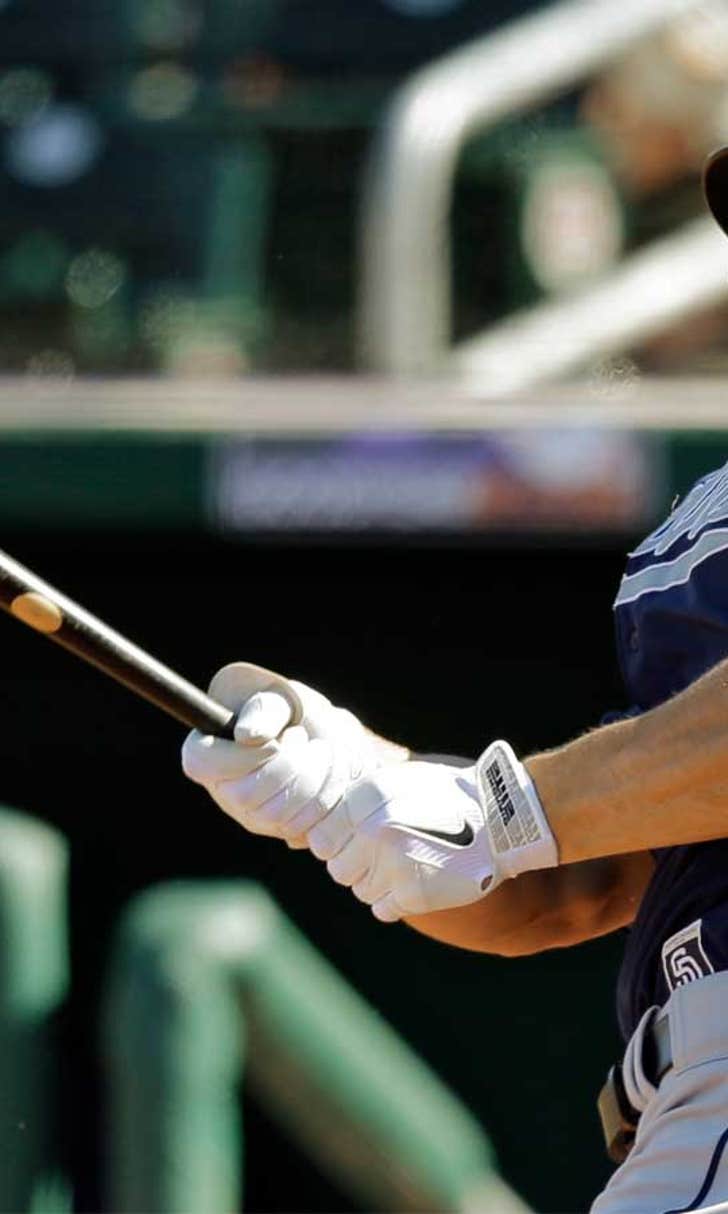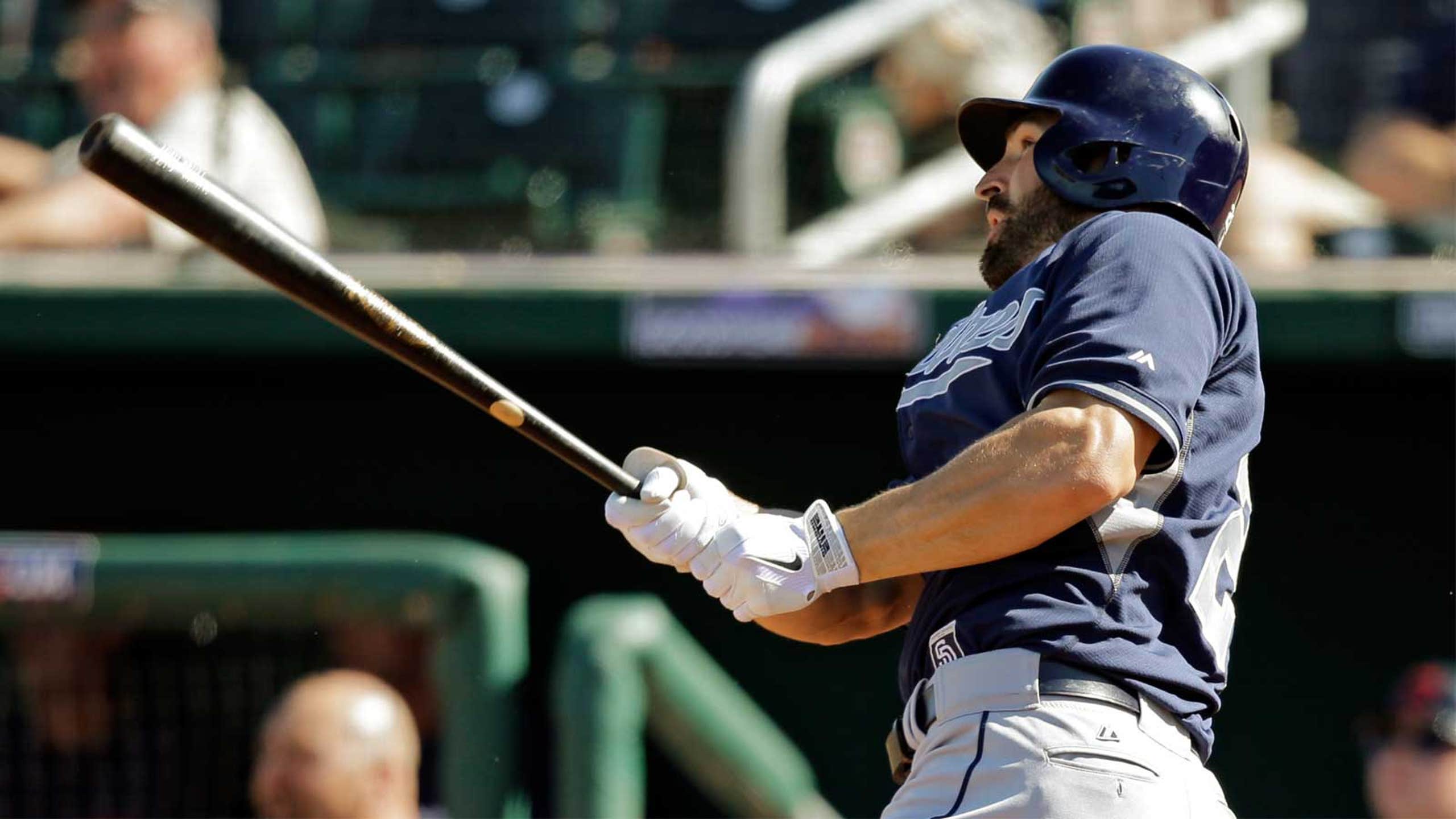 Nady homers, but Indians beat Padres 12-7
BY foxsports • March 12, 2014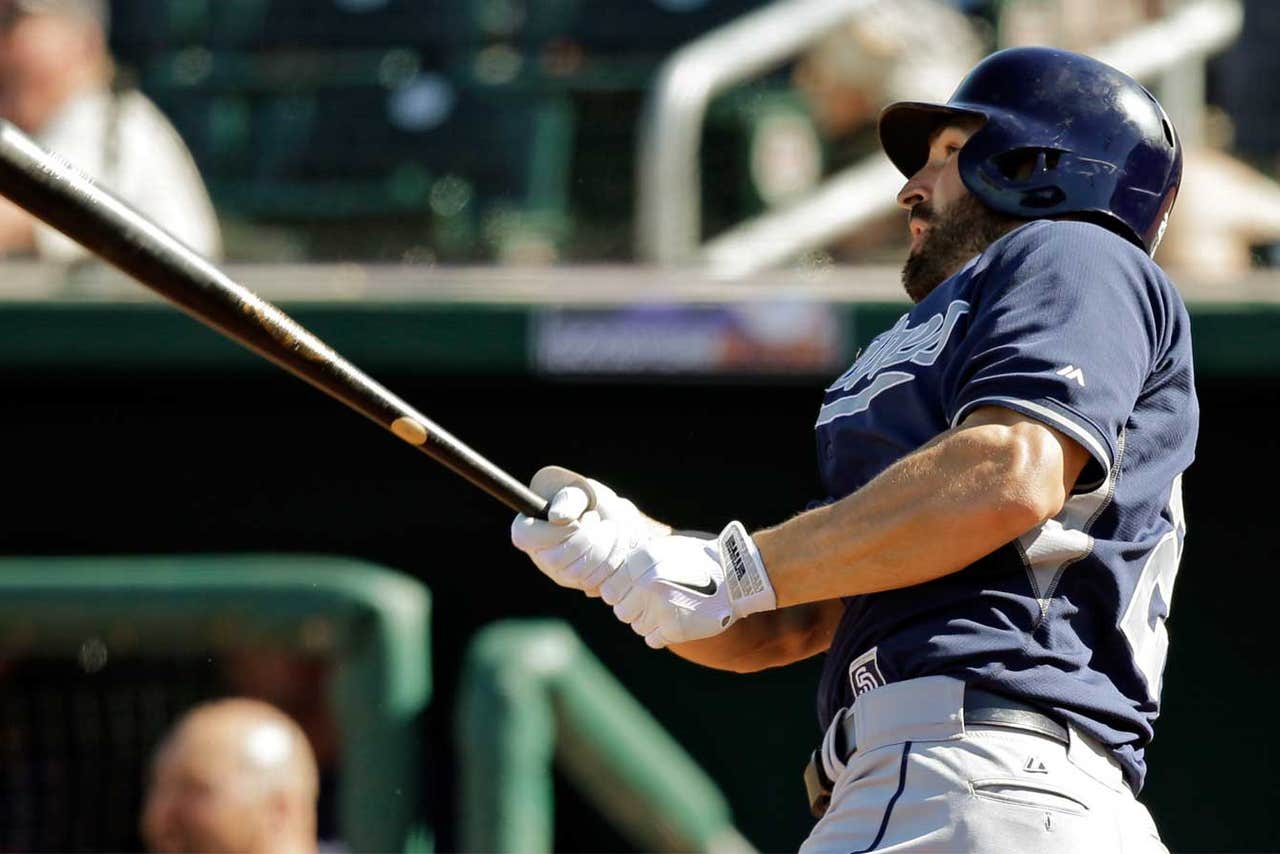 GOODYEAR, Ariz. (AP) -- Carlos Santana hit a two-run home run off Tyson Ross, enhancing his chance of opening the season as the Indians' starting third baseman and helping Cleveland beat the San Diego Padres 12-7 Wednesday.
Santana is moving from catcher to third base where he is competing with Lonnie Chisenhall for the starting spot. He robbed Chris Denorfia of an extra-base hit with a leaping stab behind the base.
"I thought Santana made two really good plays," Indians manager Terry Francona said. "Sometimes during a game, you almost want to will the ball to go to him, but that's not fair. He showed his arm. The more he plays the more comfortable he will be over there."
Chisenhall singled and doubled in four trips as the designated hitter to help himself in the competition. He homered on Tuesday against Arizona.
"We want to see the best out of everybody. That's the goal," Francona said. "I wouldn't pull for anybody not to do good so we can have an easier decision."
Xavier Nady, who is trying to win a job as the backup to Yonder Alonso at first base, doubled and scored in the fourth inning and tied the game at 4 with a home run off Marc Rzepczynski in the sixth.
"Xavier with his versatility as a first baseman, outfielder and a right-handed bat to spell Alonso at first base," Padres manager Bud Black said. "He has experience in the National League player. He might fit the bill."
Cameron Maybin's biceps injury opens a corner outfield spot for Nady with Will Venable expected to move to center field.
Nyjer Morgan, who is trying to make it back to the majors after a year in Japan, left the game for a pinch runner after he doubled in the ninth. He had a problem with his left calf.
"We hope it's just a cramp," Francona said.
STARTING TIME
Padres: Ross pitched five hitless innings in two starts before Santana's homer broke the streak. Ross left with one out in the fourth, allowing three runs on four hits and three walks.
"I struggled with my fastball command but I got to use more off-speed pitches," Ross said.
Indians: Corey Kluber, who was named by Francona after the game to start the second game of the season in Oakland, pitched three shutout innings until tiring in the fourth. Justin Masterson was named opening day starter on Tuesday.
"I think he kind of knew he was starting behind Masty," Francona said. "It gives me a reason to brag about him. I think he deserves it. He is quietly becoming one of the best pitchers in the game."
TRAINER'S ROOM
Padres: Right-hander Casey Kelly is ready to face batters in live batting practice, the next step before appearing in a game. It has not been scheduled yet. Kelly is recovering from elbow surgery from last April. ... Third baseman Chase Headley is testing his strained right calf with drills and light running. The plan is for him to within the week.
Indians: Right-hander Matt Capps has a strained right shoulder is seven to 10 days from starting a throwing program. ... Infielder Bryan LaHair is taking batting practice. He is recovering from a left wrist debridgement. ... David Murphy has general soreness in his left elbow. "I deal with this every spring," Murphy said. "It is just a matter of it getting into shape." ... Shaun Marcum threw a bullpen on March 10. He had thoracic outlet surgery in July. The Indians won't rush him. "He has worked too hard to get where he is for us to tell him we need to see if he can be ready by opening day," Francona said.
MEDICA IN MIX
The biceps injury to Maybin has opened another spot on the Padres roster for a utility outfielder. Tommy Medica played 19 games as a September call up last year, hitting .290 with three home runs and 10 RBIs. He is one of three players being considered along with Nady and Kyle Blanks. Medica doubled against the Indians and was robbed of a hit on a running catch by Morgan. Medica has appeared in 14 of the Padres' 15 games and has hit safely in 11 for a .441 average.
ROUGH RECOVERY
Indians pitcher Frank Herrmann was roughed up by the Padres in his first inning of spring. He gave up three runs on four hits, including a home run by Rymer Liriano. Herrmann had elbow surgery on March 31 of last year.
"He left some balls up over the middle of the plate, but it's a huge step for him," Francona said. "Now he's going to start pitching in games as opposed to rehabbing. The more he pitches the better he'll be."
ON DEADLINE
Yasmani Grandal played his first game Monday after knee surgery last July. It will be tough for him to be ready by opening day.
"He is going to progressively get his innings in but he's feeling good," Black said. "We'll monitor his progress but a catcher getting started on March 10 is a little tricky."
---