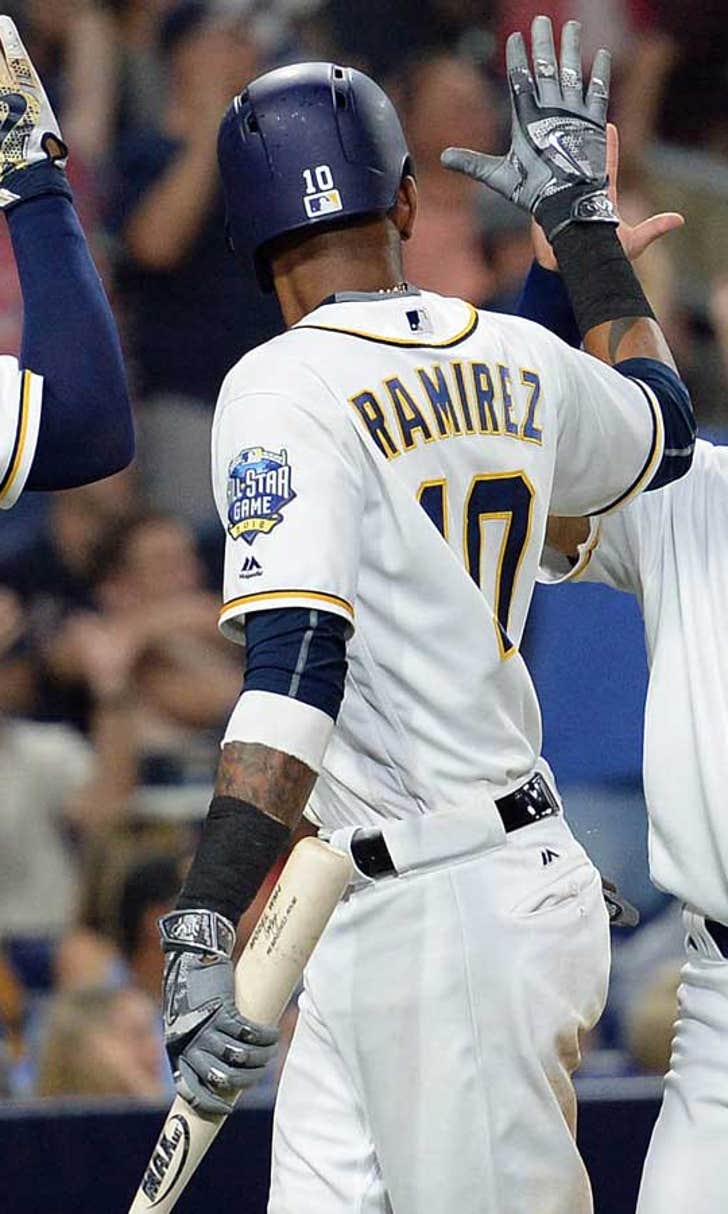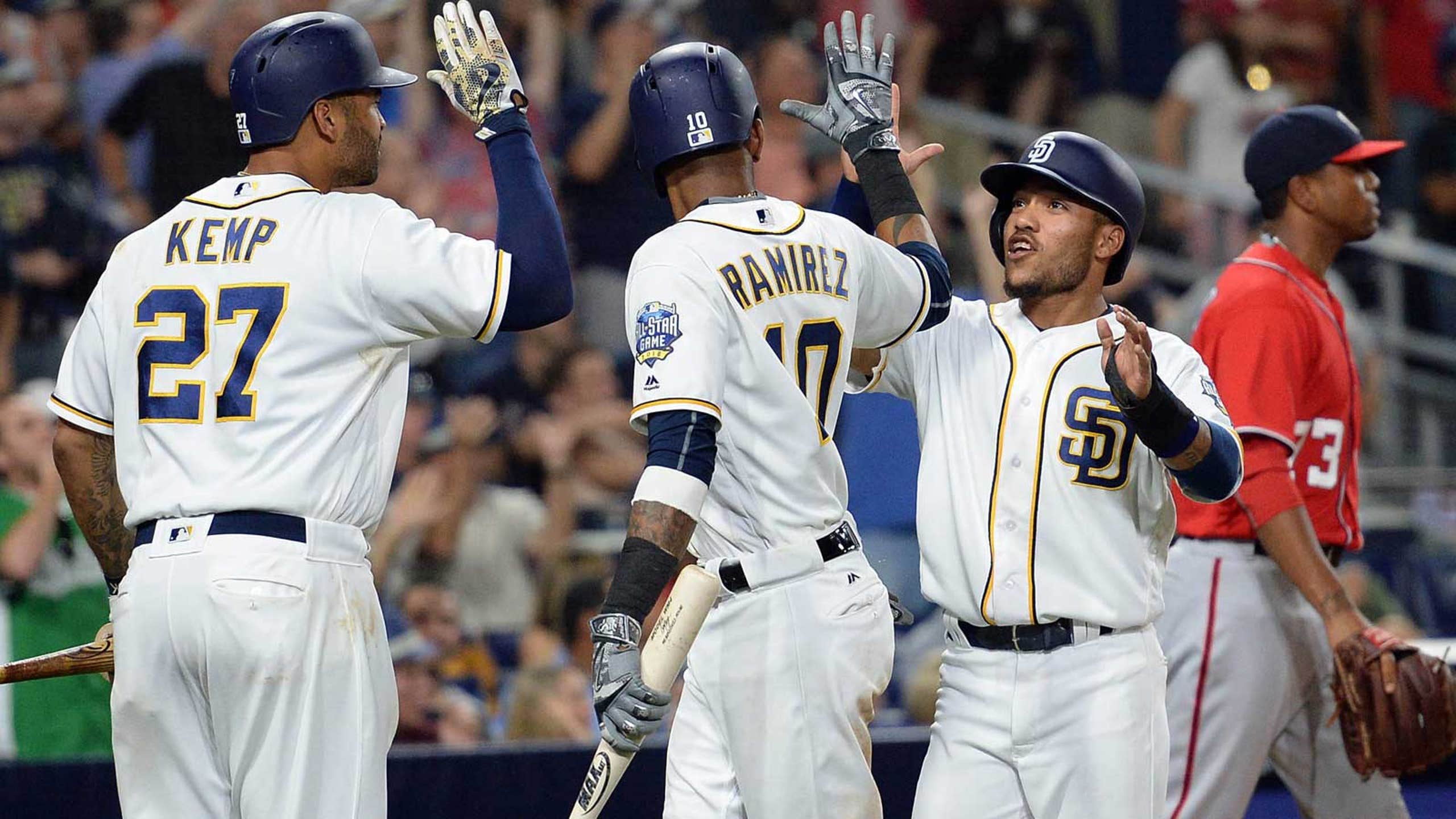 Myers sparks 6-run rally in 8th that gives Padres 7-3 win
BY foxsports • June 19, 2016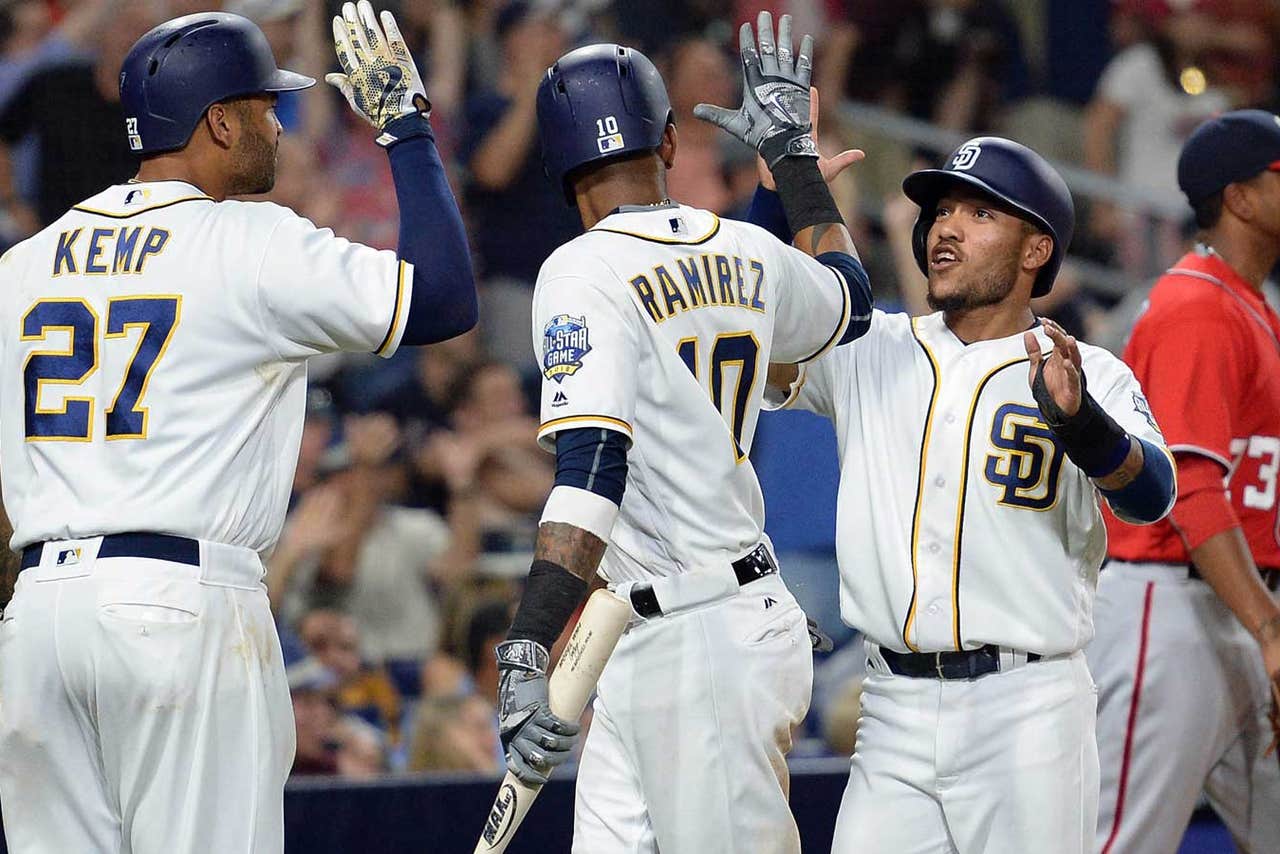 SAN DIEGO (AP) -- Max Scherzer was gone by the time the eighth inning rolled around, and Wil Myers and the San Diego Padres made the Washington Nationals pay.
Myers had three hits and drove in three runs, keying a six-run rally that carried San Diego to a 7-3 victory over Washington on Saturday night.
The Padres scored their six runs in the eighth before making an out.
Myers, who homered in the first against Scherzer, tied it at three with a two-run double off Felipe Rivero that landed just in front of diving center fielder Michael Taylor. After Matt Kemp was intentionally walked to load the bases, Rivero fielded Brett Wallace's comebacker but bobbled it before throwing it wide of catcher Wilson Ramos for an error that allowed Jon Jay to score the go-ahead run.
Blake Treinen came on and walked Melvin Upton Jr. to bring in another run and pinch hitter Yangervis Solarte hit a two-run single before Derek Norris grounded into a double play for the first two outs of the inning. Alexei Ramirez then grounded out to end it.
"The eighth inning was fun," manager Andy Green said. "We haven't had many hits like the one Solarte had, that drops in. That really gives you a surge."
Rivero (0-3) was charged with six runs, five earned, and three hits.
"That's the first time our bullpen's given it up in a game like that in a long time," Nationals manager Dusty Baker said.
Kevin Quackenbush (4-3) allowed an RBI single in one-third of an inning for the win.
Before the Padres rallied, Scherzer had been in line for his fourth straight winning decision after striking out 10. But Scherzer threw 113 pitches, forcing him from the game after six.
"We got Scherzer to throw extra pitches early," Green said. "We got his pitch count up and that helped us later. Maybe he wasn't around as long as he wanted to be."
Scherzer credited the Padres' approach.
"They had a good game plan against me," he said. "They were able to go out there and grind some A-B's out and really play the foul ball game. They really seemed to have a number on what I was doing and lay off some pitches and foul other pitches off. I tip my hat to how they approached me. That was a tough game for me to go out there and continue to make pitches."
Kevin Quackenbush (4-3) allowed an RBI single in one-third of an inning for the win.
Myers, making a strong push to play in the All-Star Game in his home ballpark, stayed hot with his ninth home run in June. He homered to right with one out in the first for his 16th overall.
Myers became the third Padres player with nine homers in June, joining Greg Vaughn (10 in 1998) and Steve Finley (nine in 1996 and 1997). They are the most by a Padres player in a single month since Chase Headley hit nine in September 2012 Headley hit 10 that August.
It was Myers' 11th of the year at home, in the team's 39th home game. The most homers hit at Petco Park in a single season were 15 by Justin Upton last year and by Will Venable in 2013.
Scherzer got locked in after his first time through the lineup, getting eight of his 10 strikeouts from the third through the sixth.
Scherzer allowed four hits and walked none. In his previous start, he took a perfect game into the sixth inning of a 4-1 win over the Chicago Cubs and struck out 11 in seven innings.
The Nationals broke a 1-1 tie in the seventh when Anthony Rendon, pinch-hitting for Scherzer, had an RBI infield single.
The Nationals took a 1-0 lead against Colin Rea after four batters. Taylor walked with one out, stole second and scored on Daniel Murphy's two-out single to center.
Rea allowed two runs and four hits in 6 1/3 innings. He struck out six and walked two.
TRAINER'S ROOM
Padres: RHP Tyson Ross, on the 15-day disabled list since April 5 with shoulder inflammation, threw a 17-pitch bullpen, his first since his injury. Ross, who hasn't started since his opening-day assignment, will accompany the team on its next trip so he can throw another bullpen under the watchful eye of pitching coach Darren Balsley. ... Solarte wasn't in the starting lineup because Green thinks his swing is being affected by a bruised thumb.
UP NEXT
Nationals: LHP Gio Gonzalez (3-5, 3.96 ERA) is scheduled to start the final game of the four-game series.
Padres: LHP Drew Pomeranz (5-7, 2.88 ERA) has lost four of his last five decisions.
---
---