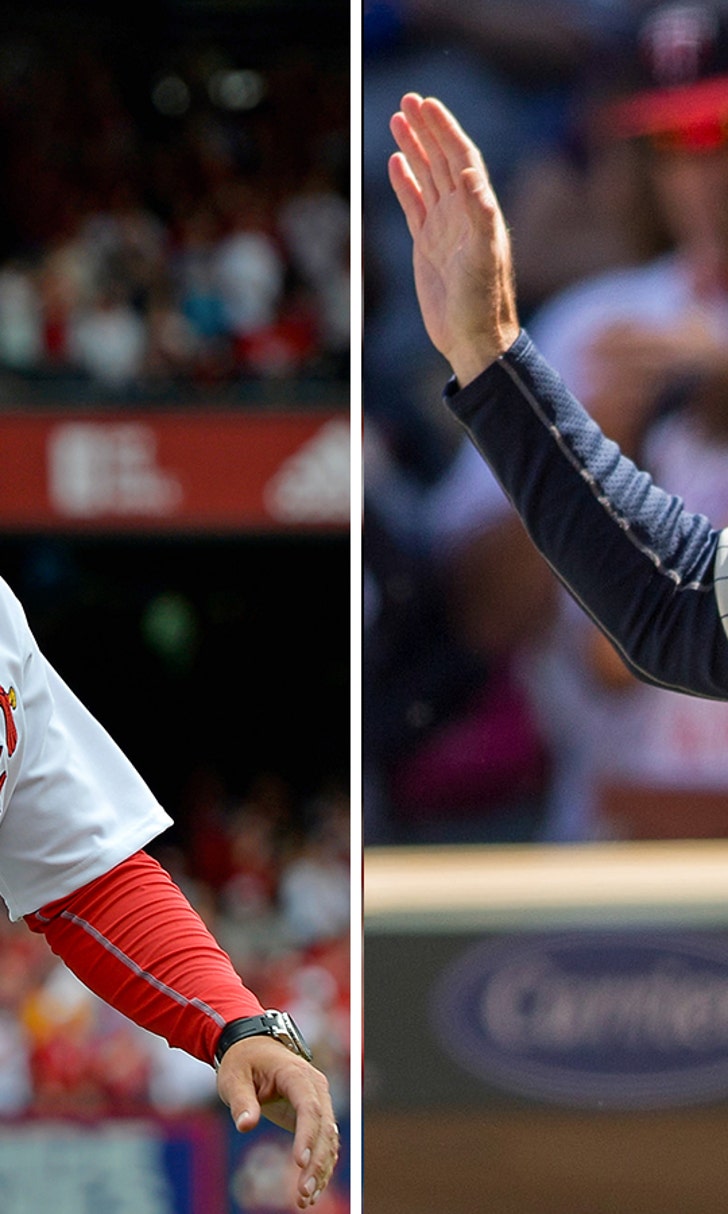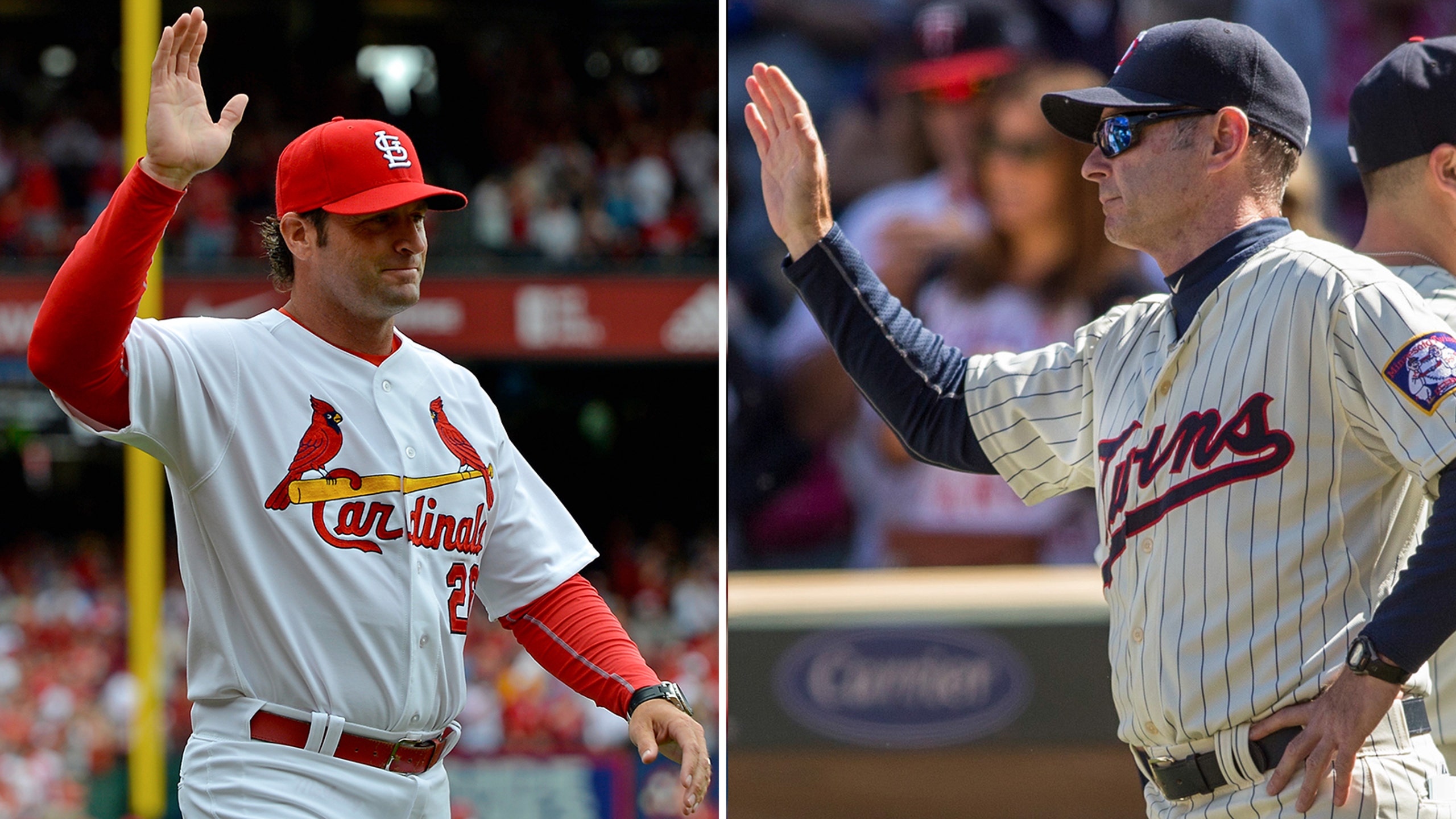 Mutual respect: Cardinals' Matheny a 'big fan' of Twins' Molitor
BY foxsports • June 15, 2015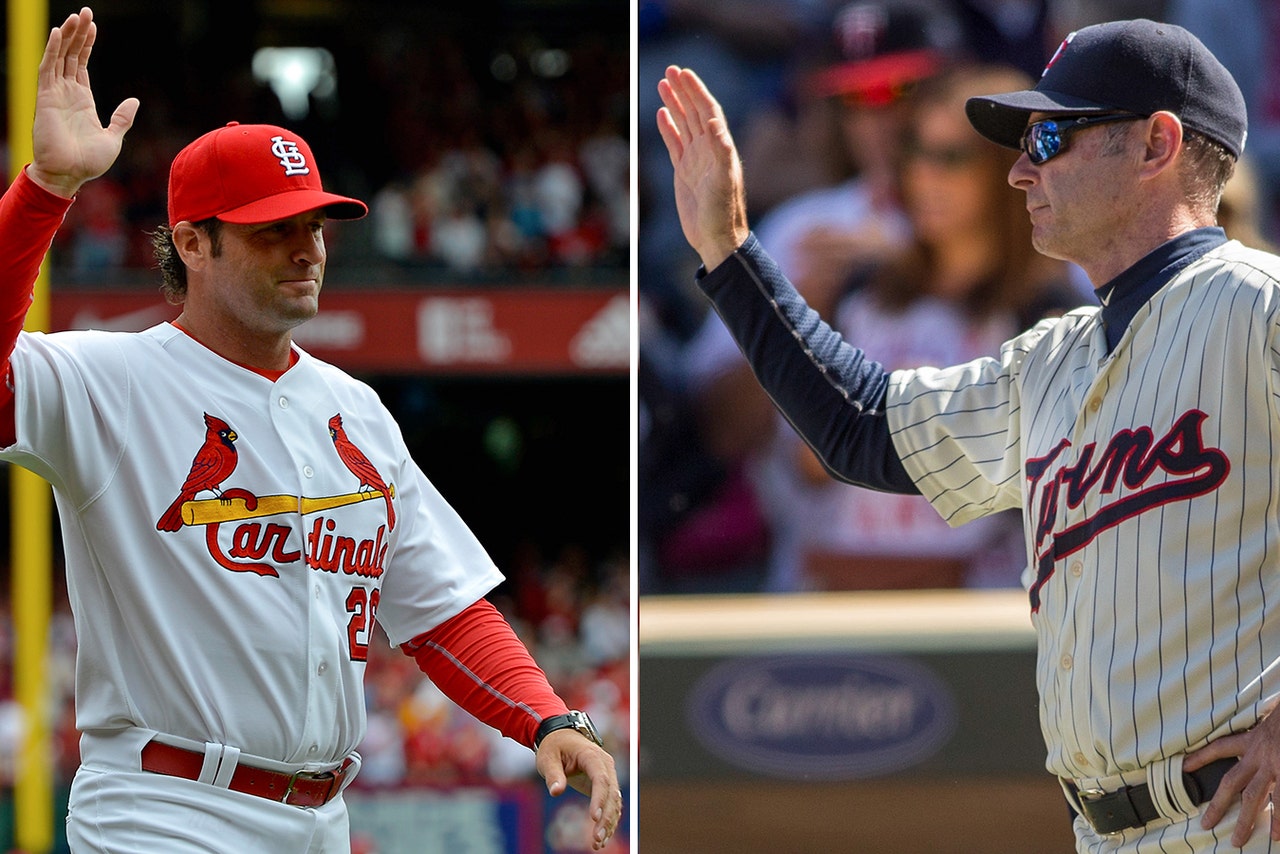 ST. LOUIS -- St. Louis Cardinals manager Mike Matheny will get the rare chance to manage against his hero in four games this week.
Paul Molitor was already in the second half of his 20-year, Hall of Fame career with the Milwaukee Brewers when they drafted Matheny in 1991. But the catcher made it as a big-league manager first and said it was "awkward and humbling" when Molitor called him prior to his debut season to discuss the ins and outs of the job.
"He was one of my heroes, so big fan of Paul Molitor and just kind of watching how he went about being a superstar in Milwaukee's organization," Matheny says. "As I was coming up, he and Robin Yount were kind of the tandem to watch, the way they played the game."
He added that Molitor always reached out to younger players, helping mentor them on their way to the big leagues. The infielder finished his career with a .306 average and 3,319 hits, and he's led the Twins to a shockingly good 34-28 start.
Matheny vividly recalls his first encounter with Molitor during a spring training game with Milwaukee. The Brewers were trailing late and called down to the bullpen to let Matheny know he would pinch hit for Molitor if Darryl Hamilton didn't get on base first.
"I'm thinking, 'Wow," Matheny says. "I come running down and I put that big ole crazy-looking double ear flap helmet on and Molly walks up and goes, 'You look stupid, put this on.'
"He gave me his helmet and so I'm standing on deck and sure enough, Hamilton bloops a double and so they pulled me off deck and Molly goes and gets a base hit."
Matheny returned Molitor's helmet to him on the field and later found out the Brewers' coaching staff had actually put Matheny's name on the scorecard. He even went so far as to try to retrieve it, but then gave up that idea when he found a big chunk of Big Red chewing tobacco on top of the scorecard.
Cardinals try to stick to routine during rain delays
Phones, good food options and ping pong constitute three important elements of surviving a rain delay for the Cardinals.
Of course, they'll also still take some occasional batting practice and watch video to stay mentally and physically prepared for when a game finally starts or resumes. But it takes more than that to stave off boredom during a rain delay of more than two-and-a-half hours, like the one before Sunday's series finale against Kansas City was officially postponed and rescheduled for a 6:15 start on July 23.
"On our phones a lot," outfielder Randal Grichuk says. "Try to watch a little extra video. We've got a great cook with Simon (Lusky) back there, so I try to eat healthy. Lot of greens, broccoli, carrots and onions and stuff like that. No snack food."
The forecast doesn't look a whole lot better for Monday and Tuesday's games against the visiting Twins, not to mention the third of four matchups between the two teams Wednesday night in Minnesota. Grichuk says days when rain prevents them from playing aren't all that much different, especially when they can still put in their regular work outside as they did Monday afternoon.
But Kolten Wong says it feels something like an off day, which isn't necessarily a bad thing for the first-place Cardinals. They've had more scheduled off days of late, but several close games and a limited bench have kept them going at full throttle with less than a month left before the All-Star break.
"For the most part, everyone knows how to sit back, relax, take off your shoes and get yourself mentally focused for this game," Wong says. "When they tell us that we're playing or not, then everyone knows how to get ready from there on."
It's hardly a concern for Matheny, particularly with veteran John Lackey scheduled to take the mound. The key remains keeping the same routine as much as possible, and Matheny says the Cardinals should never anticipate bad weather will prevent them from playing baseball.
You can follow Luke Thompson on Twitter at @FS_LukeT or email him at lukegthompson87@gmail.com.
---