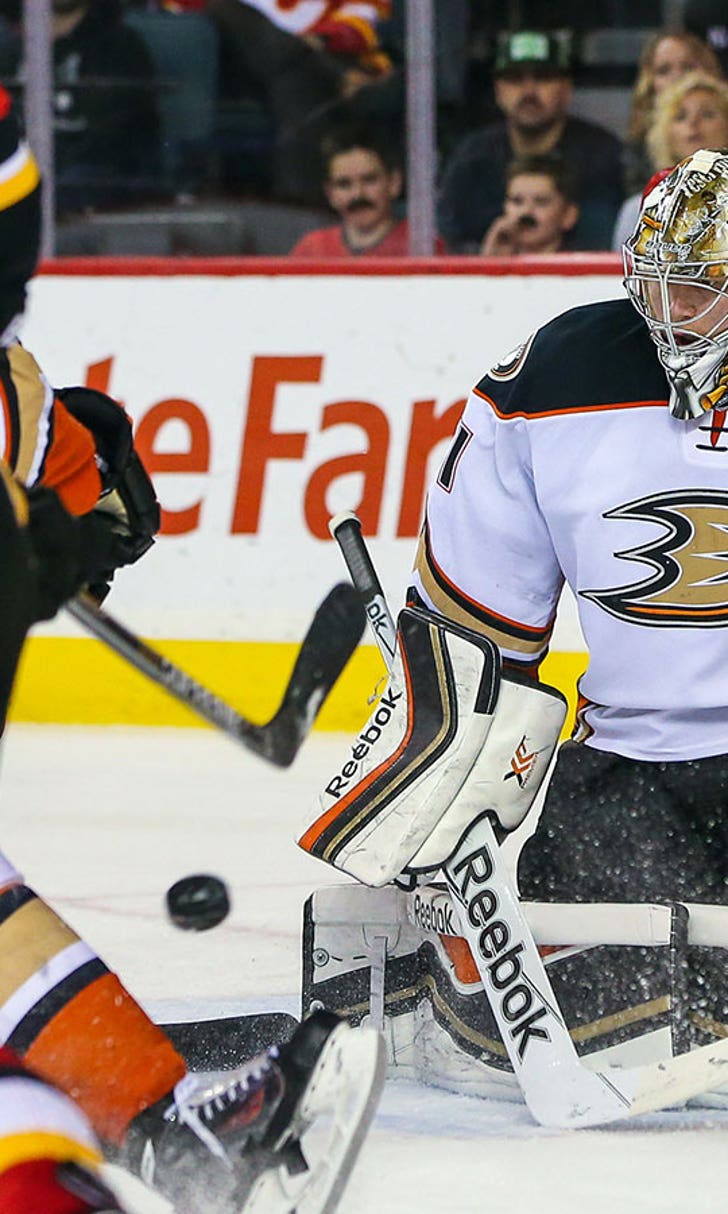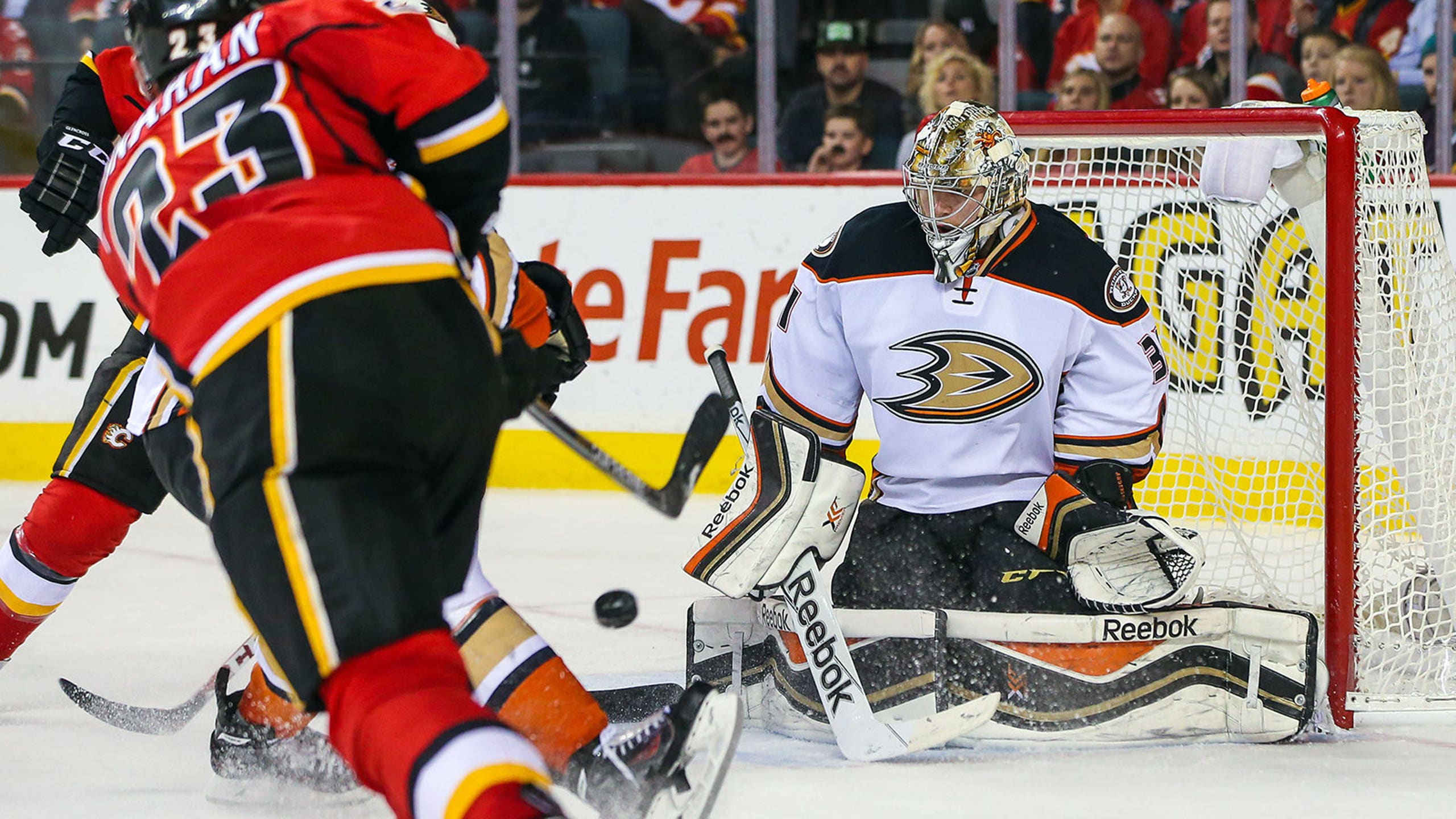 Monahan lifts Flames past Ducks in shootout
BY foxsports • November 19, 2014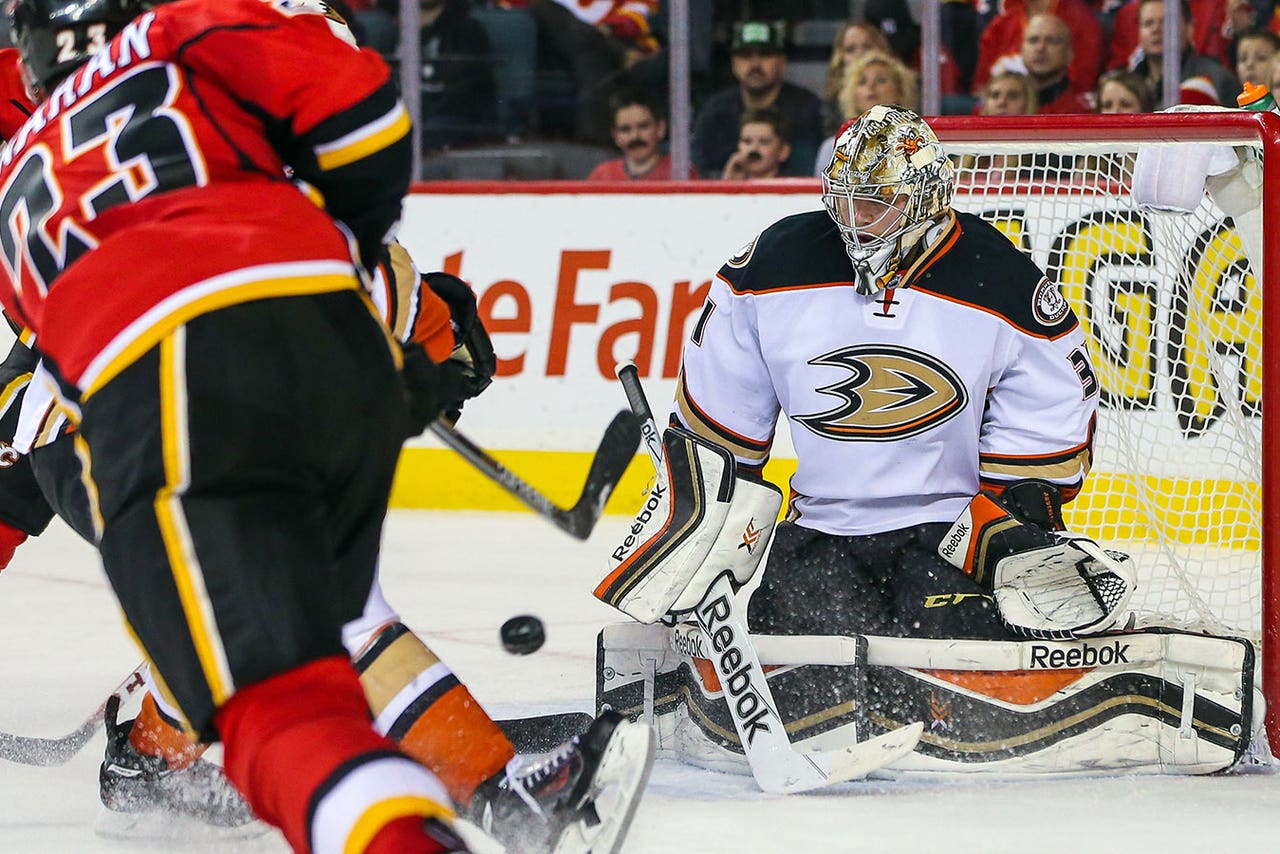 CALGARY, Alberta (AP) -- Things weren't looking too good for Jonas Hiller against his former team for the first time.
Down 2-0 at the second intermission, the Calgary Flames mounted a furious comeback in the third period on their way to a wild 4-3 shootout victory over the Anaheim Ducks on Tuesday night.
"It feels great to get the win," said Hiller, who made 24 saves through overtime. "Especially after being down after two periods and not playing our best game and finding a way to step it up. I think it shows a lot of character on this team."
After Sean Monahan scored in the third round of the shootout, Hiller stood his ground to force Corey Perry to shoot wide of the net to preserve the victory for Calgary.
"I think everyone in here is believing that we can turn games around," said Hiller, who signed as a free agent with the Flames on July 1 after seven seasons with the Ducks. "A lot of times, third periods have been our best periods."
Johnny Gadreau scored earlier in the shootout for the Flames, and Ryan Kesler tied it for the Ducks.
Dennis Wideman scored twice in regulation and Jiri Hudler also had a goal for the Flames, who won their third straight. Calgary has won four times when trailing after two periods, matching their total last season.
"We've done a good job this year so far of sticking to our game and when we haven't had the first and second period that we'd like we've found a way to find our legs in the third," said Wideman, who's now tied with San Jose's Brent Burns for the NHL lead in goals by a defenseman at seven. "It's a big win for us because it gives the young guys the confidence to know they can go up against the best and we can win games."
Sami Vatanen had a goal and two assists, and Matt Beleskey and Kyle Palmieri also scored for Anaheim. Frederik Andersen had 16 saves.
"We made some mental mistakes that cost us the game tonight," Ducks captain Ryan Getzlaf said. "We should have been out of that game and on our way."
The Ducks opened the scoring with 4:06 left in the first when Vatanen snapped a shot from the point that deflected off Calgary defenseman Raphael Diaz's stick and through Hiller's legs. Sven Baertschi attempted to block the shot, but Vatanen did a nice job to sidestep him before shooting it into the net.
During an early power play for the Ducks in the second, Hiller made a nice glove save on a shot from the high slot by Getzlaf. On the same power play, Hiller kicked out his right pad to stop a shot from in close by Palmieri.
Beleskey put the Ducks up 2-0 with 7:31 left in the second with a power-play goal when he tipped a point shot by Hampus Lindholm past Hiller.
Hudler pulled the Flames within a goal at 3:25 of the third when he deposited a shot from the slot into the net behind an out-of-position Andersen.
Wideman then scored on two slap shots -- at 9:03 of the third and again with 6:17 left -- past Andersen to put the Flames up 3-2.
"We beat ourselves," Ducks coach Bruce Boudreau said. "It was evident that after two periods we had total control of the game and then we do stupid stuff in the third period and get lazy. It doesn't take much to get the crowd back into it and the next thing you know it's 3-2."
Palmieri scored another power-play goal for the Ducks with 4:55 remaining to tie the score. Hiller made the initial save, but the puck bounced up and over him and across the goal line to send the game to overtime.
The Flames had a great chance to win the game in overtime when Kesler was penalized for cross-checking Calgary defenseman T.J. Brodie.
Wideman nearly completed his hat trick, but Andersen stuck out his right pad to turn aside the point shot.
NOTES: The Flames honored Hall of Fame broadcaster Peter Maher during a pregame ceremony. Maher was the radio voice of the Flames from 1981-82 until his retirement at the end of the 2013-14 season. In total, Maher called 2,954 Flames games. ... In seven seasons with Anaheim before signing with the Flames on July 1, Hiller was 162-110-32 with a 2.51 goals-against average and a .916 save-percentage. ... Heading into the game, Flames captain Mark Giordano had recorded at least a point in nine straight games to match a personal best which he set last season. Giordano had five goals and nine assists during that stretch before failing to record a point against the Ducks.
---